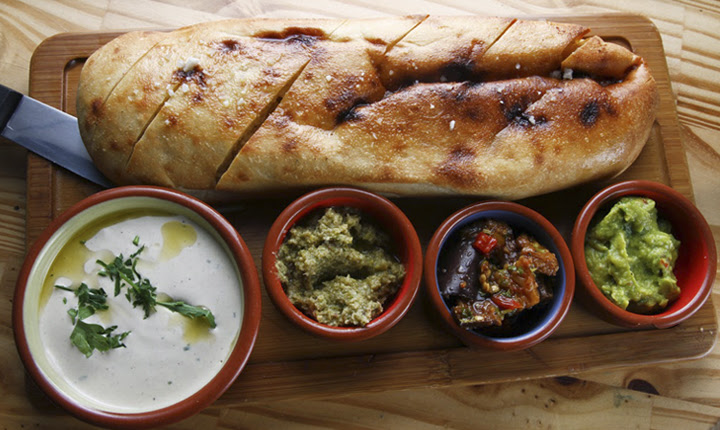 Italian Cuisine
Milk dishes
Spanish cuisine
Mediterranean cuisine
Cuisine from Chef
Fish dishes
ALADDIN BESHDERA (Ashdod)
Legend tells of a poor tailor, who was a stupid and worthless son, and his name was Aladdin. When his father died of Aladdin, a terrible magician found orphan introduced uncle and fraudulently led him into a dangerous cave that Aladdin had brought him an old lamp. In ancient magic genie lamp lives that can fulfill any desire.
Restaurant "Aladdin in Ashdode on the Avenue" is the younger brother of the oldest restaurant "Aladdin." Here, we try hard to fulfill your every culinary desire.
This is a kosher restaurant, located on the beautiful beach of Ashdod, on the beautiful waterfront, which is a favorite place for walking residents and neighborhoods. The "Aladdin on the Avenue" you will not find a magic lamp, but you will find a homely atmosphere and, of course, delicious and high-quality non-traditional food from the best ingredients without compromise.
The restaurant menu is created under the motto: quality, original and fresh. The menu consists of snacks, fresh fish, rich salads, a variety of pastas and sauces to it, as well as of the special main courses, local and imported wines. In the center of the restaurant you will find an impressive bar. All this gives the place its special unique character and promises the pleasure of the meal.
The restaurant "Aladdin" is right on the beach, bright and warm, it boasts a similarity with beautiful rustic house in Tuscany with an outdoor terrace, which enables guests to enjoy the pleasant sea breeze throughout the year. The view from the windows completes the perfect Mediterranean atmosphere.
Empire "Aladdin" runs a couple Eli and Etty Alkobi. Eli owner of the fishing boats and professional fisherman, so the fish that is served to you on the table, it is a personal haul of Ely. And Hetty? Etty is responsible for everything else.
If your soul craves excellent kosher dishes from the chef, specializing in fresh fish, which combines Mediterranean and Italian tastes, it is strongly recommended to go to the restaurant "Aladdin on the avenue." For it is only here every dish is a dish from a fairy tale.
First meal
Homemade bread – 18 NIS
Served with condiments
White Caviar – 22 NIS
Delicacy to fish eggs, purple
Beetroot carpaccio – 32 NIS
Leaflets beet cold kapeleoy marinade with blue cheese, beet cream and walnuts
Stuffed mushrooms – 44 NIS
Mushrooms stuffed with parmesan and mozzarella, baked in the oven with a steal, creamy sauce with parmesan cheese
Sheets cigars – 38 NIS
With stuffed French dukselya in butter cream
Mushrooms fried in cream / pesto with olive oil and white wine – 46 NIS
The mixture of mushrooms: mushrooms and portobello aromtom with truffles and nutmeg
Mediterranean eggplant – 34 NIS
Carpaccio of eggplant, grated tomatoes, garlic confit, olive oil and Tahini
Fish Schwarme – 68 NIS
Slices of fresh fish fried with spices for authentic Schwarme, spicy tomato salad with tehina served on focaccia
Tortilla Roll of salmon – 44 NIS
Roasted vegetables and salmon fillet in the Asian sauce
Soup of the day
Ask the waiter
A fish
Grilled tuna – 58 NIS
Red tuna roasted crust of black and white sesame seeds on a salad of saffron aioli with korneplozhov
Salmon carpaccio – 48 NIS
Slices of cold salmon marinated with balsamic vinegar, garlic confit, capers and quail eggs
Tuna carpaccio – 56 NIS
Slices of red tuna in the cold marinade with balsamic, garlic confit and parmesan
Sredezemnomorsky ceviche – 58 NIS
Fresh white fish with Mediterranean spices with fresh vegetables
Salads
Asian salad with salmon – 59 NIS
Root vegetables with slices of fresh salmon with sweet sauce and Vietnamese pickled ginger
Summer salad – 54 NIS
Lettuce, grapes, nectarines / persimmon, cranberries, nutmeg, goat cheese, breaded, citrus sauce
Vegetable salad – 25 NIS
Cucumbers, tomatoes, purple onions and parsley, lemon juice and olive oil
Mediterranean salad – 30 NIS
Coarsely Chopped tomatoes, hot peppers, garlic, basil, olive oil and balsamic
Pomegranate Salad – 48 NIS
Romaine lettuce, silk leaves, carrots, fresh mushrooms, pomegranate seeds and walnuts, grenadine sauce
Halloumi salad – 56 NIS
The greens, sprouts, fried mushrooms, cucumber, sun-dried tomatoes, kalamata olives and halloumi cheese, citrus sauce
Pastes
Options to choose from pasta: penne, fettuccine, ravioli with sweet potato ravioli with cheese, potato gnocchi
Sauces to choose from:
Pomodoro – 42 NIS
Tomatoes, olive oil, garlic and basil
Gentle Rose – 42 NIS
Tomatoes, cream, basil, nutmeg and Parmesan
Malanzana – 44 NIS
Tomatoes, roasted eggplant basil
Alfredo – 44 NIS
Classic creamy sauce with mushrooms, basil and nut suskatnym
Cream and pesto – 42 NIS
Creamy sauce, pesto and Parmesan
Cream and Truffle – 52 NIS
Cream and butter flavors with mushrooms truffles
Four Cheese – 56 NIS
Creamy sauce, Roquefort, feta and goat cheese, basil and nutmeg
Cream and salmon – 68 NIS
Slices of fresh salmon, butter, cream, nutmeg and Parmesan
Cream and Sweet – 56 NIS
Cream of artichoke, cream, basil and nutmeg
Sicilian – 56 NIS
Multicolored cherry tomatoes, mushrooms, roasted peppers, kalamata olives, garlic and olive oil
Main dishes
Croaker (Mussar) with pistachios – 98 NIS
Croaker fillet in istashkofom steal, served on fine French sauce with grbami and caramelized shallots
Salmon oil – 92 NIS
Salmon fillets, fried in butter, cream, sweet potatoes and garlic confit
Croaker (Mussar) tempura – 72 NIS
Sliced ​​fish with tepura root vegetables in an Asian style
Sinaia marine fish – 72 NIS
Fish cutlets amenable with eggplant, tomatoes, pearl onions, garlic confit and green jalapenos, grilled, with tehina and lemonitom
Locus – 32 NIS (100 gr)
Locus whole / slices of fried / baked in the oven
Sliced ​​cod – 72 NIS
Cod in garlic sauce with lemon and white wine
Skewers of cod – 78 NIS
The crispy breaded, served with artichoke chips
Barabunya – 85 NIS
Fresh barabunya fried, served with a fan of tomatoes, olive oil and garlic
Fish platter – 75 NIS
Fresh sea fish with oriental spices, lightly fried, served with spicy limonnymsousom ARIS and mayonnaise
Spicy Asian salmon – 72 NIS
Fried slices of salmon, fried gnocchi, slices of pepper, carrots, cauliflower, zucchini, cherry tomatoes, chili peppers and green onions in teriyaki sauce
Dorado – 92 NIS / croaker (Mussar) – 92 NIS / sea bass – 97 NIS
Preparation: Zharno / grill / half and half / outdoor grilled / baked / fillets
Garnish of your choice: crispy potato / grilled vegetables / risotto
Dessert
Pyramid brulee – 46 NIS
The layers of cream, layers of crisp filo pastry, caramelized bananas
Kadeif – 46 NIS
Basket kadeifa, mascarpone cream, strawberries and berry sauce
Pavlova – 46 NIS
Ice cream three flavors posted in the meringue drizzled with hot chocolate
Hot chocolate cake – 38 NIS
Hot pie served with ice cream and hazelnut nuteloy
Legend tells of a poor tailor, who was a stupid and worthless son, and his name was Aladdin. When his father died of Aladdin, a terrible magician found orphan introduced uncle and fraudulently led him into a dangerous cave that Aladdin had brought him an old lamp. In ancient magic genie lamp lives that can fulfill any desire.
Restaurant "Aladdin in Ashdode on the Avenue" is the younger brother of the oldest restaurant "Aladdin." Here, we try hard to fulfill your every culinary desire.
This is a kosher restaurant, located on the beautiful beach of Ashdod, on the beautiful waterfront, which is a favorite place for walking residents and neighborhoods. The "Aladdin on the Avenue" you will not find a magic lamp, but you will find a homely atmosphere and, of course, delicious and high-quality non-traditional food from the best ingredients without compromise.
The restaurant menu is created under the motto: quality, original and fresh. The menu consists of snacks, fresh fish, rich salads, a variety of pastas and sauces to it, as well as of the special main courses, local and imported wines. In the center of the restaurant you will find an impressive bar. All this gives the place its special unique character and promises the pleasure of the meal.
The restaurant "Aladdin" is right on the beach, bright and warm, it boasts a similarity with beautiful rustic house in Tuscany with an outdoor terrace, which enables guests to enjoy the pleasant sea breeze throughout the year. The view from the windows completes the perfect Mediterranean atmosphere.
Empire "Aladdin" runs a couple Eli and Etty Alkobi. Eli owner of the fishing boats and professional fisherman, so the fish that is served to you on the table, it is a personal haul of Ely. And Hetty? Etty is responsible for everything else.
If your soul craves excellent kosher dishes from the chef, specializing in fresh fish, which combines Mediterranean and Italian tastes, it is strongly recommended to go to the restaurant "Aladdin on the avenue." For it is only here every dish is a dish from a fairy tale.
Photos: Meital Salomon for rol.co.il
Italian Cuisine
Milk dishes
Spanish cuisine
Mediterranean cuisine
Cuisine from Chef
Fish dishes

ALADDIN BESHDERA (Ashdod)

Legend tells of a poor tailor, who was a stupid and worthless son, and his name was Aladdin. When his father died of Aladdin, a terrible magician found orphan introduced uncle and fraudulently led him into a dangerous cave that Aladdin had brought him an old lamp. In ancient magic genie lamp lives that can fulfill any desire.
Restaurant "Aladdin in Ashdode on the Avenue" is the younger brother of the oldest restaurant "Aladdin." Here, we try hard to fulfill your every culinary desire.
This is a kosher restaurant, located on the beautiful beach of Ashdod, on the beautiful waterfront, which is a favorite place for walking residents and neighborhoods. The "Aladdin on the Avenue" you will not find a magic lamp, but you will find a homely atmosphere and, of course, delicious and high-quality non-traditional food from the best ingredients without compromise.
The restaurant menu is created under the motto: quality, original and fresh. The menu consists of snacks, fresh fish, rich salads, a variety of pastas and sauces to it, as well as of the special main courses, local and imported wines. In the center of the restaurant you will find an impressive bar. All this gives the place its special unique character and promises the pleasure of the meal.
The restaurant "Aladdin" is right on the beach, bright and warm, it boasts a similarity with beautiful rustic house in Tuscany with an outdoor terrace, which enables guests to enjoy the pleasant sea breeze throughout the year. The view from the windows completes the perfect Mediterranean atmosphere.
Empire "Aladdin" runs a couple Eli and Etty Alkobi. Eli owner of the fishing boats and professional fisherman, so the fish that is served to you on the table, it is a personal haul of Ely. And Hetty? Etty is responsible for everything else.
If your soul craves excellent kosher dishes from the chef, specializing in fresh fish, which combines Mediterranean and Italian tastes, it is strongly recommended to go to the restaurant "Aladdin on the avenue." For it is only here every dish is a dish from a fairy tale.

First meal

Homemade bread – 18 NIS
Served with condiments
White Caviar – 22 NIS
Delicacy to fish eggs, purple
Beetroot carpaccio – 32 NIS
Leaflets beet cold kapeleoy marinade with blue cheese, beet cream and walnuts
Stuffed mushrooms – 44 NIS
Mushrooms stuffed with parmesan and mozzarella, baked in the oven with a steal, creamy sauce with parmesan cheese
Sheets cigars – 38 NIS
With stuffed French dukselya in butter cream
Mushrooms fried in cream / pesto with olive oil and white wine – 46 NIS
The mixture of mushrooms: mushrooms and portobello aromtom with truffles and nutmeg
Mediterranean eggplant – 34 NIS
Carpaccio of eggplant, grated tomatoes, garlic confit, olive oil and Tahini
Fish Schwarme – 68 NIS
Slices of fresh fish fried with spices for authentic Schwarme, spicy tomato salad with tehina served on focaccia
Tortilla Roll of salmon – 44 NIS
Roasted vegetables and salmon fillet in the Asian sauce
Soup of the day
Ask the waiter

A fish

Grilled tuna – 58 NIS
Red tuna roasted crust of black and white sesame seeds on a salad of saffron aioli with korneplozhov
Salmon carpaccio – 48 NIS
Slices of cold salmon marinated with balsamic vinegar, garlic confit, capers and quail eggs
Tuna carpaccio – 56 NIS
Slices of red tuna in the cold marinade with balsamic, garlic confit and parmesan
Sredezemnomorsky ceviche – 58 NIS
Fresh white fish with Mediterranean spices with fresh vegetables

Salads

Asian salad with salmon – 59 NIS
Root vegetables with slices of fresh salmon with sweet sauce and Vietnamese pickled ginger
Summer salad – 54 NIS
Lettuce, grapes, nectarines / persimmon, cranberries, nutmeg, goat cheese, breaded, citrus sauce
Vegetable salad – 25 NIS
Cucumbers, tomatoes, purple onions and parsley, lemon juice and olive oil
Mediterranean salad – 30 NIS
Coarsely Chopped tomatoes, hot peppers, garlic, basil, olive oil and balsamic
Pomegranate Salad – 48 NIS
Romaine lettuce, silk leaves, carrots, fresh mushrooms, pomegranate seeds and walnuts, grenadine sauce
Halloumi salad – 56 NIS
The greens, sprouts, fried mushrooms, cucumber, sun-dried tomatoes, kalamata olives and halloumi cheese, citrus sauce

Pastes

Options to choose from pasta: penne, fettuccine, ravioli with sweet potato ravioli with cheese, potato gnocchi

Sauces to choose from:
Pomodoro – 42 NIS
Tomatoes, olive oil, garlic and basil
Gentle Rose – 42 NIS
Tomatoes, cream, basil, nutmeg and Parmesan
Malanzana – 44 NIS
Tomatoes, roasted eggplant basil
Alfredo – 44 NIS
Classic creamy sauce with mushrooms, basil and nut suskatnym
Cream and pesto – 42 NIS
Creamy sauce, pesto and Parmesan
Cream and Truffle – 52 NIS
Cream and butter flavors with mushrooms truffles
Four Cheese – 56 NIS
Creamy sauce, Roquefort, feta and goat cheese, basil and nutmeg
Cream and salmon – 68 NIS
Slices of fresh salmon, butter, cream, nutmeg and Parmesan
Cream and Sweet – 56 NIS
Cream of artichoke, cream, basil and nutmeg
Sicilian – 56 NIS
Multicolored cherry tomatoes, mushrooms, roasted peppers, kalamata olives, garlic and olive oil

Main dishes

Croaker (Mussar) with pistachios – 98 NIS
Croaker fillet in istashkofom steal, served on fine French sauce with grbami and caramelized shallots
Salmon oil – 92 NIS
Salmon fillets, fried in butter, cream, sweet potatoes and garlic confit
Croaker (Mussar) tempura – 72 NIS
Sliced ​​fish with tepura root vegetables in an Asian style
Sinaia marine fish – 72 NIS
Fish cutlets amenable with eggplant, tomatoes, pearl onions, garlic confit and green jalapenos, grilled, with tehina and lemonitom
Locus – 32 NIS (100 gr)
Locus whole / slices of fried / baked in the oven
Sliced ​​cod – 72 NIS
Cod in garlic sauce with lemon and white wine
Skewers of cod – 78 NIS
The crispy breaded, served with artichoke chips
Barabunya – 85 NIS
Fresh barabunya fried, served with a fan of tomatoes, olive oil and garlic
Fish platter – 75 NIS
Fresh sea fish with oriental spices, lightly fried, served with spicy limonnymsousom ARIS and mayonnaise
Spicy Asian salmon – 72 NIS
Fried slices of salmon, fried gnocchi, slices of pepper, carrots, cauliflower, zucchini, cherry tomatoes, chili peppers and green onions in teriyaki sauce
Dorado – 92 NIS / croaker (Mussar) – 92 NIS / sea bass – 97 NIS
Preparation: Zharno / grill / half and half / outdoor grilled / baked / fillets
Garnish of your choice: crispy potato / grilled vegetables / risotto

Dessert

Pyramid brulee – 46 NIS
The layers of cream, layers of crisp filo pastry, caramelized bananas
Kadeif – 46 NIS
Basket kadeifa, mascarpone cream, strawberries and berry sauce
Pavlova – 46 NIS
Ice cream three flavors posted in the meringue drizzled with hot chocolate
Hot chocolate cake – 38 NIS
Hot pie served with ice cream and hazelnut nuteloy

Legend tells of a poor tailor, who was a stupid and worthless son, and his name was Aladdin. When his father died of Aladdin, a terrible magician found orphan introduced uncle and fraudulently led him into a dangerous cave that Aladdin had brought him an old lamp. In ancient magic genie lamp lives that can fulfill any desire.
Restaurant "Aladdin in Ashdode on the Avenue" is the younger brother of the oldest restaurant "Aladdin." Here, we try hard to fulfill your every culinary desire.
This is a kosher restaurant, located on the beautiful beach of Ashdod, on the beautiful waterfront, which is a favorite place for walking residents and neighborhoods. The "Aladdin on the Avenue" you will not find a magic lamp, but you will find a homely atmosphere and, of course, delicious and high-quality non-traditional food from the best ingredients without compromise.
The restaurant menu is created under the motto: quality, original and fresh. The menu consists of snacks, fresh fish, rich salads, a variety of pastas and sauces to it, as well as of the special main courses, local and imported wines. In the center of the restaurant you will find an impressive bar. All this gives the place its special unique character and promises the pleasure of the meal.
The restaurant "Aladdin" is right on the beach, bright and warm, it boasts a similarity with beautiful rustic house in Tuscany with an outdoor terrace, which enables guests to enjoy the pleasant sea breeze throughout the year. The view from the windows completes the perfect Mediterranean atmosphere.
Empire "Aladdin" runs a couple Eli and Etty Alkobi. Eli owner of the fishing boats and professional fisherman, so the fish that is served to you on the table, it is a personal haul of Ely. And Hetty? Etty is responsible for everything else.
If your soul craves excellent kosher dishes from the chef, specializing in fresh fish, which combines Mediterranean and Italian tastes, it is strongly recommended to go to the restaurant "Aladdin on the avenue." For it is only here every dish is a dish from a fairy tale.
Photos: Meital Salomon for rol.co.il