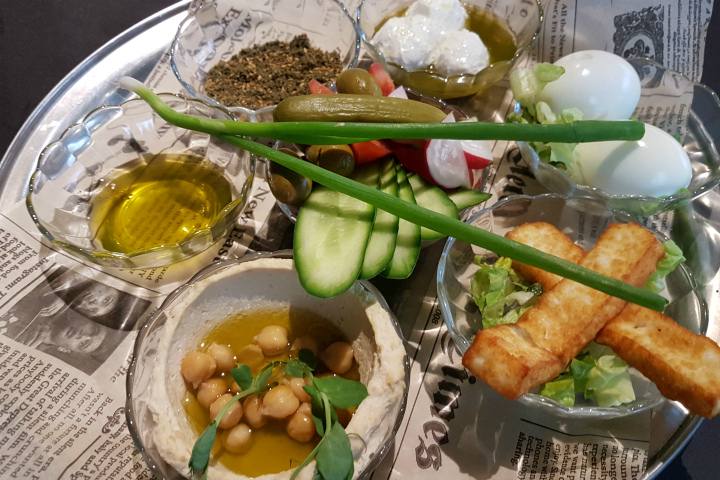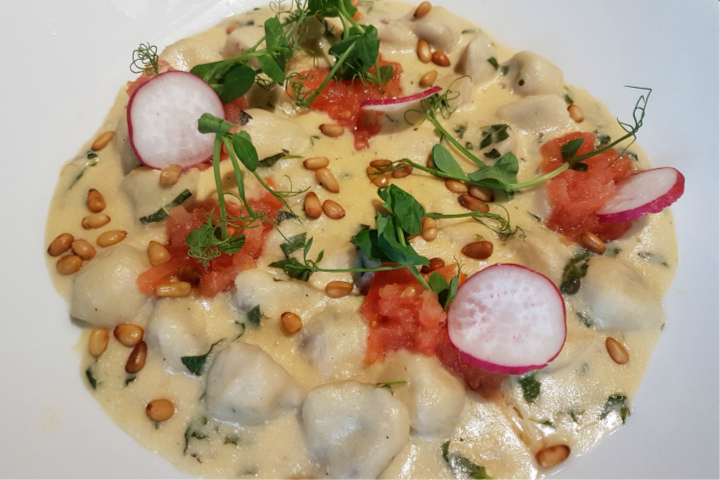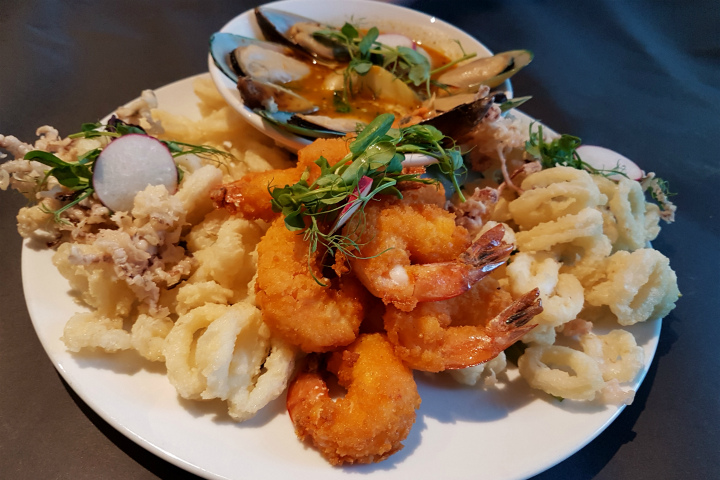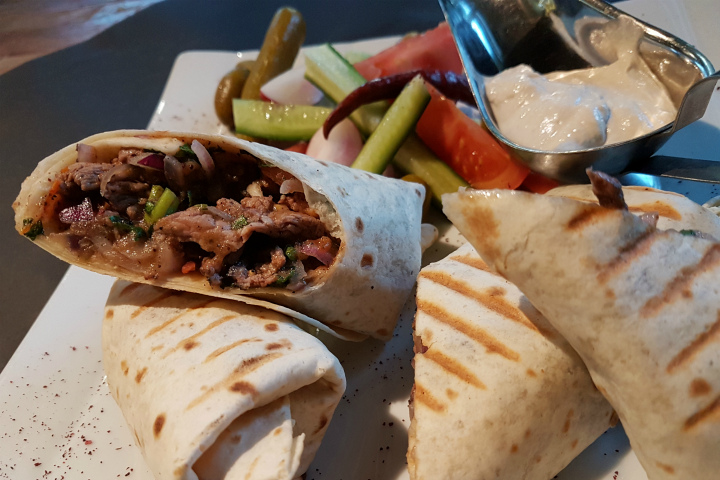 Мeat dishes
Resto-bar
Hummus bar
Аrabian dishes
Authentic restaurant
Hookahs
Delivery
AL RAYAN (Haifa)
Al Rayan is a unique restaurant and hummus bar where you can enjoy a wide range of high-quality meat dishes, fresh vegetable salads, delicious hummus, special homemade desserts and much more.
Al Rayan is translated as "one of the doors to the paradise", and you will feel this upon entering the lovely patio of the restaurant, where comfort reigns and pleasant music sounds. 
Gastronomic pleasures will be complemented by the variety of traditional hookah.
Breakfast
Until 2 p.m.
Al Rayan breakfast for one – 55 NIS
Omelet / scrambled eggs / fried eggs, labaneh, olive oil, zaatar, jam, fried cheese, homemade bread with butter and a glass of juice
Al Rayan breakfast for two – 95 NIS
Omelet / scrambled eggs / fried eggs, labaneh, olive oil, zaatar, jam, fried cheese, homemade bread with butter, tuna, tahini, yellow cheese and a glass of juice (per person)
Shakshuka – 55 NIS
Eggs, onions, tomatoes, red peppers and garlic served with vegetable salad, tahini and bread
Shami Morning – 45 NIS
3 hard-boiled eggs, zaatar, olive oil, labaneh, hummus with grains, fried cheese, green onions, tomatoes, cucumber and olives
Manakish – 45 NIS
4 types of manakish (zaatar, cheese, onion, labaneh). Served with chopped vegetable salad
Omelet Sandwich – 45 NIS
Ciabatta (white or rustic), scrambled eggs, labaneh, lettuce, tomatoes and cucumbers. Served with chopped vegetable salad
Salads
Beirut – 52 NIS
Tomatoes, cucumber, lettuce, olives, red onions, fried bread and Bulgarian cheese
Tabbouleh – 38 NIS
Parsley, bulgur, green onions, mint, lemon and olive oil
Wok-Fried Chicken – 60 NIS
Peppers, noodles, mushrooms, onions, cabbage and carrots in chili and teriyaki sauce
Al Rayan Caesar – 52 NIS
Cherry tomatoes, lettuce, red onions, mint, green onions, fried bread and mustard sauce
Salad with Toasts – 55 NIS
Cherry tomatoes, cucumber, lettuce, Bulgarian cheese, toasts fried in garlic oil
Halloumi Salad – 65 NIS
Tomatoes, cucumber, lettuce, onions, nuts, fried bread, cheese with mushrooms and halloumi cheese fried with pesto sauce
Arab Salad – 42 NIS
Tomatoes, cucumber, onions, parsley, mint and green onions
Tuna Salad – 52 NIS
Tomatoes, cucumber, mint, onions, potatoes, tuna, hard-boiled egg with olive oil, lemon juice and salt
Grandma's Salad – 55 NIS
Tomatoes, red onions, mint, green onions, almonds, fried bread and chickpeas with olive oil, lemon juice and salt, topped with fried labaneh balls
Intermezzo dishes
Eggplant – 52 NIS
Oven-roasted eggplant with tahini, chickpeas, tomatoes, onions, green onions, mint, olive oil, nuts, cheese and sumac
Stuffed Mushrooms – 48 NIS
Mushrooms stuffed with cheese, zaatar leaves, served with pesto sauce
Saj Roll – 45 NIS
Chicken breast and onions seasoned with sumac and served in saj bread
Hummus – 24 NIS
With grains or tahini
Hummus & Shawarma – 54 NIS
Al Rayan Mix – 58 NIS
Sfiha, kibbeh, samosa with cheese, samosa with meat, olives and tahini
Kibbeh – 45 NIS
Kibbeh with tahini
Arais – 45 NIS
Bread stuffed with minced meat, tahini and vegetables
Cheese platter – 95 NIS
Selection of cheeses, served with vegetables and ciabatta
Home Fries – 28 NIS
French fries in a cream sauce with garlic and chili
Edamame – 35 NIS
French Fries – 28 NIS
Garlic Bread – 15 NIS
Soup of the day – 30 NIS
Homemade
Joshpara – 52 NIS
Dough with meat cooked in yogurt with mint, almonds and tomatoes
Stuffed Peppers – 50 NIS
Peppers stuffed with rice and cooked in tomato sauce
Sheikh Almahashi – 55 NIS
Zucchini stuffed with meat and onions on a bed of rice and pot yogurt
Stuffed Grape Leaves – 45 NIS
Grape leaves stuffed with rice, served with yogurt sauce
Sandwiches
Philadelphia – 55 NIS
Slices of entrecote with lettuce, tomatoes, fried onions, Emmental cheese and aioli sauce
Shawarma – 55 NIS
Tortilla wrapped veal and lamb with onions, tomatoes, cucumbers and tahini 
Bagel Toast – 36 NIS
Yellow cheese and tomato
Additions: Bulgarian cheese, mushrooms, olives, tuna slices – 5 NIS
Main
Cordon bleu – 75 NIS
Chicken breast with smoked goose meat wrapped around yellow cheese in a cream sauce with zaatar leaves and mustard
Mini Schnitzels – 60 NIS
Fried chicken breast with french fries
Stuffed Chicken Thighs – 60 NIS
Thighs stuffed with rice, seasoned with homemade spices and served on a bed of rice with yogurt sauce
Scallopini – 68 NIS
Grilled chicken breast in a cream and mushroom sauce
Kebab – 70 NIS
On a bed of rice with tahini, fire-roasted tomatoes and onions 
Hamburger – 60 NIS
3 hamburgers with different toppings: onions, cheese, goose meat
Served with french fries / home fries
Entrecote – 105 NIS
Grilled entrecote steak with a sauce of your choice: cream, mushroom or wine sauce
Fillet Steak – 115 NIS
Grilled fillet steak in the sauce of your choice: cream, mushroom or wine sauce
Meat Assorti for 2 – 250 NIS
Entrecote, fillet steak and chicken breast
Fish of the day – 75 NIS
Barbequed European bass (Lavrak) or oven-roasted bream 
Shrimps – 82 NIS
Fried or braised in a lemon-garlic sauce
Squids – 75 NIS
Fried or braised in a lemon-garlic sauce
Mussels – 68 NIS
Braised in a lemon-garlic sauce
Salmon Fillet – 79 NIS
Roasted salmon fillet with mashed potatoes
Al Rayan Seafood Mix – 245 NIS
Shrimps, squids, mussels and squid heads in a lemon-garlic sauce
Italian
Fettuccine – 42 NIS
Spaghetti – 42 NIS
Ravioli with cheese or sweet potato – 55 NIS
Sauces: Neapolitan, Alfredo, Pesto, Bolognese, Rose
For kids
Schnitzel and french fries – 38 NIS
Spaghetti – 38 NIS
Hamburger and french fries – 38 NIS
Cold drinks
Cola / Sprite / Fanta / Diet Cola / Diet Sprite – 12 NIS
Kinley Soda – 10 NIS
Tonic – 12 NIS
Neviot mineral water – 10 NIS
Iced tea / Prigat Cider / Prigat Grape Juice / Prigat Grapefruit Juice – 12 NIS
Malta black beer – 13 NIS
Energy Drink – 12 NIS
Orange juice / lemonade – 14 NIS – glass / 30 NIS – decanter
Natural carrot juice – 16 NIS
Orange and carrot juice – 16 NIS
Limonana – 16 NIS – cglass \ 35 NIS – decanter
Iced coffee – 14 NIS
Iced chocolate – 14 NIS
Milkshake – 22 NIS
Fresh fruit smoothie – 28 NIS
Cold Brew – 18 NIS
Iced cappuccino – 16 NIS
Hot drinks
Arabic coffee small / large – 7/14 NIS
Espresso / Double – 10/14 NIS
Macchiato Short / Double – 12/14 NIS
Americano – 14 NIS
Cappuccino small / large – 12/14 NIS
Instant coffee with milk / water – 14 NIS
Hot Choco – 14 NIS
Shokochino – 16 NIS
Cappuccino – 16 NIS
Hot Chocolate – 18 NIS
Hot Sachlav – 18 NIS
Mint Tea – 10 NIS
Tea infusions – 20 NIS
Indian tea / hot cider with a cinnamon stick – 18 NIS
Мeat dishes
Resto-bar
Hummus bar
Аrabian dishes
Authentic restaurant
Hookahs
Delivery

AL RAYAN (Haifa)

Al Rayan is a unique restaurant and hummus bar where you can enjoy a wide range of high-quality meat dishes, fresh vegetable salads, delicious hummus, special homemade desserts and much more.

Al Rayan is translated as "one of the doors to the paradise", and you will feel this upon entering the lovely patio of the restaurant, where comfort reigns and pleasant music sounds. 

Gastronomic pleasures will be complemented by the variety of traditional hookah.

Breakfast

Until 2 p.m.

Al Rayan breakfast for one – 55 NIS

Omelet / scrambled eggs / fried eggs, labaneh, olive oil, zaatar, jam, fried cheese, homemade bread with butter and a glass of juice

Al Rayan breakfast for two – 95 NIS

Omelet / scrambled eggs / fried eggs, labaneh, olive oil, zaatar, jam, fried cheese, homemade bread with butter, tuna, tahini, yellow cheese and a glass of juice (per person)

Shakshuka – 55 NIS

Eggs, onions, tomatoes, red peppers and garlic served with vegetable salad, tahini and bread

Shami Morning – 45 NIS

3 hard-boiled eggs, zaatar, olive oil, labaneh, hummus with grains, fried cheese, green onions, tomatoes, cucumber and olives

Manakish – 45 NIS

4 types of manakish (zaatar, cheese, onion, labaneh). Served with chopped vegetable salad

Omelet Sandwich – 45 NIS

Ciabatta (white or rustic), scrambled eggs, labaneh, lettuce, tomatoes and cucumbers. Served with chopped vegetable salad

Salads

Beirut – 52 NIS

Tomatoes, cucumber, lettuce, olives, red onions, fried bread and Bulgarian cheese

Tabbouleh – 38 NIS

Parsley, bulgur, green onions, mint, lemon and olive oil

Wok-Fried Chicken – 60 NIS

Peppers, noodles, mushrooms, onions, cabbage and carrots in chili and teriyaki sauce

Al Rayan Caesar – 52 NIS

Cherry tomatoes, lettuce, red onions, mint, green onions, fried bread and mustard sauce

Salad with Toasts – 55 NIS

Cherry tomatoes, cucumber, lettuce, Bulgarian cheese, toasts fried in garlic oil

Halloumi Salad – 65 NIS

Tomatoes, cucumber, lettuce, onions, nuts, fried bread, cheese with mushrooms and halloumi cheese fried with pesto sauce

Arab Salad – 42 NIS

Tomatoes, cucumber, onions, parsley, mint and green onions

Tuna Salad – 52 NIS

Tomatoes, cucumber, mint, onions, potatoes, tuna, hard-boiled egg with olive oil, lemon juice and salt

Grandma's Salad – 55 NIS

Tomatoes, red onions, mint, green onions, almonds, fried bread and chickpeas with olive oil, lemon juice and salt, topped with fried labaneh balls

Intermezzo dishes

Eggplant – 52 NIS

Oven-roasted eggplant with tahini, chickpeas, tomatoes, onions, green onions, mint, olive oil, nuts, cheese and sumac

Stuffed Mushrooms – 48 NIS

Mushrooms stuffed with cheese, zaatar leaves, served with pesto sauce

Saj Roll – 45 NIS

Chicken breast and onions seasoned with sumac and served in saj bread

Hummus – 24 NIS

With grains or tahini

Hummus & Shawarma – 54 NIS

Al Rayan Mix – 58 NIS

Sfiha, kibbeh, samosa with cheese, samosa with meat, olives and tahini

Kibbeh – 45 NIS

Kibbeh with tahini

Arais – 45 NIS

Bread stuffed with minced meat, tahini and vegetables

Cheese platter – 95 NIS

Selection of cheeses, served with vegetables and ciabatta

Home Fries – 28 NIS

French fries in a cream sauce with garlic and chili

Edamame – 35 NIS

French Fries – 28 NIS

Garlic Bread – 15 NIS

Soup of the day – 30 NIS

Homemade

Joshpara – 52 NIS

Dough with meat cooked in yogurt with mint, almonds and tomatoes

Stuffed Peppers – 50 NIS

Peppers stuffed with rice and cooked in tomato sauce

Sheikh Almahashi – 55 NIS

Zucchini stuffed with meat and onions on a bed of rice and pot yogurt

Stuffed Grape Leaves – 45 NIS

Grape leaves stuffed with rice, served with yogurt sauce

Sandwiches

Philadelphia – 55 NIS

Slices of entrecote with lettuce, tomatoes, fried onions, Emmental cheese and aioli sauce

Shawarma – 55 NIS

Tortilla wrapped veal and lamb with onions, tomatoes, cucumbers and tahini 

Bagel Toast – 36 NIS

Yellow cheese and tomato

Additions: Bulgarian cheese, mushrooms, olives, tuna slices – 5 NIS

Main

Cordon bleu – 75 NIS

Chicken breast with smoked goose meat wrapped around yellow cheese in a cream sauce with zaatar leaves and mustard

Mini Schnitzels – 60 NIS

Fried chicken breast with french fries

Stuffed Chicken Thighs – 60 NIS

Thighs stuffed with rice, seasoned with homemade spices and served on a bed of rice with yogurt sauce

Scallopini – 68 NIS

Grilled chicken breast in a cream and mushroom sauce

Kebab – 70 NIS

On a bed of rice with tahini, fire-roasted tomatoes and onions 

Hamburger – 60 NIS

3 hamburgers with different toppings: onions, cheese, goose meat

Served with french fries / home fries

Entrecote – 105 NIS

Grilled entrecote steak with a sauce of your choice: cream, mushroom or wine sauce

Fillet Steak – 115 NIS

Grilled fillet steak in the sauce of your choice: cream, mushroom or wine sauce

Meat Assorti for 2 – 250 NIS

Entrecote, fillet steak and chicken breast

Fish of the day – 75 NIS

Barbequed European bass (Lavrak) or oven-roasted bream 

Shrimps – 82 NIS

Fried or braised in a lemon-garlic sauce

Squids – 75 NIS

Fried or braised in a lemon-garlic sauce

Mussels – 68 NIS

Braised in a lemon-garlic sauce

Salmon Fillet – 79 NIS

Roasted salmon fillet with mashed potatoes

Al Rayan Seafood Mix – 245 NIS

Shrimps, squids, mussels and squid heads in a lemon-garlic sauce

Italian

Fettuccine – 42 NIS

Spaghetti – 42 NIS

Ravioli with cheese or sweet potato – 55 NIS

Sauces: Neapolitan, Alfredo, Pesto, Bolognese, Rose

For kids

Schnitzel and french fries – 38 NIS

Spaghetti – 38 NIS

Hamburger and french fries – 38 NIS

Cold drinks

Cola / Sprite / Fanta / Diet Cola / Diet Sprite – 12 NIS

Kinley Soda – 10 NIS

Tonic – 12 NIS

Neviot mineral water – 10 NIS

Iced tea / Prigat Cider / Prigat Grape Juice / Prigat Grapefruit Juice – 12 NIS

Malta black beer – 13 NIS

Energy Drink – 12 NIS

Orange juice / lemonade – 14 NIS – glass / 30 NIS – decanter

Natural carrot juice – 16 NIS

Orange and carrot juice – 16 NIS

Limonana – 16 NIS – cglass \ 35 NIS – decanter

Iced coffee – 14 NIS

Iced chocolate – 14 NIS

Milkshake – 22 NIS

Fresh fruit smoothie – 28 NIS

Cold Brew – 18 NIS

Iced cappuccino – 16 NIS

Hot drinks

Arabic coffee small / large – 7/14 NIS

Espresso / Double – 10/14 NIS

Macchiato Short / Double – 12/14 NIS

Americano – 14 NIS

Cappuccino small / large – 12/14 NIS

Instant coffee with milk / water – 14 NIS

Hot Choco – 14 NIS

Shokochino – 16 NIS

Cappuccino – 16 NIS

Hot Chocolate – 18 NIS

Hot Sachlav – 18 NIS

Mint Tea – 10 NIS

Tea infusions – 20 NIS

Indian tea / hot cider with a cinnamon stick – 18 NIS