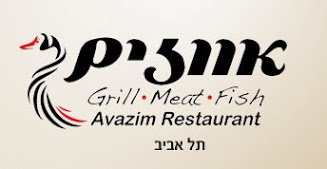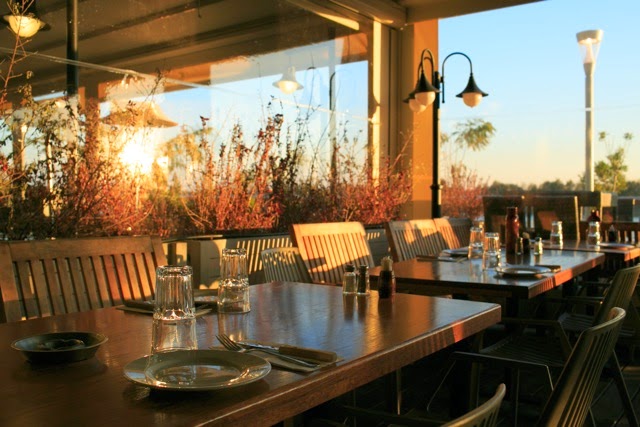 Israeli cuisine
Grill bars and burgers
Meat dishes
Mediterranean cuisine
AVAZIM Rishon (Rishon LeZion)
Appetite always comes at dinner, and after thirty years of success in Tel Aviv, Avazim restaurant brought the largest kebabs in the city to YES Planet shopping mall in Rishon LeZion.
Avazim in Rishon LeZion is a kosher twin brother of the chain of restaurants where you can enjoy juicy royal meal, fresh homemade salads, fresh fish, and, of course, variety of splendid meat.
Cozy interior design of the restaurant perfectly fits wonderful natural exterior decoration and fantastic view at the nearby lake.
In Avazim, you can hold private and corporate events of any format. Add professional service, excellent karaoke and artists' performance.
No wonder, everyone in Rishon LeZion knows: if you want to have excellent dinner – choose Avazim!
Appetizers
Rice – 20 nis
Hummus / Tahini – 20 nis
Meat hummus – 35 nis
Hummus with cedar nuts / mushrooms / hot mushrooms – 24 nis
Baladi Eggplant – 24 nis
Liver with chili sauce – highly recommended! – 45 nis
Wings with chili sauce – 30/48 nis
Lavash pickles salsa (price per person) – 10 nis
Choice of fried vegetables – 25/40 nis
Falafel, eggplants, red pepper, and sweet potatoes
Egg salad – 24 nis
Mixed salad – 20/26 nis
Homemade salads lavash (price per person) – 20 nis
Homemade salads without ordering meat (price per person) – 27 nis
Falafel – 15/25 nis
5 pcs. / 10 pcs.
Chips – 20/26 nis
Salads
Entrecote salad – 55 nis
Salad with sweet potatoes – 40 nis
Salad with chicken breast – 49 nis
Chicken salad – 49 nis
Soups (winter)
Ask your waiter – 30 nis
Grilled main courses
* Price per skewer
Entrecote – 36 nis
Testicles of male turkey – 36 nis
Foie gras – highly recommended! – 62 nis
Chicken liver / kebab / hearts – 25 nis
Mutton / lamb fat – 36 nis
Merguez sausages – 40 nis
Chicken salad / chicken breast – 45 nis
Beef fillet – 36 nis
Chicken – 28 nis
Goose rib entrecote – 99 nis
Schnitzel – 45 nis
Veal thymus (sweet meat) – 36 nis
Steaks / fish
Entrecote – 95 nis
Avazim duet – 99 nis
Fillet and entrecote
Sea bream / tilapia fillet – 65 nis
Beef fillet – 105 nis
Chicken – 55 nis
Lamb ribs – highly recommended! – 95 nis
Shato entrecote – 130 nis
Entrecote steak accompanied by foie gras medallions
Shato fillet – 145 nis
Fillet (cut) steak accompanied by foie gras medallions
Shato ribs – 130 nis
Lamb ribs accompanied by foie gras medallions
Children's menu – every kid gets a surprise!
Burgers and chips – 35 nis
Nuggets and chips – 35 nis
Soft drinks
Draught beer – 25 nis
Lemonade jar – 28 nis
Cold tea jar – 28 nis
Coke jar – 28 nis
Soft drinks – 11 nis
Hot beverages
Espresso – 10 nis
Black coffee – 10 nis
Mint tea – 10 nis
Children's Meals – each child receives a surprise!
Hamburger and french fries 35
Chicken nuggets and fries 35
Israeli cuisine
Grill bars and burgers
Meat dishes
Mediterranean cuisine

AVAZIM Rishon (Rishon LeZion)

Appetite always comes at dinner, and after thirty years of success in Tel Aviv, Avazim restaurant brought the largest kebabs in the city to YES Planet shopping mall in Rishon LeZion.
Avazim in Rishon LeZion is a kosher twin brother of the chain of restaurants where you can enjoy juicy royal meal, fresh homemade salads, fresh fish, and, of course, variety of splendid meat.
Cozy interior design of the restaurant perfectly fits wonderful natural exterior decoration and fantastic view at the nearby lake.
In Avazim, you can hold private and corporate events of any format. Add professional service, excellent karaoke and artists' performance.
No wonder, everyone in Rishon LeZion knows: if you want to have excellent dinner – choose Avazim!

Appetizers

Rice – 20 nis
Hummus / Tahini – 20 nis
Meat hummus – 35 nis
Hummus with cedar nuts / mushrooms / hot mushrooms – 24 nis
Baladi Eggplant – 24 nis
Liver with chili sauce – highly recommended! – 45 nis
Wings with chili sauce – 30/48 nis
Lavash pickles salsa (price per person) – 10 nis
Choice of fried vegetables – 25/40 nis
Falafel, eggplants, red pepper, and sweet potatoes
Egg salad – 24 nis
Mixed salad – 20/26 nis
Homemade salads lavash (price per person) – 20 nis
Homemade salads without ordering meat (price per person) – 27 nis
Falafel – 15/25 nis
5 pcs. / 10 pcs.
Chips – 20/26 nis

Salads

Entrecote salad – 55 nis
Salad with sweet potatoes – 40 nis
Salad with chicken breast – 49 nis
Chicken salad – 49 nis

Soups (winter)

Ask your waiter – 30 nis

Grilled main courses

* Price per skewer
Entrecote – 36 nis
Testicles of male turkey – 36 nis
Foie gras – highly recommended! – 62 nis
Chicken liver / kebab / hearts – 25 nis
Mutton / lamb fat – 36 nis
Merguez sausages – 40 nis
Chicken salad / chicken breast – 45 nis
Beef fillet – 36 nis
Chicken – 28 nis
Goose rib entrecote – 99 nis
Schnitzel – 45 nis
Veal thymus (sweet meat) – 36 nis
Steaks / fish
Entrecote – 95 nis
Avazim duet – 99 nis
Fillet and entrecote
Sea bream / tilapia fillet – 65 nis
Beef fillet – 105 nis
Chicken – 55 nis
Lamb ribs – highly recommended! – 95 nis
Shato entrecote – 130 nis
Entrecote steak accompanied by foie gras medallions
Shato fillet – 145 nis
Fillet (cut) steak accompanied by foie gras medallions
Shato ribs – 130 nis
Lamb ribs accompanied by foie gras medallions
Children's menu – every kid gets a surprise!
Burgers and chips – 35 nis
Nuggets and chips – 35 nis

Soft drinks

Draught beer – 25 nis
Lemonade jar – 28 nis
Cold tea jar – 28 nis
Coke jar – 28 nis
Soft drinks – 11 nis

Hot beverages

Espresso – 10 nis
Black coffee – 10 nis
Mint tea – 10 nis

Children's Meals – each child receives a surprise!
Hamburger and french fries 35
Chicken nuggets and fries 35