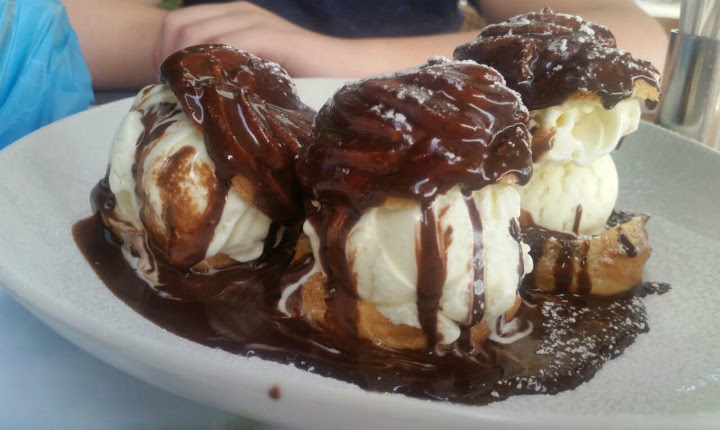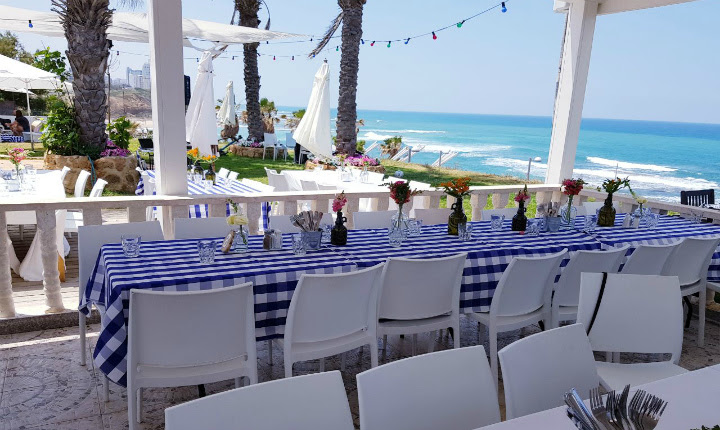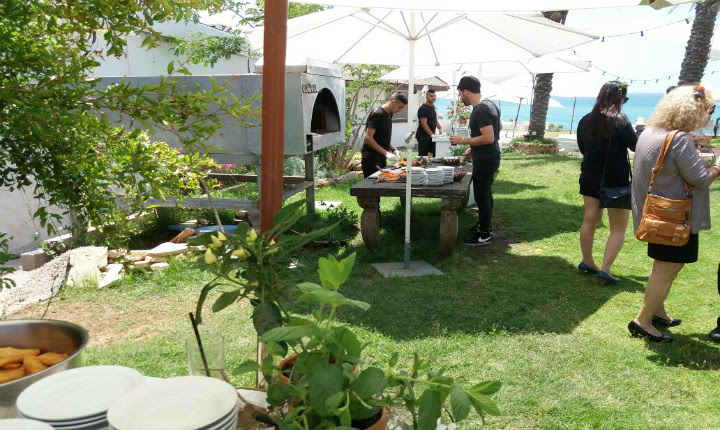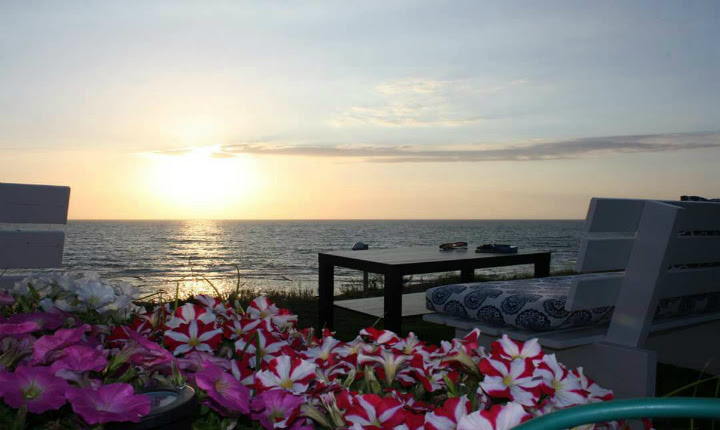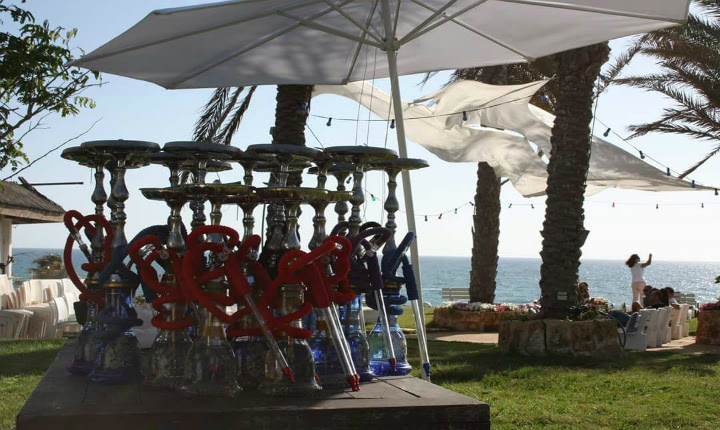 Mediterranean cuisine
Fish and seafood
Vegetarian cuisine
BABAI (Jaffo)
The oldest Jaffa restaurant, Babay has its own history. The Babay restaurant's owner used to be a fisherman but then decided to open a small seaside tavern. In the course of time, the tavern has grown into a big restaurant but has kept its light atmosphere of the small cosy place, where you can feel the aura of beautiful Jaffo tales. The restaurant's cuisine is really impeccable; everything is fresh and home-made. If you want to try local fresh saltwater fish, you'd better do it here, in Babay restaurant! Babay is situated on the top of rock, overlooking the sea, in the most beautiful place of Jaffa. It has a spacious hall with original and authentic design, as well as a big yard facing the sea, where you can host any event with 600 seats available.
Starters
Hummus   – 24 nis
Hummus with mushrooms   –  36 nis
Eggplant falafel   –  35 nis
5 homemade falafel balls from eggplant , served with green tahini
Meat cube (mini) with green tahini  – 36 nis
Homemade Green tahini  –  24 nis
Labane   –  26 nis
Labane served with olive oil , hyssop , and chopped tomatoes
Whole grilled eggplant  –  32 nis
with tahini and chopped tomatoes and parsley
Arabic chopped salad  – 37 nis
Cucumber , tomato, onion and parsley , seasoned with lemon and olive oil
Greek salad  –  44 nis
Lettuce , cucumber , tomato, onion and seasoned with olive oil and lemon feta cheese French fries  –  24 nis
Sea fish carpaccio  – 48 nis
Sea fish carpaccio and lime and oils blend
Stuffed mushrooms with cheese  –  36 nis
Wrapped in breadcrumbs and deep-fried
Main dishes 
Main course served with home salads.
Salads without ordering main course for adult 50 nis.
Salads for child 25 nis. 1 garnish for a choice: maklube (rice with vegetables and authentic spices)' French fries or vegetable salad 
Corvine filet with seafood  –  145 nis
Corvina filet seared on grill, served with mixed seafood with garlic butter and wine
Mullet seenia  –  110 nis
Mullet fillets with hot tahini baked in oven
Sea bass   – 129 nis
Open and grilled/ deep fried/ grilled fillet
Sea bream   –   119 nis
Open and grilled/ deep fried/ grilled fillet
Sant Peter's fish  –  99 nis
Served deep fried
Shrimps skewers   – 110 nis
Shrimps, calamari and mussels stir-fried in garlic-butter-white wine sauce/ tomato sauce
Sea food mix  –  110 nis
Shrimps, calamari, mussels and crabs in garlic-butter-white wine sauce
Salomon fillet   – 99 nis
Served grilled
Red Mullets   –  120 nis
Served deep fried
Small sea fish mix  –  110 nis
Served deep fried
Jaffa sea food salad  –  109 nis
Stir-fried mixed seafood with Babai's sauce, on a bed of hummus
Calamari rings  – 109 nis
Served deep fried
Shrimps   –  109 nis
Stir-fried in garlic-butter-white wine/ deep fried
Shrimps and calamari mix   –   109 nis
Deep fried
Fatuccini pasta with salomon   –  99 nis
Served with cream sauce or tomato sauce
Drum fish fillet with ravioli stuffed with sweet potato   –  109 nis 
Lebanese kebab   –  95 nis
Served on eggplant end tehine
Chicken steak  –  95 nis
Lamb chops  –  130 nis
Entrecote steak –  120 nis  
Couple dishes
Babai's Plate    –  225 nis
Shrimps, calamari, head of calamari and small sea fish deep fried
Meat plate for two   –  255 nis
2 lamb chops, 4 lamb kebab, entrecote 200 gr and chicken steak
Sea food Cocktail    –    265 nis
Shrimps, calamari, head of calamari deep fried served with shrimps, calamari, mussels and crabs in garlic-butter-white wine sauce  
Kids menu
Chicken nuggets with French fries       –   55 nis
Fish and chips   – 55 nis  
Dessert
Water melon with feta cheese      –   45 nis
Hot chocolate soufflé   –  38 nis
Hot apple pie  –   38 nis
Profiterole with vanilla ice cream(3 pcs)   –   42 nis
Bawaria muss  –  28 nis
Malabi with rose water    –   28 nis  
Hot drinks
Tea with fresh peppermint  –  10 nis
Black coffee   – 10 nis
Cappuccino  –  14 nis
Espresso  – 12 nis
Double espresso  – 14 nis
Americano    –  14 nis         
Soft drinks
Coca cola/ cola zero   –  12 nis                                                               
Sprite/ sprite zero    –  12 nis                                                                    
Soda water -10 nis                                                                             
Grapefruit juice/ orange juice/ grape juice –  12 nis
Root beer   – 16 nis
San Pelegrino (750 ml) –  28 nis
Glass of Chardonnay bin, binyamina winery      –   27 nis
Glass of Cabernet sauvignon, binyamina winery    –  27 nis
White wines
Gewürztraminer Yarden, Golan wines    –   159 nis
Chardonnay Gamla Golan Wines     –    129 nis
Old Vine colombard, Grenache Blanc, Roussanne & Gewürztraminer Viognier, Vitkin Winery  – 149 nis
Fume blanc, Dalton Winery, Oak Aged    –  149 nis
Gewürztraminer, Teperberg Winery    –  135 nis
Sauvignon Blanc Reserve, Avidan Winery     –   165 nis
La Vie, Blanc Du Castel, Castel Winer   –  165 nis
Chardonnay Bin, Binyamina Winery     –   99 nis
Red wines
Carignan, Avidan Winery     –  169 nis
Assemblage, Barkan Winery    –  165 nis
Cabernet Sauvignon, Dalton Winery    –    145 nis
Nabbiolo Gamla, Golan Wines    –  155 nis
Cabernet Sauvignon, Ella Valley Winery    – 125 nis
Hermon, Golan Wines    –   110 nis
Merlot, yarden, golan wines    –    169 nis
Cabernet Sauvignon, Bin, Binyamina Winery     –   99 nis
Beer
Heineken (330 ml) – 24 nis
Goldstar (330 ml)  – 24 nis
Weihenstephan (500 ml) – 38 nis
Stella (330 ml) – 26 nis
Leffe brown/ leffe blond (330 ml) – 34 nis
Mediterranean cuisine
Fish and seafood
Vegetarian cuisine

BABAI (Jaffo)

The oldest Jaffa restaurant, Babay has its own history. The Babay restaurant's owner used to be a fisherman but then decided to open a small seaside tavern. In the course of time, the tavern has grown into a big restaurant but has kept its light atmosphere of the small cosy place, where you can feel the aura of beautiful Jaffo tales. The restaurant's cuisine is really impeccable; everything is fresh and home-made. If you want to try local fresh saltwater fish, you'd better do it here, in Babay restaurant! Babay is situated on the top of rock, overlooking the sea, in the most beautiful place of Jaffa. It has a spacious hall with original and authentic design, as well as a big yard facing the sea, where you can host any event with 600 seats available.

Starters

Hummus   – 24 nis

Hummus with mushrooms   –  36 nis

Eggplant falafel   –  35 nis

5 homemade falafel balls from eggplant , served with green tahini

Meat cube (mini) with green tahini  – 36 nis

Homemade Green tahini  –  24 nis

Labane   –  26 nis

Labane served with olive oil , hyssop , and chopped tomatoes

Whole grilled eggplant  –  32 nis

with tahini and chopped tomatoes and parsley

Arabic chopped salad  – 37 nis

Cucumber , tomato, onion and parsley , seasoned with lemon and olive oil

Greek salad  –  44 nis

Lettuce , cucumber , tomato, onion and seasoned with olive oil and lemon feta cheese French fries  –  24 nis

Sea fish carpaccio  – 48 nis

Sea fish carpaccio and lime and oils blend

Stuffed mushrooms with cheese  –  36 nis

Wrapped in breadcrumbs and deep-fried

Main dishes 

Main course served with home salads.

Salads without ordering main course for adult 50 nis.

Salads for child 25 nis. 1 garnish for a choice: maklube (rice with vegetables and authentic spices)' French fries or vegetable salad 

Corvine filet with seafood  –  145 nis

Corvina filet seared on grill, served with mixed seafood with garlic butter and wine

Mullet seenia  –  110 nis

Mullet fillets with hot tahini baked in oven

Sea bass   – 129 nis

Open and grilled/ deep fried/ grilled fillet

Sea bream   –   119 nis

Open and grilled/ deep fried/ grilled fillet

Sant Peter's fish  –  99 nis

Served deep fried

Shrimps skewers   – 110 nis

Shrimps, calamari and mussels stir-fried in garlic-butter-white wine sauce/ tomato sauce

Sea food mix  –  110 nis

Shrimps, calamari, mussels and crabs in garlic-butter-white wine sauce

Salomon fillet   – 99 nis

Served grilled

Red Mullets   –  120 nis

Served deep fried

Small sea fish mix  –  110 nis

Served deep fried

Jaffa sea food salad  –  109 nis

Stir-fried mixed seafood with Babai's sauce, on a bed of hummus

Calamari rings  – 109 nis

Served deep fried

Shrimps   –  109 nis

Stir-fried in garlic-butter-white wine/ deep fried

Shrimps and calamari mix   –   109 nis

Deep fried

Fatuccini pasta with salomon   –  99 nis

Served with cream sauce or tomato sauce

Drum fish fillet with ravioli stuffed with sweet potato   –  109 nis 

Lebanese kebab   –  95 nis

Served on eggplant end tehine

Chicken steak  –  95 nis

Lamb chops  –  130 nis

Entrecote steak –  120 nis  

Couple dishes

Babai's Plate    –  225 nis

Shrimps, calamari, head of calamari and small sea fish deep fried

Meat plate for two   –  255 nis

2 lamb chops, 4 lamb kebab, entrecote 200 gr and chicken steak

Sea food Cocktail    –    265 nis

Shrimps, calamari, head of calamari deep fried served with shrimps, calamari, mussels and crabs in garlic-butter-white wine sauce  

Kids menu

Chicken nuggets with French fries       –   55 nis

Fish and chips   – 55 nis  

Dessert

Water melon with feta cheese      –   45 nis

Hot chocolate soufflé   –  38 nis

Hot apple pie  –   38 nis

Profiterole with vanilla ice cream(3 pcs)   –   42 nis

Bawaria muss  –  28 nis

Malabi with rose water    –   28 nis  

Hot drinks

Tea with fresh peppermint  –  10 nis

Black coffee   – 10 nis

Cappuccino  –  14 nis

Espresso  – 12 nis

Double espresso  – 14 nis

Americano    –  14 nis         

Soft drinks

Coca cola/ cola zero   –  12 nis                                                               

Sprite/ sprite zero    –  12 nis                                                                    

Soda water -10 nis                                                                             

Grapefruit juice/ orange juice/ grape juice –  12 nis

Root beer   – 16 nis

San Pelegrino (750 ml) –  28 nis

Glass of Chardonnay bin, binyamina winery      –   27 nis

Glass of Cabernet sauvignon, binyamina winery    –  27 nis

White wines

Gewürztraminer Yarden, Golan wines    –   159 nis

Chardonnay Gamla Golan Wines     –    129 nis

Old Vine colombard, Grenache Blanc, Roussanne & Gewürztraminer Viognier, Vitkin Winery  – 149 nis

Fume blanc, Dalton Winery, Oak Aged    –  149 nis

Gewürztraminer, Teperberg Winery    –  135 nis

Sauvignon Blanc Reserve, Avidan Winery     –   165 nis

La Vie, Blanc Du Castel, Castel Winer   –  165 nis

Chardonnay Bin, Binyamina Winery     –   99 nis

Red wines

Carignan, Avidan Winery     –  169 nis

Assemblage, Barkan Winery    –  165 nis

Cabernet Sauvignon, Dalton Winery    –    145 nis

Nabbiolo Gamla, Golan Wines    –  155 nis

Cabernet Sauvignon, Ella Valley Winery    – 125 nis

Hermon, Golan Wines    –   110 nis

Merlot, yarden, golan wines    –    169 nis

Cabernet Sauvignon, Bin, Binyamina Winery     –   99 nis

Beer

Heineken (330 ml) – 24 nis

Goldstar (330 ml)  – 24 nis

Weihenstephan (500 ml) – 38 nis

Stella (330 ml) – 26 nis

Leffe brown/ leffe blond (330 ml) – 34 nis