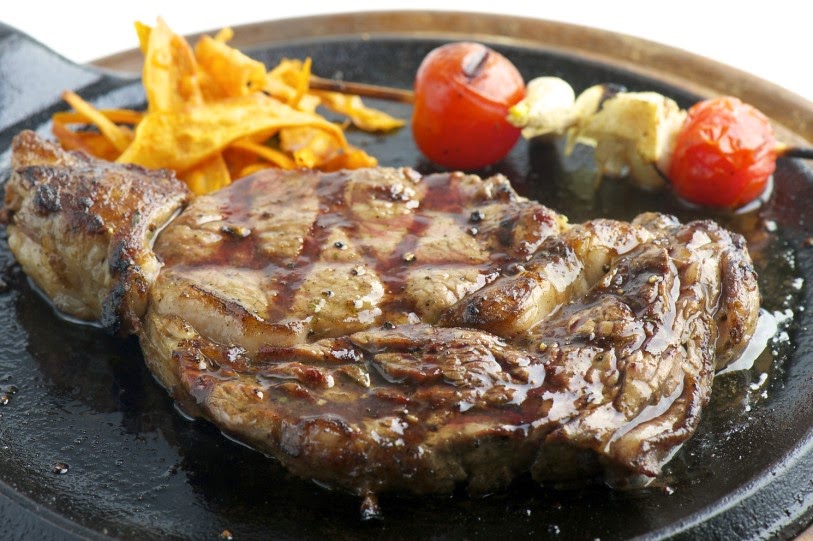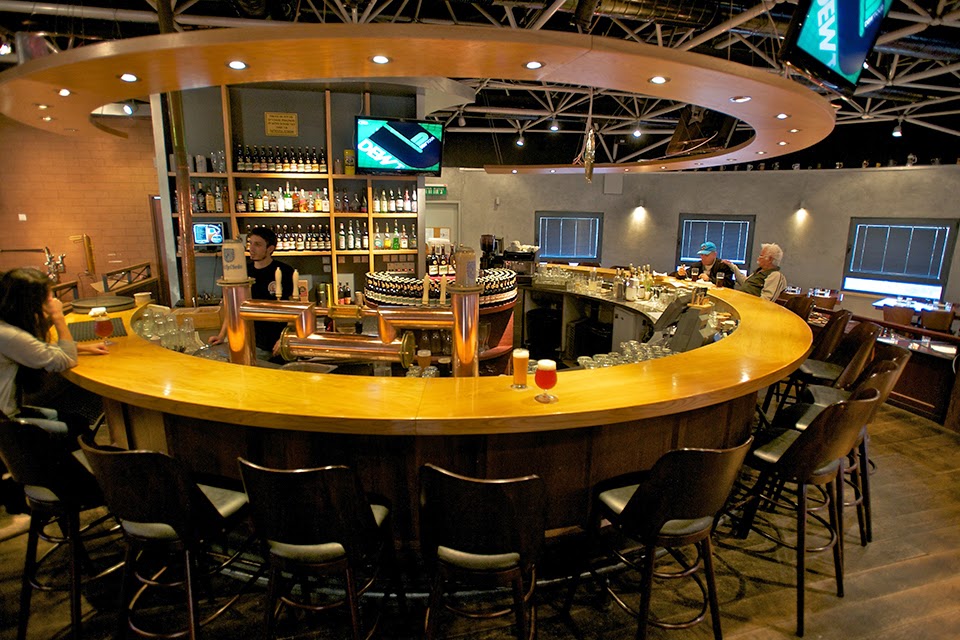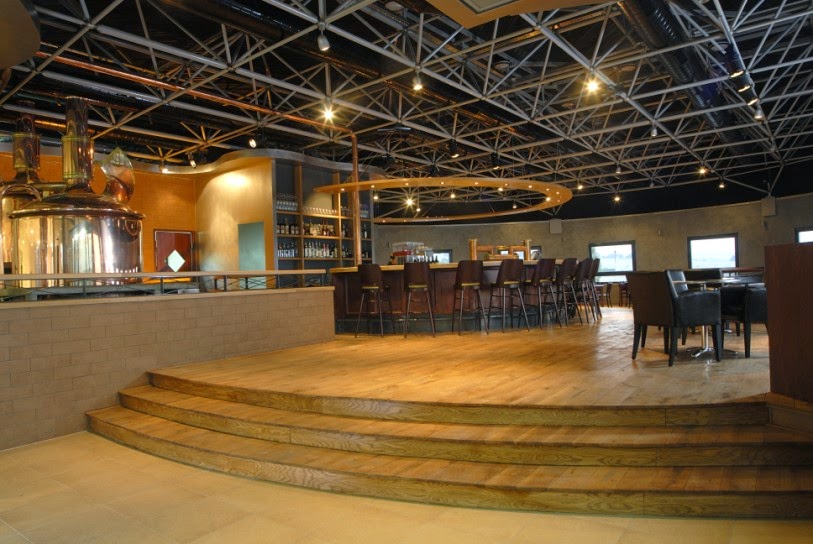 BREWHOUSE 
(Qatsrin)
Premium meat restaurant with a menu similar to a menu of the majority of the premium steak houses in the world, but the peculiar advantage of Brewhouse is premium-quality meat and scent of the freshly brewed beer.
Specialties of the restaurant: excellent cured marble entrecote, boiled sausages on a bed of suarkraut and mashed potatoes, juicy burger, pretzel (bagel) with slices of corned beef and roast beef.
Unique youth setting, warm cozy design, huge copper tanks where the fresh "live" beer based on spring water is foaming standing next to the dinner tables.
You can have various functions with kosher dishes (up to 140 guests) in Brewhouse at the Golan Heights.
The restaurant is open every day from 11:30 AM till the last visitor.
Golan brewery – on weekdays (provided booked in advance) – holds tasting group tours. Our visitors will learn about a fascinating process of brewing and will taste 4 varieties of basalt beer:
*Basalt Pilsner is a light lager with a significant hop flavour and light sweetness of malt. 4.9% alcohol
*Basalt Ale, amber is a cloudy red beer, a perfect balance of bitterness and fruit flavour. 6.4% alcohol.
* Wheat Basalt originates in Bavaria, it is a "cloudy" beer because of wheat and yeasts that add playful fruit flavour to it. 5.1% alcohol.
* Basalt Doppelbock is a lager known as "monks lent beer", dark and strong with rich flavour of coffee and chocolate. 8% alcohol.
Moreover, it offers Kesem Hagolan (Magic of the Golan Heights):
Bright dramatic audio-visual show about the Golan Heights with the country's largest 3D topographic model.
Appetizers
Eggplant Baladi – 24 nis
Grilled eggplant with tahini and pesto sauces
Homemade bread – 12 nis
Fresh grain bread baked on site, with hyssop, olive oil and a drop of balsamic vinegar
Homemade Salads – 30 nis
Tomato tapenade with fried eggplant, tahini, ship konim, Kalamata olives, and air-dried olives, served with bread
Fried Mushrooms – 38 nis
Champignons fried in various homemade dressings and balsamic caramel, almond petals
Stuffed Mushrooms – 34 nis
Portobello mushrooms stuffed with chicken fillet and greens, with mayonnaise based sauce with garlic and dill
Mushrooms in Beer Batter – 32 nis
Crispy mushrooms with sweet chili sauce
Palm Salad – 42 nis
Lettuce leaves, fresh new greens, cherry tomatoes, cucumbers, carrot, heart of palm, walnuts, croutons, vinaigrette
Finely Chopped Salad – 36 nis
Tomatoes, cucumbers, parsley, salt and pepper, lemon, and olive oil
Galilean Salad – 38 nis
Raw beet, new greens, celery, cranberries, fried almond, sesame oil, balsamic vinegar, olive oil, lemon, salt, and pepper
Antipasti – 34 nis
Fried vegetables seasoned with olive oil, balsamic vinegar, and greens
With Beer
Pretzel Corned Beef – 1 / 2 pcs. – 22/42 nis
Bavarian bagel with corned beef slices, BBQ sauce, lettuce, salad, tomatoes, and pickles, accompanied by homemade pickles
Large Chips – 28 nis
Brewery's Specialty Nuggets – 44 nis
Slices of chicken fillet marinated in Dijon mustard, fried in batter, served with sweet chili sauce
Pan of Mini Chorizos – 36 nis
Chorizo sausages on a bed of sauerkraut cooked in fresh beer
Chicken Wings – 32 nis
Fried wings with BBQ sauce, sweet chili pepper, and sesame oil
Vegetarian Menu
Ask your waiter
Quiche with Eggplant – 52 nis
Pieces of fried eggplants on a bed of crispy dough. Served with a homemade salad
Fried Vegetables – 52 nis
Choice of fried vegetables including green cabbage, red cabbage, carrot, pepper, sprouts, and green onions, homemade sauce, served with rice, pesto, and chopped almond
Winter Soup
Brewery's Specialty Soup
Main Courses
Chicken Breast – 62 nis
Grilled slices of chicken breast marinated in chimichurri sauce, served with greens, smoke-cured potatoes, and garlic sauce
Chicken Schnitzel – 62 nis
Chicken breast in crispy bread crumbs, marinated in Dijon mustard, served with chips & sweet chili sauce
Chicken Breast Salad – 62 nis
Grilled chicken breast marinated in chimichurri sauce, served on a bed of lettuce and fried peppers with vinaigrette dressing
Chicken Steak – 74 nis
Grilled slices of chicken in a homemade marinade, with a drop of balsamic caramel dressing, served with mashed potatoes, and greens
Brewery's Specialty Sausages – 72 nis
Grilled juicy chorizo sausages of beef and mutton, served on a bed of mashed potatoes and sauerkraut, cooked in local beer
Premium Juicy Beef Burger, 160 g – 52 nis
Served in a roll with lettuce leaves, tomatoes, pickles, onions, and chips
Premium Juicy Beef Burgers, 230 g – 62 nis
Served in a roll with lettuce leaves, tomatoes, pickles, onions, and chips
Premium Juicy Beef Burger, 300 g – 72 nis
Served in a roll with lettuce leaves, tomatoes, pickles, onions, and chips
Beef Fillet, 200 g – 84 nis
Grilled juicy beef fillet served with mashed potatoes accompanied by a sauce of red wine and greens
Beef Fillet, 300 g – 114 nis
Grilled juicy beef fillet, served with mashed potatoes, accompanied by a sauce of a red wine and greens
Entrecote Steak, 330 g – 112 nis
330 g grilled cured marble beef, smoke-cured potatoes with garlic sauce and chimichurri sauce
Lamb Ribs, 500 g (including bones) – 128 nis
Grilled smoke-cured potatoes, garlic sauce, and chimichurri sauce
Brewery's Specialty Casserole – 82 nis
Beef and root crops, long cooked in beer, served on a bed of rice seasoned with pesto sauce
Fish
Fish Dish of the Day (ask your waiter) – 87 nis
Served with mashed potatoes and greens, garlic & dill sauce
Beer
Basal Ale, amber, 400 ml / 1 l – 25/56 nis
Basalt Pilsner 1/2 l / 1l – 22/30/56 nis
Wheat Basalt 1/3 l/1/2 l / 1l – 22/30/56 nis
Basalt Doppelbock 1/3 l / 1/2 l / 1l – 23/32/64 nis
Oog – seasonal beer, limited edition, 400 ml / 1 l – 25/56 nis
Adventure at the Golan Heights – 48/60 nis
Tasting: 4 beer glasses (200 ml each – 800 ml total) with sauerkraut and olives
Tasting: 5 beer glasses (depending on a season) with sauerkraut and olives (5 glasses 200 ml each – 1,000 ml total)
Mini Tasting – 14/17 nis
4 beer glasses 60 ml each – 240 ml total
5 beer glasses (depending on a season, 5 cups 60 ml each – 300 ml total)
Children's Menu
Chicken Nuggets & Chips – 44 nis
Burger 100 g & Chips – 44 nis
Served on a roll with lettuce leaves, tomatoes, pickles, and onions
BREWHOUSE 

(Qatsrin)

Premium meat restaurant with a menu similar to a menu of the majority of the premium steak houses in the world, but the peculiar advantage of Brewhouse is premium-quality meat and scent of the freshly brewed beer.
Specialties of the restaurant: excellent cured marble entrecote, boiled sausages on a bed of suarkraut and mashed potatoes, juicy burger, pretzel (bagel) with slices of corned beef and roast beef.
Unique youth setting, warm cozy design, huge copper tanks where the fresh "live" beer based on spring water is foaming standing next to the dinner tables.
You can have various functions with kosher dishes (up to 140 guests) in Brewhouse at the Golan Heights.
The restaurant is open every day from 11:30 AM till the last visitor.
Golan brewery – on weekdays (provided booked in advance) – holds tasting group tours. Our visitors will learn about a fascinating process of brewing and will taste 4 varieties of basalt beer:
*Basalt Pilsner is a light lager with a significant hop flavour and light sweetness of malt. 4.9% alcohol
*Basalt Ale, amber is a cloudy red beer, a perfect balance of bitterness and fruit flavour. 6.4% alcohol.
* Wheat Basalt originates in Bavaria, it is a "cloudy" beer because of wheat and yeasts that add playful fruit flavour to it. 5.1% alcohol.
* Basalt Doppelbock is a lager known as "monks lent beer", dark and strong with rich flavour of coffee and chocolate. 8% alcohol.
Moreover, it offers Kesem Hagolan (Magic of the Golan Heights):
Bright dramatic audio-visual show about the Golan Heights with the country's largest 3D topographic model.

Appetizers

Eggplant Baladi – 24 nis
Grilled eggplant with tahini and pesto sauces
Homemade bread – 12 nis
Fresh grain bread baked on site, with hyssop, olive oil and a drop of balsamic vinegar
Homemade Salads – 30 nis
Tomato tapenade with fried eggplant, tahini, ship konim, Kalamata olives, and air-dried olives, served with bread
Fried Mushrooms – 38 nis
Champignons fried in various homemade dressings and balsamic caramel, almond petals
Stuffed Mushrooms – 34 nis
Portobello mushrooms stuffed with chicken fillet and greens, with mayonnaise based sauce with garlic and dill
Mushrooms in Beer Batter – 32 nis
Crispy mushrooms with sweet chili sauce
Palm Salad – 42 nis
Lettuce leaves, fresh new greens, cherry tomatoes, cucumbers, carrot, heart of palm, walnuts, croutons, vinaigrette
Finely Chopped Salad – 36 nis
Tomatoes, cucumbers, parsley, salt and pepper, lemon, and olive oil
Galilean Salad – 38 nis
Raw beet, new greens, celery, cranberries, fried almond, sesame oil, balsamic vinegar, olive oil, lemon, salt, and pepper
Antipasti – 34 nis
Fried vegetables seasoned with olive oil, balsamic vinegar, and greens

With Beer

Pretzel Corned Beef – 1 / 2 pcs. – 22/42 nis
Bavarian bagel with corned beef slices, BBQ sauce, lettuce, salad, tomatoes, and pickles, accompanied by homemade pickles
Large Chips – 28 nis
Brewery's Specialty Nuggets – 44 nis
Slices of chicken fillet marinated in Dijon mustard, fried in batter, served with sweet chili sauce
Pan of Mini Chorizos – 36 nis
Chorizo sausages on a bed of sauerkraut cooked in fresh beer
Chicken Wings – 32 nis
Fried wings with BBQ sauce, sweet chili pepper, and sesame oil
Vegetarian Menu
Ask your waiter
Quiche with Eggplant – 52 nis
Pieces of fried eggplants on a bed of crispy dough. Served with a homemade salad
Fried Vegetables – 52 nis
Choice of fried vegetables including green cabbage, red cabbage, carrot, pepper, sprouts, and green onions, homemade sauce, served with rice, pesto, and chopped almond

Winter Soup

Brewery's Specialty Soup

Main Courses

Chicken Breast – 62 nis
Grilled slices of chicken breast marinated in chimichurri sauce, served with greens, smoke-cured potatoes, and garlic sauce
Chicken Schnitzel – 62 nis
Chicken breast in crispy bread crumbs, marinated in Dijon mustard, served with chips & sweet chili sauce
Chicken Breast Salad – 62 nis
Grilled chicken breast marinated in chimichurri sauce, served on a bed of lettuce and fried peppers with vinaigrette dressing
Chicken Steak – 74 nis
Grilled slices of chicken in a homemade marinade, with a drop of balsamic caramel dressing, served with mashed potatoes, and greens
Brewery's Specialty Sausages – 72 nis
Grilled juicy chorizo sausages of beef and mutton, served on a bed of mashed potatoes and sauerkraut, cooked in local beer
Premium Juicy Beef Burger, 160 g – 52 nis
Served in a roll with lettuce leaves, tomatoes, pickles, onions, and chips
Premium Juicy Beef Burgers, 230 g – 62 nis
Served in a roll with lettuce leaves, tomatoes, pickles, onions, and chips
Premium Juicy Beef Burger, 300 g – 72 nis
Served in a roll with lettuce leaves, tomatoes, pickles, onions, and chips
Beef Fillet, 200 g – 84 nis
Grilled juicy beef fillet served with mashed potatoes accompanied by a sauce of red wine and greens
Beef Fillet, 300 g – 114 nis
Grilled juicy beef fillet, served with mashed potatoes, accompanied by a sauce of a red wine and greens
Entrecote Steak, 330 g – 112 nis
330 g grilled cured marble beef, smoke-cured potatoes with garlic sauce and chimichurri sauce
Lamb Ribs, 500 g (including bones) – 128 nis
Grilled smoke-cured potatoes, garlic sauce, and chimichurri sauce
Brewery's Specialty Casserole – 82 nis
Beef and root crops, long cooked in beer, served on a bed of rice seasoned with pesto sauce

Fish

Fish Dish of the Day (ask your waiter) – 87 nis
Served with mashed potatoes and greens, garlic & dill sauce

Beer

Basal Ale, amber, 400 ml / 1 l – 25/56 nis
Basalt Pilsner 1/2 l / 1l – 22/30/56 nis
Wheat Basalt 1/3 l/1/2 l / 1l – 22/30/56 nis
Basalt Doppelbock 1/3 l / 1/2 l / 1l – 23/32/64 nis
Oog – seasonal beer, limited edition, 400 ml / 1 l – 25/56 nis
Adventure at the Golan Heights – 48/60 nis
Tasting: 4 beer glasses (200 ml each – 800 ml total) with sauerkraut and olives
Tasting: 5 beer glasses (depending on a season) with sauerkraut and olives (5 glasses 200 ml each – 1,000 ml total)
Mini Tasting – 14/17 nis
4 beer glasses 60 ml each – 240 ml total
5 beer glasses (depending on a season, 5 cups 60 ml each – 300 ml total)

Children's Menu

Chicken Nuggets & Chips – 44 nis
Burger 100 g & Chips – 44 nis
Served on a roll with lettuce leaves, tomatoes, pickles, and onions