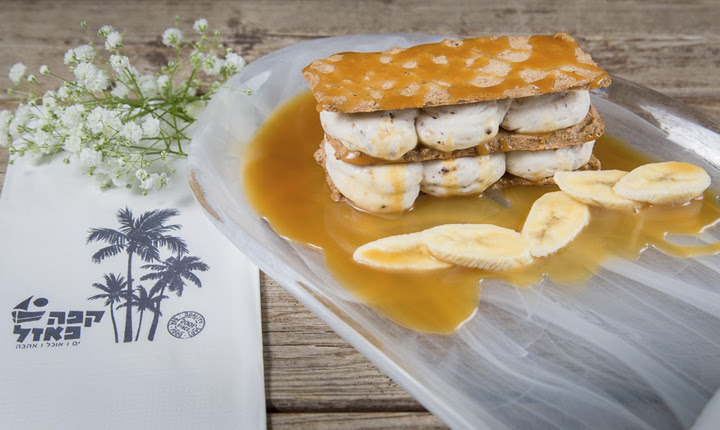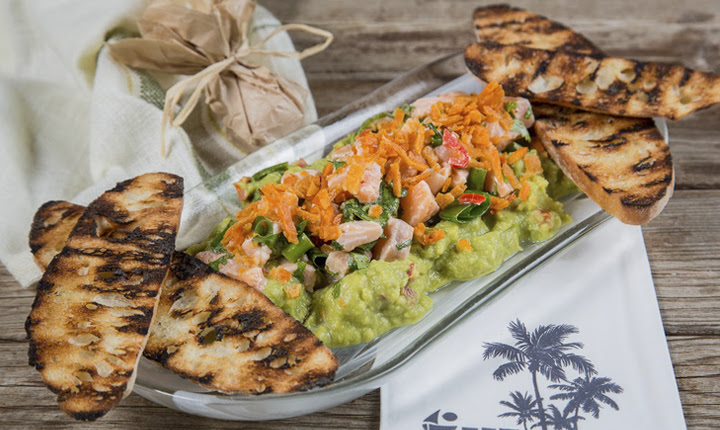 Italian Cuisine
Spanish cuisine
Meat dishes
Fast food
CAFE PAZEL 
(Ashdod)
The Café Puzel Restaurant in Ashdod is located on the northern end of Kshatot beach on the opposite side of the open sea. On the open terrace one can enjoy the warm sun in sunny winter days and wonderful refreshing breeze in hot summer days. The cozy and modern design of the restaurant delights the eye by the clear lines, windows with a view of the open sea and fantastic sunsets ideally supplement it. Pleasant and soft music flavoured with the Latin rhythms maintains the calm, pacifying and romantic atmosphere. The rich menu offers a large variety of dishes in the different styles as well as wide and diverse choice of beverages. The original terrace for the smokers is especially nice here, but even if you do not smoke, you will like it.
First courses
Admama – 26 nis Home-made bread – 19 nis Flat "Mediterranean" bread from the stone oven, with thyme, olive oil and garlic, served with spreads Mushrooms – 39 nis Portobello and champignons on "a la" plancha, cooked with oil, garlic and white wine. Cauliflower – 39 nis Crispy breaded cauliflower Artichoke carciofi and Jerusalem artichoke – 46 nis Pan-roasted in greens marinade on the fried tomatoes bed with fresh oregano and lebene. Eggplants – 42 nis Whole eggplant cooked over an open fire. Шлифовальные, tomato, pepper and greens cup. Vegetables on the plancha – 42 nis Cauliflower, zucchini, onion, broad beans, multi-coloured peppers and mushrooms with olive oil, sea salt and pepper. Mushroom risotto – 44 nis Italian rice cooked in the porcini mushroom broth, wild mushrooms, oil and Parmesan cheese Samba pizza – 57 nis "Vegetable mixture", different cherry tomato varieties, baby mozzarella, meagre dices, on lavash with pesto aioli sauce and pepper coulis. Salmon tartare – 46 nis Dices of pickled salmon, avocado cream and tortilla chips (savoury) Fish & chips – 59 nis Breaded cod fillet with chips and chipotle aioli Chicken nuggets – 42 nis Breaded chicken breast, served with chili aioli Chicken liver pâté – 39 nis Served with toasts and shallot jam. Wings – 44 nis 12 pcs. cooked in the hot wok with chili / teriyaki sauce. Carpaccio sinta – 52 nis Beef carpaccio with fresh lemon juice, drop of balsamic vinegar, olive oil, spices, Kalamata olives and garlic confit, served with crostini, olive oil and sea salt.
Raf tortilla
Chicken tortilla – 59 nis Chicken in chipotle cream with tomato, onion cup and chips Entrecôte tortilla – 67 nis Entrecôte slices with pan-roasted onions and Dijon aioli sauce. * Accompanied by the sauce and fresh salad with oregano-apple vinaigrette.
Salads
Retro – 56 nis Greens mixture, tomatoes, cucumbers, red onion, diced Bulgarian cheese, Kalamata olives, olive oil, lemon, and sumac. Tuna – 56 nis Ratatouille with tuna and multi-coloured peppers, chopped red onion and home-made mayonnaise, served on the lettuce leaves with fresh vegetables, half-sour pickles, pickled lemon and hard-boiled egg, apple vinaigrette sauce Caprese artichoke – 59 nis Cherry tomatoes, cucumbers, garden radishes, red onion, olives, basil, olive oil and lemon, grilled artichoke slices and crispy breaded mozzarella balls Mushrooms – 59 nis Pan-roasted mushroom mixture, fried peppers and sun-dried tomatoes on the green salad bed with sauce. Chef's speciality – 59 nis Pan-roasted halloumi cheese, fried peppers, sun-dried tomatoes and fried pumpkin seeds on the green salad bed with sauce. Caesar – 62 nis Young lettuce, grilled chicken breast, rocket salad, cherry tomatoes, and garlic toasts with rosemary, Caesar aioli sauce Chololo – 65 nis Grilled chicken with citrus marinade, chili, cucumber slices, sprouts, garden radishes, coriander, ginger, green onions, and caramelized groundnuts in the Asian-style citrus vinaigrette * Salads are served with bread and spreads.
Pastas
Fettuccine / penne – 55 nis Ricotta / sweet potato ravioli – 59 nis Sauces at your choice: Tomato – classical tomato sauce with pieces of garlic pan-fried in olive oil. Artichoke primavera – slices of artichoke, cherry tomatoes, mushrooms, fresh garlic, greens, and olive oil Vegetables on the plancha – cauliflower, vegetable marrows, green beans, multi-coloured peppers, cheery tomatoes and mushrooms with olive oil and berry balsamic vinegar Pongati – butter cream with porcini mushroom broth, wild mushrooms sautéed in butter. Four cheeses – mozzarella, Parmesan, yellow cheese, and butter cream Gnocchi with pan-roasted tomatoes – 62 nis Fresh tomato flakes, pesto sauce, fresh oregano, and olive oil Extra order of chicken breast slices – 16 nis
Pizza and bagel toast
Cheese bagel – 42 nis Abulafia bagel – 47 nis Doughnut-shaped bread roll with sesame, yellow cheese, Bulgarian cheese, tomatoes, and hyssop (za'atar) Salmon bagel – 47 nis Philadelphia cheese, green onions and smoked salmon. Served with fresh salad and oregano-apple vinaigrette. Pizza napoletana – 45 nis Mozzarella and cheese Fillings – 3 nis Artichoke carciofi filling – 8 nis Mozzarella filling – 8 nis * One can order the gluten-free pizza dough.
Main courses
Souvlaki shawarma – 67 nis Turkey shawarma slices with onion and Mediterranean spices, served on lavash with tahini sauce, tomato salsa and red onion. Chicken tikka – 67 nis Marinated chicken shashlik on the rice bed with home-made caramelized groundnuts Hamburger – 59 nis Fresh ground on the spot beef hamburger, served on the bun with lettuce, tomatoes, half-sour pickles, red onion, and green jalapeño sauce Mutton mini kebabs – 65 nis Pan-roasted eggplant cut in half, fried cherry tomatoes with Ethiopian tahini sauce Chicken majitas – 67 nis Chicken steak slices, multi-coloured peppers and onion roasted on the plancha 330 g entrecôte – 109 nis Dry-aged, grilled with sea salt. Salmon fillet – 92 nis Fried on the plancha with cream sauce and greens Meagre fillet – 109 nis Pan-roasted with vegetables in tomato salsa, with garlic and thyme. Pomfret fillet – 99 nis Pan-roasted with greens, dried tomatoes and fried peppers, served on the Arabian cabbage, pan-roasted with garlic, lemon and parsley Whole pomfret – 109 nis Baked in stone oven with greens, garlic, lemon, and olive oil * Served with garnish at your choice: chips / rice / home fries / potatoes / salad / potatoes baked over an open fire.
Desserts
Sorbet tower – 39 nis Sorbet (three flavours) is served on the seasonal fruit salad with meringue Cheesecake – 38 nis Velvety cream cheese with chopped nougatine and berry sauce Chocolate soufflé – 38 nis Baked on the spot from the premium Belgian chocolate with the French vanilla ice-cream Profiterole – 39 nis Profiteroles filled with vanilla ice-cream in the warm chocolate sauce, halva Enamoured profiterole – 39 nis Profiteroles filled with the mascarpone cream and white chocolate, with strawberry sauce and chopped white chocolate Surprise in a bottle – 42 nis Coconut dainty – 39 nis Coconut ice-cream with crispy rice and warm chocolate sauce Hazelnut cassata – 42 nis Layers of nut cream on the crispy nut sponge cake with warm banana and iris sauce Kukilida – 42 nis Triple cookies, French vanilla ice-cream with chocolate sauce and chopped white chocolate Belgian waffles – 47 nis Two scoops of ice-cream, whipped cream, fruits, and chocolate Strawberries with whipped cream (seasonal) – 29 nis Watermelon (seasonal) – 32 nis Ice-cream and cocktails Ben & Jerry ice-cream – 15 nis per scoop French vanilla, New York super, cream with cookies, chunky monkey, and coconut. Milk cocktail – 27 nis Fruit cocktail – 25 nis Strawberries, bananas, melon, pineapple, palms, and mango Yogurt topping – 4 nis Pecan topping – 4 nis Juice – 19 nis Orange, lemonade, mint, and grapefruit Ice – 19 nis Iced coffee / iced strawberry / passion fruit Whipped cream topping – 8 nis
Children's dishes
Tomato penne – 42 nis Chicken nuggets & chips – 46 nis Hamburger & chips – 46 nis Chicken shashlik & rice – 49 nis * Includes the beverage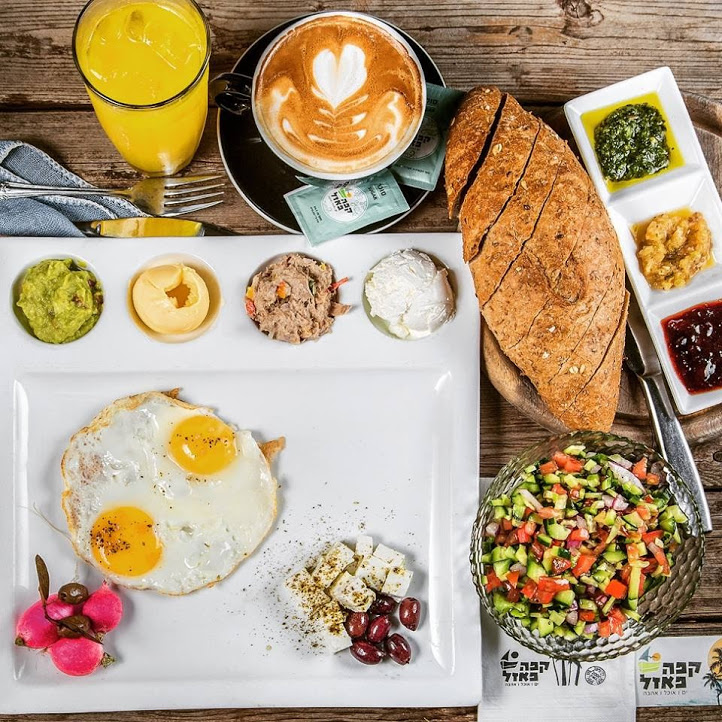 Breakfast Israeli breakfast for one / two persons – 57/108 nis Two eggs at your choice. Served with green/chopped salad, farm cheese, ratatouille with tuna, guacamole sauce, bread, spreads, hot beverage, and juice (till 12:00 p.m.) Extra order of a glass of muesli to breakfast – 10 nis Shakshouka – 52 nis 2 eggs on the matbucha bed (tomatoes and peppers cooked over an open fire), with bread and salad. One can order it to be cooked very spicy. Includes hot beverage and juice (till 12:00 p.m.) Muesli – 28 nis Fresh yogurt, fruit salad, muesli, honey, and dried cranberries
Italian Cuisine
Spanish cuisine
Meat dishes
Fast food

CAFE PAZEL 

(Ashdod)

The Café Puzel Restaurant in Ashdod is located on the northern end of Kshatot beach on the opposite side of the open sea. On the open terrace one can enjoy the warm sun in sunny winter days and wonderful refreshing breeze in hot summer days. The cozy and modern design of the restaurant delights the eye by the clear lines, windows with a view of the open sea and fantastic sunsets ideally supplement it. Pleasant and soft music flavoured with the Latin rhythms maintains the calm, pacifying and romantic atmosphere. The rich menu offers a large variety of dishes in the different styles as well as wide and diverse choice of beverages. The original terrace for the smokers is especially nice here, but even if you do not smoke, you will like it.

First courses

Admama – 26 nis Home-made bread – 19 nis Flat "Mediterranean" bread from the stone oven, with thyme, olive oil and garlic, served with spreads Mushrooms – 39 nis Portobello and champignons on "a la" plancha, cooked with oil, garlic and white wine. Cauliflower – 39 nis Crispy breaded cauliflower Artichoke carciofi and Jerusalem artichoke – 46 nis Pan-roasted in greens marinade on the fried tomatoes bed with fresh oregano and lebene. Eggplants – 42 nis Whole eggplant cooked over an open fire. Шлифовальные, tomato, pepper and greens cup. Vegetables on the plancha – 42 nis Cauliflower, zucchini, onion, broad beans, multi-coloured peppers and mushrooms with olive oil, sea salt and pepper. Mushroom risotto – 44 nis Italian rice cooked in the porcini mushroom broth, wild mushrooms, oil and Parmesan cheese Samba pizza – 57 nis "Vegetable mixture", different cherry tomato varieties, baby mozzarella, meagre dices, on lavash with pesto aioli sauce and pepper coulis. Salmon tartare – 46 nis Dices of pickled salmon, avocado cream and tortilla chips (savoury) Fish & chips – 59 nis Breaded cod fillet with chips and chipotle aioli Chicken nuggets – 42 nis Breaded chicken breast, served with chili aioli Chicken liver pâté – 39 nis Served with toasts and shallot jam. Wings – 44 nis 12 pcs. cooked in the hot wok with chili / teriyaki sauce. Carpaccio sinta – 52 nis Beef carpaccio with fresh lemon juice, drop of balsamic vinegar, olive oil, spices, Kalamata olives and garlic confit, served with crostini, olive oil and sea salt.

Raf tortilla

Chicken tortilla – 59 nis Chicken in chipotle cream with tomato, onion cup and chips Entrecôte tortilla – 67 nis Entrecôte slices with pan-roasted onions and Dijon aioli sauce. * Accompanied by the sauce and fresh salad with oregano-apple vinaigrette.

Salads

Retro – 56 nis Greens mixture, tomatoes, cucumbers, red onion, diced Bulgarian cheese, Kalamata olives, olive oil, lemon, and sumac. Tuna – 56 nis Ratatouille with tuna and multi-coloured peppers, chopped red onion and home-made mayonnaise, served on the lettuce leaves with fresh vegetables, half-sour pickles, pickled lemon and hard-boiled egg, apple vinaigrette sauce Caprese artichoke – 59 nis Cherry tomatoes, cucumbers, garden radishes, red onion, olives, basil, olive oil and lemon, grilled artichoke slices and crispy breaded mozzarella balls Mushrooms – 59 nis Pan-roasted mushroom mixture, fried peppers and sun-dried tomatoes on the green salad bed with sauce. Chef's speciality – 59 nis Pan-roasted halloumi cheese, fried peppers, sun-dried tomatoes and fried pumpkin seeds on the green salad bed with sauce. Caesar – 62 nis Young lettuce, grilled chicken breast, rocket salad, cherry tomatoes, and garlic toasts with rosemary, Caesar aioli sauce Chololo – 65 nis Grilled chicken with citrus marinade, chili, cucumber slices, sprouts, garden radishes, coriander, ginger, green onions, and caramelized groundnuts in the Asian-style citrus vinaigrette * Salads are served with bread and spreads.

Pastas

Fettuccine / penne – 55 nis Ricotta / sweet potato ravioli – 59 nis Sauces at your choice: Tomato – classical tomato sauce with pieces of garlic pan-fried in olive oil. Artichoke primavera – slices of artichoke, cherry tomatoes, mushrooms, fresh garlic, greens, and olive oil Vegetables on the plancha – cauliflower, vegetable marrows, green beans, multi-coloured peppers, cheery tomatoes and mushrooms with olive oil and berry balsamic vinegar Pongati – butter cream with porcini mushroom broth, wild mushrooms sautéed in butter. Four cheeses – mozzarella, Parmesan, yellow cheese, and butter cream Gnocchi with pan-roasted tomatoes – 62 nis Fresh tomato flakes, pesto sauce, fresh oregano, and olive oil Extra order of chicken breast slices – 16 nis

Pizza and bagel toast

Cheese bagel – 42 nis Abulafia bagel – 47 nis Doughnut-shaped bread roll with sesame, yellow cheese, Bulgarian cheese, tomatoes, and hyssop (za'atar) Salmon bagel – 47 nis Philadelphia cheese, green onions and smoked salmon. Served with fresh salad and oregano-apple vinaigrette. Pizza napoletana – 45 nis Mozzarella and cheese Fillings – 3 nis Artichoke carciofi filling – 8 nis Mozzarella filling – 8 nis * One can order the gluten-free pizza dough.

Main courses

Souvlaki shawarma – 67 nis Turkey shawarma slices with onion and Mediterranean spices, served on lavash with tahini sauce, tomato salsa and red onion. Chicken tikka – 67 nis Marinated chicken shashlik on the rice bed with home-made caramelized groundnuts Hamburger – 59 nis Fresh ground on the spot beef hamburger, served on the bun with lettuce, tomatoes, half-sour pickles, red onion, and green jalapeño sauce Mutton mini kebabs – 65 nis Pan-roasted eggplant cut in half, fried cherry tomatoes with Ethiopian tahini sauce Chicken majitas – 67 nis Chicken steak slices, multi-coloured peppers and onion roasted on the plancha 330 g entrecôte – 109 nis Dry-aged, grilled with sea salt. Salmon fillet – 92 nis Fried on the plancha with cream sauce and greens Meagre fillet – 109 nis Pan-roasted with vegetables in tomato salsa, with garlic and thyme. Pomfret fillet – 99 nis Pan-roasted with greens, dried tomatoes and fried peppers, served on the Arabian cabbage, pan-roasted with garlic, lemon and parsley Whole pomfret – 109 nis Baked in stone oven with greens, garlic, lemon, and olive oil * Served with garnish at your choice: chips / rice / home fries / potatoes / salad / potatoes baked over an open fire.

Desserts

Sorbet tower – 39 nis Sorbet (three flavours) is served on the seasonal fruit salad with meringue Cheesecake – 38 nis Velvety cream cheese with chopped nougatine and berry sauce Chocolate soufflé – 38 nis Baked on the spot from the premium Belgian chocolate with the French vanilla ice-cream Profiterole – 39 nis Profiteroles filled with vanilla ice-cream in the warm chocolate sauce, halva Enamoured profiterole – 39 nis Profiteroles filled with the mascarpone cream and white chocolate, with strawberry sauce and chopped white chocolate Surprise in a bottle – 42 nis Coconut dainty – 39 nis Coconut ice-cream with crispy rice and warm chocolate sauce Hazelnut cassata – 42 nis Layers of nut cream on the crispy nut sponge cake with warm banana and iris sauce Kukilida – 42 nis Triple cookies, French vanilla ice-cream with chocolate sauce and chopped white chocolate Belgian waffles – 47 nis Two scoops of ice-cream, whipped cream, fruits, and chocolate Strawberries with whipped cream (seasonal) – 29 nis Watermelon (seasonal) – 32 nis Ice-cream and cocktails Ben & Jerry ice-cream – 15 nis per scoop French vanilla, New York super, cream with cookies, chunky monkey, and coconut. Milk cocktail – 27 nis Fruit cocktail – 25 nis Strawberries, bananas, melon, pineapple, palms, and mango Yogurt topping – 4 nis Pecan topping – 4 nis Juice – 19 nis Orange, lemonade, mint, and grapefruit Ice – 19 nis Iced coffee / iced strawberry / passion fruit Whipped cream topping – 8 nis

Children's dishes

Tomato penne – 42 nis Chicken nuggets & chips – 46 nis Hamburger & chips – 46 nis Chicken shashlik & rice – 49 nis * Includes the beverage

Breakfast Israeli breakfast for one / two persons – 57/108 nis Two eggs at your choice. Served with green/chopped salad, farm cheese, ratatouille with tuna, guacamole sauce, bread, spreads, hot beverage, and juice (till 12:00 p.m.) Extra order of a glass of muesli to breakfast – 10 nis Shakshouka – 52 nis 2 eggs on the matbucha bed (tomatoes and peppers cooked over an open fire), with bread and salad. One can order it to be cooked very spicy. Includes hot beverage and juice (till 12:00 p.m.) Muesli – 28 nis Fresh yogurt, fruit salad, muesli, honey, and dried cranberries