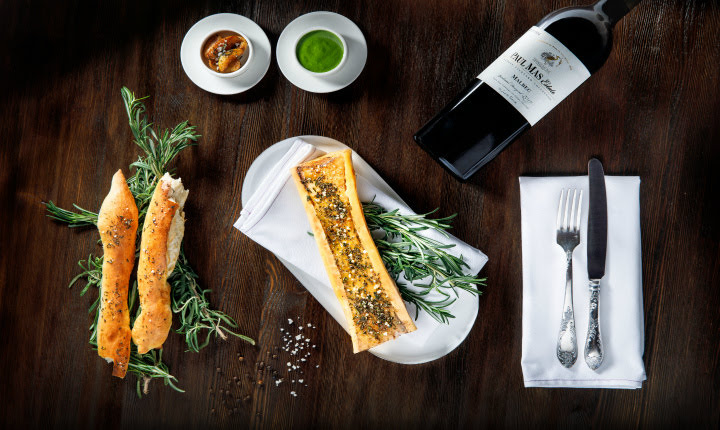 European cuisine
French Cuisine
Italian Cuisine
Meat dishes
Cuisine from Chef
Spanish cuisine
CORDERO 
(Tel Aviv)
THE ALL-NEW CORDERO RESTAURANT IN TEL AVIV PAYS HOMAGE TO SOUTHERN EUROPEAN CUISINE WITHIN A RESTORED, 19TH-CENTURY EDIFICE
Tel Aviv – February 1, 2019: Cordero, a 140-seat restaurant, offering a modern nod to fine Southern European gastronomy, announces its official opening on February 6, 2019 in the Neve Tzedek neighborhood of Tel Aviv adjacent to the famed Suzanne Dellal Center for Dance.
From the seafood restaurants of France to the tapas bars of Spain and the trattorias of Italy, Cordero aims to take diners on a journey through the gastronomically-rich regions of Southern Europe. Cordero's cuisine is inspired by the culinary techniques, flavors and ingredients from the Mediterranean coasts and is in sync with the fresh ingredients that Israel has to offer: fantastic seafood, outstanding farm-to-table meats, farm-grown fruits and vegetables and superb dairy products.
Featuring an in-house taboon and meat smoker, and employing traditional cooking methods such as slow cooking and sous-vide, Cordero offers two separate menus of refined Southern European dishes to suit every mood and palate: a traditional a la carte menu ranging from appetizers, main courses and desserts and a tapas-style menu that can be enjoyed for a late afternoon aperitivo, light dinner or late-night bites.
The main menu showcases appetizers such as La Tuna Italia, cold smoked red tuna with endive lettuce, asparagus, arugula, pecorino cheese, sun dried tomatoes, lemon zest and olive oil and Mejillones Calientes, Spanish style spicy mussels with anise, root vegetables and fennel cream.
As for the entrees, the Seafood Casserole with bouillabaisse sauce and the Paella Con Pollo will immediately transport guests to the coastals parts of France and Spain. A well thought-out list of wine and spirits includes bottles from top French, Spanish, Italian and Israeli vintners that are carefully chosen to perfectly match the food items.
Cordero not only embodies the Southern European cuisine, but it is also dressed in the tradition of timeless European interior design. The restaurant is fashioned with romantic and intimate lighting schemes, plush chairs, sofas and booth-lounge seating, such as 20th-century Belgian chairs and French lamps from the 1930's period. The white-tablecloth interior sets the tone for a refined bistro-dining experience while the adjacent lounge section — with its large velvet banquettes — invoke a living room sofa rather than a fine-dining table, reminding guests of the intimacy and comfort of a dinner party at home. Cordero also boasts two bar-seating areas offering guests a birds-eye view into the exposed kitchen and taboon.
Cordero is located at 6 Yehili Street, Tel Aviv, adjacent to the Suzanne Dellal outdoor courtyard.
BEGINNINGS 
Le Pain – 28
Bread basket. French rustic white and brown breads and quinoa bread, served with 
Cordero's house butter    
Focaccia – 31
Freshly baked focaccia bread, 
assorted homemade tapenade
Ensalada de Tomate – 48
Tomatoes, shallot, olives, confit garlic, chili pepper, lemon zest, oregano, ground pepper, olive oil, grilled Provence bread with olive oil 
La Salade Verte – 58
Endive lettuce, raw asparagus,  baby zucchini, arugula, pecorino cheese, sun dried tomatoes, seasonal berries, lemon zest and olive oil
Le parfait de foie duet – 72
Foie Gras and chicken liver parfait, pear chutney, toasted white bread, butter
Mejillones Calientes  – 86
Spanish style spicy mussels with anise, root
 vegetables and fennel cream 
Scaloppine alla Polenta – 94
Grilled Coquilles Saint-Jacques scallops with creamy polenta, blue crab bisque  and parmesan cheese
Atún español – 82
Cold smoked red tuna with gazpacho, 
goat cheese, olives, arugula and seasonal 
fruits
Os à Moelle Grillé – 76
Grilled marrow bone, confit garlic, rosemary, grilled bread, parsley & leeks cream
Le gâteau au fromage de la mer – 84
Smoked salmon with savory cheesecake,
beetroot and horseradish cream, grated yolk and fish roe
MAINS
Bouillabaisse de poissons de Méditerranée – 128
Fennel and Pastis cream, calamari, shrimps, mussels, seafish filet, slow cooked seafood and fish bouillon with olives and fresh tomatoes  
Cordero Cutlet – 121
Cutlet of minced beef and beef sweetbreads steak, red wine sauce and smoked bone marrow, potato and kohlrabi gratin
Paella Con Pollo – 98
Paella with grilled chicken, smoked paprika, lemon, chili and saffron 
Add Seafood to Paella  – 38
Pesce Intero – ask your waiter
Catch of the day – Whole Baked Sea Fish
Velouté de Poisson – 149
Gulf Corvina fish fillet, veloute martini sauce,
catch of the day seafood, potato and kohlrabi gratin
Filet de Boeuf  – 170
CHARCOAL-GRILLED beef tenderloin, 
root vegetables cream, shallot marmalade,
potato fondant, red wine reduction sauce
La Pièce du Boucher – ask your waiter
CHARCOAL-GRILLED Steak of the day
MENU BRONZE
180 NIS
BEGINNINGS
Focaccia
Focaccia from the tabun and house spreads
Ensalada de Tomate
Tomatoes, shallot, olives, confit garlic, chili
pepper, lemon zest, oregano, ground pepper,
olive oil, grilled Provence bread with olive oil
La Salade Verte
Endive lettuce, raw asparagus, baby zucchini,
arugula, pecorino cheese, sun dried tomatoes,
lemon zest and olive oil
Le Plateau de Fromages
Selection of premium boutique cheeses
MAINS
Le poisson fumé
Smoked Salmon fillet
Pierna de Cordero
Slow cooked whole lamb shank
Un pollo affumicato
Smoked spring chicken
Side dishes
Fondant de pomme de terre
Baked Rata potatoes
SWEET ENDINGS
Une assiette Cordero
A selection of desserts
SOFT DRINKS
Mineral water, soda, fruit juice
HOT DRINKS
Tea or coffee

MENU SILVER
250 NIS
Glass of Prosecco
Focaccia Freshly baked focaccia bread,
assorted homemade tapenade
BEGINNINGS Of your choice
Ensalada de Tomate 
Tomatoes, shallot, olives, confit garlic, chili
pepper, lemon zest, oregano, ground pepper,
olive oil, grilled Provence bread with olive oil 
La Salade Verte 
Endive lettuce, raw asparagus, baby zucchini,
arugula, pecorino cheese, sun dried tomatoes,
seasonal berries, lemon zest and olive oil
Le parfait de foie duet 
Foie Gras and chicken liver parfait, pear
chutney, toasted white bread, butter
La Tuna Italia 
Cold smoked red tuna with endive lettuce,
raw asparagus, baby zucchini, arugula,
pecorino cheese, sun dried tomatoes, lemon
zest, seasonal berries and olive oil
Os à Moelle Grillé 
Grilled marrow bone, confit garlic, rosemary,
grilled bread, parsley & leeks cream
MAINS 
Of your choice
Paella 
Paella with grilled chicken, smoked paprika,
lemon, chili and saffron 
Le poisson fumé 
Smoked salmon, potato gratin
Cuisse de canard
Smoked duck leg, confit potato salad,
baked kohlrabi
L'Onglet – La Pièce du Boucher 
Butcher's cut steak (250 gram) with stir fried
spinach, rata potatoes and red wine sauce
SWEET ENDINGS TO SHARE
Une assiette Cordero 
A selection of desserts
Including in the menu:
Soft & hot drinks of your choice
The price is 250 ILS per person
Not incl. service charge
MENU GOLD
300 NIS
Glass of Prosecco
Focaccia Freshly baked focaccia bread,
assorted homemade tapenade 
BEGINNINGS Of your choice
Ensalada de Tomate 
Tomatoes, shallot, olives, confit garlic, chili
pepper, lemon zest, oregano, ground pepper,
olive oil, grilled Provence bread with olive oil
La Salade Verte 
Endive lettuce, raw asparagus, baby zucchini,
arugula, pecorino cheese, sun dried tomatoes,
seasonal berries, lemon zest and olive oil
Le parfait de foie duet 
Foie Gras and chicken liver parfait, pear
chutney, toasted white bread, butter
La Tuna Italia 
Cold smoked red tuna with endive lettuce,
raw asparagus, baby zucchini, arugula,
pecorino cheese, sun dried tomatoes, lemon
zest, seasonal berries and olive oil 
Os à Moelle Grillé 
Grilled marrow bone, confit garlic, rosemary,
grilled bread, parsley & leeks cream
Scaloppine alla Polenta 
Grilled Coquilles Saint-Jacques scallops with
creamy polenta, blue crab bisque and
parmesan cheese 
MAINS 
Of your choice
Paella 
Paella with grilled chicken, smoked paprika,
lemon, chili and saffron
Poitrine d'oie
Duck breast with lavender honey,
Caramelized beets, berry sauce and cognac 
Velouté de Poisson 
Gulf Corvina fish fillet, veloute martini sauce,
shrimps, potato gratin
L'Onglet – La Pièce du Boucher 
Butcher's cut steak (250 gram) with stir fried
spinach, rata potatoes and red wine sauce
SWEET ENDINGS TO SHARE
Une assiette Cordero 
A selection of desserts
Including in the menu:
Soft & hot drinks of your choice
The price is 300 ILS per person
Not incl. service charge
MENU PLATINUM
400 NIS 
Glass of Prosecco
Focaccia Freshly baked focaccia bread,
assorted homemade tapenade
BEGINNINGS Of your choice
Ensalada de Tomate 
Tomatoes, shallot, olives, confit garlic, chili
pepper, lemon zest, oregano, ground pepper,
olive oil, grilled Provence bread with olive oil
La Salade Verte 
Endive lettuce, raw asparagus, baby zucchini,
arugula, pecorino cheese, sun dried tomatoes,
seasonal berries, lemon zest and olive oil 
Le parfait de foie duet 
Foie Gras and chicken liver parfait, pear
chutney, toasted white bread, butter 
La Tuna Italia 
Cold smoked red tuna with endive lettuce,
raw asparagus, baby zucchini, arugula,
pecorino cheese, sun dried tomatoes, lemon
zest, seasonal berries and olive oil
Os à Moelle Grillé 
Grilled marrow bone, confit garlic, rosemary,
grilled bread, parsley & leeks cream
Scaloppine alla Polenta 
Grilled Coquilles Saint-Jacques scallops with
creamy polenta, blue crab bisque and
parmesan cheese
Le gâteau au fromage de la mer 
Smoked salmon with savory cheesecake,
beetroot and horseradish cream, grated yolk
and cod roe
MAINS 
Of your choice
Paella 
Paella with grilled chicken, smoked paprika,
lemon, chili and saffron
Tournedos Rossini 
Beef fillet, goose liver, red wine sauce, root
vegetables cream 
Velouté de Poisson 
Gulf Corvina fish fillet, veloute martini sauce,
shrimps, potato gratin
L'Onglet – La Pièce du Boucher 
Butcher's cut steak (250 gram) with stir fried
spinach, rata potatoes and red wine sauce
SWEET ENDINGS TO SHARE
Une assiette Cordero 
A selection of desserts
Including in the menu:
Soft & hot drinks of your choice
The price is 400 ILS per person
Not incl. service charge
SPARKLING
ISRAEL
Golan Heights, Yarden, Blanc de Blancs 2010  – 65 /220
ITALY
Tenuta Giustini, Jento Malvasia, Frizzante 2017 –  40 /140
Luna, Prosecco, Brut –  35 /120
SPAIN
Vilarnau, Cava, Brut –  35 /110
CHAMPAGNE
Lallier, Champagne, Grand Reserve, Brut  – 80/ 280
Bollinger, Champagne, la Grande Annee 2005 – 750
Bollinger, Special Cuvee – 420
Louis Roederer, Champagne, Cristal 2009 – 1700
BLUSH & ROSE
FRANCE
Paul Blisson 2017 – 35 /120
WHITES
ISRAEL
Somek, Chardonnay 2016 – 50 /170
Amphorae, Rhyton 2017 – 50/ 190
Amphorae, Makura Chardonnay 2017 – 70/ 260
FRANCE, Alsace
Pfaffenheim, Gewurztraminer 2015 – 45 /150
Trimbach, Riesling 2015 – 45 /160
FRANCE, Bourgogne
Domaine du Colombier, Chablis 2015 – 70/ 260
Chateau Fuisse, Macon Village 2015 – 60/ 220
Chateau Fuisse, Tete de Cru 2016 – 90/ 320
Domaine Billaud-Simon, Chablis 1er Cru, Mont de Milieu 2015 – 110 /380
FRANCE, Loire
Tinel-Blondelet, Sancerre 2016 –  80/ 280
Hubert Brochard, Pouilly Fume 2017- 70 /280
Domaine de La Baume, Sauvignon Blanc 2016 – 35/ 120
ITALY
Cordero di montezemolo, Langhe, Arneis 2017- 40/ 140
Masi, Masianco Bianco 2017 – 40 /150
Di Majo Norante, Falanghina 2017- 50/ 190
Pra, Soave 2017 – 50 /190
La Raia, Gavi 2016 – 50/ 190
Ca Bota, Pinot Grigio 2016 – 35 /130
Talamonti, Pecorino 2017 – 50 /170
SPAIN
Martin Codax, Albariño 2017- 40 /140
REDS
ISRAEL
Amphorae, Med Red 2015 – 50 /160
Amphorae, Makura 2007 – 80/ 280
Amphorae, Rhyton 2015 – 55/ 190
Dukhta, GSM 2015 – 55 /190
Dukhta, Mourveder 2014 – 55 /190
Tzora Vineyards, Judean Hills 2017- 55/ 190
Galil Mountain, Yiron 2015 – 65/ 220
FRANCE, Bourgogne
Dampt, Coteaux Bourguignons 2015 – 50 /180
Domaine Joseph Faiveley, Gevrey Chambertin 2015 – 140 /450
FRANCE, Languedoc
Paul Mas, Malbec 2017 – 40 /130
Terroir La Baume, Saint Paul, Minervois 2015 – 55 /180
FRANCE, Côtes du Rhône
Château Peyguerol, Costières-de-Nîmes 2016-  35 /120
Domaine Du Petit Romain, Costières-de-Nîmes 2015 – 45 /160
Perrin, Côtes du Rhône 2016 – 45 /150
Chemin des Papes, Cotes du Rhône Villages 2017 – 35 /120
Domaine Allégret, Côtes du Rhône Villages Laudun 2015 – 45 /160
Les Collégiales, Vacqueyras 2015 – 65 /220
Chapoutier, Châteauneuf-du-Pape 2015 – 100 /380
Chapoutier, Crozes-Hermitage, Les Meysonniers 2016- 80/ 260
ITALY, Piemonte
Cordero di montezemolo, Nebbiolo 2016 – 60/ 210
Cordero di montezemolo, Barbera, Funtani 2014 – 65/ 240
Cordero di montezemolo, Barolo, Monfalletto 2013 – 90 /360
Cordero di montezemolo, Barolo, Gattera 2013 -160/ 560
ITALY, Piemonte
Ricossa, Barbera d'Asti 2015 – 45 /160
Ricossa, Barbaresco Riserva 2011 – 90/ 330
Cogno, Dolcetto d'Alba 2017 – 50 /180
Luigi Einaudi, Langhe Barbera 2016 – 55/ 220
Luigi Einaudi, Barolo, Cannubi 2013- 140/ 540
ITALY, South
Codici, Puglia, Negroamaro 2015 – 35 /120
Mano, Puglia, Appassito Primitivo 55 /180
Castello Monaci, Piluna, Primitivo 2010 – 55/ 190
Barone Montalto, Sicilia, Merlot 2015 – 35 /110
ITALY, Toscana
Villa Antinori, Chianti Classico, Reserva 2013 – 60 /210
Antinori, Brunello di Montalcino 2013 -110/ 420
Argentiera, Bolgheri 2016 – 55 /190
Gaja, Toscana, Promis 2016 -100 /360
Gaja, Toscana, Ca'Marcanda Magari 2016 -125/ 460
ITALY, Veneto
Tanute Ca Bota, Valpolicella, Ripasso 2014 – 55 /180
Masi, Amarone della Valpolicella 2011- 120 /420
Masi, CampoFiorin 2014 -55/ 190
SPAIN
Camins del Priorat 2016 – 55 /180
Alión, Vega Sicilia 2014 -170 /560
Beronia, Rioja, Crianza 2012 – 45 /150
Beronia, Rioja, Reserva 2012 – 55 /190
Castillo de Enériz, Navarra, Reserva 2009 -55 /190
CORDERO'S RED SPECIAL COLLECTION
ITALY, Piemonte
Cordero di montezemolo, Barolo, Enrico VI 2001 – 560
FRANCE, Bordeaux
Château Léoville Barton, Saint-Julien, Grand Cru 2012 – 780
Château Grand-Puy-Lacoste, Pauillac, Grand Cru 2015 – 890
Château Malescot St. Exupery, Margaux, Grand Cru 2014 – 590
Château Nénin, Pomerol 2014 – 490
Château Beau-Sejour Becot, Saint-Émilion 2014 – 590
FRANCE, Rhône
Chapoutier, Hermitage 2011 – 620
DESSERT WINES (45ml)
FRANCE
Château de Montifaud, Vieux Pineau des Charentes – 40
ITALY
Cordero di montezemolo, Barolo, Chinato NV  – 45
European cuisine
French Cuisine
Italian Cuisine
Meat dishes
Cuisine from Chef
Spanish cuisine

CORDERO 

(Tel Aviv)

THE ALL-NEW CORDERO RESTAURANT IN TEL AVIV PAYS HOMAGE TO SOUTHERN EUROPEAN CUISINE WITHIN A RESTORED, 19TH-CENTURY EDIFICE

Tel Aviv – February 1, 2019: Cordero, a 140-seat restaurant, offering a modern nod to fine Southern European gastronomy, announces its official opening on February 6, 2019 in the Neve Tzedek neighborhood of Tel Aviv adjacent to the famed Suzanne Dellal Center for Dance.
From the seafood restaurants of France to the tapas bars of Spain and the trattorias of Italy, Cordero aims to take diners on a journey through the gastronomically-rich regions of Southern Europe. Cordero's cuisine is inspired by the culinary techniques, flavors and ingredients from the Mediterranean coasts and is in sync with the fresh ingredients that Israel has to offer: fantastic seafood, outstanding farm-to-table meats, farm-grown fruits and vegetables and superb dairy products.

Featuring an in-house taboon and meat smoker, and employing traditional cooking methods such as slow cooking and sous-vide, Cordero offers two separate menus of refined Southern European dishes to suit every mood and palate: a traditional a la carte menu ranging from appetizers, main courses and desserts and a tapas-style menu that can be enjoyed for a late afternoon aperitivo, light dinner or late-night bites.
The main menu showcases appetizers such as La Tuna Italia, cold smoked red tuna with endive lettuce, asparagus, arugula, pecorino cheese, sun dried tomatoes, lemon zest and olive oil and Mejillones Calientes, Spanish style spicy mussels with anise, root vegetables and fennel cream.

As for the entrees, the Seafood Casserole with bouillabaisse sauce and the Paella Con Pollo will immediately transport guests to the coastals parts of France and Spain. A well thought-out list of wine and spirits includes bottles from top French, Spanish, Italian and Israeli vintners that are carefully chosen to perfectly match the food items.
Cordero not only embodies the Southern European cuisine, but it is also dressed in the tradition of timeless European interior design. The restaurant is fashioned with romantic and intimate lighting schemes, plush chairs, sofas and booth-lounge seating, such as 20th-century Belgian chairs and French lamps from the 1930's period. The white-tablecloth interior sets the tone for a refined bistro-dining experience while the adjacent lounge section — with its large velvet banquettes — invoke a living room sofa rather than a fine-dining table, reminding guests of the intimacy and comfort of a dinner party at home. Cordero also boasts two bar-seating areas offering guests a birds-eye view into the exposed kitchen and taboon.

Cordero is located at 6 Yehili Street, Tel Aviv, adjacent to the Suzanne Dellal outdoor courtyard.

BEGINNINGS 

Le Pain – 28

Bread basket. French rustic white and brown breads and quinoa bread, served with 

Cordero's house butter    

Focaccia – 31

Freshly baked focaccia bread, 

assorted homemade tapenade

Ensalada de Tomate – 48

Tomatoes, shallot, olives, confit garlic, chili pepper, lemon zest, oregano, ground pepper, olive oil, grilled Provence bread with olive oil 

La Salade Verte – 58

Endive lettuce, raw asparagus,  baby zucchini, arugula, pecorino cheese, sun dried tomatoes, seasonal berries, lemon zest and olive oil

Le parfait de foie duet – 72

Foie Gras and chicken liver parfait, pear chutney, toasted white bread, butter

 

Mejillones Calientes  – 86

Spanish style spicy mussels with anise, root

 vegetables and fennel cream 

Scaloppine alla Polenta – 94

Grilled Coquilles Saint-Jacques scallops with creamy polenta, blue crab bisque  and parmesan cheese

Atún español – 82

Cold smoked red tuna with gazpacho, 

goat cheese, olives, arugula and seasonal 

fruits

Os à Moelle Grillé – 76

Grilled marrow bone, confit garlic, rosemary, grilled bread, parsley & leeks cream

Le gâteau au fromage de la mer – 84

Smoked salmon with savory cheesecake,

beetroot and horseradish cream, grated yolk and fish roe

MAINS

Bouillabaisse de poissons de Méditerranée – 128

Fennel and Pastis cream, calamari, shrimps, mussels, seafish filet, slow cooked seafood and fish bouillon with olives and fresh tomatoes  

Cordero Cutlet – 121

Cutlet of minced beef and beef sweetbreads steak, red wine sauce and smoked bone marrow, potato and kohlrabi gratin

Paella Con Pollo – 98

Paella with grilled chicken, smoked paprika, lemon, chili and saffron 

Add Seafood to Paella  – 38

Pesce Intero – ask your waiter

Catch of the day – Whole Baked Sea Fish

Velouté de Poisson – 149

Gulf Corvina fish fillet, veloute martini sauce,

catch of the day seafood, potato and kohlrabi gratin

Filet de Boeuf  – 170

CHARCOAL-GRILLED beef tenderloin, 

root vegetables cream, shallot marmalade,

potato fondant, red wine reduction sauce

La Pièce du Boucher – ask your waiter

CHARCOAL-GRILLED Steak of the day

MENU BRONZE

180 NIS

BEGINNINGS

Focaccia

Focaccia from the tabun and house spreads

Ensalada de Tomate

Tomatoes, shallot, olives, confit garlic, chili

pepper, lemon zest, oregano, ground pepper,

olive oil, grilled Provence bread with olive oil

La Salade Verte

Endive lettuce, raw asparagus, baby zucchini,

arugula, pecorino cheese, sun dried tomatoes,

lemon zest and olive oil

Le Plateau de Fromages

Selection of premium boutique cheeses

MAINS

Le poisson fumé

Smoked Salmon fillet

Pierna de Cordero

Slow cooked whole lamb shank

Un pollo affumicato

Smoked spring chicken

Side dishes

Fondant de pomme de terre

Baked Rata potatoes

SWEET ENDINGS

Une assiette Cordero

A selection of desserts

SOFT DRINKS

Mineral water, soda, fruit juice

HOT DRINKS

Tea or coffee


MENU SILVER

250 NIS

Glass of Prosecco

Focaccia Freshly baked focaccia bread,

assorted homemade tapenade

BEGINNINGS Of your choice

Ensalada de Tomate 

Tomatoes, shallot, olives, confit garlic, chili

pepper, lemon zest, oregano, ground pepper,

olive oil, grilled Provence bread with olive oil 

La Salade Verte 

Endive lettuce, raw asparagus, baby zucchini,

arugula, pecorino cheese, sun dried tomatoes,

seasonal berries, lemon zest and olive oil

Le parfait de foie duet 

Foie Gras and chicken liver parfait, pear

chutney, toasted white bread, butter

La Tuna Italia 

Cold smoked red tuna with endive lettuce,

raw asparagus, baby zucchini, arugula,

pecorino cheese, sun dried tomatoes, lemon

zest, seasonal berries and olive oil

Os à Moelle Grillé 

Grilled marrow bone, confit garlic, rosemary,

grilled bread, parsley & leeks cream

MAINS 

Of your choice

Paella 

Paella with grilled chicken, smoked paprika,

lemon, chili and saffron 

Le poisson fumé 

Smoked salmon, potato gratin

Cuisse de canard

Smoked duck leg, confit potato salad,

baked kohlrabi

L'Onglet – La Pièce du Boucher 

Butcher's cut steak (250 gram) with stir fried

spinach, rata potatoes and red wine sauce

SWEET ENDINGS TO SHARE

Une assiette Cordero 

A selection of desserts

Including in the menu:

Soft & hot drinks of your choice

The price is 250 ILS per person

Not incl. service charge

MENU GOLD

300 NIS

Glass of Prosecco

Focaccia Freshly baked focaccia bread,

assorted homemade tapenade 

BEGINNINGS Of your choice

Ensalada de Tomate 

Tomatoes, shallot, olives, confit garlic, chili

pepper, lemon zest, oregano, ground pepper,

olive oil, grilled Provence bread with olive oil

La Salade Verte 

Endive lettuce, raw asparagus, baby zucchini,

arugula, pecorino cheese, sun dried tomatoes,

seasonal berries, lemon zest and olive oil

Le parfait de foie duet 

Foie Gras and chicken liver parfait, pear

chutney, toasted white bread, butter

La Tuna Italia 

Cold smoked red tuna with endive lettuce,

raw asparagus, baby zucchini, arugula,

pecorino cheese, sun dried tomatoes, lemon

zest, seasonal berries and olive oil 

Os à Moelle Grillé 

Grilled marrow bone, confit garlic, rosemary,

grilled bread, parsley & leeks cream

Scaloppine alla Polenta 

Grilled Coquilles Saint-Jacques scallops with

creamy polenta, blue crab bisque and

parmesan cheese 

MAINS 

Of your choice

Paella 

Paella with grilled chicken, smoked paprika,

lemon, chili and saffron

Poitrine d'oie

Duck breast with lavender honey,

Caramelized beets, berry sauce and cognac 

Velouté de Poisson 

Gulf Corvina fish fillet, veloute martini sauce,

shrimps, potato gratin

L'Onglet – La Pièce du Boucher 

Butcher's cut steak (250 gram) with stir fried

spinach, rata potatoes and red wine sauce

SWEET ENDINGS TO SHARE

Une assiette Cordero 

A selection of desserts

Including in the menu:

Soft & hot drinks of your choice

The price is 300 ILS per person

Not incl. service charge

MENU PLATINUM

400 NIS 

Glass of Prosecco

Focaccia Freshly baked focaccia bread,

assorted homemade tapenade

BEGINNINGS Of your choice

Ensalada de Tomate 

Tomatoes, shallot, olives, confit garlic, chili

pepper, lemon zest, oregano, ground pepper,

olive oil, grilled Provence bread with olive oil

La Salade Verte 

Endive lettuce, raw asparagus, baby zucchini,

arugula, pecorino cheese, sun dried tomatoes,

seasonal berries, lemon zest and olive oil 

Le parfait de foie duet 

Foie Gras and chicken liver parfait, pear

chutney, toasted white bread, butter 

La Tuna Italia 

Cold smoked red tuna with endive lettuce,

raw asparagus, baby zucchini, arugula,

pecorino cheese, sun dried tomatoes, lemon

zest, seasonal berries and olive oil

Os à Moelle Grillé 

Grilled marrow bone, confit garlic, rosemary,

grilled bread, parsley & leeks cream

Scaloppine alla Polenta 

Grilled Coquilles Saint-Jacques scallops with

creamy polenta, blue crab bisque and

parmesan cheese

Le gâteau au fromage de la mer 

Smoked salmon with savory cheesecake,

beetroot and horseradish cream, grated yolk

and cod roe

MAINS 

Of your choice

Paella 

Paella with grilled chicken, smoked paprika,

lemon, chili and saffron

Tournedos Rossini 

Beef fillet, goose liver, red wine sauce, root

vegetables cream 

Velouté de Poisson 

Gulf Corvina fish fillet, veloute martini sauce,

shrimps, potato gratin

L'Onglet – La Pièce du Boucher 

Butcher's cut steak (250 gram) with stir fried

spinach, rata potatoes and red wine sauce

SWEET ENDINGS TO SHARE

Une assiette Cordero 

A selection of desserts

Including in the menu:

Soft & hot drinks of your choice

The price is 400 ILS per person

Not incl. service charge

SPARKLING

ISRAEL

Golan Heights, Yarden, Blanc de Blancs 2010  – 65 /220

ITALY

Tenuta Giustini, Jento Malvasia, Frizzante 2017 –  40 /140

Luna, Prosecco, Brut –  35 /120

SPAIN

Vilarnau, Cava, Brut –  35 /110

CHAMPAGNE

Lallier, Champagne, Grand Reserve, Brut  – 80/ 280

Bollinger, Champagne, la Grande Annee 2005 – 750

Bollinger, Special Cuvee – 420

Louis Roederer, Champagne, Cristal 2009 – 1700

BLUSH & ROSE

FRANCE

Paul Blisson 2017 – 35 /120

WHITES

ISRAEL

Somek, Chardonnay 2016 – 50 /170

Amphorae, Rhyton 2017 – 50/ 190

Amphorae, Makura Chardonnay 2017 – 70/ 260

FRANCE, Alsace

Pfaffenheim, Gewurztraminer 2015 – 45 /150

Trimbach, Riesling 2015 – 45 /160

FRANCE, Bourgogne

Domaine du Colombier, Chablis 2015 – 70/ 260

Chateau Fuisse, Macon Village 2015 – 60/ 220

Chateau Fuisse, Tete de Cru 2016 – 90/ 320

Domaine Billaud-Simon, Chablis 1er Cru, Mont de Milieu 2015 – 110 /380

FRANCE, Loire

Tinel-Blondelet, Sancerre 2016 –  80/ 280

Hubert Brochard, Pouilly Fume 2017- 70 /280

Domaine de La Baume, Sauvignon Blanc 2016 – 35/ 120

ITALY

Cordero di montezemolo, Langhe, Arneis 2017- 40/ 140

Masi, Masianco Bianco 2017 – 40 /150

Di Majo Norante, Falanghina 2017- 50/ 190

Pra, Soave 2017 – 50 /190

La Raia, Gavi 2016 – 50/ 190

Ca Bota, Pinot Grigio 2016 – 35 /130

Talamonti, Pecorino 2017 – 50 /170

SPAIN

Martin Codax, Albariño 2017- 40 /140

REDS

ISRAEL

Amphorae, Med Red 2015 – 50 /160

Amphorae, Makura 2007 – 80/ 280

Amphorae, Rhyton 2015 – 55/ 190

Dukhta, GSM 2015 – 55 /190

Dukhta, Mourveder 2014 – 55 /190

Tzora Vineyards, Judean Hills 2017- 55/ 190

Galil Mountain, Yiron 2015 – 65/ 220

FRANCE, Bourgogne

Dampt, Coteaux Bourguignons 2015 – 50 /180

Domaine Joseph Faiveley, Gevrey Chambertin 2015 – 140 /450

FRANCE, Languedoc

Paul Mas, Malbec 2017 – 40 /130

Terroir La Baume, Saint Paul, Minervois 2015 – 55 /180

FRANCE, Côtes du Rhône

Château Peyguerol, Costières-de-Nîmes 2016-  35 /120

Domaine Du Petit Romain, Costières-de-Nîmes 2015 – 45 /160

Perrin, Côtes du Rhône 2016 – 45 /150

Chemin des Papes, Cotes du Rhône Villages 2017 – 35 /120

Domaine Allégret, Côtes du Rhône Villages Laudun 2015 – 45 /160

Les Collégiales, Vacqueyras 2015 – 65 /220

Chapoutier, Châteauneuf-du-Pape 2015 – 100 /380
Chapoutier, Crozes-Hermitage, Les Meysonniers 2016- 80/ 260

ITALY, Piemonte

Cordero di montezemolo, Nebbiolo 2016 – 60/ 210

Cordero di montezemolo, Barbera, Funtani 2014 – 65/ 240

Cordero di montezemolo, Barolo, Monfalletto 2013 – 90 /360

Cordero di montezemolo, Barolo, Gattera 2013 -160/ 560

ITALY, Piemonte

Ricossa, Barbera d'Asti 2015 – 45 /160

Ricossa, Barbaresco Riserva 2011 – 90/ 330

Cogno, Dolcetto d'Alba 2017 – 50 /180

Luigi Einaudi, Langhe Barbera 2016 – 55/ 220

Luigi Einaudi, Barolo, Cannubi 2013- 140/ 540

ITALY, South

Codici, Puglia, Negroamaro 2015 – 35 /120

Mano, Puglia, Appassito Primitivo 55 /180

Castello Monaci, Piluna, Primitivo 2010 – 55/ 190

Barone Montalto, Sicilia, Merlot 2015 – 35 /110

ITALY, Toscana

Villa Antinori, Chianti Classico, Reserva 2013 – 60 /210

Antinori, Brunello di Montalcino 2013 -110/ 420

Argentiera, Bolgheri 2016 – 55 /190

Gaja, Toscana, Promis 2016 -100 /360

Gaja, Toscana, Ca'Marcanda Magari 2016 -125/ 460

ITALY, Veneto

Tanute Ca Bota, Valpolicella, Ripasso 2014 – 55 /180

Masi, Amarone della Valpolicella 2011- 120 /420

Masi, CampoFiorin 2014 -55/ 190

SPAIN

Camins del Priorat 2016 – 55 /180

Alión, Vega Sicilia 2014 -170 /560

Beronia, Rioja, Crianza 2012 – 45 /150

Beronia, Rioja, Reserva 2012 – 55 /190

Castillo de Enériz, Navarra, Reserva 2009 -55 /190

CORDERO'S RED SPECIAL COLLECTION

ITALY, Piemonte

Cordero di montezemolo, Barolo, Enrico VI 2001 – 560

FRANCE, Bordeaux

Château Léoville Barton, Saint-Julien, Grand Cru 2012 – 780

Château Grand-Puy-Lacoste, Pauillac, Grand Cru 2015 – 890

Château Malescot St. Exupery, Margaux, Grand Cru 2014 – 590

Château Nénin, Pomerol 2014 – 490

Château Beau-Sejour Becot, Saint-Émilion 2014 – 590

FRANCE, Rhône

Chapoutier, Hermitage 2011 – 620

DESSERT WINES (45ml)

FRANCE

Château de Montifaud, Vieux Pineau des Charentes – 40

ITALY

Cordero di montezemolo, Barolo, Chinato NV  – 45