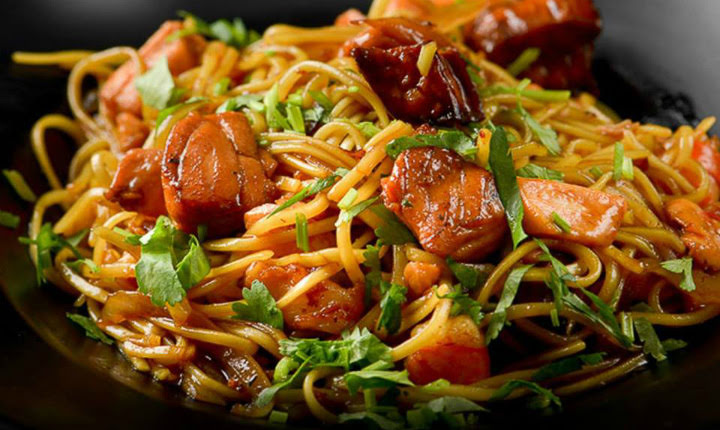 Asian cuisine
Resto bar
Sushi bar
Delivery
Restaurant FRANGELICO in Haifa (Ben Gurion)
When you think about Asian food, Frangelico is sure to come to mind!
Chef restaurant and sushi bar, Frangelico is all about fun and delicious food. The chain was launched in Haifa about ten years ago, and after the great success, it expanded to the central and southern regions. Especially known for the signature cuisine and varied sushi menu from the chef, Frangelico is a highly favored place.
Warm atmosphere, friendly service and quality ambiance make Frangelico a city's great fun place to go out in! Here you can enjoy a rich alcoholic bar menu with all kinds of drinks, including draft beer, whiskey, cocktails and much more…
Come and celebrate your big events with us! If it's a large-scale corporate or small private event, we will always deliver you great solutions for your best fun experience!
 Frangelico offers a rich menu featuring a variety of appetizers, dim sums, noodles and fried rice, an impressive selection of main dishes, including savory meat and seafood dishes, treats for kids and much more. 
You want to get delicious Frangelico meals delivered? No trouble, as we offer daily delivery service in Haifa and surrounding areas, so you can enjoy unique Frangelico meals on-the-go or even at home.
We are open on Saturdays!
Appetizers
Vegetarian
Japanese pickles – 12 NIS
Miso soup – 15 NIS
Edamame – 18 NIS
Soybeans with coarse salt
Wakame salad –19 NIS
Cucumbers, nori and wakame seaweed in Japanese radish sauce
Appetizers
Salad with chicken and cucumbers – 24 NIS
Sliced ​​cucumber and chicken with thin noodles in peanut butter sauce
Leafy salad with tempura shrimps – 26 NIS
Greens and tempura shrimps in a spicy mayonnaise sauce
Chicken bao bun – 16 NIS
1 pc., bao bun stuffed with chicken, lettuce, red onion and spicy mayonnaise
Wings – 22 NIS
8 wings with chili sauce and honey glaze
Becker bao – 18 NIS
1 pc., steamed bao bun with fried beef, lettuce, red onion and spicy mayonnaise
Shrimp popcorn – 29 NIS
12 crispy panko-crusted shrimps, served with sour plum sauce and sweet chili
Yakitori – 25 NIS
2 chicken skewers in Satay sauce on a bed of Som Tam salad
Salmon BBQ – 31 NIS
2 salmon skewers in teriyaki sauce on a bed of Som Tam salad
Tempura vegetables – 29 NIS (Vegetarian)
A selection of tempura vegetables, served with Char Siu sauce and spicy mayonnaise
Crispy squid – 37 NIS
Crispy fried squid, served with butter, garlic and wine sauce
Vegetable roll – 24 NIS (Vegan)
2 pcs., filled with vegetables and sprouts, and served with Vietnamese mint chili sauce
Tuna – 33 NIS
Slices of fried tuna in teriyaki sauce on a bed of Som Tam salad
Salmon carpaccio – 36 NIS
Thin slices of salmon in a lemon-soy sauce and chili, served with toasted bread
Soups
Thai corn soup – 25 NIS
With coconut milk and ginger, served with sesame oil, coriander and crispy bean noodles
Tom Yam – 46 NIS
With seafood, sprouts, green onions, cherry tomatoes, lemongrass, champignons, lime, ginger and coconut milk
Ramen – 43 NIS
Clear beef broth with udon noodles, chicken slices, green onions, greens and mushrooms
Steamed
Gyoza – 32 NIS
5 pcs., cooked in Tum Soy sauce, stuffed with chicken / shrimps / vegetables
Maki by ingredients
 bite-sized rolls with seaweed on the outside (8 pcs.)
Veggie & egg filling of your choice: avocado / tamagoyaki (Japanese omelet) / shiitake mushrooms / carrots / cucumber / green onions / sweet potato / kanpyo (Japanese pumpkin) / lettuce
Fish filling of your choice: salmon / fried salmon / salmon skin / red tuna / whitefish / shrimp / surimi
Vegetarian maki – 18 NIS
Up to 2 veggie & egg fillings of your choice
Maki fish – 26 NIS
Fish and veggie & egg filling of your choice
Make your own I/O roll
bite-sized I/O rolls with rice on the outside (8 pcs.)
Veggie & egg filling of your choice: cucumber / asparagus / avocado / tamagoyaki (Japanese omelet) / shiitake mushrooms / carrot / green onions / sweet potato / kanpyo (Japanese pumpkin) / lettuce / cream cheese / goat cheese
Fish filling of your choice: salmon / tempura salmon / white fish / tempura white fish / red tuna / salmon skin / fried salmon / shrimp / tempura shrimp / surimi
You can add panko crust for additional price of 5 NIS
Vegetarian I/O roll – 25 NIS
Up to 3 veggie & egg fillings of your choice
Fish I/O roll – 30 NIS
Any fish and 2 veggie & egg fillings of your choice
I/O Maki
 up to 3 fillings (8 pcs.)
Salmon, avocado and green onions – 29 NIS
Spicy maki – 29 NIS
Salmon / red tuna with chili oil, avocado, green onions, togarashi
Sakura roll – 25 NIS
White fish, green onions and cucumber
Fried salmon – 31 NIS
Salmon, avocado, teriyaki and green onions
Tempura shrimp – 29 NIS
Tempura shrimp, avocado and kanpyo
Philadelphia – 23 NIS
Cucumber, tamagoyaki and cream cheese
Tempura salmon – 31 NIS
Tempura salmon, kanpyo and avocado
Tempura white fish – 32 NIS
Tempura white fish, asparagus and green onions
Skinny roll – 26 NIS
Salmon skin, green onions, cucumber, teriyaki and mayonnaise
Hot crispy salmon roll – 34 NIS
Salmon and sweet potato
Hot shrimp roll – 34 NIS
Shrimp and avocado
Hot crispy tuna roll – 34 NIS 
Tuna and kanpyo
Hot crispy vegetable roll – 31 NIS
Sweet potato, kanpyo and avocado
Our special offers
 bite-sized seaweed rolls (8 pcs.), double rolls (16 pcs.). You can ask for a I/O version of any roll free of charge
Optionally:
2 NIS: tempura batter/ peanuts / shiitake mushrooms / cream cheese / goat cheese / avocado / sweet potato / tamagoyaki (Japanese omelet) / kanpyo (Japanese pumpkin)
4 NIS: with asparagus / vegetables on the outside
8 NIS: with fish on the outside
Chicken beet I/O – 42 NIS
8 pcs., chicken and cucumber in teriyaki with beet on the outside
Beef & shrimp I/O – 49 NIS
Panko-crusted shrimp, avocado and spicy mayonnaise rolled up inside of beef
Crazy I/O roll – 45/65 NIS
Tempura salmon, asparagus, sweet potato, cream cheese and green onions with salmon and avocado on the outside
Samurai I/O roll – 38/58 NIS
Avocado, shiitake mushrooms and goat cheese with baked salmon on the outside
Chu I/O roll – 38/58 NIS
Tempura carrot, salmon, shiitake mushrooms and green onions with sweet potato and tempura batter on the outside
Hiro hot I/O roll – 38/58 NIS
Crispy panko-crusted salmon, sweet potato, avocado and fried Emek cheese
Green I/O roll – 34/54 NIS
Tempura shrimp, avocado, cucumber, spicy mayonnaise coated with green onions
Maki Song I/O – 34/54 NIS
Red tuna, avocado, green onions and cream cheese coated with peanut chips
Tokyo roll – 31/51 NIS
Sweet potato, shiitake mushrooms, asparagus with avocado on the outside
Futomaki
 thick rolls with seaweed on the outside (8 pcs.)
Frangelico Special – 54 NIS
Salmon, white fish and tempura shrimp, vegetables, spicy mayonnaise and teriyaki
Tempura futomaki special I/O roll – 44 NIS
Tempura white fish, goat cheese, sweet potato, green onions, salmon
Special I/O roll with salmon skin – 36 NIS
Salmon skin, green onions, avocado, tamagoyaki, goat cheese, teriyaki and mayonnaise coated with black and white sesame seeds
Red tuna I/O roll – 39 NIS
Red tuna, green onions and avocado, topped with tempura batter
Rainbow I/O roll – 36 NIS
White fish, cucumber, carrot and avocado with salmon, red tuna and sweet potato
Vogue I/O roll – 33 NIS
Tamagoyaki, carrot, shiitake mushrooms, kanpyo and cucumber coated with avocado 
Double salmon I/O roll – 44 NIS
Salmon, avocado, cucumber and carrot rolled up inside of salmon
California I/O roll – 33 NIS
Surimi, avocado and cucumber coated with black and white sesame seeds
Tempura shrimp – 36 NIS
Tempura shrimp, avocado, carrot and tamagoyaki
Sushi sandwiches
Triangle-shaped sushi (4 pcs.)
Crispy sandwich (served hot) – 40 NIS
Salmon, avocado, Emek cheese, teriyaki and spicy mayonnaise
Crispy vegetarian sandwich (served hot) – 33 NIS
Sweet potato, kanpyo, tamagoyaki, green onions and Emek cheese
Cold & Hot tempura I/O sandwich – 40 NIS
Tempura salmon / white fish, cream cheese, avocado and green onions
Salmon I/O sandwich – 40 NIS
Salmon and avocado coated with tempura batter
Sashimi
Raw fish pieces (3 pcs.)
Salmon – 33 NIS
White fish – 31 NIS
Nigiri
Thin ​​fish / vegetable slices over pressed rice (2 pcs.)
Avocado nigiri (vegetarian) – 16 NIS
Tamagoyaki nigiri – 16 NIS
Salmon – 24 NIS
White fish – 21 NIS
Shrimp – 22 NIS
Sweet potato – 16 NIS
Temaki 
Cone-shaped seaweed roll (1 pc.)
Vegetable cone – 19 NIS (Vegan)
Cucumber, carrot, kanpyo and avocado 
Salmon cone – 22 NIS
Salmon, avocado and cucumber
Spicy tuna cone – 24 NIS
Red tuna with chili oil, green onions and cucumber
Spicy salmon cone – 22 NIS
Salmon with chili oil, green onions and avocado
Skin cone with salmon – 22 NIS
Salmon skin, green onions, teriyaki, mayonnaise, cucumber and tamagoyaki 
Tempura cone – 24 NIS
Tempura white fish and salmon, cucumber and teriyaki
Tempura shrimp cone – 24 NIS
Tempura shrimp, kanpyo, tamagoyaki and avocado
Combinations
Vegan combo I/O – 39 NIS
Cucumber, kanpyo and green onion I/O roll (8 pcs.)
Sweet potato maki roll (8 pcs.)
Avocado nigiri roll (1 pc.)
Combination A – 45 NIS
Fried salmon and avocado I/O roll (8 pcs.)
Tokyo roll (8 pcs.)
Vegetarian combination – 51 NIS
Vegetarian maki roll (8 pcs.) 
Vogue futomaki roll (8 pcs.)
Vegetarian nigiri rolls of your choice (2 pcs.)
Salmon combination – 65 NIS
Salmon and cucumber roll (8 pcs.)
Double salmon futomaki roll (8 pcs.)
Salmon nigiri roll (2 pcs.)
Special tempura combination – 99 NIS
Crispy salmon in a hot bun (8 pcs.)
Crispy sandwich (served hot) (4 pcs.)
Frangelico special futomaki roll (8 pcs.)
Combination T for two– 92 NIS
Crispy vegetarian roll (served hot) (8 pcs.)
Red tuna futomaki roll (8 pcs.)
Crispy vegetarian sandwich (4 pcs.)
Nigiri rolls of your choice (2 pcs.)
Combination Frangelico Free Style (40 pcs) – 150 NIS
I/O maki rolls of your choice (16 pcs.)
Vogue futomaki roll (8 pcs.)
Double salmon futomaki roll (8 pcs.)
Nigiri roll (2 pcs.)
Temaki rolls of your choice (2 pcs.)
For children
Main course + ice cream + drink – 37 NIS
Crispy schnitzel with french fries
Noodles with tofu / chicken teriyaki sauce
Vegetarian sushi for children:
Vegetarian temaki roll
Nigiri rolls of your choice (2 pcs.)
Vegetarian maki of your choice
Grape juice / orange juice / lemonade
Wok
Something red – 52/48/51/53 NIS
Beef / chicken / tofu / shrimps, chili pepper, fried sweet potatoes, mushrooms, red onions, green onions, sprouts and carrots in red curry sauce. Served with steamed rice
Pad Thai with tofu / chicken / shrimps – 47/49/52 NIS
Rice noodles with egg, carrots, sprouts and white cabbage in fish sauce with tamarind, soy, coriander, grated peanuts and a slice of lemon
Pad Wan Ki Naa – 58 NIS
Udon noodles with smoked goose breast, beef, chicken, carrots, red onions, mushrooms and basil in a frozen sauce
Seafood udon – 56 NIS
Udon noodles with seafood, carrots, onions, white cabbage and mint in coconut milk sauce and Indonesian green curry sauce
Something green– 51 NIS
Rice chips, tofu, red onions, broccoli, green beans, mushrooms, carrots and peppers in coconut milk and Indonesian green curry sauce
Winner – 54 NIS
Noodles with chicken / tofu, mushrooms, onions and green onions in coconut milk and Indonesian curry sauce with peanuts and chili
Something spicy – 54 NIS
Noodles, beef / tofu, peppers, white cabbage, sprouts and onions in a spicy Sichuan sauce
Beef & Broccoli – 53 NIS
Noodles with broccoli, onions and mint in smoked Hoisin sauce
Frangelico-style noodles – 58 NIS
Noodles, red onions, salmon, sweet potatoes and shrimps in teriyaki and coriander sauce
Pad Capao – 51 NIS
Sliced ​​beef, red onions, carrots, garlic and chili peppers in oyster sauce with ginger, lemongrass and basil. Served with steamed rice and scrambled eggs
Sichuan-style meat – 54 NIS
Sliced ​​beef, peppers, onions and sprouts in a spicy Sichuan sauce. Served with steamed rice 
Fried rice – 51 NIS
With chicken, egg, carrots, white cabbage, onions and green onions, mint and green beans
Japanese curry – 51/54 NIS
Stewed potatoes, eggplant, carrots with beef / chicken, onions and sweet potatoes in Japanese curry sauce. Served with steamed rice 
Main
Salmon fillet – 85 NIS
With teriyaki sauce. Served with fried vegetables and wasabi mashed potatoes
Exotic shrimps – 85 NIS
With white wine sauce, ​​cream and mango pieces. Served with steamed rice
Seafood cauldron – 84 NIS
Squids, mussels, shrimps and vegetables in a brandy cream sauce. Served with steamed rice 
Gai Wan San grilled chicken – 52 NIS
Chicken breast and beef fillet in cardamom sauce. Served with steamed rice and fried vegetables
Frangelico schnitzel – 52 NIS
Served with mashed potatoes and fried vegetables
Beer-battered schnitzels – 56 NIS
Pieces of chicken breast coated with beer batter. Served with chips and chili sauce
Frangelico salad with tofu / chicken / shrimps / salmon – 40/45/45/45 NIS
Fresh vegetables, noodles, green onions, tofu and peanuts. Served with wasabi sour sauce
Beverages
Coca-Cola / Coca-Cola Zero / Coca-Cola Diet – 13 NIS
Sprite / Sprite Zero – 13 NIS
Fanta – 13 NIS
Fuzetea – 13 NIS
Kinley soda – 11 NIS
Neviot mineral water – 11 NIS
Black malt beer – 15 NIS
Asian cuisine
Resto bar
Sushi bar
Delivery

Restaurant FRANGELICO in Haifa (Ben Gurion)

When you think about Asian food, Frangelico is sure to come to mind!

Chef restaurant and sushi bar, Frangelico is all about fun and delicious food. The chain was launched in Haifa about ten years ago, and after the great success, it expanded to the central and southern regions. Especially known for the signature cuisine and varied sushi menu from the chef, Frangelico is a highly favored place.

Warm atmosphere, friendly service and quality ambiance make Frangelico a city's great fun place to go out in! Here you can enjoy a rich alcoholic bar menu with all kinds of drinks, including draft beer, whiskey, cocktails and much more…

Come and celebrate your big events with us! If it's a large-scale corporate or small private event, we will always deliver you great solutions for your best fun experience!

 Frangelico offers a rich menu featuring a variety of appetizers, dim sums, noodles and fried rice, an impressive selection of main dishes, including savory meat and seafood dishes, treats for kids and much more. 

You want to get delicious Frangelico meals delivered? No trouble, as we offer daily delivery service in Haifa and surrounding areas, so you can enjoy unique Frangelico meals on-the-go or even at home.

We are open on Saturdays!

Appetizers

Vegetarian

Japanese pickles – 12 NIS

Miso soup – 15 NIS

Edamame – 18 NIS

Soybeans with coarse salt

Wakame salad –19 NIS

Cucumbers, nori and wakame seaweed in Japanese radish sauce

Appetizers

Salad with chicken and cucumbers – 24 NIS

Sliced ​​cucumber and chicken with thin noodles in peanut butter sauce

Leafy salad with tempura shrimps – 26 NIS

Greens and tempura shrimps in a spicy mayonnaise sauce

Chicken bao bun – 16 NIS

1 pc., bao bun stuffed with chicken, lettuce, red onion and spicy mayonnaise

Wings – 22 NIS

8 wings with chili sauce and honey glaze

Becker bao – 18 NIS

1 pc., steamed bao bun with fried beef, lettuce, red onion and spicy mayonnaise

Shrimp popcorn – 29 NIS

12 crispy panko-crusted shrimps, served with sour plum sauce and sweet chili

Yakitori – 25 NIS

2 chicken skewers in Satay sauce on a bed of Som Tam salad

Salmon BBQ – 31 NIS

2 salmon skewers in teriyaki sauce on a bed of Som Tam salad

Tempura vegetables – 29 NIS (Vegetarian)

A selection of tempura vegetables, served with Char Siu sauce and spicy mayonnaise

Crispy squid – 37 NIS

Crispy fried squid, served with butter, garlic and wine sauce

Vegetable roll – 24 NIS (Vegan)

2 pcs., filled with vegetables and sprouts, and served with Vietnamese mint chili sauce

Tuna – 33 NIS

Slices of fried tuna in teriyaki sauce on a bed of Som Tam salad

Salmon carpaccio – 36 NIS

Thin slices of salmon in a lemon-soy sauce and chili, served with toasted bread

Soups

Thai corn soup – 25 NIS

With coconut milk and ginger, served with sesame oil, coriander and crispy bean noodles

Tom Yam – 46 NIS

With seafood, sprouts, green onions, cherry tomatoes, lemongrass, champignons, lime, ginger and coconut milk

Ramen – 43 NIS

Clear beef broth with udon noodles, chicken slices, green onions, greens and mushrooms

Steamed

Gyoza – 32 NIS

5 pcs., cooked in Tum Soy sauce, stuffed with chicken / shrimps / vegetables

Maki by ingredients

 bite-sized rolls with seaweed on the outside (8 pcs.)

Veggie & egg filling of your choice: avocado / tamagoyaki (Japanese omelet) / shiitake mushrooms / carrots / cucumber / green onions / sweet potato / kanpyo (Japanese pumpkin) / lettuce

Fish filling of your choice: salmon / fried salmon / salmon skin / red tuna / whitefish / shrimp / surimi

Vegetarian maki – 18 NIS

Up to 2 veggie & egg fillings of your choice

Maki fish – 26 NIS

Fish and veggie & egg filling of your choice

Make your own I/O roll

bite-sized I/O rolls with rice on the outside (8 pcs.)

Veggie & egg filling of your choice: cucumber / asparagus / avocado / tamagoyaki (Japanese omelet) / shiitake mushrooms / carrot / green onions / sweet potato / kanpyo (Japanese pumpkin) / lettuce / cream cheese / goat cheese

Fish filling of your choice: salmon / tempura salmon / white fish / tempura white fish / red tuna / salmon skin / fried salmon / shrimp / tempura shrimp / surimi

You can add panko crust for additional price of 5 NIS

Vegetarian I/O roll – 25 NIS

Up to 3 veggie & egg fillings of your choice

Fish I/O roll – 30 NIS

Any fish and 2 veggie & egg fillings of your choice

I/O Maki

 up to 3 fillings (8 pcs.)

Salmon, avocado and green onions – 29 NIS

Spicy maki – 29 NIS

Salmon / red tuna with chili oil, avocado, green onions, togarashi

Sakura roll – 25 NIS

White fish, green onions and cucumber

Fried salmon – 31 NIS

Salmon, avocado, teriyaki and green onions

Tempura shrimp – 29 NIS

Tempura shrimp, avocado and kanpyo

Philadelphia – 23 NIS

Cucumber, tamagoyaki and cream cheese

Tempura salmon – 31 NIS

Tempura salmon, kanpyo and avocado

Tempura white fish – 32 NIS

Tempura white fish, asparagus and green onions

Skinny roll – 26 NIS

Salmon skin, green onions, cucumber, teriyaki and mayonnaise

Hot crispy salmon roll – 34 NIS

Salmon and sweet potato

Hot shrimp roll – 34 NIS

Shrimp and avocado

Hot crispy tuna roll – 34 NIS 

Tuna and kanpyo

Hot crispy vegetable roll – 31 NIS

Sweet potato, kanpyo and avocado

Our special offers

 bite-sized seaweed rolls (8 pcs.), double rolls (16 pcs.). You can ask for a I/O version of any roll free of charge

Optionally:

2 NIS: tempura batter/ peanuts / shiitake mushrooms / cream cheese / goat cheese / avocado / sweet potato / tamagoyaki (Japanese omelet) / kanpyo (Japanese pumpkin)

4 NIS: with asparagus / vegetables on the outside

8 NIS: with fish on the outside

Chicken beet I/O – 42 NIS

8 pcs., chicken and cucumber in teriyaki with beet on the outside

Beef & shrimp I/O – 49 NIS

Panko-crusted shrimp, avocado and spicy mayonnaise rolled up inside of beef

Crazy I/O roll – 45/65 NIS

Tempura salmon, asparagus, sweet potato, cream cheese and green onions with salmon and avocado on the outside

Samurai I/O roll – 38/58 NIS

Avocado, shiitake mushrooms and goat cheese with baked salmon on the outside

Chu I/O roll – 38/58 NIS

Tempura carrot, salmon, shiitake mushrooms and green onions with sweet potato and tempura batter on the outside

Hiro hot I/O roll – 38/58 NIS

Crispy panko-crusted salmon, sweet potato, avocado and fried Emek cheese

Green I/O roll – 34/54 NIS

Tempura shrimp, avocado, cucumber, spicy mayonnaise coated with green onions

Maki Song I/O – 34/54 NIS

Red tuna, avocado, green onions and cream cheese coated with peanut chips

Tokyo roll – 31/51 NIS

Sweet potato, shiitake mushrooms, asparagus with avocado on the outside

Futomaki

 thick rolls with seaweed on the outside (8 pcs.)

Frangelico Special – 54 NIS

Salmon, white fish and tempura shrimp, vegetables, spicy mayonnaise and teriyaki

Tempura futomaki special I/O roll – 44 NIS

Tempura white fish, goat cheese, sweet potato, green onions, salmon

Special I/O roll with salmon skin – 36 NIS

Salmon skin, green onions, avocado, tamagoyaki, goat cheese, teriyaki and mayonnaise coated with black and white sesame seeds

Red tuna I/O roll – 39 NIS

Red tuna, green onions and avocado, topped with tempura batter

Rainbow I/O roll – 36 NIS

White fish, cucumber, carrot and avocado with salmon, red tuna and sweet potato

Vogue I/O roll – 33 NIS

Tamagoyaki, carrot, shiitake mushrooms, kanpyo and cucumber coated with avocado 

Double salmon I/O roll – 44 NIS

Salmon, avocado, cucumber and carrot rolled up inside of salmon

California I/O roll – 33 NIS

Surimi, avocado and cucumber coated with black and white sesame seeds

Tempura shrimp – 36 NIS

Tempura shrimp, avocado, carrot and tamagoyaki

Sushi sandwiches

Triangle-shaped sushi (4 pcs.)

Crispy sandwich (served hot) – 40 NIS

Salmon, avocado, Emek cheese, teriyaki and spicy mayonnaise

Crispy vegetarian sandwich (served hot) – 33 NIS

Sweet potato, kanpyo, tamagoyaki, green onions and Emek cheese

Cold & Hot tempura I/O sandwich – 40 NIS

Tempura salmon / white fish, cream cheese, avocado and green onions

Salmon I/O sandwich – 40 NIS

Salmon and avocado coated with tempura batter

Sashimi

Raw fish pieces (3 pcs.)

Salmon – 33 NIS

White fish – 31 NIS

Nigiri

Thin ​​fish / vegetable slices over pressed rice (2 pcs.)

Avocado nigiri (vegetarian) – 16 NIS

Tamagoyaki nigiri – 16 NIS

Salmon – 24 NIS

White fish – 21 NIS

Shrimp – 22 NIS

Sweet potato – 16 NIS

Temaki 

Cone-shaped seaweed roll (1 pc.)

Vegetable cone – 19 NIS (Vegan)

Cucumber, carrot, kanpyo and avocado 

Salmon cone – 22 NIS

Salmon, avocado and cucumber

Spicy tuna cone – 24 NIS

Red tuna with chili oil, green onions and cucumber

Spicy salmon cone – 22 NIS

Salmon with chili oil, green onions and avocado

Skin cone with salmon – 22 NIS

Salmon skin, green onions, teriyaki, mayonnaise, cucumber and tamagoyaki 

Tempura cone – 24 NIS

Tempura white fish and salmon, cucumber and teriyaki

Tempura shrimp cone – 24 NIS

Tempura shrimp, kanpyo, tamagoyaki and avocado

Combinations

Vegan combo I/O – 39 NIS

Cucumber, kanpyo and green onion I/O roll (8 pcs.)

Sweet potato maki roll (8 pcs.)

Avocado nigiri roll (1 pc.)

Combination A – 45 NIS

Fried salmon and avocado I/O roll (8 pcs.)

Tokyo roll (8 pcs.)

Vegetarian combination – 51 NIS

Vegetarian maki roll (8 pcs.) 

Vogue futomaki roll (8 pcs.)

Vegetarian nigiri rolls of your choice (2 pcs.)

Salmon combination – 65 NIS

Salmon and cucumber roll (8 pcs.)

Double salmon futomaki roll (8 pcs.)

Salmon nigiri roll (2 pcs.)

Special tempura combination – 99 NIS

Crispy salmon in a hot bun (8 pcs.)

Crispy sandwich (served hot) (4 pcs.)

Frangelico special futomaki roll (8 pcs.)

Combination T for two– 92 NIS

Crispy vegetarian roll (served hot) (8 pcs.)

Red tuna futomaki roll (8 pcs.)

Crispy vegetarian sandwich (4 pcs.)

Nigiri rolls of your choice (2 pcs.)

Combination Frangelico Free Style (40 pcs) – 150 NIS

I/O maki rolls of your choice (16 pcs.)

Vogue futomaki roll (8 pcs.)

Double salmon futomaki roll (8 pcs.)

Nigiri roll (2 pcs.)

Temaki rolls of your choice (2 pcs.)

For children

Main course + ice cream + drink – 37 NIS

Crispy schnitzel with french fries

Noodles with tofu / chicken teriyaki sauce

Vegetarian sushi for children:

Vegetarian temaki roll

Nigiri rolls of your choice (2 pcs.)

Vegetarian maki of your choice

Grape juice / orange juice / lemonade

Wok

Something red – 52/48/51/53 NIS

Beef / chicken / tofu / shrimps, chili pepper, fried sweet potatoes, mushrooms, red onions, green onions, sprouts and carrots in red curry sauce. Served with steamed rice

Pad Thai with tofu / chicken / shrimps – 47/49/52 NIS

Rice noodles with egg, carrots, sprouts and white cabbage in fish sauce with tamarind, soy, coriander, grated peanuts and a slice of lemon

Pad Wan Ki Naa – 58 NIS

Udon noodles with smoked goose breast, beef, chicken, carrots, red onions, mushrooms and basil in a frozen sauce

Seafood udon – 56 NIS

Udon noodles with seafood, carrots, onions, white cabbage and mint in coconut milk sauce and Indonesian green curry sauce

Something green– 51 NIS

Rice chips, tofu, red onions, broccoli, green beans, mushrooms, carrots and peppers in coconut milk and Indonesian green curry sauce

Winner – 54 NIS

Noodles with chicken / tofu, mushrooms, onions and green onions in coconut milk and Indonesian curry sauce with peanuts and chili

Something spicy – 54 NIS

Noodles, beef / tofu, peppers, white cabbage, sprouts and onions in a spicy Sichuan sauce

Beef & Broccoli – 53 NIS

Noodles with broccoli, onions and mint in smoked Hoisin sauce

Frangelico-style noodles – 58 NIS

Noodles, red onions, salmon, sweet potatoes and shrimps in teriyaki and coriander sauce

Pad Capao – 51 NIS

Sliced ​​beef, red onions, carrots, garlic and chili peppers in oyster sauce with ginger, lemongrass and basil. Served with steamed rice and scrambled eggs

Sichuan-style meat – 54 NIS

Sliced ​​beef, peppers, onions and sprouts in a spicy Sichuan sauce. Served with steamed rice 

Fried rice – 51 NIS

With chicken, egg, carrots, white cabbage, onions and green onions, mint and green beans

Japanese curry – 51/54 NIS

Stewed potatoes, eggplant, carrots with beef / chicken, onions and sweet potatoes in Japanese curry sauce. Served with steamed rice 

Main

Salmon fillet – 85 NIS

With teriyaki sauce. Served with fried vegetables and wasabi mashed potatoes

Exotic shrimps – 85 NIS

With white wine sauce, ​​cream and mango pieces. Served with steamed rice

Seafood cauldron – 84 NIS

Squids, mussels, shrimps and vegetables in a brandy cream sauce. Served with steamed rice 

Gai Wan San grilled chicken – 52 NIS

Chicken breast and beef fillet in cardamom sauce. Served with steamed rice and fried vegetables

Frangelico schnitzel – 52 NIS

Served with mashed potatoes and fried vegetables

Beer-battered schnitzels – 56 NIS

Pieces of chicken breast coated with beer batter. Served with chips and chili sauce

Frangelico salad with tofu / chicken / shrimps / salmon – 40/45/45/45 NIS

Fresh vegetables, noodles, green onions, tofu and peanuts. Served with wasabi sour sauce

Beverages

Coca-Cola / Coca-Cola Zero / Coca-Cola Diet – 13 NIS

Sprite / Sprite Zero – 13 NIS

Fanta – 13 NIS

Fuzetea – 13 NIS

Kinley soda – 11 NIS

Neviot mineral water – 11 NIS

Black malt beer – 15 NIS