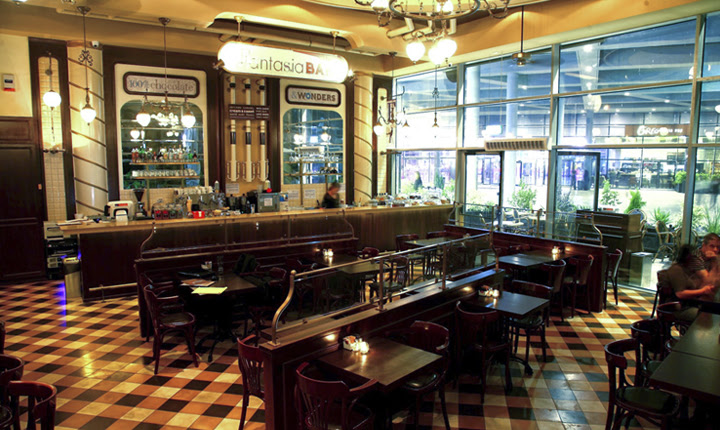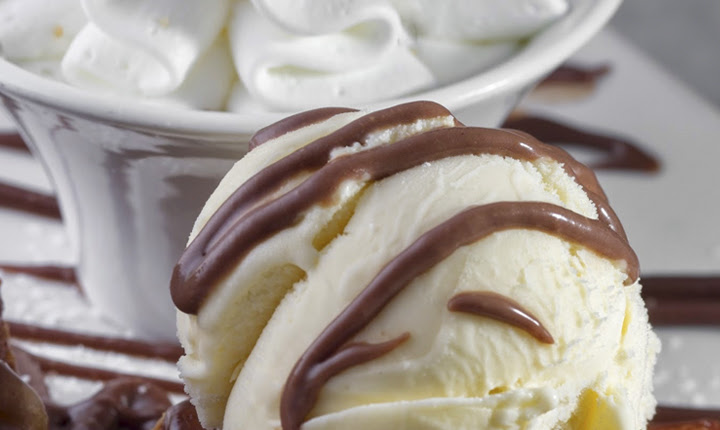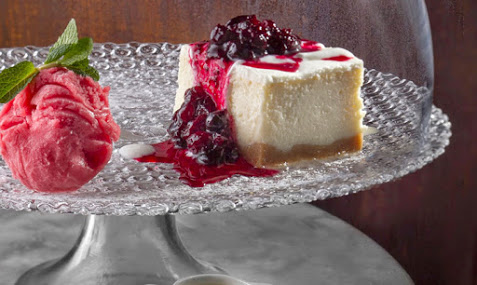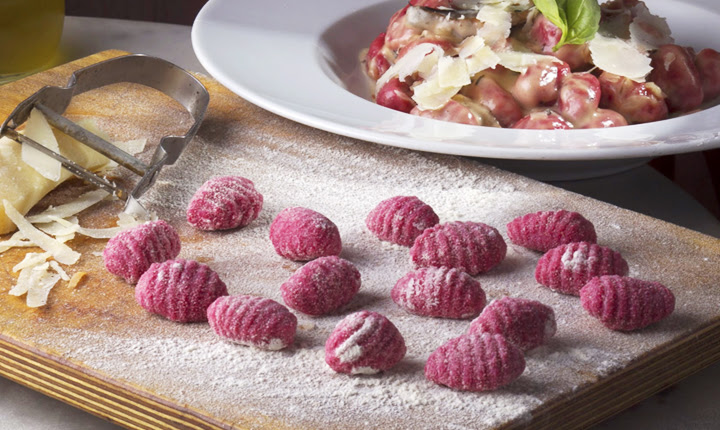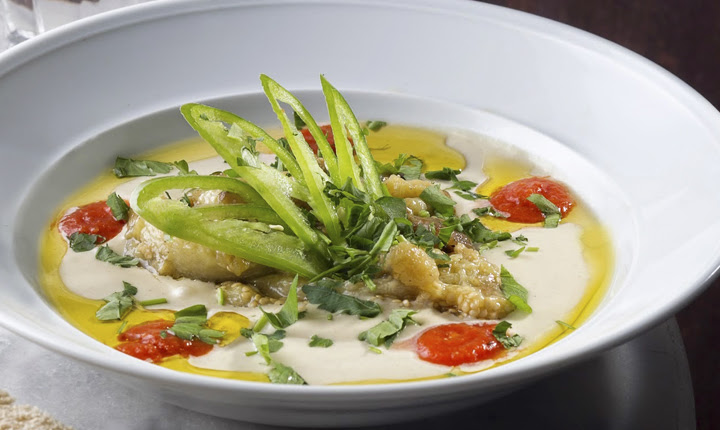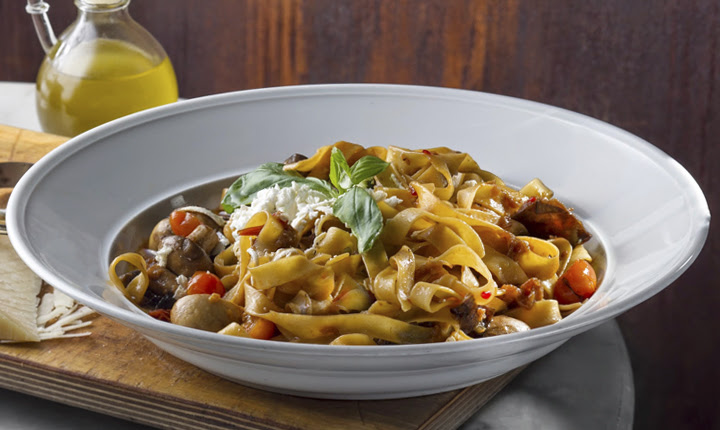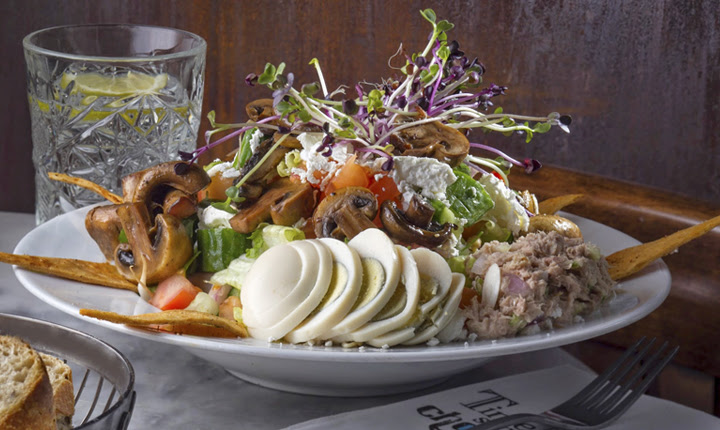 Italian Cuisine
Confectionery
Milk dishes
FANTASIA CAFE (Rishon LeZion)
Rich and diverse menu of splendid breakfasts, culinary festival of Italian cuisine, unique desserts, and beverages…
This is what is certainly called good life!
Fantasy is an outstanding coffee-shop based on a lakeside in YES Planet mall, Western Rishon LeZion. Interior design a la authentic French café adds cozy homey atmosphere to this place. Wonderful terrace with a pastoral view at a beautiful quiet lake invites to rest and enjoy wonderful dessert, and professional and polite service adds good mood.
Among the best dishes of the coffee-shop, you will find: a giant schnitzel in crisply breadcrumbs, Croque Madame, pasta Quattro Formaggi, various fresh hot pizzas, Belgian waffles with ice-cream, pecan nuts and other additions, Crème brûlée with chocolate and nougat, and event chocolate sushi.
Starters
Focaccia & Dressings – 28 nis
Eggplants – 38 nis
Tahini, olive oil, tomato salsa, and jalapeno
Warm Mushrooms – 42 nis
Mushrooms and peppers fried in white wine
Bruscetta & Goat Cheese – 39 nis
Toasts with goat cheese, Chinese pecan, and date honey
Salads
Fantasy Salad – 62 nis
Fried mushrooms, cucumbers, tomatoes, lettuce, onion, cabbage, croutons, tuna salad, Bulgarian and ground cheese, hard-boiled egg
Chicken in Peanut Butter – 56 nis
Red cabbage and green cabbage, carrot, green and purple onions, sprouts, cucumbers, lettuce, hot chili, apples and slices of chicken in peanut butter vinaigrette
Mediterranean Salad – 54 nis
Tomatoes, cucumbers, onions, cherry tomatoes, black olives, croutons, Feta cheese, fried peppers and hyssop
Israeli Chicken Salad – 52 nis
Tomatoes, cucumbers, onion, olive oil, salt and pepper, slices of chicken and tahini
Isabella Salad – 59 nis
Lettuce, rucola, purple onions, cherry tomatoes, seasonal fruits, Chinese pecan, and blue cheese, and date honey vinaigrette
Sandwiches
Chicken Sandwich – 52 nis
Chicken, avocado, fried pepper, and Chipotle Aioli, Ciabatta/ grain bread
Goat Cheese Sandwich – 54 nis
Goat cheese medallions, date honey, baked sweet potatoes, tomatoes, and basil
Tuna Sandwich – 49 nis
Tuna salad, tomatoes, hardboiled eggs, marinated lemon, Aioli mustard
Omelette – 45 nis
Eggs, cream cheese, tomatoes, and green onions
Salmon Sandwich – 55 nis
Salmon, cream cheese, purple onions, tomatoes, and capers
Pizza
Pizza Mozzarella – 46 nis
Mozzarella cheese and tomato sauce
Balkan Pizza – 55 nis
Mozzarella cheese, tomato sauce, Feta cheese, peppers, and olives
Pasta
Quattro Fromaggio – 62 nis
Pasta with 4 grades of cheese and spinach
Chicken Pasta – 62 nis
Pasta with tomato sauce and fried slices of chicken
Pasta Rose – 56 nis
Pasta with tomato sauce and cream
Primavera – 58 nis
Pasta with olive oil, garlic, mushrooms, tomatoes, eggplants, and Bulgarian cheese
Pasta Pongi –
Pasta with cream sauce & mushrooms
Large Plate
Giant Schnitzel – 62 nis
Served with chips, lettuce, Chipotle Aioli and ketchup
Croque Madame – 55 nis
French breakfast: fried eggs with Emmentaler cheese, duck breast or salmon, and lettuce – at your choice
Plate of Sabich – 54 nis
Fried eggplants, hardboiled eggs, onions, parsley, cherry tomatoes, olive oil, and toasts
Fish & Chips – 66 nis
Fried fish, served with thin chips and mustard Aioli
Mushroom Quiche – 52 nis
Served with cream cheese and lettuce
Toast Four Cheeses – 49 nis
Open toasts with cream cheese, Mozzarella cheese, Parmesan cheese, Bulgarian cheese, and fried peppers
Ravioli & Sweet Potatoes (Kumara) – 64 nis
Sauce Rose
Belgian Waffles
Banana Brûlée Waffles – 54 nis
Hot Belgian waffles, lotus cream, caramelized bananas, pecan, whipped cream, and ice-cream
Trio Bueno – 59 nis
3 hot waffles, nut nougat, white chocolate, and ice-cream
Waffles with Peanut Butter & Jam (pareve) – 49 nis
Hot Belgium waffles, peanut butter, berry jam, candies, and strawberry sorbet
Magnum Waffles – 48 NIS
Hot Belgium waffles, vanilla ice-cream, Rocher chocolate, and pecan
Waffles Alfajores – 49 NIS
Hot Belgian waffles, coconut sorbet, condensed cream, caramel & cookies
Waffles with Halva & Chocolate Chips – 48 NIS
Hot Belgian waffles with halva cream, chocolate chips, ice-cream scoop and hot chocolate sauce
Classic Belgian Waffles – 52 NIS
Hot Belgian waffles with 2 ice-cream scoops at your choice, nut bers, whipped cream, and hot chocolate sauce
Fantasy Crepe
Oreo & Marshmallow Crepe – 48 nis
Fried marshmallow, Oreo cookies, and chocolate cream, served with candies and chocolate sauce
Banana Loti Crepe – 49 nis
Fresh bananas, nougat, ice-cream, and candied pecan nuts
Desserts
Cheesecake – 48 nis
New York cheesecake with sour cream, and berries
Chocolate Soufflé – 46 nis
Hot chocolate soufflé, vanilla ice-cream, sweet cream & berries
Chocolate Sushi – 48 nis
Roll with chocolate ganache and praline, nuts and hot chocolate sauce
Something Special – 44 nis
Sweet Mascarpone cream cheese, baked kadayif, and berries
Sunday Fantasy – 46 nis
Chocolate fudge with vanilla ice-cream and chocolate, white chocolate crunch, and pecan
Profiterole Pastry – 49 nis
Crispy pastry with vanilla, filled with profiterole iced with dark, milk and white chocolate
Biscuit Pie – 46 nis
Homemade puff pastry pie, chocolate, biscuit, and vanilla cream
Solero – 39 nis
Sweet mango cream, meringue cookies, and berries
Milky Chocolate – 42 nis
Chocolate cream, pieces of cookies, whipped cream, and candied nuts
American Apple Pie – 45 nis
Cinnamon, raisins, ice-cream, and whipped cream
Sugar-Free Pie – 38 nis
Fantasy (For Two) – 89 nis
Tasty dessert for two including Belgian waffles, Rocher fondue, and other sweets of Fantasy's sweet collection
Rocher Fondue – 66 nis
Hot Rocher chocolate with nuts, meringue cookies, fresh bananas, warm Belgian waffles, and marshmallow
Italian Cuisine
Confectionery
Milk dishes

FANTASIA CAFE (Rishon LeZion)

Rich and diverse menu of splendid breakfasts, culinary festival of Italian cuisine, unique desserts, and beverages…
This is what is certainly called good life!
Fantasy is an outstanding coffee-shop based on a lakeside in YES Planet mall, Western Rishon LeZion. Interior design a la authentic French café adds cozy homey atmosphere to this place. Wonderful terrace with a pastoral view at a beautiful quiet lake invites to rest and enjoy wonderful dessert, and professional and polite service adds good mood.
Among the best dishes of the coffee-shop, you will find: a giant schnitzel in crisply breadcrumbs, Croque Madame, pasta Quattro Formaggi, various fresh hot pizzas, Belgian waffles with ice-cream, pecan nuts and other additions, Crème brûlée with chocolate and nougat, and event chocolate sushi.

Starters

Focaccia & Dressings – 28 nis
Eggplants – 38 nis
Tahini, olive oil, tomato salsa, and jalapeno
Warm Mushrooms – 42 nis

Mushrooms and peppers fried in white wine
Bruscetta & Goat Cheese – 39 nis
Toasts with goat cheese, Chinese pecan, and date honey

Salads

Fantasy Salad – 62 nis
Fried mushrooms, cucumbers, tomatoes, lettuce, onion, cabbage, croutons, tuna salad, Bulgarian and ground cheese, hard-boiled egg
Chicken in Peanut Butter – 56 nis
Red cabbage and green cabbage, carrot, green and purple onions, sprouts, cucumbers, lettuce, hot chili, apples and slices of chicken in peanut butter vinaigrette
Mediterranean Salad – 54 nis
Tomatoes, cucumbers, onions, cherry tomatoes, black olives, croutons, Feta cheese, fried peppers and hyssop
Israeli Chicken Salad – 52 nis
Tomatoes, cucumbers, onion, olive oil, salt and pepper, slices of chicken and tahini
Isabella Salad – 59 nis
Lettuce, rucola, purple onions, cherry tomatoes, seasonal fruits, Chinese pecan, and blue cheese, and date honey vinaigrette

Sandwiches

Chicken Sandwich – 52 nis
Chicken, avocado, fried pepper, and Chipotle Aioli, Ciabatta/ grain bread
Goat Cheese Sandwich – 54 nis
Goat cheese medallions, date honey, baked sweet potatoes, tomatoes, and basil
Tuna Sandwich – 49 nis
Tuna salad, tomatoes, hardboiled eggs, marinated lemon, Aioli mustard
Omelette – 45 nis
Eggs, cream cheese, tomatoes, and green onions
Salmon Sandwich – 55 nis
Salmon, cream cheese, purple onions, tomatoes, and capers

Pizza

Pizza Mozzarella – 46 nis
Mozzarella cheese and tomato sauce
Balkan Pizza – 55 nis
Mozzarella cheese, tomato sauce, Feta cheese, peppers, and olives

Pasta

Quattro Fromaggio – 62 nis
Pasta with 4 grades of cheese and spinach
Chicken Pasta – 62 nis
Pasta with tomato sauce and fried slices of chicken
Pasta Rose – 56 nis
Pasta with tomato sauce and cream
Primavera – 58 nis
Pasta with olive oil, garlic, mushrooms, tomatoes, eggplants, and Bulgarian cheese
Pasta Pongi –
Pasta with cream sauce & mushrooms

Large Plate

Giant Schnitzel – 62 nis
Served with chips, lettuce, Chipotle Aioli and ketchup
Croque Madame – 55 nis
French breakfast: fried eggs with Emmentaler cheese, duck breast or salmon, and lettuce – at your choice
Plate of Sabich – 54 nis
Fried eggplants, hardboiled eggs, onions, parsley, cherry tomatoes, olive oil, and toasts
Fish & Chips – 66 nis
Fried fish, served with thin chips and mustard Aioli
Mushroom Quiche – 52 nis
Served with cream cheese and lettuce
Toast Four Cheeses – 49 nis
Open toasts with cream cheese, Mozzarella cheese, Parmesan cheese, Bulgarian cheese, and fried peppers
Ravioli & Sweet Potatoes (Kumara) – 64 nis
Sauce Rose

Belgian Waffles

Banana Brûlée Waffles – 54 nis
Hot Belgian waffles, lotus cream, caramelized bananas, pecan, whipped cream, and ice-cream
Trio Bueno – 59 nis
3 hot waffles, nut nougat, white chocolate, and ice-cream
Waffles with Peanut Butter & Jam (pareve) – 49 nis
Hot Belgium waffles, peanut butter, berry jam, candies, and strawberry sorbet
Magnum Waffles – 48 NIS
Hot Belgium waffles, vanilla ice-cream, Rocher chocolate, and pecan
Waffles Alfajores – 49 NIS
Hot Belgian waffles, coconut sorbet, condensed cream, caramel & cookies
Waffles with Halva & Chocolate Chips – 48 NIS
Hot Belgian waffles with halva cream, chocolate chips, ice-cream scoop and hot chocolate sauce
Classic Belgian Waffles – 52 NIS
Hot Belgian waffles with 2 ice-cream scoops at your choice, nut bers, whipped cream, and hot chocolate sauce

Fantasy Crepe

Oreo & Marshmallow Crepe – 48 nis
Fried marshmallow, Oreo cookies, and chocolate cream, served with candies and chocolate sauce
Banana Loti Crepe – 49 nis
Fresh bananas, nougat, ice-cream, and candied pecan nuts

Desserts

Cheesecake – 48 nis
New York cheesecake with sour cream, and berries
Chocolate Soufflé – 46 nis
Hot chocolate soufflé, vanilla ice-cream, sweet cream & berries
Chocolate Sushi – 48 nis
Roll with chocolate ganache and praline, nuts and hot chocolate sauce
Something Special – 44 nis
Sweet Mascarpone cream cheese, baked kadayif, and berries
Sunday Fantasy – 46 nis
Chocolate fudge with vanilla ice-cream and chocolate, white chocolate crunch, and pecan
Profiterole Pastry – 49 nis
Crispy pastry with vanilla, filled with profiterole iced with dark, milk and white chocolate
Biscuit Pie – 46 nis
Homemade puff pastry pie, chocolate, biscuit, and vanilla cream
Solero – 39 nis
Sweet mango cream, meringue cookies, and berries
Milky Chocolate – 42 nis
Chocolate cream, pieces of cookies, whipped cream, and candied nuts
American Apple Pie – 45 nis
Cinnamon, raisins, ice-cream, and whipped cream
Sugar-Free Pie – 38 nis
Fantasy (For Two) – 89 nis
Tasty dessert for two including Belgian waffles, Rocher fondue, and other sweets of Fantasy's sweet collection
Rocher Fondue – 66 nis
Hot Rocher chocolate with nuts, meringue cookies, fresh bananas, warm Belgian waffles, and marshmallow