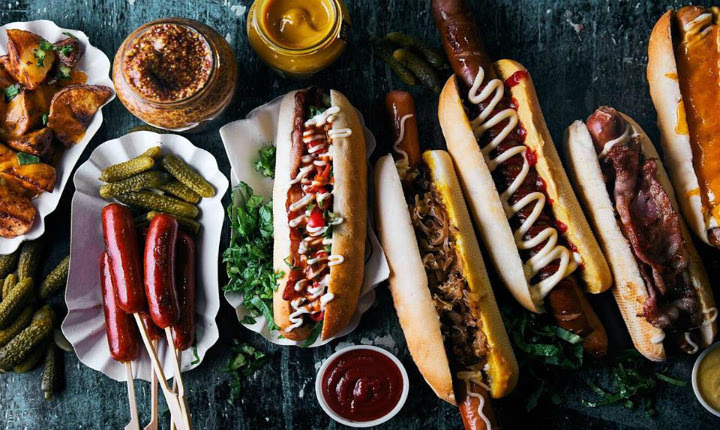 European cuisine
Fast food
Meat dishes
Sandwich Bar
Takeaway
Healthy eating
Frankfurter
German sausages
bratwurst
FRANK 
(Tel Aviv)
Forget everything that you knew about sausages!
When you eat Frank's sausages, you can put your mind at rest. Why? Because we are the only ones in the country who produce Frank's sausages exclusively from fresh meat!
Frank does not use by-products, and Frank's sausages have low fat content.
We support the highest quality of working conditions, plus all our sausages are gluten-free.
Frank also has preservative-free hot dogs.
We have created "Frank" with a great love for such high-quality sausages and frankfurters, which you will find in Berlin or Zurich.
And you immediately feel it to taste.
Frank's Sausages
Bratwurst – 29
Chipotella – 30
Smoked Frankfurters (2) – 25
Emmental Frankfurters – 31
Veal Sausages – 29
Savory Veal – 29
Emmental Veal – 31
Spanish Veal with Spices – 30
New York Veal XXL – 39
Chicken Sausages S/XL – 25/28
Special Dishes
Currywurst – 29
Shokrot a la France – 45
B.L.T. Sandwich – 29
Mini Dill (5/7 mini sausages) – 26/34
Frankenstein Board 700 g/ 1kg – 89/109
Potatoes
Baked / With Cheese – 15/19
Mustard:
Classic, Dijon, Honey, with Horseradish, Chili
Ketchup:
Classic, Curry, Spicy
Mayonnaise:
Classic, Garlic
Sour cabbage and fried onions are served with sausages at no extra charge.
Bacon additive – 8
Drinks and Beverages
Selection of cold drinks and beverages – 7-13 ILS 
Draft Beer 0.3– 20-22
Draft Beer 0.5– 22-28
Special Beer – 18-28
Lunches
Sausages, Potatoes, and Small Salad – 39
"Frank" lunch, drink – 45
For kids
Small sausages in a bun and a roll – 27
Beer Dill
When ordering sausages or special dishes—Gold Star Beer 0.3/0.5 – 17/20
Frozen Sausages for Home
Pack of 6 large sausages – 55 -59
Pack of 6 small sausages – 49
European cuisine
Fast food
Meat dishes
Sandwich Bar
Takeaway
Healthy eating
Frankfurter
German sausages
bratwurst

FRANK 

(Tel Aviv)

Forget everything that you knew about sausages!

When you eat Frank's sausages, you can put your mind at rest. Why? Because we are the only ones in the country who produce Frank's sausages exclusively from fresh meat!

Frank does not use by-products, and Frank's sausages have low fat content.

We support the highest quality of working conditions, plus all our sausages are gluten-free.

Frank also has preservative-free hot dogs.

We have created "Frank" with a great love for such high-quality sausages and frankfurters, which you will find in Berlin or Zurich.

And you immediately feel it to taste.

Frank's Sausages

Bratwurst – 29

Chipotella – 30

Smoked Frankfurters (2) – 25

Emmental Frankfurters – 31

Veal Sausages – 29

Savory Veal – 29

Emmental Veal – 31

Spanish Veal with Spices – 30

New York Veal XXL – 39

Chicken Sausages S/XL – 25/28

Special Dishes

Currywurst – 29

Shokrot a la France – 45

B.L.T. Sandwich – 29

Mini Dill (5/7 mini sausages) – 26/34

Frankenstein Board 700 g/ 1kg – 89/109

Potatoes

Baked / With Cheese – 15/19

Mustard:

Classic, Dijon, Honey, with Horseradish, Chili

Ketchup:

Classic, Curry, Spicy

Mayonnaise:

Classic, Garlic

Sour cabbage and fried onions are served with sausages at no extra charge.

Bacon additive – 8

Drinks and Beverages

Selection of cold drinks and beverages – 7-13 ILS 

Draft Beer 0.3– 20-22

Draft Beer 0.5– 22-28

Special Beer – 18-28

Lunches

Sausages, Potatoes, and Small Salad – 39

"Frank" lunch, drink – 45

For kids

Small sausages in a bun and a roll – 27

Beer Dill

When ordering sausages or special dishes—Gold Star Beer 0.3/0.5 – 17/20

Frozen Sausages for Home

Pack of 6 large sausages – 55 -59

Pack of 6 small sausages – 49