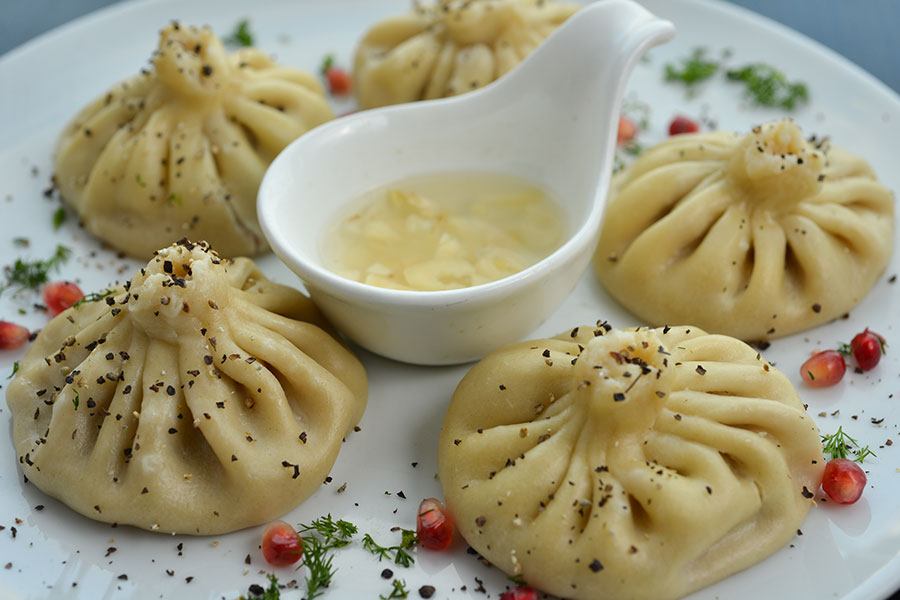 Georgian dishes
Meat dishes
GEORGIA (Haifa)
Slowly but surely, Georgian cuisine is conquering Israel. Without doubt, Georgia Restaurant is the one making a huge contribution to this victory, filling the city of Haifa with genuine Georgian spirit. 
Our menu is based on traditional Georgian cuisine which includes appetizers, salads, stuffings, grilled meat and fish dishes, delicious desserts. We have specially invited chefs from the city of Batumi, Georgia, the city which is located very close to Turkey, so that the dishes offered to you are brimming with the distinctive flavors of this area. In our restaurant you will find a sumptuous selection of Georgian wines and other national drinks — try it out to get the authentic feeling of Georgia! 
 Not only does delicious food make Georgian cuisine unforgettable, but also the sublime atmosphere of traditional Caucasian feast makes it truly unique. In Georgia Restaurant we know how to make our visitors happy — there is live entertainment in our dining area with wide variety of talented singers and musicians from Georgia who will enhance your dining experience and let you become a participant of this joyful performance. Georgia Restaurant is a place where everyone can come and share the tasty treats with friends and family. 
The restaurant was founded by Gabriel Bezazashvili, who gained his genuine cooking experience working in numerous amazing restaurants. Food has always been an integral part of the everyday life of his family, so that he would like to let visitors of his restaurant try and enjoy these unforgettable flavors too.
Appetizers
Acharuli Khachapuri – 45 NIS
Boat-shaped khachapuri with an egg and cheese
Megruli Khachapuri – 69 NIS
Round-shaped khachapuri filled with two types of cheese and covered with Sulguni cheese
Imeruli Khachapuri – 63 NIS
Khachapuri filled with two types of cheese
Chebureki – 36 NIS
Deep-fried crescent-shaped pastry with homemade meat stuffing
Khinkali (5 pcs) – 45 NIS
Georgian dumplings stuffed with delicious beef / lamb / cheese
Blinches (3 pcs) – 36 NIS
Homemade pancakes stuffed with meat / cheese
Salads
Georgian Salad – 44 NIS
Cucumbers, tomatoes, onions, parsley, vinegar, salt, homemade spices
Nigvziani – 49 NIS
Eggplant rolls with walnut and homemade spices filling
A mix of Georgian salads – 45 NIS
Beets, spinach, carrots, walnuts, seasoned and served separately
Soko (mushrooms) — 45 NIS
Jonjoli – 45 NIS
Homemade pickles & homemade bread – 25 NIS
Main dishes
Chicken Liver – 49 NIS
Liver with onions and homemade spices
Tolma (3/5 pcs) – 49 NIS
Grape leaves stuffed with meat and rice
Chashushuli (spicy) – 55 NIS
Veal stew with tomatoes, garlic and onions
Lobio with meat – 82 NIS
Bean soup with veal
Odzhahuri – 82 NIS
Veal with tomatoes, potatoes onion and garlic in the oven
Satsivi – 55 NIS
Chicken in a cold walnut sauce with Georgian spices
Chakhokhbili – 55 NIS
Veal soup with prunes and tarragon
Solyanka – 55 NIS
Beef, tomato and onion soup with Georgian spices
Kharcho – 55 NIS
Veal soup with Georgian spices
Main dishes to choose from – tastes like mum's cooking!
BBQ
Pargit Skewer – 89 NIS
Seasoned according to mum's recipe
Kebabs – 89 NIS
Chicken / Veal
Lamb ribs – 125 NIS
With Georgian spices
Veal – 110 NIS
With Georgian spices
Salmon – 110 NIS
Your choice: skewer or fillet piece
Mix of Meats – 470 NIS
Grilled meat selection 
Chicken Tabaka – 110 NIS
All BBQ dishes are cooked according to Georgian recipes
Vegetarian 
Chashushuli Soko – 54 NIS
Mushrooms and tomatoes stew with onion and garlic
Odzhahuri Soko – 58 NIS
Potatoes, mushrooms, onions, tomatoes, garlic in the oven
Khinkali (5 pcs) – 45 NIS
Stuffed with mushrooms / potatoes
Desserts
Churchkhela (1 pc) – 35 NIS
Nut Strudel – 35 NIS
Nut Strudel with churchkhela – 59 NIS
Drinks
Coca-Cola 330 ml – 13 NIs
Coca-Cola Zero 330 ml – 13 NIS
Sprite 330 ml – 13 NIS
Sprite Zero 330 ml – 13 NIS
Fanta 330 ml – 13 NIS
Orange drink 330 ml – 12 NIS
Grapefruit drink 330 ml – 12 NIS
Pineapple drink 330 ml – 12 NIS
Limonana 330 ml – 12 NIS
Soda – 12 NIS
Mineral water – 12 NIS
Georgian Drinks
Borjomi – 17 NIS
Georgian mineral water
Natakhtari carbonated – 16 NIS
Pear and anise fizzy beer
Fresh fruit kompot – 25 NIS
Served in a glass liter bottle
Business lunch 69 NIS
First dish —  soup of your choice: kharcho / solyanka / lobio
Intermezzo dish to choose from: khinkali 2 pcs / blinches 2 pcs / chebureki 1 pc
Main dish to choose from (one skewer and a side dish): kebab / pargit
Served with mashed potatoes or rice
Drink – extra charge of 7 shekels
Business lunch 79 shekels
First dish — soup of your choice: kharcho / solyanka / lobio
Intermezzo dish to choose from: khinkali 2 pcs / blinches 2 pcs / chebureki 1 pc
Main dish to choose from (one skewer): kebab / chicken kebab / pargit
Served with mashed potatoes or rice
Drink – choose one from cold or hot drinks menu – tastes like home
Business lunch 89 NIS
First dish — soup of your choice: kharcho / solyanka / lobio
Intermezzo dish to choose from: khinkali 2 pcs / blinches 2 pcs / chebureki 1 pc
Main dish to choose from (two skewers): kebab / chicken kebab / pargit / grilled beef
Served with mashed potatoes or rice
Drink – choose one from cold or hot drinks menu – tastes like home
For Kids
Schnitzel with french fries – 49 NIS
Your choice of chicken kebab / pargit skewer – 49 NIS
Side dish of your choice: mashed potatoes / rice / french fries
Georgian dishes
Meat dishes

GEORGIA (Haifa)

Slowly but surely, Georgian cuisine is conquering Israel. Without doubt, Georgia Restaurant is the one making a huge contribution to this victory, filling the city of Haifa with genuine Georgian spirit. 

Our menu is based on traditional Georgian cuisine which includes appetizers, salads, stuffings, grilled meat and fish dishes, delicious desserts. We have specially invited chefs from the city of Batumi, Georgia, the city which is located very close to Turkey, so that the dishes offered to you are brimming with the distinctive flavors of this area. In our restaurant you will find a sumptuous selection of Georgian wines and other national drinks — try it out to get the authentic feeling of Georgia! 

 Not only does delicious food make Georgian cuisine unforgettable, but also the sublime atmosphere of traditional Caucasian feast makes it truly unique. In Georgia Restaurant we know how to make our visitors happy — there is live entertainment in our dining area with wide variety of talented singers and musicians from Georgia who will enhance your dining experience and let you become a participant of this joyful performance. Georgia Restaurant is a place where everyone can come and share the tasty treats with friends and family. 

The restaurant was founded by Gabriel Bezazashvili, who gained his genuine cooking experience working in numerous amazing restaurants. Food has always been an integral part of the everyday life of his family, so that he would like to let visitors of his restaurant try and enjoy these unforgettable flavors too.

Appetizers

Acharuli Khachapuri – 45 NIS

Boat-shaped khachapuri with an egg and cheese

Megruli Khachapuri – 69 NIS

Round-shaped khachapuri filled with two types of cheese and covered with Sulguni cheese

Imeruli Khachapuri – 63 NIS

Khachapuri filled with two types of cheese

Chebureki – 36 NIS

Deep-fried crescent-shaped pastry with homemade meat stuffing

Khinkali (5 pcs) – 45 NIS

Georgian dumplings stuffed with delicious beef / lamb / cheese

Blinches (3 pcs) – 36 NIS

Homemade pancakes stuffed with meat / cheese

Salads

Georgian Salad – 44 NIS

Cucumbers, tomatoes, onions, parsley, vinegar, salt, homemade spices

Nigvziani – 49 NIS

Eggplant rolls with walnut and homemade spices filling

A mix of Georgian salads – 45 NIS

Beets, spinach, carrots, walnuts, seasoned and served separately

Soko (mushrooms) — 45 NIS

Jonjoli – 45 NIS

Homemade pickles & homemade bread – 25 NIS

Main dishes

Chicken Liver – 49 NIS

Liver with onions and homemade spices

Tolma (3/5 pcs) – 49 NIS

Grape leaves stuffed with meat and rice

Chashushuli (spicy) – 55 NIS

Veal stew with tomatoes, garlic and onions

Lobio with meat – 82 NIS

Bean soup with veal

Odzhahuri – 82 NIS

Veal with tomatoes, potatoes onion and garlic in the oven

Satsivi – 55 NIS

Chicken in a cold walnut sauce with Georgian spices

Chakhokhbili – 55 NIS

Veal soup with prunes and tarragon

Solyanka – 55 NIS

Beef, tomato and onion soup with Georgian spices

Kharcho – 55 NIS

Veal soup with Georgian spices

Main dishes to choose from – tastes like mum's cooking!

BBQ

Pargit Skewer – 89 NIS

Seasoned according to mum's recipe

Kebabs – 89 NIS

Chicken / Veal

Lamb ribs – 125 NIS

With Georgian spices

Veal – 110 NIS

With Georgian spices

Salmon – 110 NIS

Your choice: skewer or fillet piece

Mix of Meats – 470 NIS

Grilled meat selection 

Chicken Tabaka – 110 NIS

All BBQ dishes are cooked according to Georgian recipes

Vegetarian 

Chashushuli Soko – 54 NIS

Mushrooms and tomatoes stew with onion and garlic

Odzhahuri Soko – 58 NIS

Potatoes, mushrooms, onions, tomatoes, garlic in the oven

Khinkali (5 pcs) – 45 NIS

Stuffed with mushrooms / potatoes

Desserts

Churchkhela (1 pc) – 35 NIS

Nut Strudel – 35 NIS

Nut Strudel with churchkhela – 59 NIS

Drinks

Coca-Cola 330 ml – 13 NIs

Coca-Cola Zero 330 ml – 13 NIS

Sprite 330 ml – 13 NIS

Sprite Zero 330 ml – 13 NIS

Fanta 330 ml – 13 NIS

Orange drink 330 ml – 12 NIS

Grapefruit drink 330 ml – 12 NIS

Pineapple drink 330 ml – 12 NIS

Limonana 330 ml – 12 NIS

Soda – 12 NIS

Mineral water – 12 NIS

Georgian Drinks

Borjomi – 17 NIS

Georgian mineral water

Natakhtari carbonated – 16 NIS

Pear and anise fizzy beer

Fresh fruit kompot – 25 NIS

Served in a glass liter bottle

Business lunch 69 NIS

First dish —  soup of your choice: kharcho / solyanka / lobio

Intermezzo dish to choose from: khinkali 2 pcs / blinches 2 pcs / chebureki 1 pc

Main dish to choose from (one skewer and a side dish): kebab / pargit

Served with mashed potatoes or rice

Drink – extra charge of 7 shekels

Business lunch 79 shekels

First dish — soup of your choice: kharcho / solyanka / lobio

Intermezzo dish to choose from: khinkali 2 pcs / blinches 2 pcs / chebureki 1 pc

Main dish to choose from (one skewer): kebab / chicken kebab / pargit

Served with mashed potatoes or rice

Drink – choose one from cold or hot drinks menu – tastes like home

Business lunch 89 NIS

First dish — soup of your choice: kharcho / solyanka / lobio

Intermezzo dish to choose from: khinkali 2 pcs / blinches 2 pcs / chebureki 1 pc

Main dish to choose from (two skewers): kebab / chicken kebab / pargit / grilled beef

Served with mashed potatoes or rice

Drink – choose one from cold or hot drinks menu – tastes like home

For Kids

Schnitzel with french fries – 49 NIS

Your choice of chicken kebab / pargit skewer – 49 NIS

Side dish of your choice: mashed potatoes / rice / french fries