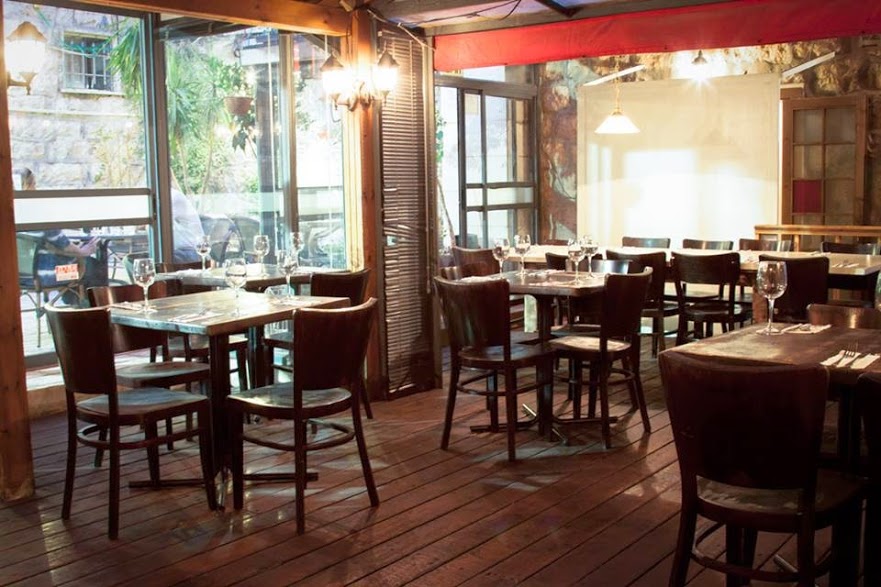 Milk dishes
Meat dishes
Fish and seafood
Italian Cuisine
MANTRA (Jerusalem)
Mantra is a gourmet restaurant & wine bar in the very heart of Jerusalem based in a wonderful pastoral building constructed 120 years ago in a Jerusalem Courtyard – Finegold. The Chef, Jacob Elisha, invites you to taste high-quality meat, sea food, fresh fish, and pasta.
Mantra uses premium quality components treated with high care and skills. The meat is delivered from the Golan Heights from the best suppliers, fish comes fresh every morning, pasta and desserts are cooked on the spot, this is a true handwork.
The restaurant offers a rich and diverse alcohol menu with a wide choice of the name-brand alcohol, a wide choice of cocktails, draught beer, Israeli craft beer and many other things, and a rich wine menu including wines from all over the world, Israeli and boutique wines.
At night, the restaurant changes its look, it becomes a tapas bar, alcohol is served with various refreshments.
The restaurant is based in the very heart of Jerusalem in the pedestrian Yaffo Street, in the Finegold Courtyard based at the edge of Nahalat Shiv'a neighbourhood several minutes away from the old city and Mamila mall.
Starters
Jackov soup of the day – 38 nis
For cold winter days
Char grilled eggplant – 42 nis
Yogurt, garlic, tehina, chives & fried tomatoes
Baked beetroot carpaccio – 47 nis
Olive oil, balsamic vinaigrette, cream cheese, parmesan & walnuts
Veal carpaccio – 56 nis
Olive oil, lemon, rocket lettuce & parmesan cheese
Fresh fish tartar – 56 nis
Shallots, red peppers, chives, soya, lemon, olive oil & tobiko roe
Red tuna sashimi – 62 nis
Charred and seasoned with wasabi, ginger, garlic, soya, lemon & sesame seeds
Chicken liver with date honey – 65 nis
Date honey and onions on mashed potatoes
Crispy calamari – 67 nis
Coated with bread crumbs on lettuce platter with mustard vinaigrette & Tsiziki sauce
Salads
Lettuce heart & blue cheese salad – 42 nis
lettuce hearts, mustard vinaigrette, blue cheese & walnuts
Tomato & mozzarella salad – 40 nis
assorted tomatoes, olive oil, lemon, balsamic vinaigrette & fresh basil
Brinza salad – 42 nis
lettuce, rocket lettuce, brinza cheese, candied pecans & mixed seeds
Ceasar salad – 67 nis
lettuce hearts, ceasar sauce and grilled chicken breast
Pasta
Tortellini with 4 cheese & truffles – 83 nis
Cream sauce w/truffles, mushroom, shallots, garlic, white wine & parmesan cheese
Sea food pappardelle – 92 nis
Shrimp, calamari, mussels, thyme, crab stock & butter
Fettuccini with veal sausage & smoked goose breast – 78 nis
tomato and herbs sauce with sliced veal sausage and smoked goose breast
Main course
Grilled chicken – 64 nis
juicy chicken breast in honey & mustard Sauce, served w/Fresh salad & mashed potatoes
Mini burgers – 62 nis
two burgers, tomatoes, lettuce, aioli & mustard, served w/fries
Veal fillet – 134 nis
220 gr veal fillet in pepper cream sauce or red wine sauce, served w/mashed potatoes & green beans
Entrecote steak – 114 nis
275 gr entrecote in pepper cream sauce or red wine sauce, served w/mashed potatoes & green beans
Lamb chops – 136 nis
Red wine glazed, balsamic vinegar, thyme, garlic and root vegetables, served w/mashed potatoes
Lamb osso buco – 104 nis
220 gr lamb chops in honey, garlic and cumin sauce. served w/wheat groats and grilled veggies
Beef stroganoff – 92 nis
cubed veal fillet in mushroom cream sauce, served w/mashed potatoes
Fish of the day – 107 nis
straight from the sea, served w/mashed potatoes & green beans
Shrimp in white wine – 107 nis
Stir fried in a pan with butter, garlic & white wine, served w/mashed potatoes
Sea food casserole – 142 nis
Crab, calamari. shrimp, mussels w/preserved garlic, onions, butter, cherry tomatoes & parsley served w/mashed potatoes
Not the ordinary Jerusalem mix – 113 nis
Shrimp, calamari, sea bream floured & fried, served on lettuce platter w/mustard vinaigrette
AGAIN THE MANTRA WITH NEVER ENDING MEAT
Luxurious plate of meat, 850 gr. side dishes and sauces.
Rich dish for two diners – 470 nis
Milk dishes
Meat dishes
Fish and seafood
Italian Cuisine

MANTRA (Jerusalem)

Mantra is a gourmet restaurant & wine bar in the very heart of Jerusalem based in a wonderful pastoral building constructed 120 years ago in a Jerusalem Courtyard – Finegold. The Chef, Jacob Elisha, invites you to taste high-quality meat, sea food, fresh fish, and pasta.
Mantra uses premium quality components treated with high care and skills. The meat is delivered from the Golan Heights from the best suppliers, fish comes fresh every morning, pasta and desserts are cooked on the spot, this is a true handwork.
The restaurant offers a rich and diverse alcohol menu with a wide choice of the name-brand alcohol, a wide choice of cocktails, draught beer, Israeli craft beer and many other things, and a rich wine menu including wines from all over the world, Israeli and boutique wines.
At night, the restaurant changes its look, it becomes a tapas bar, alcohol is served with various refreshments.
The restaurant is based in the very heart of Jerusalem in the pedestrian Yaffo Street, in the Finegold Courtyard based at the edge of Nahalat Shiv'a neighbourhood several minutes away from the old city and Mamila mall.

Starters

Jackov soup of the day – 38 nis
For cold winter days
Char grilled eggplant – 42 nis
Yogurt, garlic, tehina, chives & fried tomatoes
Baked beetroot carpaccio – 47 nis
Olive oil, balsamic vinaigrette, cream cheese, parmesan & walnuts
Veal carpaccio – 56 nis
Olive oil, lemon, rocket lettuce & parmesan cheese
Fresh fish tartar – 56 nis
Shallots, red peppers, chives, soya, lemon, olive oil & tobiko roe
Red tuna sashimi – 62 nis
Charred and seasoned with wasabi, ginger, garlic, soya, lemon & sesame seeds
Chicken liver with date honey – 65 nis
Date honey and onions on mashed potatoes
Crispy calamari – 67 nis
Coated with bread crumbs on lettuce platter with mustard vinaigrette & Tsiziki sauce

Salads

Lettuce heart & blue cheese salad – 42 nis
lettuce hearts, mustard vinaigrette, blue cheese & walnuts
Tomato & mozzarella salad – 40 nis
assorted tomatoes, olive oil, lemon, balsamic vinaigrette & fresh basil
Brinza salad – 42 nis
lettuce, rocket lettuce, brinza cheese, candied pecans & mixed seeds
Ceasar salad – 67 nis
lettuce hearts, ceasar sauce and grilled chicken breast

Pasta

Tortellini with 4 cheese & truffles – 83 nis
Cream sauce w/truffles, mushroom, shallots, garlic, white wine & parmesan cheese
Sea food pappardelle – 92 nis
Shrimp, calamari, mussels, thyme, crab stock & butter
Fettuccini with veal sausage & smoked goose breast – 78 nis
tomato and herbs sauce with sliced veal sausage and smoked goose breast

Main course

Grilled chicken – 64 nis
juicy chicken breast in honey & mustard Sauce, served w/Fresh salad & mashed potatoes
Mini burgers – 62 nis
two burgers, tomatoes, lettuce, aioli & mustard, served w/fries
Veal fillet – 134 nis
220 gr veal fillet in pepper cream sauce or red wine sauce, served w/mashed potatoes & green beans
Entrecote steak – 114 nis
275 gr entrecote in pepper cream sauce or red wine sauce, served w/mashed potatoes & green beans
Lamb chops – 136 nis
Red wine glazed, balsamic vinegar, thyme, garlic and root vegetables, served w/mashed potatoes
Lamb osso buco – 104 nis
220 gr lamb chops in honey, garlic and cumin sauce. served w/wheat groats and grilled veggies
Beef stroganoff – 92 nis
cubed veal fillet in mushroom cream sauce, served w/mashed potatoes
Fish of the day – 107 nis
straight from the sea, served w/mashed potatoes & green beans
Shrimp in white wine – 107 nis
Stir fried in a pan with butter, garlic & white wine, served w/mashed potatoes
Sea food casserole – 142 nis
Crab, calamari. shrimp, mussels w/preserved garlic, onions, butter, cherry tomatoes & parsley served w/mashed potatoes
Not the ordinary Jerusalem mix – 113 nis
Shrimp, calamari, sea bream floured & fried, served on lettuce platter w/mustard vinaigrette

AGAIN THE MANTRA WITH NEVER ENDING MEAT

Luxurious plate of meat, 850 gr. side dishes and sauces.
Rich dish for two diners – 470 nis