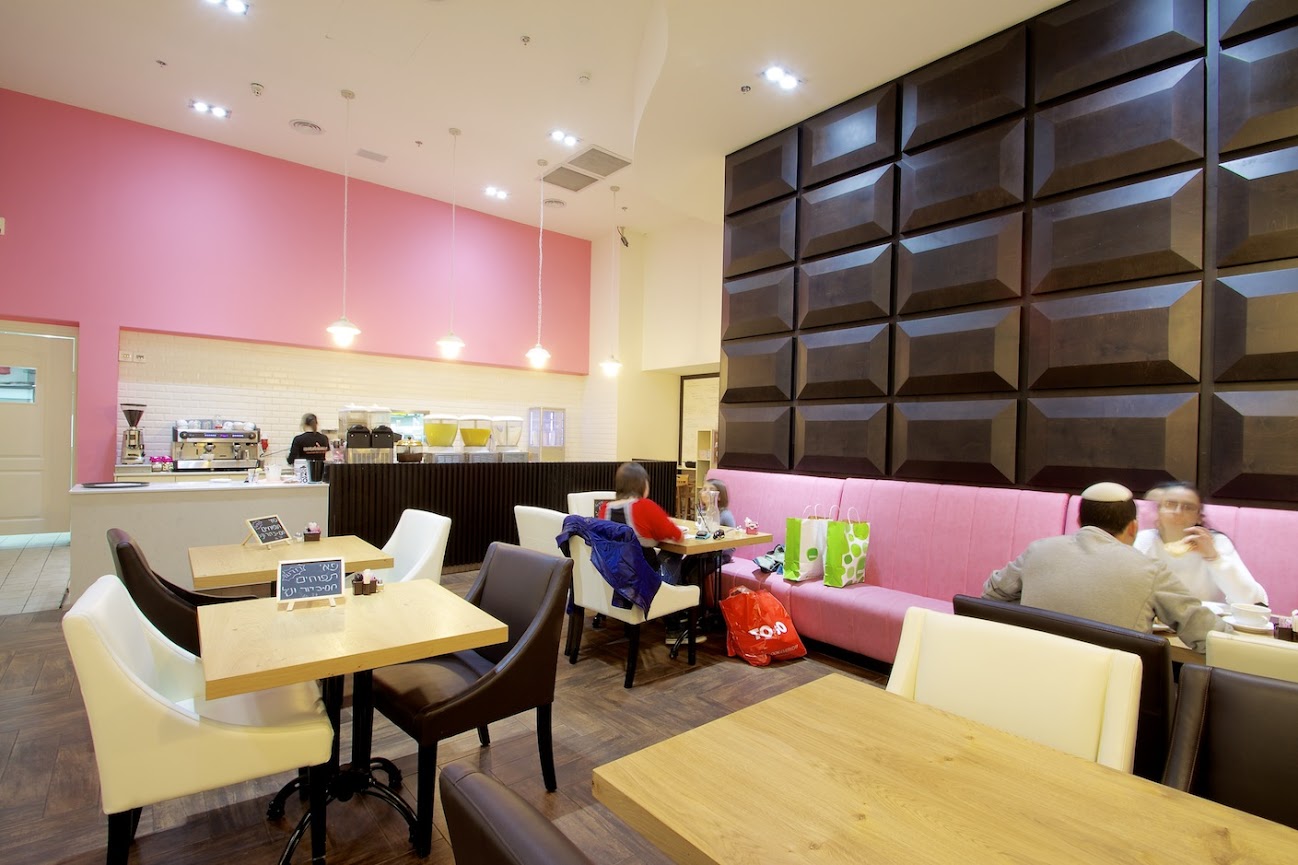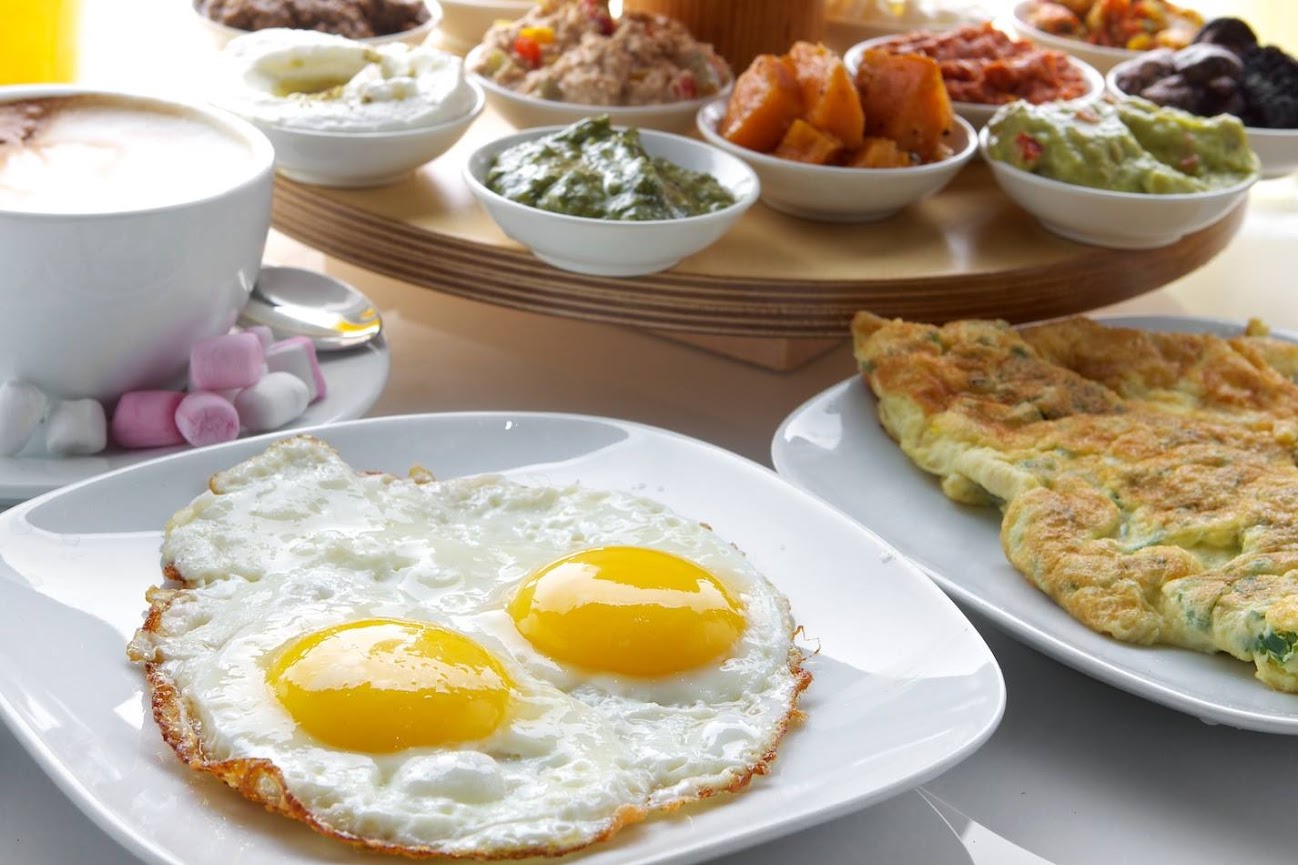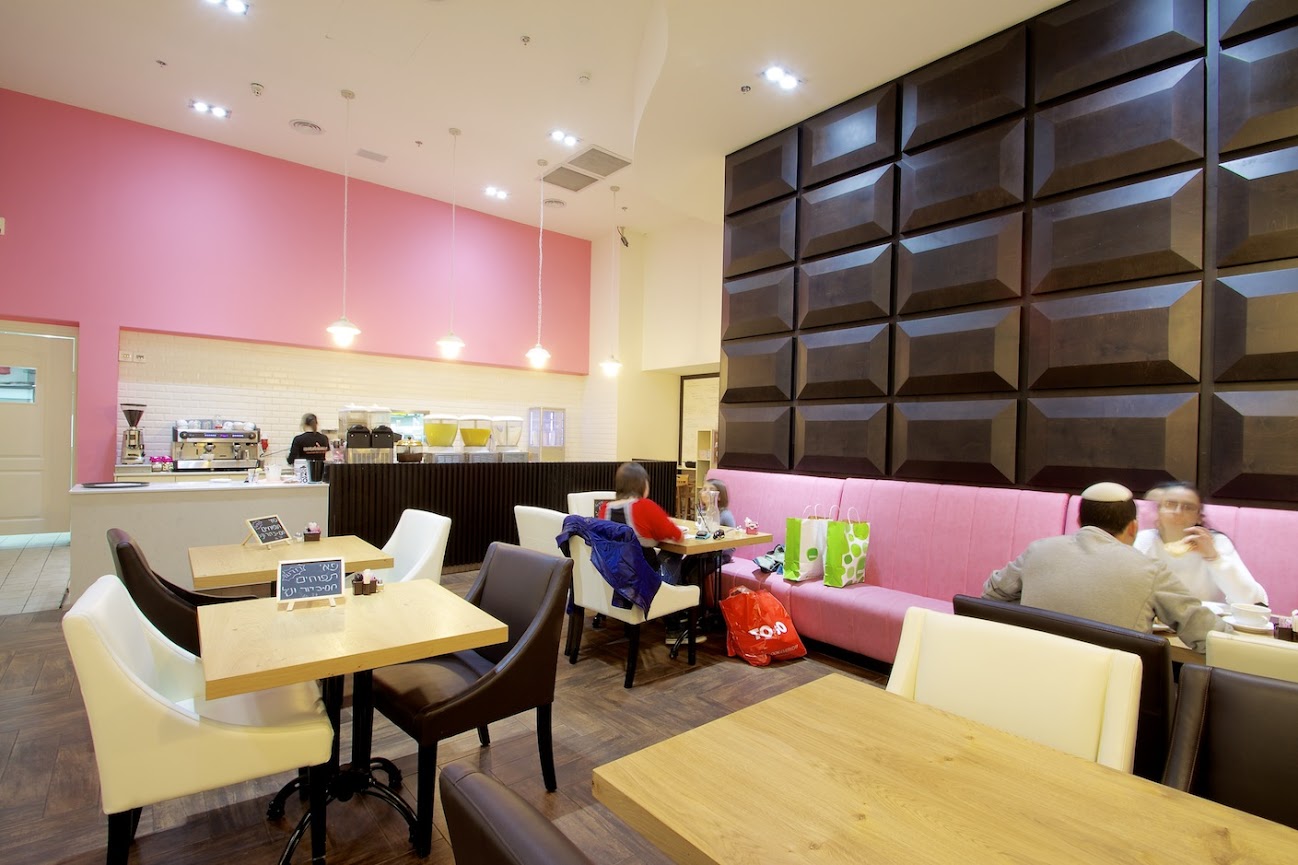 Takeaway
Bistro Bar
Fish dishes
Vegetarian cuisine
European cuisine
Confectionery
MARSHMALLOW 
(Beer Sheva)
Coffee "marshmallow" – a cozy place for fans of real coffee, delicious desserts and a pleasant atmosphere.
It is a place to exchange information, to get positive emotions and good mood. The original purpose of our institution included the creation of places for personal meetings, business meetings, family parties, romantic dates.
The cozy atmosphere, combined with a modern kitchen, led to the expected results. Our restaurant attracts high-quality preparation of all dishes made from fresh ingredients. A warm welcome, professional service, Take account of the wishes of each guest – the basics, which trained staff.
Salads
Caesar salad – 57 NIS
Selection of fresh young leaves, croutons, tomatoes, red onion, classic Caesar dressing, halloumi cheese
Nicoise – 53 NIS
Potatoes, pickles, tomatoes, green beans, hard boiled eggs, tuna salad on a bed of greens, garlic sauce, "Thousand Islands"
Patush – 48 NIS
Cucumbers, tomatoes, red onion, parsley, lemon juice, olive oil, plus home-tahina
Cubes (Greek) – 52 NIS
Cucumbers, tomatoes, red onion, black olives Kalamata, feta cheese, lemon juice, olive oil and salt of the Atlantic, on a bed of greens
Health – 53 NIS
Assorted fresh greens, kohlrabi, fennel, red cabbage, radish, carrots, cherry tomatoes, olive oil, lemon juice and sea salt, served with parmesan cheese
Chef – 54 NIS
Salad greens, a variety of cherry tomatoes, red onion, diced sweet potatoes, fried mushrooms, roasted peppers, tsirtrusovy vinaigrette sauce, grated cheese and egg
Mushrooms and cheese halloumi – 59 NIS
Assorted fresh herbs, fresh lettuce, red onion, cucumber, pepper, two colors, cherry tomatoes, olive oil, lemon juice and Atlantic salt, served with sauteed mushrooms, halloumi cheese cubes with teriyaki sauce
Main dishes
Hamburger – 56 NIS
Chicken burger is made from a mixture of fresh mushrooms and a variety of cheeses, served on a bun, accompanied by lettuce, tomatoes, red onion and garnish
Fish of the day (baked in an oven) – 74 NIS
Served with a green salad, side dish: American crisps / chips / green salad / vegetable salad
Fish and chips – 67 NIS
Three slices of fillet served on a bed of American chips with garlic aioli, accompanied by fresh lemon
Lasagna – 59 NIS
Leaflets climbing rolls (each day is different), baked with parmesan cheese
Gratin – 41 NIS
Baked potato cubes, rosemary scented sauce with parmesan,
Mushroom gratin – 46 NIS
Duet potato cubes and fresh mushrooms with the scent of thyme and cream sauce, parmesan
Sweet Potato Gratin – 46 NIS
Duet potato cubes and sweet potatoes, cream sauce, rosemary and parmesan
Pastes
Spaghetti / Pan – 43 NIS
Ravioli with sauce – 56 NIS
Gnocchi – 49 NIS
Sauces to choose from:
Alfredo, Pomodoro, Napolitano, pesto
Belgian waffles
Banana boom – 46 NIS
Marshmelo – 43 NIS
Kinder Bueno – 47 NIS
Tofifi – 47 NIS
Truffle – 42 NIS
Ferrero Rocher – 48 NIS
Strawberries (in the season) – 46 NIS
Halva – 45 NIS
Classic whipped cream – 43 NIS
French crepes
Marshmelo – 38 NIS
Banana Cplit – 39 NIS
Chocolate – 37 NIS
Banana Loti – 41 NIS
Mascarpone and strawberries (in season) – 43 NIS
Bounty – 39 NIS
Muuuuu
Oreo – 34 NIS
Kinder Bueno – 37 NIS
Tofifi – 36 NIS
Ferrero Rocher – 37 NIS
Mu strawberries (in season) – 35 NIS
Specialties Marshmelo
Two tier brulee – 39 NIS
Eclairs – 39 NIS
Pizza "Marshmelo" chocolate – 39 NIS
Belgian chocolate fondue – 59 NIS
Pancake – 34 NIS
Pies – 39 NIS
Chocolate souffle
Chocolate souffle (parve)
Gavinchino
Cake of chocolate chip cookies
Strawberry Cheesecake
Hot chocolate cake without flour
Lemon pie
Hot chocolate
Belgian Chocolate – 18 NIS
Chocolate French – 18 NIS
Blanca – 18 NIS
Shoko click – 17 NIS
Mocha latte – 16 NIS
Takeaway
Bistro Bar
Fish dishes
Vegetarian cuisine
European cuisine
Confectionery

MARSHMALLOW 

(Beer Sheva)

Coffee "marshmallow" – a cozy place for fans of real coffee, delicious desserts and a pleasant atmosphere.
It is a place to exchange information, to get positive emotions and good mood. The original purpose of our institution included the creation of places for personal meetings, business meetings, family parties, romantic dates.
The cozy atmosphere, combined with a modern kitchen, led to the expected results. Our restaurant attracts high-quality preparation of all dishes made from fresh ingredients. A warm welcome, professional service, Take account of the wishes of each guest – the basics, which trained staff.

Salads

Caesar salad – 57 NIS
Selection of fresh young leaves, croutons, tomatoes, red onion, classic Caesar dressing, halloumi cheese
Nicoise – 53 NIS
Potatoes, pickles, tomatoes, green beans, hard boiled eggs, tuna salad on a bed of greens, garlic sauce, "Thousand Islands"
Patush – 48 NIS
Cucumbers, tomatoes, red onion, parsley, lemon juice, olive oil, plus home-tahina
Cubes (Greek) – 52 NIS
Cucumbers, tomatoes, red onion, black olives Kalamata, feta cheese, lemon juice, olive oil and salt of the Atlantic, on a bed of greens
Health – 53 NIS
Assorted fresh greens, kohlrabi, fennel, red cabbage, radish, carrots, cherry tomatoes, olive oil, lemon juice and sea salt, served with parmesan cheese
Chef – 54 NIS
Salad greens, a variety of cherry tomatoes, red onion, diced sweet potatoes, fried mushrooms, roasted peppers, tsirtrusovy vinaigrette sauce, grated cheese and egg
Mushrooms and cheese halloumi – 59 NIS
Assorted fresh herbs, fresh lettuce, red onion, cucumber, pepper, two colors, cherry tomatoes, olive oil, lemon juice and Atlantic salt, served with sauteed mushrooms, halloumi cheese cubes with teriyaki sauce

Main dishes

Hamburger – 56 NIS
Chicken burger is made from a mixture of fresh mushrooms and a variety of cheeses, served on a bun, accompanied by lettuce, tomatoes, red onion and garnish
Fish of the day (baked in an oven) – 74 NIS
Served with a green salad, side dish: American crisps / chips / green salad / vegetable salad
Fish and chips – 67 NIS
Three slices of fillet served on a bed of American chips with garlic aioli, accompanied by fresh lemon
Lasagna – 59 NIS
Leaflets climbing rolls (each day is different), baked with parmesan cheese
Gratin – 41 NIS
Baked potato cubes, rosemary scented sauce with parmesan,
Mushroom gratin – 46 NIS
Duet potato cubes and fresh mushrooms with the scent of thyme and cream sauce, parmesan
Sweet Potato Gratin – 46 NIS
Duet potato cubes and sweet potatoes, cream sauce, rosemary and parmesan

Pastes

Spaghetti / Pan – 43 NIS
Ravioli with sauce – 56 NIS
Gnocchi – 49 NIS
Sauces to choose from:
Alfredo, Pomodoro, Napolitano, pesto

Belgian waffles

Banana boom – 46 NIS
Marshmelo – 43 NIS
Kinder Bueno – 47 NIS
Tofifi – 47 NIS
Truffle – 42 NIS
Ferrero Rocher – 48 NIS
Strawberries (in the season) – 46 NIS
Halva – 45 NIS
Classic whipped cream – 43 NIS

French crepes

Marshmelo – 38 NIS
Banana Cplit – 39 NIS
Chocolate – 37 NIS
Banana Loti – 41 NIS
Mascarpone and strawberries (in season) – 43 NIS
Bounty – 39 NIS

Muuuuu

Oreo – 34 NIS
Kinder Bueno – 37 NIS
Tofifi – 36 NIS
Ferrero Rocher – 37 NIS
Mu strawberries (in season) – 35 NIS
Specialties Marshmelo
Two tier brulee – 39 NIS
Eclairs – 39 NIS
Pizza "Marshmelo" chocolate – 39 NIS
Belgian chocolate fondue – 59 NIS
Pancake – 34 NIS
Pies – 39 NIS

Chocolate souffle

Chocolate souffle (parve)
Gavinchino
Cake of chocolate chip cookies
Strawberry Cheesecake
Hot chocolate cake without flour
Lemon pie
Hot chocolate
Belgian Chocolate – 18 NIS
Chocolate French – 18 NIS
Blanca – 18 NIS
Shoko click – 17 NIS
Mocha latte – 16 NIS