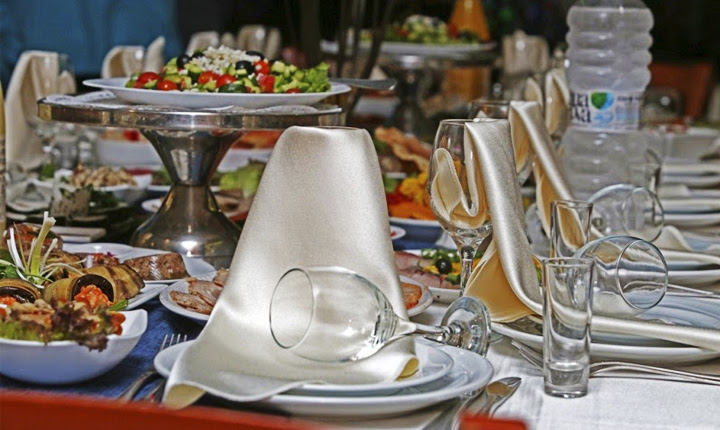 Meat dishes
Fish and seafood
Russian cuisine
RANDEVU 
(Rishon LeZion)
RANDEVU RESTAURANT IS ONE OF THE BEST RESTAURANTS IN RISHON LEZION.
The Rishon LeZion Randevu Restaurant was opened in 1996 in Ashdod and in 2014 it opened its doors in one of the most visited districts of Rishon LeZion. The magnificent interior of three halls different in size, an abundance of lights and lighting effects create a festive atmosphere.
The professionally trained waiters will provide you with service at the highest level. A wide choice of dishes and appetizers in the Rishon LeZion Randevu Restaurant will suite the taste of people from across the globe, though the Russian and European cuisine prevails.
The performances by the stunning musicians of the Master Show Group together with the professional dancers of the Azimuth Show Ballet will make your day in the Rishon LeZion Randevu Restaurant.
THE GUESTS OF THE RISHON LEZION RANDEVU RESTAURANT CAN ALSO DANCE ON THE LARGE DANCE FLOOR. FAMOUS ARTISTS PARTICIPATE IN THE PROGRAM VERY OFTEN.
Any festivities, jubilees, marriages with chuppah, bar/bat mitzvahs and brit are conducted in the Rishon LeZion Randevu Restaurant. The halls sit 200, 100 and 50 persons. The celebration held here will become unforgettable for you.
COLD APPETIZERS
Smoked Fish Products
Assorted Atlantic Salmon, Silver Carp, Japanese Amberjack
Meat Rainbow
Cold Baked Pork, Ham, Roll, Tongue, and Sausage – everything is home-made
Marinade Kaleidoscope
Home-Made Pickles
Marinated Wild Mushrooms
Rolls De Luxe
Pan-Fried Eggplants stuffed with White Cheese and Nuts
Chicken Pâté with Onion Sauce 
Veal Carpaccio 
Herring to Vodka
Matias Fillet with Red Onion
Rendezvous Salad
Salmon, Shrimps, Capers
Roquefort Salad
Roquefort Cheese, Pineapple, Lettuce, Pears, and Nuts in Caramel Sauce
Surprise Salad
Eggplants, Peppers, Onion, Smoked Meat in Garlic and Basil Sauce
Cherie Salad with Mozzarella Cheese and Piquant Sauce
Calf's Foot Jelly
Aspic
Sushi
Hot Champignons in Teriyaki Sauce
HOT APPETIZERS
Julienne Cocotte
Baked Potatoes with Rosemary
Seafood
Calamari, Mussels, Shrimps in Garlic and Cream Sauce
Small Meat Pies
Fish Fillet Shashlik
HOT DISHES
Salmon Fillet in Parmesan Sauce
Chicken Breast
Chicken Quarter stuffed with Mushrooms and Pine Nuts
Chicken Kiev
Pork Ribs in Béchamel Sauce
Goose Lag Ham in Apple Sauce
Pot–Roasted Veal Stew with Mushrooms
DESSERT
Pastry, Cake (not included into the cost)
Tea, Coffee
BEVERAGES
Orange Juice
Grapefruit Juice 
Pepsi
Table and Mineral Water
Meat dishes
Fish and seafood
Russian cuisine

RANDEVU 

(Rishon LeZion)

RANDEVU RESTAURANT IS ONE OF THE BEST RESTAURANTS IN RISHON LEZION.

The Rishon LeZion Randevu Restaurant was opened in 1996 in Ashdod and in 2014 it opened its doors in one of the most visited districts of Rishon LeZion. The magnificent interior of three halls different in size, an abundance of lights and lighting effects create a festive atmosphere.

The professionally trained waiters will provide you with service at the highest level. A wide choice of dishes and appetizers in the Rishon LeZion Randevu Restaurant will suite the taste of people from across the globe, though the Russian and European cuisine prevails.

The performances by the stunning musicians of the Master Show Group together with the professional dancers of the Azimuth Show Ballet will make your day in the Rishon LeZion Randevu Restaurant.
THE GUESTS OF THE RISHON LEZION RANDEVU RESTAURANT CAN ALSO DANCE ON THE LARGE DANCE FLOOR. FAMOUS ARTISTS PARTICIPATE IN THE PROGRAM VERY OFTEN.

Any festivities, jubilees, marriages with chuppah, bar/bat mitzvahs and brit are conducted in the Rishon LeZion Randevu Restaurant. The halls sit 200, 100 and 50 persons. The celebration held here will become unforgettable for you.

COLD APPETIZERS

Smoked Fish Products
Assorted Atlantic Salmon, Silver Carp, Japanese Amberjack
Meat Rainbow
Cold Baked Pork, Ham, Roll, Tongue, and Sausage – everything is home-made
Marinade Kaleidoscope
Home-Made Pickles
Marinated Wild Mushrooms
Rolls De Luxe
Pan-Fried Eggplants stuffed with White Cheese and Nuts
Chicken Pâté with Onion Sauce 
Veal Carpaccio 
Herring to Vodka
Matias Fillet with Red Onion
Rendezvous Salad
Salmon, Shrimps, Capers
Roquefort Salad
Roquefort Cheese, Pineapple, Lettuce, Pears, and Nuts in Caramel Sauce
Surprise Salad
Eggplants, Peppers, Onion, Smoked Meat in Garlic and Basil Sauce
Cherie Salad with Mozzarella Cheese and Piquant Sauce
Calf's Foot Jelly
Aspic
Sushi
Hot Champignons in Teriyaki Sauce

HOT APPETIZERS

Julienne Cocotte
Baked Potatoes with Rosemary
Seafood
Calamari, Mussels, Shrimps in Garlic and Cream Sauce
Small Meat Pies
Fish Fillet Shashlik

HOT DISHES

Salmon Fillet in Parmesan Sauce
Chicken Breast
Chicken Quarter stuffed with Mushrooms and Pine Nuts
Chicken Kiev
Pork Ribs in Béchamel Sauce
Goose Lag Ham in Apple Sauce
Pot–Roasted Veal Stew with Mushrooms

DESSERT

Pastry, Cake (not included into the cost)
Tea, Coffee
BEVERAGES
Orange Juice
Grapefruit Juice 
Pepsi
Table and Mineral Water