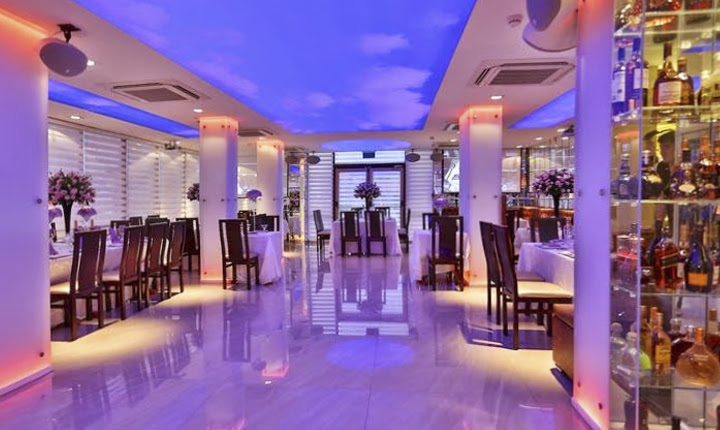 Israeli cuisine
European cuisine
Fish and seafood
Meat dishes
Russian cuisine
SUNRISE 
(Bat Yam)
SUNRISE IS THE MOST UP-TO-DATE BAT YAM RESTAURANT!
The top-level celebration – the latest sound and lighting equipment, virtuosic cuisine and stylish interior.
The Mediterranean sea, new-generation air-conditioners, live music suited to every fancy, sound system allowing to invite artists of every genre and level, five screens (3 and 5 m) for video presentations and karaoke. The state-of-the-art lighting equipment will become a part of the show due to a great number of special effects.
Here the unique atmosphere is combined with a wide choice of exclusive chef's fish and meat delicacies, luxurious bar and traditionally high level of service. Due to its advantages, professional kitchen and cozy atmosphere, Sunrise is an ideal choice for all types of celebrations, wedding and other festivities up to 120 persons.
THE BAT YAM RESTAURANTS ARE WAITING FOR YOU!
Snacks
Liver pate
Caviar
Beef carpaccio
Homemade pickles
Cold meat platter
Fish platter (smoked and salted fish)
Baked tuna accompanied by guacamole
Herbs salad with spices
Caesar salad
Entree
Are placed in the center of the table
Salmon fillet in Asian sauce
Tempura croaker (musar)
Beef and lamb bake
Beef and chicken sauteed with vegetables
Seafood mix (with additional 30 nis per person)
Main dishes
Are placed in the center of the table
Chicken thighs fillet with spices
Lamb mini-kebabs
Veal tongues with mushroom sauce
Pilaf
Asado
Extra: Foie gras, Lamb ribs
Hot garnishes:
Baked potatoes
Cold and hot beverages
Dessert
Apple strudel
VARIANT 1
Snacks
Asian salad
Green salad in sour-sweet sauce
Salmon mousse
Grill baked red tuna on guacamole (Mexican avocado garnish)
White fish ceviche
Salmon carpaccio
Red caviar
Entree
Are placed in the center of the table
Fried dumplings
Chicken wings in Asian sauce
Seafood mix
Main dishes
Are placed in the center of the table
Wok sauteed chicken and beef
Salmon fillet in Asian sauce
Chicken thighs in teriyaki sauce
Pilaf
Asado
Extra: Lamb ribs, foie gras
Dessert
Homemade strudel
Hot / cold beverages
VARIANT 2
Snacks
Homemade pickles
Herbs and spices salad
Kolsalao salad
Georgian salad
Assorted salted and smoked fish
Assorted meat
Liver pate
Antipasti
Fried cauliflower
Dutch herring fillet
Assorted meze mini-snacks, served with homemade buns
Entree
Are placed in the center of the table
Eggplant on fire
with beef ant tahini
Locus (Dusky grouper) mini-kebabs
Baked meat roulade
Main dishes
Are placed in the center of the table
Asian-style chicken breast
Veal tongue in mushroom sauce
Lamb kebabs
Pilaf
Asado
Extra: Lamb ribs, foie gras
Dessert
Apple strudel
Hot / cold beverages
VARIANT 3
Snacks
Beef fillet carpaccio
Red tuna, baked with guacamole
Salmon carpaccio
Red caviar
Veal tongue and sinta fancy cut
Organic vegetable mix
Assorted smoked and salted fish
Homemade pickles
Liver pate
Herbs salad with spices
Caesar salad
Homemade bread with meze snacks
Entree
Personal:
Goose liver, slightly baked with apples and pineapples, with a few forest berries
In the center of the table:
Kebab duet of salmon and stellate sturgeon
Seafood cocktail
Beef and pork roulade with dumplings
Main dishes
Are placed in the center of the table
Lamb ribs, Angus steak and chicken thighs fillet trio
Pilaf
Asado
Extra: Lamb ribs, foie gras
Hot garnishes:
Potatoes in homemade spices
Rice with nuts and raisins
Grilled vegetables
Personal cold beverages
Hot beverages
Miniature desserts of your choice
VARIANT 4
Snacks
Liver pate
Caviar
Beef carpaccio
Homemade pickles
Cold meat platter
Fish platter (smoked and salted fish)
Baked tuna accompanied by guacamole
Herbs salad with spices
Caesar salad
Entree
Are placed in the center of the table
Salmon fillet in Asian sauce
Tempura croaker (musar)
Beef and lamb bake
Beef and chicken sauteed with vegetables
Seafood mix (with additional 30 nis per person)
Main dishes
Are placed in the center of the table
Chicken thighs fillet with spices
Lamb mini-kebabs
Veal tongues with mushroom sauce
Pilaf
Asado
Extra: Lamb ribs, foie gras
Hot garnishes:
Baked potatoes
Cold and hot beverages
Dessert
Apple strudel
Israeli cuisine
European cuisine
Fish and seafood
Meat dishes
Russian cuisine

SUNRISE 

(Bat Yam)

SUNRISE IS THE MOST UP-TO-DATE BAT YAM RESTAURANT!
The top-level celebration – the latest sound and lighting equipment, virtuosic cuisine and stylish interior.

The Mediterranean sea, new-generation air-conditioners, live music suited to every fancy, sound system allowing to invite artists of every genre and level, five screens (3 and 5 m) for video presentations and karaoke. The state-of-the-art lighting equipment will become a part of the show due to a great number of special effects.

Here the unique atmosphere is combined with a wide choice of exclusive chef's fish and meat delicacies, luxurious bar and traditionally high level of service. Due to its advantages, professional kitchen and cozy atmosphere, Sunrise is an ideal choice for all types of celebrations, wedding and other festivities up to 120 persons.
THE BAT YAM RESTAURANTS ARE WAITING FOR YOU!

Snacks
Liver pate
Caviar
Beef carpaccio
Homemade pickles
Cold meat platter
Fish platter (smoked and salted fish)
Baked tuna accompanied by guacamole
Herbs salad with spices
Caesar salad
Entree
Are placed in the center of the table
Salmon fillet in Asian sauce
Tempura croaker (musar)
Beef and lamb bake
Beef and chicken sauteed with vegetables
Seafood mix (with additional 30 nis per person)
Main dishes
Are placed in the center of the table

Chicken thighs fillet with spices

Lamb mini-kebabs

Veal tongues with mushroom sauce

Pilaf

Asado

Extra: Foie gras, Lamb ribs
Hot garnishes:
Baked potatoes
Cold and hot beverages
Dessert
Apple strudel

VARIANT 1
Snacks
Asian salad
Green salad in sour-sweet sauce
Salmon mousse
Grill baked red tuna on guacamole (Mexican avocado garnish)
White fish ceviche
Salmon carpaccio
Red caviar
Entree
Are placed in the center of the table
Fried dumplings
Chicken wings in Asian sauce
Seafood mix
Main dishes
Are placed in the center of the table

Wok sauteed chicken and beef

Salmon fillet in Asian sauce

Chicken thighs in teriyaki sauce

Pilaf

Asado

Extra: Lamb ribs, foie gras
Dessert
Homemade strudel
Hot / cold beverages

VARIANT 2
Snacks
Homemade pickles
Herbs and spices salad
Kolsalao salad
Georgian salad
Assorted salted and smoked fish
Assorted meat
Liver pate
Antipasti
Fried cauliflower
Dutch herring fillet
Assorted meze mini-snacks, served with homemade buns
Entree
Are placed in the center of the table
Eggplant on fire
with beef ant tahini
Locus (Dusky grouper) mini-kebabs
Baked meat roulade
Main dishes
Are placed in the center of the table

Asian-style chicken breast

Veal tongue in mushroom sauce

Lamb kebabs

Pilaf

Asado

Extra: Lamb ribs, foie gras

Dessert
Apple strudel
Hot / cold beverages

VARIANT 3
Snacks
Beef fillet carpaccio
Red tuna, baked with guacamole
Salmon carpaccio
Red caviar
Veal tongue and sinta fancy cut
Organic vegetable mix
Assorted smoked and salted fish
Homemade pickles
Liver pate
Herbs salad with spices
Caesar salad
Homemade bread with meze snacks
Entree
Personal:
Goose liver, slightly baked with apples and pineapples, with a few forest berries
In the center of the table:
Kebab duet of salmon and stellate sturgeon
Seafood cocktail
Beef and pork roulade with dumplings
Main dishes
Are placed in the center of the table
Lamb ribs, Angus steak and chicken thighs fillet trio

Pilaf

Asado

Extra: Lamb ribs, foie gras

Hot garnishes:
Potatoes in homemade spices
Rice with nuts and raisins
Grilled vegetables
Personal cold beverages
Hot beverages
Miniature desserts of your choice

VARIANT 4
Snacks
Liver pate
Caviar
Beef carpaccio
Homemade pickles
Cold meat platter
Fish platter (smoked and salted fish)
Baked tuna accompanied by guacamole
Herbs salad with spices
Caesar salad
Entree
Are placed in the center of the table
Salmon fillet in Asian sauce
Tempura croaker (musar)
Beef and lamb bake
Beef and chicken sauteed with vegetables
Seafood mix (with additional 30 nis per person)
Main dishes
Are placed in the center of the table

Chicken thighs fillet with spices

Lamb mini-kebabs

Veal tongues with mushroom sauce

Pilaf

Asado

Extra: Lamb ribs, foie gras

Hot garnishes:
Baked potatoes

Cold and hot beverages

Dessert
Apple strudel