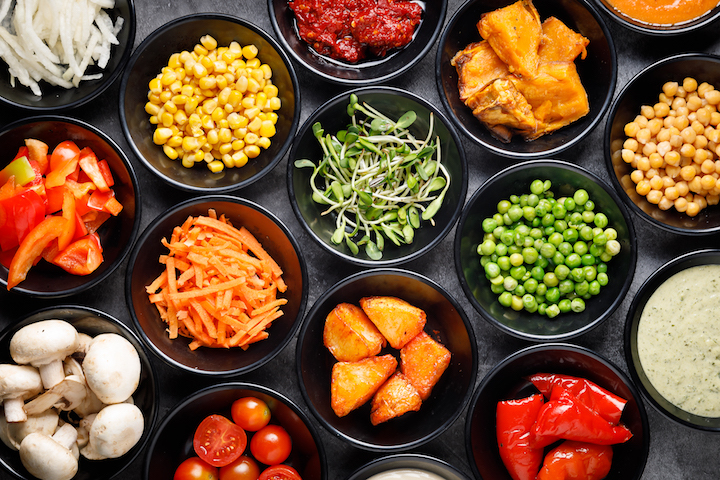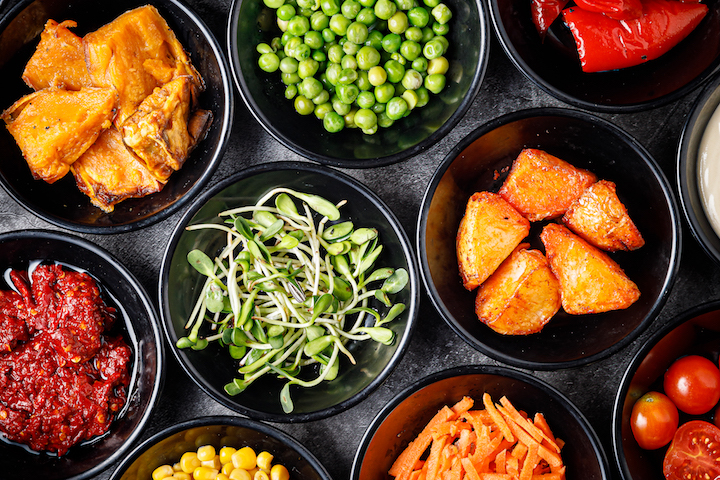 Meat and fish dishes
Vegetarian dishes
Delivery
THE BOWL in Raanana
THE BOWL offers you a unique opportunity to build your own favorites that you may fill with whatever you like and at an affordable price!
You are the chef now, and it's time to create your own food masterpieces! First, choose a carb base for your bowl – it might be rice, noodles, potatoes, and more – then add some fresh veggies, put some protein on top – meat, chicken, fish, or tofu – add a finishing dressing touch, and your tasty meal is ready!
Bon appetit!
Choose what you like most: carb base, vegetables, sauces, and protein on top (meat / chicken / fish)
The Bowl – Create your own favorite!
Choose carbs:
White rice – 33
Bulgur – 36
White quinoa – 38
Red quinoa – 39
Couscous with citrus flavor – 36
Noodles with beans – 36
Rice with beans and corn – 36
Choose up to 3 vegetables:
Green beans
Corn
Black lentils
Black beans
Sweet potatoes
Zucchini
Caramelized purple onions 
Chickpeas 
Baked potatoes
Seaweed
Cilantro / Parsley
Add some protein:
Boiled egg – 3
Tuna – 6
Chicken breast – 10
Chicken thigh fillets – 13
Tofu – 9
Chicken / beef cutlets – 10
Chicken curry – 10
Bourbon chicken – 10
Beef barbecue – 14
Salmon – 19
Choose up to 2 sauces:
Spicy 
Teriyaki
Tahini / Green tahini
Barbecue
Asian vinaigrette
Curry
Drinks:
Cola / Cola Zero / Cola Diet / Spite / Sprite Zero – 11
Soda / Mineral water – 9
Fuzetea Peach / Fuzetea Lemon & Mint – 11
Black beer – 12
Carlsberg – 18
Meat and fish dishes
Vegetarian dishes
Delivery

THE BOWL in Raanana

THE BOWL offers you a unique opportunity to build your own favorites that you may fill with whatever you like and at an affordable price!

You are the chef now, and it's time to create your own food masterpieces! First, choose a carb base for your bowl – it might be rice, noodles, potatoes, and more – then add some fresh veggies, put some protein on top – meat, chicken, fish, or tofu – add a finishing dressing touch, and your tasty meal is ready!

Bon appetit!

Choose what you like most: carb base, vegetables, sauces, and protein on top (meat / chicken / fish)

The Bowl – Create your own favorite!

Choose carbs:

White rice – 33

Bulgur – 36

White quinoa – 38

Red quinoa – 39

Couscous with citrus flavor – 36

Noodles with beans – 36

Rice with beans and corn – 36

Choose up to 3 vegetables:

Green beans

Corn

Black lentils

Black beans

Sweet potatoes

Zucchini

Caramelized purple onions 

Chickpeas 

Baked potatoes

Seaweed

Cilantro / Parsley

Add some protein:

Boiled egg – 3

Tuna – 6

Chicken breast – 10

Chicken thigh fillets – 13

Tofu – 9

Chicken / beef cutlets – 10

Chicken curry – 10

Bourbon chicken – 10

Beef barbecue – 14

Salmon – 19

Choose up to 2 sauces:

Spicy 

Teriyaki

Tahini / Green tahini

Barbecue

Asian vinaigrette

Curry

 

Drinks:

Cola / Cola Zero / Cola Diet / Spite / Sprite Zero – 11

Soda / Mineral water – 9

Fuzetea Peach / Fuzetea Lemon & Mint – 11

Black beer – 12

Carlsberg – 18