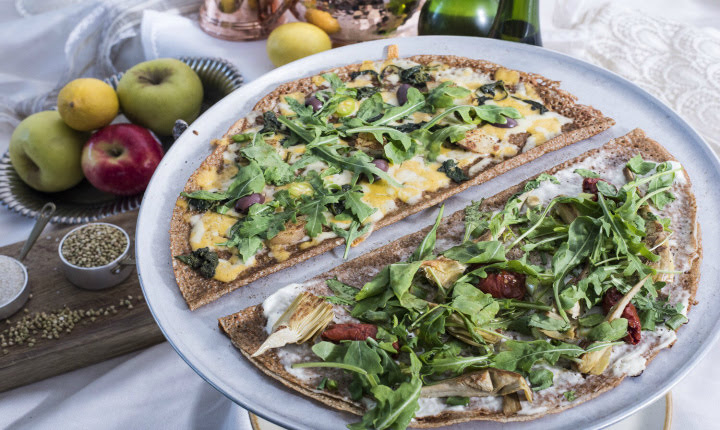 Confectionery
French Cuisine
BRETTONE Florentine (Tel Aviv)
Brettone is an amazing pancake, the idea of which was brought to Israel from the Brittany region in north-west France. Our pancakes are daily baked from soft buckwheat flour without gluten.
Our chef, Jonathan Bodek, is a master at compiling a diverse and rich menu adapted to Israeli taste.
In the menu you will find pancakes, suitable for everyone in all culinary settings: vegetarian, cheese, fish and meat fillings, will not leave anyone hungry.
Available as salty, and sweet pancakes and desserts for every taste.
VEGAN
Classic Vegan – vegan cheese, tomatoes onions, spinach, olives, coriander
garlic and arugula 32
Artichoke a la Romana – vegan cheese, sun-dried tomatoes, green onions, pepper, garlic and arugula 38
CHEESE
Classic – emmental, egg, tomatoes onions, coriander, garlic and arugula 32
Extra blue cheese | Artichoke 6
Extra St Maure | Anchovy Ortiz 8
 Labaneh & eggplant – potatoes, tomatoes, red onions, green beans, tahini, garlic, coriander, chilli, arugula 36
Smoked cheddar – emmental, potatoes, spinach, garlic, chilli, olives and arugula 36
Extra Blue cheese | Artichoke 6
Extra St.Maure | Anchovy Ortiz 8
St. Maure & honey – sliced almonds, black pepper and arugula 36
St. Maure & greens – green onions, spinach, green beans, potatoes, chilli, garlic, and arugula 38
Sheep Halomi – crème fraîche, onions, basilicum&mint, tomatoes and arugula 34
Roquefort and beet cream – crème fraîche, beet cream, roquefort, chilli and urugula 38
 FISH
Pickled Bonito fish – crème fraîche, onions, capers, coriander, garlic, sprinkle of lemon and arugula 38
Salmon – crème fraîche, onions, sprinkle of lemon and arugula 38
Extra St.Maure 8
MEAT & CHEESE
Classic Pastrami – Emmental cheese, egg tomatoes, onions, coriander, garlic,
and arugula 38
Extra Blue cheese | Artichoke 6
Extra St Maure 8
Lamb Bacon Cheddar- smoked cheddar, Emmental cheese, spinach, potatoes onions, garlic, chilli and arugula 42
Roast Beef – dijon mustard, emmental, Pecorino, potatos, garlic conift
fresh oregano leaves and arugula 42
SWEETS
French butter and sugar 18 Lemon Cinnamon and sugar 18
Tatin (Gluten free) – crème fraîche, apple and salted caramel, sliced almonds 30
Chestnuts cream 26
Season Jam – Crème fraîche and sliced almonds 24
Salted caramel – Crème fraîche and sliced almonds 26
Banoffee (Gluten free) – Dulce de Lecce, banana and roasted coconut 26
Chabby hubby – Peanut butter, milk chocolate, and bagel crisps 26
Peanut butter and season jam 24 Tahini Silan & sliced almonds 24
Banana, dark chocolate and concentred milk 24
Nutella 20
Bretonnella Homemadechocolate 24
HOT DRINKS
Cappuccino (milk/soy) 10
Esresso short/long 8 | double 10
House tea 8
SOFT DRINKS
Cola | Zero | Sprite | Fuze tea 10 Ginger Ale 12
Jomax flavours 14
Malt Black Beer 12
S.Pelegrino orange/lemon 12
Mineral water | Soda 8
BEERS
Goldstar | Stella Artois 16
Red Malka (Pale Ale) 26
schnitzer brew (gluten free) 26
Brewdog (Gluten free) 26
Daoura (Gluten free) 26
1/3 draft beer 18
1/2 draft beer 22
HOUSE WINE
Glass 15 / Bottle 42
Bottle of White Wine 78
STRONG ALCOHOL
Pastis 10 | 18
Bushmills 12 | 20
Stolichnaya 10 | 18
Arak Elite 10 | 18
Campari 12 | 20
Baileys 16 | 24
Gin Hendrick's 18 | 32
Campari Soda 20
CIDERS
Magners pear/apple 4,5% 20
Hamutal and Tomer's cider 28
Val de Rance brut 4,5% (75cl) 46
Westonos apple (75cl) 56
Natural pear cider paura 2% 86
Confectionery
French Cuisine

BRETTONE Florentine (Tel Aviv)

Brettone is an amazing pancake, the idea of which was brought to Israel from the Brittany region in north-west France. Our pancakes are daily baked from soft buckwheat flour without gluten.
Our chef, Jonathan Bodek, is a master at compiling a diverse and rich menu adapted to Israeli taste.
In the menu you will find pancakes, suitable for everyone in all culinary settings: vegetarian, cheese, fish and meat fillings, will not leave anyone hungry.
Available as salty, and sweet pancakes and desserts for every taste.

VEGAN

Classic Vegan – vegan cheese, tomatoes onions, spinach, olives, coriander

garlic and arugula 32

Artichoke a la Romana – vegan cheese, sun-dried tomatoes, green onions, pepper, garlic and arugula 38

CHEESE

Classic – emmental, egg, tomatoes onions, coriander, garlic and arugula 32

Extra blue cheese | Artichoke 6

Extra St Maure | Anchovy Ortiz 8

 Labaneh & eggplant – potatoes, tomatoes, red onions, green beans, tahini, garlic, coriander, chilli, arugula 36

Smoked cheddar – emmental, potatoes, spinach, garlic, chilli, olives and arugula 36

Extra Blue cheese | Artichoke 6

Extra St.Maure | Anchovy Ortiz 8

St. Maure & honey – sliced almonds, black pepper and arugula 36

St. Maure & greens – green onions, spinach, green beans, potatoes, chilli, garlic, and arugula 38

Sheep Halomi – crème fraîche, onions, basilicum&mint, tomatoes and arugula 34

Roquefort and beet cream – crème fraîche, beet cream, roquefort, chilli and urugula 38

 FISH

Pickled Bonito fish – crème fraîche, onions, capers, coriander, garlic, sprinkle of lemon and arugula 38

Salmon – crème fraîche, onions, sprinkle of lemon and arugula 38

Extra St.Maure 8

MEAT & CHEESE

Classic Pastrami – Emmental cheese, egg tomatoes, onions, coriander, garlic,

and arugula 38

Extra Blue cheese | Artichoke 6

Extra St Maure 8

Lamb Bacon Cheddar- smoked cheddar, Emmental cheese, spinach, potatoes onions, garlic, chilli and arugula 42

Roast Beef – dijon mustard, emmental, Pecorino, potatos, garlic conift

fresh oregano leaves and arugula 42

SWEETS

French butter and sugar 18 Lemon Cinnamon and sugar 18
Tatin (Gluten free) – crème fraîche, apple and salted caramel, sliced almonds 30
Chestnuts cream 26
Season Jam – Crème fraîche and sliced almonds 24
Salted caramel – Crème fraîche and sliced almonds 26
Banoffee (Gluten free) – Dulce de Lecce, banana and roasted coconut 26
Chabby hubby – Peanut butter, milk chocolate, and bagel crisps 26
Peanut butter and season jam 24 Tahini Silan & sliced almonds 24
Banana, dark chocolate and concentred milk 24
Nutella 20
Bretonnella Homemadechocolate 24
HOT DRINKS
Cappuccino (milk/soy) 10
Esresso short/long 8 | double 10
House tea 8
SOFT DRINKS
Cola | Zero | Sprite | Fuze tea 10 Ginger Ale 12
Jomax flavours 14
Malt Black Beer 12
S.Pelegrino orange/lemon 12
Mineral water | Soda 8

BEERS

Goldstar | Stella Artois 16

Red Malka (Pale Ale) 26

schnitzer brew (gluten free) 26

Brewdog (Gluten free) 26

Daoura (Gluten free) 26

1/3 draft beer 18

1/2 draft beer 22

HOUSE WINE

Glass 15 / Bottle 42

Bottle of White Wine 78

STRONG ALCOHOL

Pastis 10 | 18

Bushmills 12 | 20

Stolichnaya 10 | 18

Arak Elite 10 | 18

Campari 12 | 20

Baileys 16 | 24

Gin Hendrick's 18 | 32

Campari Soda 20

CIDERS

Magners pear/apple 4,5% 20

Hamutal and Tomer's cider 28

Val de Rance brut 4,5% (75cl) 46

Westonos apple (75cl) 56

Natural pear cider paura 2% 86