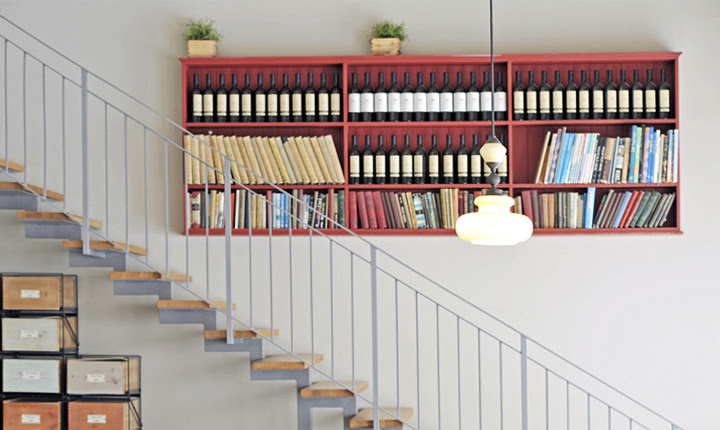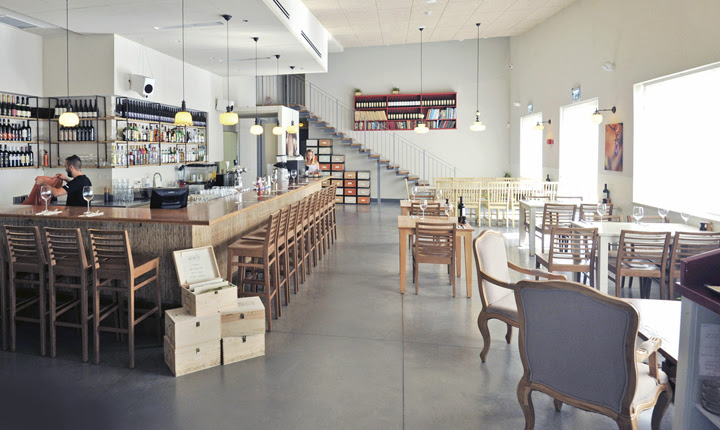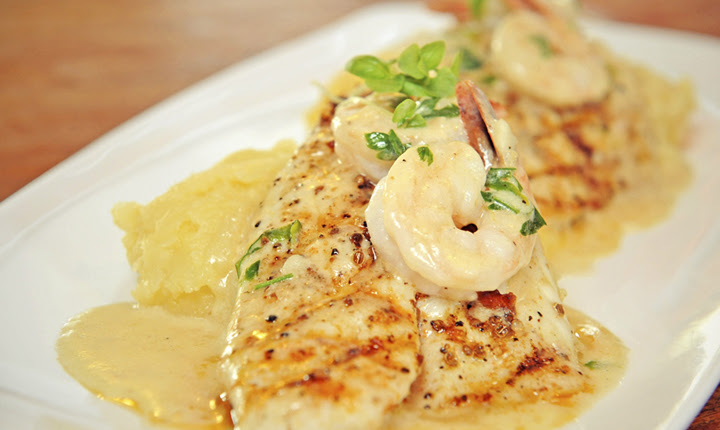 Country cuisine
Cuisine from Chef
Fish and seafood
French Cuisine
Home cuisine
Italian Cuisine
Meat dishes
CRAMIM SGULA (Sgula)
Cramim restaurant run by the popular Chef Sahar Rafael invites its guests to enjoy the splendid cuisine in genuine country atmosphere.
Based in Sgula village, Cramim possesses a special country atmosphere. The same style was used for interior design of the restaurant based in Beersheba. Elements of its design add to its perfect atmosphere, delight the eye of the restaurant's visitors and add homey comfort to it. In this splendid country setting, our restaurant offers a vast range of various meat and fish dishes to its guests, and, moreover, our restaurant offers impressive choice of wines.
In the morning, the restaurant offers rich breakfasts to its visitors, at dinnertime the guests are offered to try business lunch, in the evening guests of the restaurant can enjoy a romantic dinner. The rich menu of the restaurant offers its guests dishes customary for that locality. But even the most trivial dishes after being touched by our chef's hand turn to a festival of tastes and flavours.
Are you looking for a specialty restaurant in the south of Israel? Our restaurant is what you are looking for! Cramim is a special restaurant based in the southern region where you will be offered the most delicious dishes cooked of premium food products. Our restaurant provides VIP services to its guests, the restaurant is filled with atmosphere of welcome and hospitality, we offer high-level services, our prices always remain out of competition. Restaurants of such level are needed in the southern region of Israel. The first Cramim restaurant opened its doors to its visitors in the village of Sgula, not far from Kiryat Gat, the restaurant's subsidiary was established in Beersheba thanks to its huge popularity.
In our restaurant, you can order a business lunch at a reasonable price, and not only have a substantial dinner, but have a rest during a dinner break as well, because our business lunch can give you genuine satisfaction at delicious food in the inviting calm atmosphere. The business lunch menu is quite diverse and includes various meat dishes, numerous salads, fish dishes, and, of course, sweet dishes; you remember their taste for a long time.
First Course/ Entrée
Rustic Bread – 22 nis
With walnuts/Sun-dried tomatoes and herbs Focaccia
Soup of the day – 32 nis
Onion Soup – 38 nis
French onion soup, creamed and served in a bread
Lamb Baklava – 42 nis
Filo pastry stuffed with oriental seasoned lamb, with tahini sauce and date honey, garnished with roasted almonds
Chicken Liver Pate – 44 nis
Silky traditional Pate, served with onion marmalade and toasted bread
Cramim Salad – 49 nis
Variety of lettuce, cherry tomatoes, red onion, Champignon mushrooms and Feta cheese, with lemon juice and extra virgin olive oil dressing
Endive and Roasted Beets Salad – 55 nis
Variety of lettuce, red onion, endive, radish roasted beets and crunchy nuts, topped with Saint-Maure cheese, dressed with honey vinaigrette
Root Vegetables Salad – 53 nis
Variety of root vegetables, arugula, cranberries and sugarglazed walnuts in citrus vinaigrette
Carciofi alla Romana – 39 nis
Artichoke roman style with Labaneh cheese, tomato seeds cherry tomatoes, radish and arugula
Sirloin Carpaccio – 46 nis
Thin sliced sirloin with extra virgin olive oil, Balsamic vinegar pistachio nuts and arugula salad
Foie-gras – 74 nis
Seared foie-gras on top of Brioche, spinach and orange marmalade
Grilled mushrooms – 43 nis
Champignon, Portobello and forest mushrooms sautéed in butter cream and white wine
Sea fish Ceviche – 44 nis
Cured in extra virgin olive oil, lemon juice and fresh herbs, on top of beets carpaccio and walnuts-crusted goat cheese
Mushrooms Risotto – 42 nis
Italian creamy risotto with Champignon and Portobello mushrooms sautéed in butter, thyme and white wine
Seafood Risotto – 63 nis
Shrimp, Squids and Mussels in lemon-scented butter with fresh peas, tomatoes and Parmesan cheese
Flaming eggplant – 41 nis
Layers of grilled eggplant, Feta cheese, white Tahini sauce and tomatoes salsa, served with breadsticks
Main courses
Fish and seafood
Ocean of Shrimp – 86 nis
250 grams of BT Shrimp, served in a hot pan, with a sauce of your choice
Salmon Fillet – 98 nis
Fresh Salmon fillet, seared on the grill alongside lemon-scented cheese Ravioli, shriveled cherry tomatoes, cream and thyme
Seabream Fillet – 115 nis
With Shrimp and sweet potato cubes sautéed in butter, cream and thyme, on top of silky smooth mashed potatoes
Seabass – 110 nis
Grilled and served with artichoke roman style, shriveled cherry tomatoes, black olives, garlic confit, peppers, extra virgin olive oil, lemon and fresh herbs
Meat
Hamburger – 63 nis
Homemade, high-quality aged beef hamburger, served on top of soft bun, lettuce, tomato, fresh onion and crispy french-fries alongside (topping of your choice: Onion loaf, Fried egg, Portobello mushroom, Cheese – 7 nis, Foie-gras – 39 nis)
Chicken Escalope – 78 nis
Grill seared and served with Portobello mushrooms, rosemary butter, red wine and beef stock and baked potatoes
Entrecote steak – 122 nis
Juicy, well-aged Entrecote, seared on the grill served with aromatic root vegetables and a sauce of your choice – red wine/pepper sauce
Pullet steak – 83 nis
Marinated and seared on the grill, on top of fresh green beans and Shiitake mushrooms in Teriyaki sauce
Filet Mignon – 119/149 nis
Juicy and well-aged Tenderloin medallions, seared on the grill and served with silky smooth mashed potatoes, and figs and red wine sauce (with Foie-gras)
Surf and Turf – 135 nis
Juicy and well-aged Tenderloin alongside Shrimps and Squid in Roquefort cheese and cream sauce and mashed potatoes
The very best – 175 nis
Entrecote, Filet mignon, Lamb Chop, Foie-gras and Marrow with baked potatoes, grilled vegetables and Chimichurri sauce
Pasta
Rosetta Gnocchi – 58 nis
Champignon mushrooms, tomatoes, cream, nutmeg and Parmesan cheese sauce
Artichoke and Sweetbreads Gnocchi – 72 nis
Homemade Gnocchi with Sweetbreads artichoke roman style, semi-sun-dried tomatoes, garlic, lemon juice and fresh herbs
Shrimp Gnocchi – 68 nis
Peas, roasted peppers, Shrimp, butter, cream, white wine and basil
Alfredo Pappardelle – 62 nis
Sautéed Champignon mushrooms with butter, cream, white wine fresh herbs and Parmesan cheese
Black and White Seafood Linguini – 85 nis
Shrimp, Squid and Mussels with cherry tomatoes basil, cream and white wine sauce
Ricotta and Asparagus Ravioli – 65 nis
Homemade Ravioli in cream and sage sauce, on top of sweet potato cream, garnished with crunchy peas
Spaghetti Bolognese -63 nis
Tuscan style minced beef stew with tomatoes and fresh herbs
Desserts
Kadayif Basket – 37 nis
filled with white chocolate cream and wild berries
Fruit Crumble – 37 nis
pear, apple, and banana in rich butter cream with rose flavour, topped with chips
Pear Pie – 37 nis
pears in almond cream, based on sandy pastry with vanilla ice-cream
Cheesecake with White Chocolate – 35 nis
topped with ganache
Creambo – 35 nis
mini creambo with bitter chocolate, stuffed with peanut butter and ground peanuts, with white chocolate chips
Crème Brulee – 37 nis
on several layers of filo dough and caramelized banana
Hot Chocolate Cake – 38 nis
chocolate cake with hot Belgian chocolate, served with vanilla ice-cream scoop
Yeast Pie – 18 nis
poppy, cinnamon, chocolate
Milk Shake with Various Flavours – 24 nis
cocoa, vanilla, strawberry, banana, mocha, coconut
Ice-Cream – 25 nis
three ice-cream scoops with various flavours
One ice-cream scoop – 9 nis
Israeli Morning
Breakfasts are served throughout the week from 09:00 AM to 12:00 PM
Israeli Morning
Wide range of fresh bread varieties, eggs cooked at your choice, Israeli mixed salad, served with various dips and cheeses. Orange juice / lemonade, and a hot beverage – 54 nis
Choice of Omelets
Hunter's Omelet – 12 nis
Smoke-cured duck breast with purple onions, fried in olive oil with greens
Omelet with Squids – 14 nis
Squid rings and tomato in cream sauce topped with Parmigiano-Reggiano
Omelet with Mushrooms – 7 nis
Onions, greens, champignons, and Portobello mushrooms
Omelet with Pesto – 7 nis
Feta cheese with delicate flavour, fried pepper, and pesto sauce
Cheese Omelet – 6 nis
Omelet with Feta, Mozzarella, Parmesan cheeses, and greens
Eggs Benedict
served with a mixed salad, pickles, under honey vinaigrette dressing. Orange juice / lemonade, and a hot beverage.
Eggs New York – 49 nis
Toasts with two poached eggs, spinach, and mushrooms under Bechamel sauce
French Style Eggs – 62 nis
Two poached eggs on a croissant, cream cheese, soft smoke-cured salmon, and spicy sauce
Shakshouki
Wide range of fresh bread varieties, shakshouka at your choice, Israeli mixed salad, served with various dips and cheeses. Orange juice / lemonade, and a hot beverage.
Balkan Shakshouka – 64 nis
Eggplants, Feta cheese, in tomato sauce with pepper
Shakshouka with Seafood – 75 nis
BT shrimps, squid rings, purple onions, under tomato sauce with pepper
Additionally: blue cheese 12 nis / smoke-cured duck breast – 12 nis
Toasts and Croutons
served with a mixed salad, pickles, under honey vinaigrette dressing. Orange juice / lemonade, and a hot beverage
Finnish Style Toast – 41 nis
Kasten bread under pesto sauce, fried peppers and eggplants, Feta and Mozzarella cheeses
American Bagel – 46 nis
Superior cream cheese, green onions, purple onions, and soft smoke-cured Norwegian salmon
Mushroom Mountain – 55 nis
In butter, with white wine on a crispy Moroccan Parana bread covered with two eggs
Salads
Kramim Salad – 48 nis
Lettuce leaves, cherry tomatoes, champignons, purple onions, olive oil, lemon, and Feta cheese
Fattoush Salad – 39 nis
Tomatoes, purple onions, salty croutons, marinated lemon, Feta cheese, eggplant, hot pepper, radish, greens, vinaigrette dressing with za'atar herbal blend, and a lemon
Hot Beverages
Layered coffee large cup / instant coffee & milk – additionally 4 nis
Double layered coffee – additionally – 4 nis
Kramim Cold Coffee – additionally – 7 nis
Cappuccino – Chococcino – additionally 5 nis
Fresh Squeezed Juice
Carrot / orange / carrot & apple & orange – additionally – 8 nis
Country cuisine
Cuisine from Chef
Fish and seafood
French Cuisine
Home cuisine
Italian Cuisine
Meat dishes

CRAMIM SGULA (Sgula)

Cramim restaurant run by the popular Chef Sahar Rafael invites its guests to enjoy the splendid cuisine in genuine country atmosphere.
Based in Sgula village, Cramim possesses a special country atmosphere. The same style was used for interior design of the restaurant based in Beersheba. Elements of its design add to its perfect atmosphere, delight the eye of the restaurant's visitors and add homey comfort to it. In this splendid country setting, our restaurant offers a vast range of various meat and fish dishes to its guests, and, moreover, our restaurant offers impressive choice of wines.
In the morning, the restaurant offers rich breakfasts to its visitors, at dinnertime the guests are offered to try business lunch, in the evening guests of the restaurant can enjoy a romantic dinner. The rich menu of the restaurant offers its guests dishes customary for that locality. But even the most trivial dishes after being touched by our chef's hand turn to a festival of tastes and flavours.
Are you looking for a specialty restaurant in the south of Israel? Our restaurant is what you are looking for! Cramim is a special restaurant based in the southern region where you will be offered the most delicious dishes cooked of premium food products. Our restaurant provides VIP services to its guests, the restaurant is filled with atmosphere of welcome and hospitality, we offer high-level services, our prices always remain out of competition. Restaurants of such level are needed in the southern region of Israel. The first Cramim restaurant opened its doors to its visitors in the village of Sgula, not far from Kiryat Gat, the restaurant's subsidiary was established in Beersheba thanks to its huge popularity.
In our restaurant, you can order a business lunch at a reasonable price, and not only have a substantial dinner, but have a rest during a dinner break as well, because our business lunch can give you genuine satisfaction at delicious food in the inviting calm atmosphere. The business lunch menu is quite diverse and includes various meat dishes, numerous salads, fish dishes, and, of course, sweet dishes; you remember their taste for a long time.

First Course/ Entrée

Rustic Bread – 22 nis
With walnuts/Sun-dried tomatoes and herbs Focaccia
Soup of the day – 32 nis
Onion Soup – 38 nis
French onion soup, creamed and served in a bread
Lamb Baklava – 42 nis
Filo pastry stuffed with oriental seasoned lamb, with tahini sauce and date honey, garnished with roasted almonds
Chicken Liver Pate – 44 nis
Silky traditional Pate, served with onion marmalade and toasted bread
Cramim Salad – 49 nis
Variety of lettuce, cherry tomatoes, red onion, Champignon mushrooms and Feta cheese, with lemon juice and extra virgin olive oil dressing
Endive and Roasted Beets Salad – 55 nis
Variety of lettuce, red onion, endive, radish roasted beets and crunchy nuts, topped with Saint-Maure cheese, dressed with honey vinaigrette
Root Vegetables Salad – 53 nis
Variety of root vegetables, arugula, cranberries and sugarglazed walnuts in citrus vinaigrette
Carciofi alla Romana – 39 nis
Artichoke roman style with Labaneh cheese, tomato seeds cherry tomatoes, radish and arugula
Sirloin Carpaccio – 46 nis
Thin sliced sirloin with extra virgin olive oil, Balsamic vinegar pistachio nuts and arugula salad
Foie-gras – 74 nis
Seared foie-gras on top of Brioche, spinach and orange marmalade
Grilled mushrooms – 43 nis
Champignon, Portobello and forest mushrooms sautéed in butter cream and white wine
Sea fish Ceviche – 44 nis
Cured in extra virgin olive oil, lemon juice and fresh herbs, on top of beets carpaccio and walnuts-crusted goat cheese
Mushrooms Risotto – 42 nis
Italian creamy risotto with Champignon and Portobello mushrooms sautéed in butter, thyme and white wine
Seafood Risotto – 63 nis
Shrimp, Squids and Mussels in lemon-scented butter with fresh peas, tomatoes and Parmesan cheese
Flaming eggplant – 41 nis
Layers of grilled eggplant, Feta cheese, white Tahini sauce and tomatoes salsa, served with breadsticks

Main courses

Fish and seafood

Ocean of Shrimp – 86 nis
250 grams of BT Shrimp, served in a hot pan, with a sauce of your choice
Salmon Fillet – 98 nis
Fresh Salmon fillet, seared on the grill alongside lemon-scented cheese Ravioli, shriveled cherry tomatoes, cream and thyme
Seabream Fillet – 115 nis
With Shrimp and sweet potato cubes sautéed in butter, cream and thyme, on top of silky smooth mashed potatoes
Seabass – 110 nis
Grilled and served with artichoke roman style, shriveled cherry tomatoes, black olives, garlic confit, peppers, extra virgin olive oil, lemon and fresh herbs

Meat

Hamburger – 63 nis
Homemade, high-quality aged beef hamburger, served on top of soft bun, lettuce, tomato, fresh onion and crispy french-fries alongside (topping of your choice: Onion loaf, Fried egg, Portobello mushroom, Cheese – 7 nis, Foie-gras – 39 nis)
Chicken Escalope – 78 nis
Grill seared and served with Portobello mushrooms, rosemary butter, red wine and beef stock and baked potatoes
Entrecote steak – 122 nis
Juicy, well-aged Entrecote, seared on the grill served with aromatic root vegetables and a sauce of your choice – red wine/pepper sauce
Pullet steak – 83 nis
Marinated and seared on the grill, on top of fresh green beans and Shiitake mushrooms in Teriyaki sauce
Filet Mignon – 119/149 nis
Juicy and well-aged Tenderloin medallions, seared on the grill and served with silky smooth mashed potatoes, and figs and red wine sauce (with Foie-gras)
Surf and Turf – 135 nis
Juicy and well-aged Tenderloin alongside Shrimps and Squid in Roquefort cheese and cream sauce and mashed potatoes
The very best – 175 nis
Entrecote, Filet mignon, Lamb Chop, Foie-gras and Marrow with baked potatoes, grilled vegetables and Chimichurri sauce

Pasta

Rosetta Gnocchi – 58 nis
Champignon mushrooms, tomatoes, cream, nutmeg and Parmesan cheese sauce
Artichoke and Sweetbreads Gnocchi – 72 nis
Homemade Gnocchi with Sweetbreads artichoke roman style, semi-sun-dried tomatoes, garlic, lemon juice and fresh herbs
Shrimp Gnocchi – 68 nis
Peas, roasted peppers, Shrimp, butter, cream, white wine and basil
Alfredo Pappardelle – 62 nis
Sautéed Champignon mushrooms with butter, cream, white wine fresh herbs and Parmesan cheese
Black and White Seafood Linguini – 85 nis
Shrimp, Squid and Mussels with cherry tomatoes basil, cream and white wine sauce
Ricotta and Asparagus Ravioli – 65 nis
Homemade Ravioli in cream and sage sauce, on top of sweet potato cream, garnished with crunchy peas
Spaghetti Bolognese -63 nis
Tuscan style minced beef stew with tomatoes and fresh herbs

Desserts

Kadayif Basket – 37 nis
filled with white chocolate cream and wild berries
Fruit Crumble – 37 nis
pear, apple, and banana in rich butter cream with rose flavour, topped with chips
Pear Pie – 37 nis
pears in almond cream, based on sandy pastry with vanilla ice-cream
Cheesecake with White Chocolate – 35 nis
topped with ganache
Creambo – 35 nis
mini creambo with bitter chocolate, stuffed with peanut butter and ground peanuts, with white chocolate chips
Crème Brulee – 37 nis
on several layers of filo dough and caramelized banana
Hot Chocolate Cake – 38 nis
chocolate cake with hot Belgian chocolate, served with vanilla ice-cream scoop
Yeast Pie – 18 nis
poppy, cinnamon, chocolate
Milk Shake with Various Flavours – 24 nis
cocoa, vanilla, strawberry, banana, mocha, coconut
Ice-Cream – 25 nis
three ice-cream scoops with various flavours
One ice-cream scoop – 9 nis

Israeli Morning
Breakfasts are served throughout the week from 09:00 AM to 12:00 PM
Israeli Morning
Wide range of fresh bread varieties, eggs cooked at your choice, Israeli mixed salad, served with various dips and cheeses. Orange juice / lemonade, and a hot beverage – 54 nis
Choice of Omelets
Hunter's Omelet – 12 nis
Smoke-cured duck breast with purple onions, fried in olive oil with greens
Omelet with Squids – 14 nis
Squid rings and tomato in cream sauce topped with Parmigiano-Reggiano
Omelet with Mushrooms – 7 nis
Onions, greens, champignons, and Portobello mushrooms
Omelet with Pesto – 7 nis
Feta cheese with delicate flavour, fried pepper, and pesto sauce
Cheese Omelet – 6 nis
Omelet with Feta, Mozzarella, Parmesan cheeses, and greens
Eggs Benedict
served with a mixed salad, pickles, under honey vinaigrette dressing. Orange juice / lemonade, and a hot beverage.
Eggs New York – 49 nis
Toasts with two poached eggs, spinach, and mushrooms under Bechamel sauce
French Style Eggs – 62 nis
Two poached eggs on a croissant, cream cheese, soft smoke-cured salmon, and spicy sauce
Shakshouki
Wide range of fresh bread varieties, shakshouka at your choice, Israeli mixed salad, served with various dips and cheeses. Orange juice / lemonade, and a hot beverage.
Balkan Shakshouka – 64 nis
Eggplants, Feta cheese, in tomato sauce with pepper
Shakshouka with Seafood – 75 nis
BT shrimps, squid rings, purple onions, under tomato sauce with pepper
Additionally: blue cheese 12 nis / smoke-cured duck breast – 12 nis
Toasts and Croutons
served with a mixed salad, pickles, under honey vinaigrette dressing. Orange juice / lemonade, and a hot beverage
Finnish Style Toast – 41 nis
Kasten bread under pesto sauce, fried peppers and eggplants, Feta and Mozzarella cheeses
American Bagel – 46 nis
Superior cream cheese, green onions, purple onions, and soft smoke-cured Norwegian salmon
Mushroom Mountain – 55 nis
In butter, with white wine on a crispy Moroccan Parana bread covered with two eggs
Salads
Kramim Salad – 48 nis
Lettuce leaves, cherry tomatoes, champignons, purple onions, olive oil, lemon, and Feta cheese
Fattoush Salad – 39 nis
Tomatoes, purple onions, salty croutons, marinated lemon, Feta cheese, eggplant, hot pepper, radish, greens, vinaigrette dressing with za'atar herbal blend, and a lemon
Hot Beverages
Layered coffee large cup / instant coffee & milk – additionally 4 nis
Double layered coffee – additionally – 4 nis
Kramim Cold Coffee – additionally – 7 nis
Cappuccino – Chococcino – additionally 5 nis
Fresh Squeezed Juice
Carrot / orange / carrot & apple & orange – additionally – 8 nis