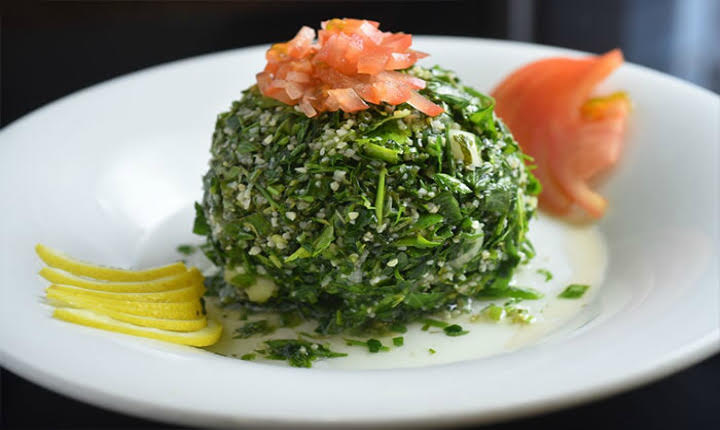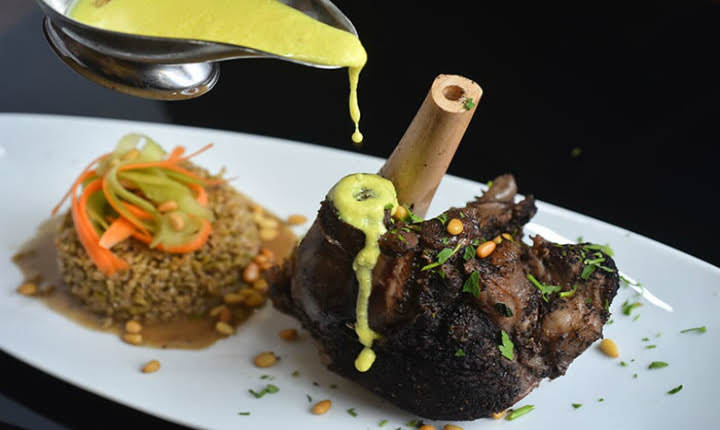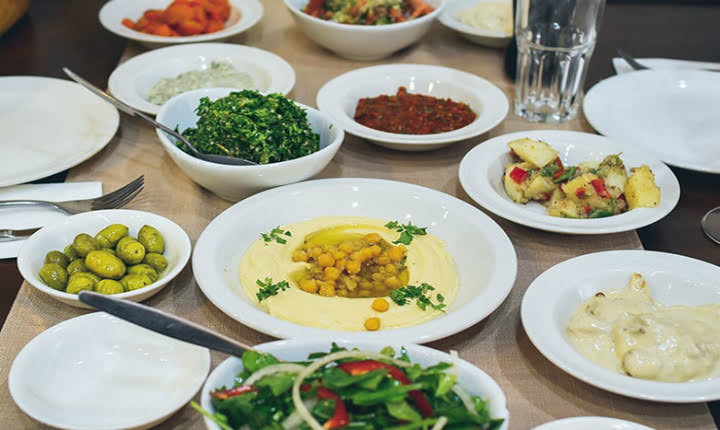 Arabic cuisine
Hummus
Home cuisine
Fish and seafood
Meat dishes
Grill bars and burgers
DIANA (Nazareth)
 Diana Restaurant has been around in Nazareth for more than 44 years already. The famous and beloved restaurant was founded by Abu Duhul, who was first to bring seafood into the traditional Arab cuisine back in the 1970s. In 1993, the restaurant was run by his son, chef Duhul Safadi, whom you may know as one of the leading participants of the second season of Master Chef.
     The second generation continues to develop Diana, which has risen to the new culinary heights and has already become a widely known brand. Delicious cuisine inspired by the Syrian, Lebanese and Turkish cuisine and based on homemade and fresh products in recent years has become an incredibly popular culinary spot for both locals and tourists. 
    A really amazing thing is that you can always follow the progress of your meal through the glass kitchen window, where chef Dahul and his team of cooks create their culinary masterpieces.
    Love for food passes from generation to generation…
    Chef Duhul Safadi combining new high-quality and fresh ingredients has added a signature touch to his father's dishes and has created the new delicious flavors that have become a widely known trademark of the restaurant. What has not changed, and probably never will, is the family love for home-grown and healthy food, the importance of which both Abu Dahul and his son embraced from the very childhood. The menu is based on home style food and the delicious recipes from mom and granny's, so it is not surprising that love is felt in every bite.
     The masterpieces are created in the kitchen…
     Here you will find the most mouthwatering grilled meat variety! The juicy shawarma, savory lamb ribs and lamb skewers are definitely worth booking a table beforehand! There also are a large variety of fresh salads and appetizers, such as the delightful Abu Hummus that will be a perfect option to complement your meat main dishes.
    The menu also represents multiple choices of fresh grilled fish and seafood snacks, such as shrimps and squids, traditional Arabic dishes such as kibbeh, safih and kofta, a selection of desserts, including kanafeh, sachlav, baklava with various tastes and much more.
     Diana is the perfect stop for tourists!
     After visiting the famous sightseeing spots and tourist attractions, we highly recommend you to come by here to feel the authentic atmosphere of Nazareth and its culinary taste, while the restaurant staff will take care of the delicious food and exemplary quick service.
    The restaurant's interior design combines modern and oriental styles creating a very relaxed ambiance for dining.
    At Diana, you can hold an event for up to 80 people. A menu will be created individually for your celebration. If the event takes place at your place, you can order catering services and delight your guests with a variety of delicacies without worrying about cooking.
Salads
Hummus – 24 ₪
abu Duhul's Hummus – 24 ₪
with parsley , garlic & green chili
Masabaha – 24 ₪
Warm chick-peas in butter , garlic & lemon
Middle Estern Sala – 24 ₪
Chopped tomatoes with garlic green chili
Roquette Leaf Salad – 24 ₪
Coriander Leaf Salad – 24 ₪
Taboull – 24 ₪
Finely chopped parsely , green onions , mint leaves and wheat groats
Labaneh – 28 ₪
Assorted seasoning | ask your waiter
House Salad – 24 ₪
Tomatoes , cucumbers , green onion and finely chopped mint
Savoury Aubergines – 24 ₪
ask your waiter
Whole Aubergines – 24 ₪
Assorted seasoning
Tehina – 24 ₪
Assorted seasoning | ask your waiter
Seasoal Salads – 28 ₪
Grandma's Salad – 24 ₪
Cold Starters
Row Cubb – 105 ₪
Lamb Carpaccio – 60 ₪
Lamb Kebab Tartar – 60 ₪
Lamb Liver – 52 ₪
Hot Starters
Sheep Testicles – 65 ₪
ask your waiter
Mualak Lamb Innards – 55 ₪
In onions & pomegranate-honey
Hummus with Lamb – 70 ₪
Lamb fried in olive oil
Raas El-Asfur – 80 ₪
Sapihhe – 8 ₪
Cubbe with Goat Yogurt – 8 ₪
Grilled Meat
Minced Lamb Kebabs –  89 ₪
Lamb Kebab On Cinnamon sticks – 89 ₪
Lamb Ribs – 135 ₪
Veal Filet Steak – 135 ₪
Veal Entrecote Steak – 115 ₪
Lamb Filet On LICORICE – 135 ₪
Lamb Loin Shishlik – 95 ₪
Lamb Kebab & Rib Mix – 120 ₪
Lamb Mix – 95 ₪
Skewerd lamb kebabs & ribs
Pullet Skewers – 75 ₪
Chicken steak – 75 ₪
Schnitzel – 62 ₪
All meats are served with tomatoes , onions and potatoes
You can order steak mustard sauce
Fish
Grilled Sea Bram Filet or Grilled Sea Bream-Whole – 90 ₪
Cooked Sea Bream Filet – 90 ₪
Tilapia St.peter's Fish – 90 ₪
Red Mullet 125 ₪
Grouper Bss – 125 ₪
Pargp Red Snapper – 125 ₪
White Sea Bream – 125 ₪
The Day's Catch , Fresh Fish Daily From The sea of Galilee or Fish Farms – 35 ₪
Seafood Starters
Grilled Shrimps in Shell – 125 ₪
in olive oil , garlic & lemon
Shrimps – 95 ₪
in garlic butter & mushrooms
Shrimps With Seasonal Vegetables – 95 ₪
Ask your waiter
Grilled Calamari – 90 ₪
in olive oil , garlic & lemon
Fried Calamari – 90 ₪
In 1000 island dressing
Calamari With Seasonal – 90 ₪
Ask your waiter
Beverages
Soft Drinks – 12 ₪
Freshly Squeezed Lemonad – 15 ₪
Seasonal Fruit Juice – 20 ₪
Lemonade Pitcher – 35 ₪
Sparklding Water – 12 ₪
San Pellegrino – Sparklding Water – 28 ₪
Neviot – Mineral Water – 12 ₪
san pandito – Mineral water – 28 ₪
Goldstar Beer – 21 ₪
Stella Beer – 24 ₪
Carlsberg Beer – 21 ₪
Tuborg Beer – 21 ₪
Hot Drinks
Espresso Short – long – 9 ₪
Double Espresso Short – long – 11 ₪
Small Cappuccino – 11 ₪
Large Cappuccino – 13 ₪
Herbal Tea – 10 ₪
Macchiato – 10 ₪
Instant Coffee – 10 ₪
Desserts
Knaffe With Walnuts % Goat Cheese – 45 ₪
House Salep – 25 ₪
Cheesecake – 32 ₪
Chocolate Cake – 32 ₪
Baklava – 28 ₪
Arabic cuisine
Hummus
Home cuisine
Fish and seafood
Meat dishes
Grill bars and burgers

DIANA (Nazareth)

 Diana Restaurant has been around in Nazareth for more than 44 years already. The famous and beloved restaurant was founded by Abu Duhul, who was first to bring seafood into the traditional Arab cuisine back in the 1970s. In 1993, the restaurant was run by his son, chef Duhul Safadi, whom you may know as one of the leading participants of the second season of Master Chef.

     The second generation continues to develop Diana, which has risen to the new culinary heights and has already become a widely known brand. Delicious cuisine inspired by the Syrian, Lebanese and Turkish cuisine and based on homemade and fresh products in recent years has become an incredibly popular culinary spot for both locals and tourists. 

    A really amazing thing is that you can always follow the progress of your meal through the glass kitchen window, where chef Dahul and his team of cooks create their culinary masterpieces.

    Love for food passes from generation to generation…

    Chef Duhul Safadi combining new high-quality and fresh ingredients has added a signature touch to his father's dishes and has created the new delicious flavors that have become a widely known trademark of the restaurant. What has not changed, and probably never will, is the family love for home-grown and healthy food, the importance of which both Abu Dahul and his son embraced from the very childhood. The menu is based on home style food and the delicious recipes from mom and granny's, so it is not surprising that love is felt in every bite.

     The masterpieces are created in the kitchen…

     Here you will find the most mouthwatering grilled meat variety! The juicy shawarma, savory lamb ribs and lamb skewers are definitely worth booking a table beforehand! There also are a large variety of fresh salads and appetizers, such as the delightful Abu Hummus that will be a perfect option to complement your meat main dishes.

    The menu also represents multiple choices of fresh grilled fish and seafood snacks, such as shrimps and squids, traditional Arabic dishes such as kibbeh, safih and kofta, a selection of desserts, including kanafeh, sachlav, baklava with various tastes and much more.

     Diana is the perfect stop for tourists!

     After visiting the famous sightseeing spots and tourist attractions, we highly recommend you to come by here to feel the authentic atmosphere of Nazareth and its culinary taste, while the restaurant staff will take care of the delicious food and exemplary quick service.

    The restaurant's interior design combines modern and oriental styles creating a very relaxed ambiance for dining.

    At Diana, you can hold an event for up to 80 people. A menu will be created individually for your celebration. If the event takes place at your place, you can order catering services and delight your guests with a variety of delicacies without worrying about cooking.

Salads

Hummus – 24 ₪

abu Duhul's Hummus – 24 ₪

with parsley , garlic & green chili

Masabaha – 24 ₪

Warm chick-peas in butter , garlic & lemon

Middle Estern Sala – 24 ₪

Chopped tomatoes with garlic green chili

Roquette Leaf Salad – 24 ₪

Coriander Leaf Salad – 24 ₪

Taboull – 24 ₪

Finely chopped parsely , green onions , mint leaves and wheat groats

Labaneh – 28 ₪

Assorted seasoning | ask your waiter

House Salad – 24 ₪

Tomatoes , cucumbers , green onion and finely chopped mint

Savoury Aubergines – 24 ₪

ask your waiter

Whole Aubergines – 24 ₪

Assorted seasoning

Tehina – 24 ₪

Assorted seasoning | ask your waiter

Seasoal Salads – 28 ₪

Grandma's Salad – 24 ₪

Cold Starters

Row Cubb – 105 ₪

Lamb Carpaccio – 60 ₪

Lamb Kebab Tartar – 60 ₪

Lamb Liver – 52 ₪

Hot Starters

Sheep Testicles – 65 ₪

ask your waiter

Mualak Lamb Innards – 55 ₪

In onions & pomegranate-honey

Hummus with Lamb – 70 ₪

Lamb fried in olive oil

Raas El-Asfur – 80 ₪

Sapihhe – 8 ₪

Cubbe with Goat Yogurt – 8 ₪

Grilled Meat

Minced Lamb Kebabs –  89 ₪

Lamb Kebab On Cinnamon sticks – 89 ₪

Lamb Ribs – 135 ₪

Veal Filet Steak – 135 ₪

Veal Entrecote Steak – 115 ₪

Lamb Filet On LICORICE – 135 ₪

Lamb Loin Shishlik – 95 ₪

Lamb Kebab & Rib Mix – 120 ₪

Lamb Mix – 95 ₪

Skewerd lamb kebabs & ribs

Pullet Skewers – 75 ₪

Chicken steak – 75 ₪

Schnitzel – 62 ₪

All meats are served with tomatoes , onions and potatoes

You can order steak mustard sauce

Fish

Grilled Sea Bram Filet or Grilled Sea Bream-Whole – 90 ₪

Cooked Sea Bream Filet – 90 ₪

Tilapia St.peter's Fish – 90 ₪

Red Mullet 125 ₪

Grouper Bss – 125 ₪

Pargp Red Snapper – 125 ₪

White Sea Bream – 125 ₪

The Day's Catch , Fresh Fish Daily From The sea of Galilee or Fish Farms – 35 ₪

Seafood Starters

Grilled Shrimps in Shell – 125 ₪

in olive oil , garlic & lemon

Shrimps – 95 ₪

in garlic butter & mushrooms

Shrimps With Seasonal Vegetables – 95 ₪

Ask your waiter

Grilled Calamari – 90 ₪

in olive oil , garlic & lemon

Fried Calamari – 90 ₪

In 1000 island dressing

Calamari With Seasonal – 90 ₪

Ask your waiter

Beverages

Soft Drinks – 12 ₪

Freshly Squeezed Lemonad – 15 ₪

Seasonal Fruit Juice – 20 ₪

Lemonade Pitcher – 35 ₪

Sparklding Water – 12 ₪

San Pellegrino – Sparklding Water – 28 ₪

Neviot – Mineral Water – 12 ₪

san pandito – Mineral water – 28 ₪

Goldstar Beer – 21 ₪

Stella Beer – 24 ₪

Carlsberg Beer – 21 ₪

Tuborg Beer – 21 ₪

Hot Drinks

Espresso Short – long – 9 ₪

Double Espresso Short – long – 11 ₪

Small Cappuccino – 11 ₪

Large Cappuccino – 13 ₪

Herbal Tea – 10 ₪

Macchiato – 10 ₪

Instant Coffee – 10 ₪

Desserts

Knaffe With Walnuts % Goat Cheese – 45 ₪

House Salep – 25 ₪

Cheesecake – 32 ₪

Chocolate Cake – 32 ₪

Baklava – 28 ₪