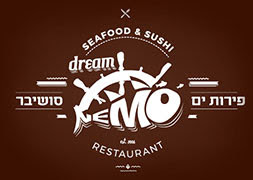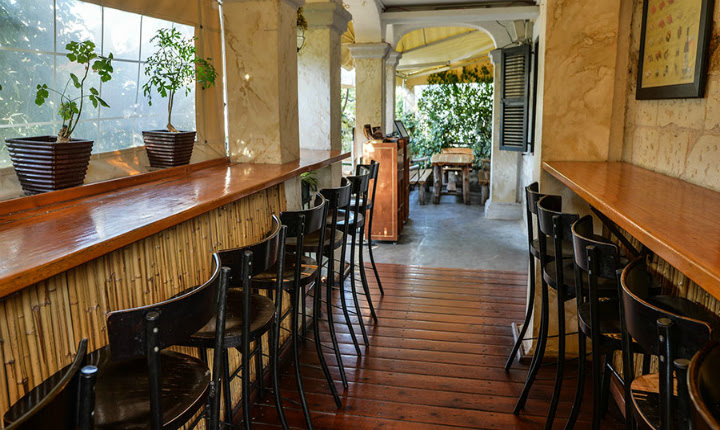 European cuisine
Fish and seafood
Fish dishes
Resto-Bar
Sushi bar
Meat dishes
Dream Nemo 
(Haifa)
Dream Nemo Restaurant in Haif is a paradise for fish and seafood lovers. Sea theme here is in everything: from the design to the rich menu. The restaurant is designed in a ship style, arranged with antique wooden furniture and is decorated with high arches, navigation steering wheel and, of course, with the Captain Nemo's  treasure chest in which wines are stored. The pickup window from the kitchen looks like a ships window  and it seems that the ship is sailing.
The menu includes more than 100 various fish and seafood combinations prepared from high-quality ingredients.  There is an excellent sushi menu. Our chef knows how to prepare tasty dishes of sea gifts in the best way .
In summer  live concertes are held. In winter  guests are encouraged by acoustic performances.
Dream Nemo – is an ideal place for any event up to 25 people.
Starters
Seafood Crêpe  – 42
Crêpe topped with cheese and filled with seafood in tomato/cream sauce
Japanese Style Crab Crêpe – 45
Crêpe filled with crab meat with teriyaki sauce
Beef CarpaccIO – 59
Thin slices of beef placed on a dish with a marinade made of balsamic sause, shavings of parmesan cheese and capers. Served with mesclun
Salmon Carpaccio  – 57
Thin slices of salmon placed on a dish with a homemade marinade, shavings of mozarella cheese and capers. Served with mesclun
Salads
Big Green Salad –  53/43
Mesclun with cherry tomatoes, carrots, soy sprouts and cereal
Provance Salad – 65/55
Stir-fried baby shrimps and slices of chicken breast, feta cheese, broccoli and vegetables. Served on fresh lettuce
Thai Salad – 56/46
Seafood and vegetables with bamboo sprouts and piquant mushrooms
Spanish Salad – 65/55
Seafood cooked in wine and served with mesclun, olive, broccoli seasoned with cream sauce and mustard
«Mermaid» Salad – 65/55
Salmon served with lettuce, vegetables, cream cheese and caviar
Caesar's Salad – 64/54
Baby shrimps and vegetables, served on lettuce with croutons and feta cheese, seasoned with aceto balsamico sauce
Something Special
Crab A-la Cream – 75
Halves of a crab in white wine-cream sauce
Madame Pompadour – 73
Seafood mix, salmon fish and caviar in rose sauce and champagne
Malaysian Nights – 67
Seafood mix, bacon and fried sweet pineapple in spicy sauce
Seafood with Meat
Chanakhi – 75
Mix of meat, seafood, beans and potatoes topped with cheese and served in Rosé sauce
Royal House – 85
Mix of meat and shrimps served on rice noodles in spicy creamy-pepper sauce
Stroganoff Shrimps – 75
Slices of entrecôte and shrimps, champignon mushroom served on rice noodles in cream sauce
Hunter's Entrecôte – 75
Slices of entrecôte, shrimps and portobello mushrooms served on rice noodles in pepper sauce
Carpet Steak – 110
Mussels stuffed entrecôte in slightly spicy pelpelet sauce. Served with homefries and mushrooms
Fish
Chinese-Style Fish – 65
Fish fillet coated in tender dough and fried in sauce of choice
Baked Denis Fish – 80
Denis fish seasoned with spices, lemon zest. Served on fried vegetables and baked potatoes
Fried Denis Fish – 82
Deep-fried denis fish served on fried vegetables and baked potatoes
Royal Fish – 95
Locus fillet in creamy pepper sauce. Served with fried potatoes and mushrooms
Tuna Frutti DI Mara – 79
Tuna steak fried in cream sauce and served on seafood mix
Mushrooms Fish – 79
Red tuna fillet fried with butter and served on portobello mushrooms with creamy pepper sauce
Pasta
Zafareno – 67
Spaghetti with seafood mix, cherry tomatoes, white onion and basil in creamcheese sauce
Singapore Noodles – 73
Seafood mix with rice noodles/egg noodles, stir-fried vegetables and chicken in sauce of choice (vegetarian with toffu cheese is an option)
Spaghetti Carbonara – 67
Spaghetti, shrimps and bacon in cream sauce
Spaghetti Mercoledi – 67
Diced salmon fillet, mushrooms, caviar and échalotte onion in salmon-cream sauce with parmesan chees
Mussels
Lady In White – 60
Mussels topped in classic French Béchamel sauce
Mucolade – 53
Mussels in white wine and cream sauce
Bacchus – 53
Spicy-seasoned fried mussels with lemon zest, white wine and basil leaves
Under Cover – 56
Large mussels in two classic sauces topped with cheese
Scallop In Wine – 69
Scallop with bacon and garlic in white wine and cream sauce
Topped Scallop – 73
Delicious scallop and mushrooms topped with cheese in béchamel sauce
Waloota Scallop – 85
Scallops in oyster sauce stir-fried with eels and croutons. Served in cream sauce
Seafood mix
Liquid Dreams – 62
Seafood mix with roquefort cheese in delicate cream sauce
Piri-Piri (mild-spicy sauce is an option) – 62
Seafood mix in hot spicy tomato sauce with parmesan cheese
French Kiss – 59
Seafood mix in combination with delicate cream-garlic sauce
Fried calamari – 59
Coated deep fried calamari rings served with dipping sauces
Tempura Straight – 57
Deep fried tempura shrimps
Drunken Shrimps – 57
Shrimps in beer seasoned tempura
Fritto Misto Di Mara – 75
Calamari, shrimps and fish fillet fried in tempura
Termidor – 67
Seafood mix topped with cheese in cream sauce
Rural Shrimps – 69
Seafood mix in spicy cream-barbeque sauce with fried potatoes and green beans, topped with parmesan cheese
Cioppino – 67
Seafood mix, crab meat and fish fillet in garlic-tomato sauce
Zarzuela – 69
Seafood mix, crab meat and fish fillet topped with feta cheese in tomato sauce with brandy
For Kids
Spaghetti With Chicken – 54
French fries with cheese (Topped with holland or feta cheese) – 42/49
Tempura Chicken – 59
The Fried Platter-  54
Garners
Thai Rice / White Rice –  17
HOME Bread – 18
Baked Potatoes – 20
French Fries – 18
European cuisine
Fish and seafood
Fish dishes
Resto-Bar
Sushi bar
Meat dishes

Dream Nemo 

(Haifa)

Dream Nemo Restaurant in Haif is a paradise for fish and seafood lovers. Sea theme here is in everything: from the design to the rich menu. The restaurant is designed in a ship style, arranged with antique wooden furniture and is decorated with high arches, navigation steering wheel and, of course, with the Captain Nemo's  treasure chest in which wines are stored. The pickup window from the kitchen looks like a ships window  and it seems that the ship is sailing.

The menu includes more than 100 various fish and seafood combinations prepared from high-quality ingredients.  There is an excellent sushi menu. Our chef knows how to prepare tasty dishes of sea gifts in the best way .

In summer  live concertes are held. In winter  guests are encouraged by acoustic performances.

Dream Nemo – is an ideal place for any event up to 25 people.

Starters

Seafood Crêpe  – 42

Crêpe topped with cheese and filled with seafood in tomato/cream sauce

Japanese Style Crab Crêpe – 45

Crêpe filled with crab meat with teriyaki sauce

Beef CarpaccIO – 59

Thin slices of beef placed on a dish with a marinade made of balsamic sause, shavings of parmesan cheese and capers. Served with mesclun

Salmon Carpaccio  – 57

Thin slices of salmon placed on a dish with a homemade marinade, shavings of mozarella cheese and capers. Served with mesclun

Salads

Big Green Salad –  53/43

Mesclun with cherry tomatoes, carrots, soy sprouts and cereal

Provance Salad – 65/55

Stir-fried baby shrimps and slices of chicken breast, feta cheese, broccoli and vegetables. Served on fresh lettuce

Thai Salad – 56/46

Seafood and vegetables with bamboo sprouts and piquant mushrooms

Spanish Salad – 65/55

Seafood cooked in wine and served with mesclun, olive, broccoli seasoned with cream sauce and mustard

«Mermaid» Salad – 65/55

Salmon served with lettuce, vegetables, cream cheese and caviar

Caesar's Salad – 64/54

Baby shrimps and vegetables, served on lettuce with croutons and feta cheese, seasoned with aceto balsamico sauce

Something Special

Crab A-la Cream – 75

Halves of a crab in white wine-cream sauce

Madame Pompadour – 73

Seafood mix, salmon fish and caviar in rose sauce and champagne

Malaysian Nights – 67

Seafood mix, bacon and fried sweet pineapple in spicy sauce

Seafood with Meat

Chanakhi – 75

Mix of meat, seafood, beans and potatoes topped with cheese and served in Rosé sauce

Royal House – 85

Mix of meat and shrimps served on rice noodles in spicy creamy-pepper sauce

Stroganoff Shrimps – 75

Slices of entrecôte and shrimps, champignon mushroom served on rice noodles in cream sauce

Hunter's Entrecôte – 75

Slices of entrecôte, shrimps and portobello mushrooms served on rice noodles in pepper sauce

Carpet Steak – 110

Mussels stuffed entrecôte in slightly spicy pelpelet sauce. Served with homefries and mushrooms

Fish

Chinese-Style Fish – 65

Fish fillet coated in tender dough and fried in sauce of choice

Baked Denis Fish – 80

Denis fish seasoned with spices, lemon zest. Served on fried vegetables and baked potatoes

Fried Denis Fish – 82

Deep-fried denis fish served on fried vegetables and baked potatoes

Royal Fish – 95

Locus fillet in creamy pepper sauce. Served with fried potatoes and mushrooms

Tuna Frutti DI Mara – 79

Tuna steak fried in cream sauce and served on seafood mix

Mushrooms Fish – 79

Red tuna fillet fried with butter and served on portobello mushrooms with creamy pepper sauce

Pasta

Zafareno – 67

Spaghetti with seafood mix, cherry tomatoes, white onion and basil in creamcheese sauce

Singapore Noodles – 73

Seafood mix with rice noodles/egg noodles, stir-fried vegetables and chicken in sauce of choice (vegetarian with toffu cheese is an option)

Spaghetti Carbonara – 67

Spaghetti, shrimps and bacon in cream sauce

Spaghetti Mercoledi – 67

Diced salmon fillet, mushrooms, caviar and échalotte onion in salmon-cream sauce with parmesan chees

Mussels

Lady In White – 60

Mussels topped in classic French Béchamel sauce

Mucolade – 53

Mussels in white wine and cream sauce

Bacchus – 53

Spicy-seasoned fried mussels with lemon zest, white wine and basil leaves

Under Cover – 56

Large mussels in two classic sauces topped with cheese

Scallop In Wine – 69

Scallop with bacon and garlic in white wine and cream sauce

Topped Scallop – 73

Delicious scallop and mushrooms topped with cheese in béchamel sauce

Waloota Scallop – 85

Scallops in oyster sauce stir-fried with eels and croutons. Served in cream sauce

Seafood mix

Liquid Dreams – 62

Seafood mix with roquefort cheese in delicate cream sauce

Piri-Piri (mild-spicy sauce is an option) – 62

Seafood mix in hot spicy tomato sauce with parmesan cheese

French Kiss – 59

Seafood mix in combination with delicate cream-garlic sauce

Fried calamari – 59

Coated deep fried calamari rings served with dipping sauces

Tempura Straight – 57

Deep fried tempura shrimps

Drunken Shrimps – 57

Shrimps in beer seasoned tempura

Fritto Misto Di Mara – 75

Calamari, shrimps and fish fillet fried in tempura

Termidor – 67

Seafood mix topped with cheese in cream sauce

Rural Shrimps – 69

Seafood mix in spicy cream-barbeque sauce with fried potatoes and green beans, topped with parmesan cheese

Cioppino – 67

Seafood mix, crab meat and fish fillet in garlic-tomato sauce

Zarzuela – 69

Seafood mix, crab meat and fish fillet topped with feta cheese in tomato sauce with brandy

For Kids

Spaghetti With Chicken – 54

French fries with cheese (Topped with holland or feta cheese) – 42/49

Tempura Chicken – 59

The Fried Platter-  54

Garners

Thai Rice / White Rice –  17

HOME Bread – 18

Baked Potatoes – 20

French Fries – 18