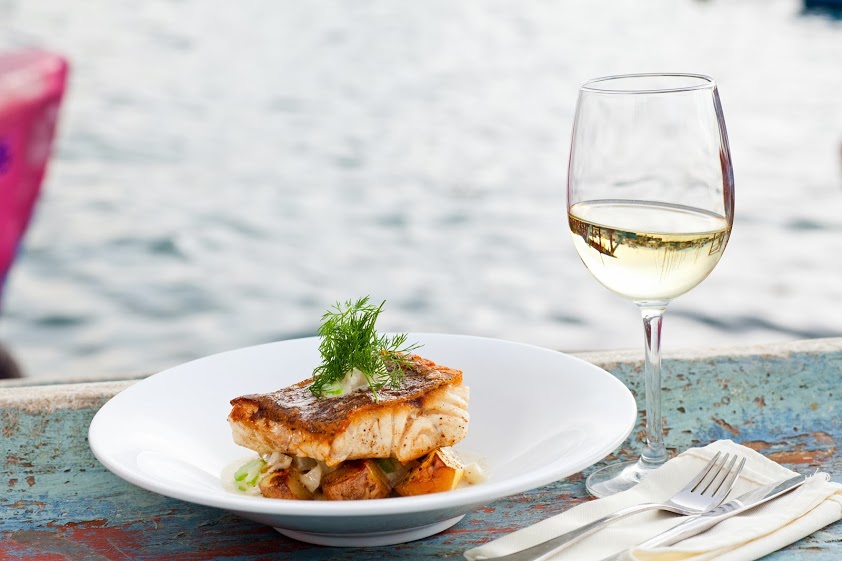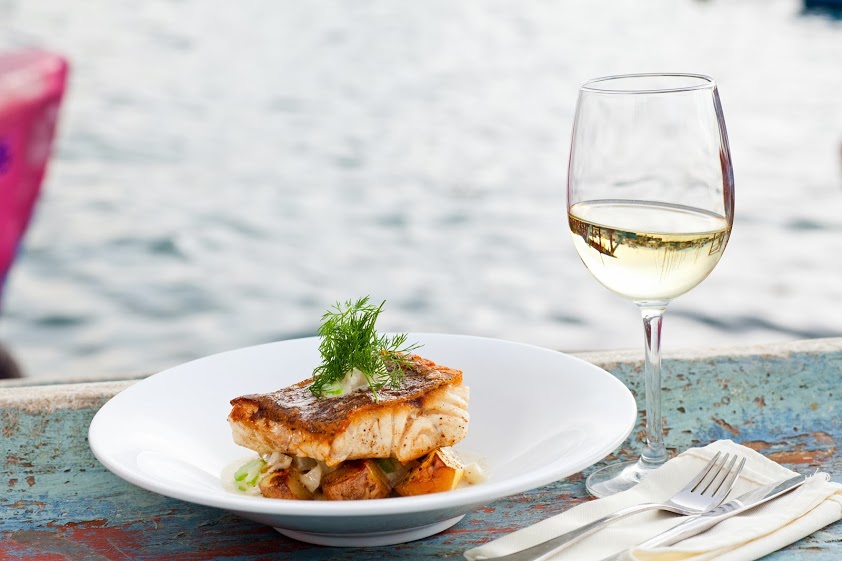 Mediterranean cuisine
Fish and seafood
Meat dishes
EL MARSA (Acre)
Gourmet restaurant in Mediterranean bistro style, located in the port of Acre.
Restaurant is located in the ancient building of Ottoman customs house, which was built by crusaders in 1210 year. This building combines the old and the new: the ancient historical past and modern atmosphere of luxury, peace and comfort. The restaurant offers a spectacular view of Acre: harbor, where fishing boats are moored, fishermen fill their nets with various catch and, of cause, walls of the Old city. What else is needed for a good appetite in addition to a superb view? Comfortable place and great food with unique flavors.
The restaurant is run by chef Alaa Mousa and his partner, Maroan, two young, full of energy, love and enthusiasm chefs. Alaa worked in a restaurant in Sweden, possessing Michelin stars, while Maroan studied sociology. When Alaa returned to Israel, he spent three years working in the famous restaurant "Uri Buri" and has to become chief of the hotel-boutique "Efendi". When he heard that his best friend Maroan, with whom they grew up, abandoning sociology, wants to open a restaurant, Alaa decided to join this initiative. The dream open a restaurant did not leave them, and finally, they realized it, and opened El Marsa- quality fish restaurant.
The chef Alaa cooked fish all his life and his love to the sea give him an inspiration to combine innovations and traditions, authenticity and modernity, East and West, professionalism and creativity. There is no doubt that when the chef is the owner of the restaurant, the guest receives a healthy, fresh and tasty food.
Snacks
Octopus salad – 54 nis
Fennel, spinach, orange segments with the scent of lemon arrack
Veal carpaccio – 54 nis
Veal fillet with olive oil, balsamic vinegar, pine nuts and grated parmesan cheese
Balandi eggplant – 29 nis
Eggplant with green tahini, minced lamb and olive oil
Anchovies – 29 nis
Homemade marinade, on bruschetta with baked peppers
Sea oysters with cream sauce – 32 nis
Parmesan cheese, garlic, olive oil and lemon
Cookies Saint-Jacques – 36 nis
Sweet potato cream, coconut milk and chili oil
Mediterranean shrimp – 32 nis
Served with spicy lemon, arugula and artichoke
Patush – 20/36 nis
Cucumber, tomatoes, purple onion with Feta cheese and toasts with sumac
Herbal salad – 20/36 nis
Chopped herbs with lemon juice, olive oil and cashew nuts
El Marsa salad– 20/36 nis
Young spinach, arugula, mushrooms, cherry tomatoes, fried Arabic cheese
Fish and seafood
El Marsa shrimps– 85 nis
Garlic, olive oil, pepper, lemon and fresh coriander
Hrayme soup– 89 nis
Fish fillet, young squid, shrimps, mussels with a spicy aroma of anise
Seafood linguine – 89 nis
Served with Jerusalem artichoke and truffle oil cream
Crispy calamari – 85 nis
Deep-fried calamari with two sauces
Shrimps in cream with parmesan – 89 nis
Cream sauce with gorgonzola and parmesan
Seafood ragout – 169 nis
Shrimps, calamari crabs, mussels and oysters with crab broth
Barramundi, dorado – 85 nis
Grilled fillet with two sauces
Grouper fillet (locus) – 129 nis
Served with Jerusalem artichoke cream and baked potato
Young calamari– 85 nis
Served with hot hummus, tahini and dill yogurt
Salmon – 92 nis
With martini sauce with spinach and mashed potatoes with parmesan
Sinai sea fish – 99 nis
Fish fillet, cooked in tahini, and baked potato cubes
Assorted fish – 85 nis
Deep fried small fish
Grouper, Fraida by weight – 26 nis for 100 g
Meat
Beef fillet medallions – 115 nis
With Garganzola sauce / Forchino sauce of your choice and mashed potatoes with parmesan
Sinta – 99 nis
Steak with red wine sauce and potato gratin
Entrecote  – 99 nis
Steak with pepper sauce and homemade chips
Lamb ribs – 92 nis
Crispy, sour sauce and homemade chips
Chicken breast – 69 nis
Grilled, served with homemade chips
Nuggets – 49 nis
Served with homemade chips
Desserts
Creme brulee – 28 nis
Vanilla and cardamon
Cheesecake – 26 nis
With white chocolate and homemade jam
Chocolate mousse cake – 32 nis
Homemade kanafeh – 26 nis
Syrup of roses and saffron
Ice cream / sorbet – 12 nis
Flavors: chocolate, vanilla, strawberry, passion fruit, pineapple, mango and coconut
Mediterranean cuisine
Fish and seafood
Meat dishes

EL MARSA (Acre)

Gourmet restaurant in Mediterranean bistro style, located in the port of Acre.
Restaurant is located in the ancient building of Ottoman customs house, which was built by crusaders in 1210 year. This building combines the old and the new: the ancient historical past and modern atmosphere of luxury, peace and comfort. The restaurant offers a spectacular view of Acre: harbor, where fishing boats are moored, fishermen fill their nets with various catch and, of cause, walls of the Old city. What else is needed for a good appetite in addition to a superb view? Comfortable place and great food with unique flavors.
The restaurant is run by chef Alaa Mousa and his partner, Maroan, two young, full of energy, love and enthusiasm chefs. Alaa worked in a restaurant in Sweden, possessing Michelin stars, while Maroan studied sociology. When Alaa returned to Israel, he spent three years working in the famous restaurant "Uri Buri" and has to become chief of the hotel-boutique "Efendi". When he heard that his best friend Maroan, with whom they grew up, abandoning sociology, wants to open a restaurant, Alaa decided to join this initiative. The dream open a restaurant did not leave them, and finally, they realized it, and opened El Marsa- quality fish restaurant.
The chef Alaa cooked fish all his life and his love to the sea give him an inspiration to combine innovations and traditions, authenticity and modernity, East and West, professionalism and creativity. There is no doubt that when the chef is the owner of the restaurant, the guest receives a healthy, fresh and tasty food.

Snacks

Octopus salad – 54 nis
Fennel, spinach, orange segments with the scent of lemon arrack
Veal carpaccio – 54 nis
Veal fillet with olive oil, balsamic vinegar, pine nuts and grated parmesan cheese
Balandi eggplant – 29 nis
Eggplant with green tahini, minced lamb and olive oil
Anchovies – 29 nis
Homemade marinade, on bruschetta with baked peppers
Sea oysters with cream sauce – 32 nis
Parmesan cheese, garlic, olive oil and lemon
Cookies Saint-Jacques – 36 nis
Sweet potato cream, coconut milk and chili oil
Mediterranean shrimp – 32 nis
Served with spicy lemon, arugula and artichoke
Patush – 20/36 nis
Cucumber, tomatoes, purple onion with Feta cheese and toasts with sumac
Herbal salad – 20/36 nis
Chopped herbs with lemon juice, olive oil and cashew nuts
El Marsa salad– 20/36 nis
Young spinach, arugula, mushrooms, cherry tomatoes, fried Arabic cheese

Fish and seafood

El Marsa shrimps– 85 nis
Garlic, olive oil, pepper, lemon and fresh coriander
Hrayme soup– 89 nis
Fish fillet, young squid, shrimps, mussels with a spicy aroma of anise
Seafood linguine – 89 nis
Served with Jerusalem artichoke and truffle oil cream
Crispy calamari – 85 nis
Deep-fried calamari with two sauces
Shrimps in cream with parmesan – 89 nis
Cream sauce with gorgonzola and parmesan
Seafood ragout – 169 nis
Shrimps, calamari crabs, mussels and oysters with crab broth
Barramundi, dorado – 85 nis
Grilled fillet with two sauces
Grouper fillet (locus) – 129 nis
Served with Jerusalem artichoke cream and baked potato
Young calamari– 85 nis
Served with hot hummus, tahini and dill yogurt
Salmon – 92 nis
With martini sauce with spinach and mashed potatoes with parmesan
Sinai sea fish – 99 nis
Fish fillet, cooked in tahini, and baked potato cubes
Assorted fish – 85 nis
Deep fried small fish
Grouper, Fraida by weight – 26 nis for 100 g

Meat

Beef fillet medallions – 115 nis
With Garganzola sauce / Forchino sauce of your choice and mashed potatoes with parmesan
Sinta – 99 nis
Steak with red wine sauce and potato gratin
Entrecote  – 99 nis
Steak with pepper sauce and homemade chips
Lamb ribs – 92 nis
Crispy, sour sauce and homemade chips
Chicken breast – 69 nis
Grilled, served with homemade chips
Nuggets – 49 nis
Served with homemade chips

Desserts

Creme brulee – 28 nis
Vanilla and cardamon
Cheesecake – 26 nis
With white chocolate and homemade jam
Chocolate mousse cake – 32 nis
Homemade kanafeh – 26 nis
Syrup of roses and saffron
Ice cream / sorbet – 12 nis
Flavors: chocolate, vanilla, strawberry, passion fruit, pineapple, mango and coconut