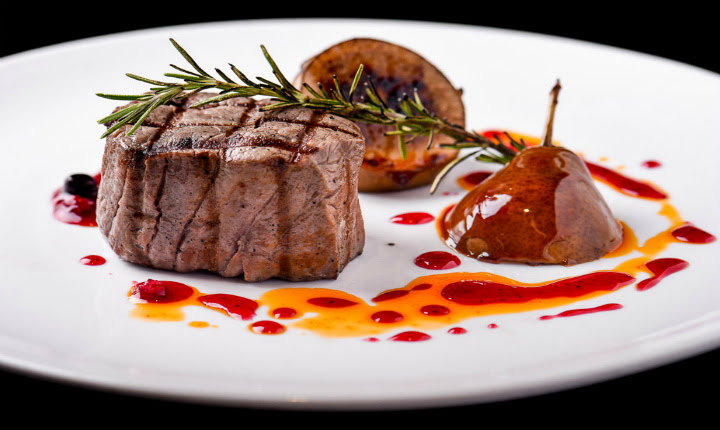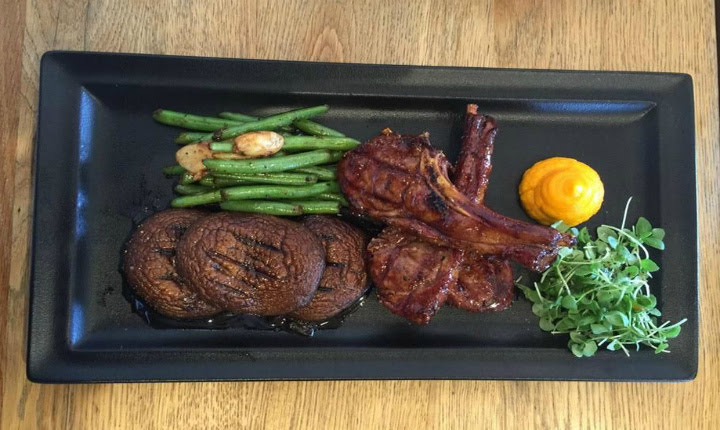 Grill bar and burger
Meat dishes
  Lechem Basar is a modern and fashionable kosher place in the port of Tel Aviv, offering a quality menu based on deliciously-curated meat cuts and fresh vegetables. Homemade bread baked on site in the oven is also an integral part of our menu as it perfectly complements our excellent meat dishes.
   Located in the very heart of Tel Aviv, the restaurant offers a cozy urban atmosphere and breathtaking sea views. 
   We also have a new hall overseeing the sea where we can host your banquets for up to 100 people.
First course 
Homemade Bread — 16 NIS
Served with olive oil, grated tomatoes, hot pepper and coarse Atlantic sea salt
Focaccia — 42 NIS
Served with tomato sauce, beef stew, fried peppers and Kalamata olives
Panzanella Salad — 52 NIS
Green leaves, croutons, cherry tomatoes, radishes, carrots, onions,  dressed with citrus sauce, olive oil and lemon
Quinoa Salad — 54 NIS
Organic red quinoa, beets, hazelnuts, cranberries, finely chopped red onions and herbs
Chicken Salad — 74 NIS
Fried chicken slices with onions, fried tomatoes, garlic confit and green beans on a bed of green leaves
Fire-roasted eggplant— 44 NIS
Fried eggplant served with oregano, fried tomatoes, tahini, pomegranate concentrate, olive oil and lemon
Lamb and zucchini — 62 NIS
Mini zucchini served with lamb stew, pine nuts, rice and demi glacé sauce
Lahmajun with lamb — 46 NIS
Crescent roll stuffed with lamb, root vegetables, fried peppers, Kalamata olives, accompanied by tahini
Sinta Carpaccio — 58 NIS
Aged fillet with balsamic sauce, lemon juice, olive oil, fried pistachios and fresh arugula leaves
Fish Ceviche  — 59 NIS
Thin strips of fresh fish, Asian celery sauce, peppers and radishes
 Main course
Dishes go with one side dish of your choice (not excluding fish dishes)
Homemade Schnitzel — 79 NIS
Fresh chicken breast crusted with Japanese panko and golden breadcrumbs 
Hamburger — 84 NIS
250 g homemade entrecôte
7 NIS extras: fried onions / portobello mushrooms / fried peppers / eggs
Grilled Chicken Thigh Fillets — 92 NIS
Sliced ​​chicken thighs with sesame marinade, soybeans and garlic confit
Lamb Sinaya — 92 NIS
Dough casserole with braised lamb with root vegetables, pine nuts, fried peppers, tahini, eggplant cream, seasoned with aromatic spices 
Sinta — 142 NIS
300 g tenderloin with demi glacé sauce
Entrecôte — 145/165 NIS
250/350 g tenderloin, served with chimichurri sauce
Beef Fillet — 164 NIS
200 g fillet served with red wine sauce
Sea Fish Fillet — 132 NIS
Served with vegetables and white wine
Side dishes – 15 NIS:
Chips / rice / leafy greens salad / sliced ​​Israeli salad
Grill bar and burger
Meat dishes

  Lechem Basar is a modern and fashionable kosher place in the port of Tel Aviv, offering a quality menu based on deliciously-curated meat cuts and fresh vegetables. Homemade bread baked on site in the oven is also an integral part of our menu as it perfectly complements our excellent meat dishes.

   Located in the very heart of Tel Aviv, the restaurant offers a cozy urban atmosphere and breathtaking sea views. 

   We also have a new hall overseeing the sea where we can host your banquets for up to 100 people.

First course 

Homemade Bread — 16 NIS

Served with olive oil, grated tomatoes, hot pepper and coarse Atlantic sea salt

 

Focaccia — 42 NIS

Served with tomato sauce, beef stew, fried peppers and Kalamata olives

Panzanella Salad — 52 NIS

Green leaves, croutons, cherry tomatoes, radishes, carrots, onions,  dressed with citrus sauce, olive oil and lemon

 

Quinoa Salad — 54 NIS

Organic red quinoa, beets, hazelnuts, cranberries, finely chopped red onions and herbs

 

Chicken Salad — 74 NIS

Fried chicken slices with onions, fried tomatoes, garlic confit and green beans on a bed of green leaves

 

Fire-roasted eggplant— 44 NIS

Fried eggplant served with oregano, fried tomatoes, tahini, pomegranate concentrate, olive oil and lemon

 

Lamb and zucchini — 62 NIS

Mini zucchini served with lamb stew, pine nuts, rice and demi glacé sauce

Lahmajun with lamb — 46 NIS

Crescent roll stuffed with lamb, root vegetables, fried peppers, Kalamata olives, accompanied by tahini

Sinta Carpaccio — 58 NIS

Aged fillet with balsamic sauce, lemon juice, olive oil, fried pistachios and fresh arugula leaves

Fish Ceviche  — 59 NIS

Thin strips of fresh fish, Asian celery sauce, peppers and radishes

 Main course

Dishes go with one side dish of your choice (not excluding fish dishes)

 

Homemade Schnitzel — 79 NIS

Fresh chicken breast crusted with Japanese panko and golden breadcrumbs 

 

Hamburger — 84 NIS

250 g homemade entrecôte

7 NIS extras: fried onions / portobello mushrooms / fried peppers / eggs

 

Grilled Chicken Thigh Fillets — 92 NIS

Sliced ​​chicken thighs with sesame marinade, soybeans and garlic confit

Lamb Sinaya — 92 NIS

Dough casserole with braised lamb with root vegetables, pine nuts, fried peppers, tahini, eggplant cream, seasoned with aromatic spices 

Sinta — 142 NIS

300 g tenderloin with demi glacé sauce

 

Entrecôte — 145/165 NIS

250/350 g tenderloin, served with chimichurri sauce

 

Beef Fillet — 164 NIS

200 g fillet served with red wine sauce

 

Sea Fish Fillet — 132 NIS

Served with vegetables and white wine

 

Side dishes – 15 NIS:

Chips / rice / leafy greens salad / sliced ​​Israeli salad