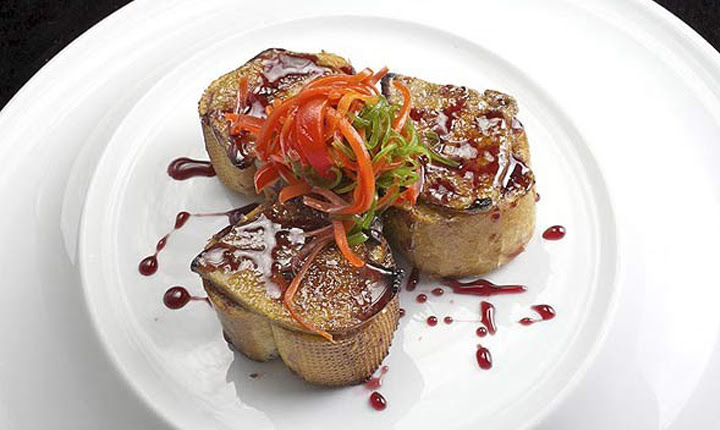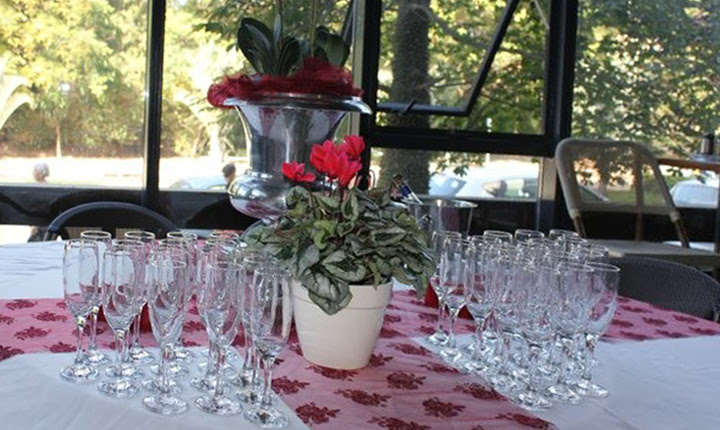 Dim Sum
Meat dishes
Japanese сuisine
Cuisine from Chef
Fast food
FRAME (Tel Aviv)
The FRAME is a signature cuisine restaurant and sushi bar, which offers to its guests a culinary delight and holiday of tastes, both in eastern and western style, modern, original and actual style.
The Tel Aviv FRAME restaurant design amazes imagination by carefully thought details and exclusive finishes, it is for ones, who have an eye for good restaurant, for those, who appreciated elegance and impeccable style come back here again and again.
The restaurant menu includes a wide choice of seafood, sushi, chef's specialties, which are served 24 hours a day, every day.
Depends on the time of the day, there are different visitors come to the restaurant and the restaurant menu changes with them. In the morning three times a week business persons come here for discussions, during the lunch time you can meet some high-tech and media people, in evening are perfect for dinners with the family, but in the night time young people and other men of the town are here to have great time.
The FRAME restaurant is equipped with interactive screens, which are close to each table and allow you to have fun with interactive games, yourself to order, call the waiter or even look at your horoscope, and all this without raising your hands. In addition, on a giant LCD screens you can watch performances of animals and sports programs.
After victory in the Israeli "Sushi Championship" in 2007/2008 it become clear:
FRAME is not just a place for tasty food, it is a lifestyle.
Snacks
Edamame – 29 nis
Poached soy beans with salt and lemon.
Japanese pickles – 19 nis
Marinated vegetables, spicy chili, sesame.
Baked cauliflower – 45 nis
Tempura cauliflower, sweet chili and parmesan
Portobello mushrooms – 56 nis
Stuffed with goose liver pate, in creamy white soy sauce.
Beef sashimi – 54 nis
Beef fillet slices, chili oil, mirin , concentrated balsamic sauce, parmesan.
Mixed goose liver pate – 54 nisеля.
Served in red mirin wine vignette and piers in "Choya" sauce.
Chicken wings – 45 nis.
Crispy wings, poached in Asian hot and sweet chili sauce.
Chicken geza – 45 nis
Japanese dough «pockets», stuffed with chicken, served with vegetable salad.
Vegetarian geza – 41 nis
Japanese dough «pockets», stuffed with vegetables, served with vegetable salad.
Asian-style eggplant – 46 nis
Eggplant baked in tahini with hummus seeds and olive oil.
Crispy eggroll – 59 nis
With vegetables and chicken, in Asian sauce, served with "Kofifi" salad.
Antipasti – 43 nis
Vegetable antipasti, grill-baked with tahini and focaccia.
Crispy calamari (small portion) – 49 nis
Tempura calamari, served on young greens with Japanese aioli
Tempura shrimps with pineapple – 56 nis
5 pieces, on pineapple cubes in Japanese yauzo sauce with wine.
Fokforan shrimps – 69 nis
Tempura shrimps yauzo sauce and hot mayonnaise, lettuce
Dim sum shrimps – 56 nis
Japanese dough «pockets», stuffed with shrimps. 6 pieces.
Spices – 29 nis
Homemade bread with spices (Asian eggplant, hot Japanese mayonnaise, guacamole and ouzo)
Garlic bread – 28 nis
6 toasts with togarashi, ouzo oil and cheese
Goose liver carpaccio – 58 nis
3 goose liver slices on mini-toasts in red wine sauce.
Sinaia focaccia – 49 nis
Focaccia with minced meat, tahini and parsley
Pad kafu focaccia – 48 nis
Focaccia with minced meat, Thai basil and Sichuan pepper
Beef tataki – 54 nis
Beef sashimi, Sichuan pepper with baby spinach and Parmesan, served with homemade bread
SALADS
The last Caesar – 58 nis.
Chicken slices with togarashi, lettuce, croutons, parmesan, tempura onion, Caesar sauce, served with 3 garlic toasts.
Salad «The health» –  49 nis
Tomatoes, cucumbers, chopped lettuce with tahini and lemon.
Chicken and cucumber Asian salad – 56 nis
Chicken slices, cucumbers, sunflower sprouts, avocado
Corn crops salad – 52 nis
Vegetable strips, baby mix, soy, sesame oil, sweet chili.
"Kofifi" salad – 46 nis
Assorted lettuce, croutons, avocado, cherry tomatoes, pineapple and corn in Plam sauce.
Wakame salad–  49 nis
Sunflower sprouts, bean noodles, cucumbers, soy sauce, ginger and sesame oil
MAIN DISHES
Meat
Beef fillet fans* – 158 nis
Grilled beef fillet and goose liver medallions with teriyaki sauce.
Lamb kebab 280 g* – 89 nis
On Chinese pancakes, with sesame paste and grilled Asian vegetables
Entrecote 300 g* – 124 nis
Well aged beef, cooked in "Choya"-style.
Kobi–Style burger 300 g* – 62 nis
Beef, served on a bun with vegetable garnish.
Extras for an additional fee: fried onion / mushrooms / smoked goose breast / emmental / sunny side up egg.
«Schnitza» – 64 nis
Chicken breast, in Japanese panko breading with hot mayonnaise and lemon.
Pargit steak* – 82 nis.
In Asian marinade: soy, chili, honey and lemongrass.
«Chicken fillet » – 74 nis
Grilled chicken fillet in creamy white soy sauce and Sichuan pepper.
«Chicken Bombay» – 86 nis
Chicken kebab in red curry on Japanese tortilla. Served with grill-baked tomatoes and onion.
Chiopolo – 82 nis
Chicken fillet in panko breading, stuffed with smoked goose breast and shiitake mushrooms.
Chicken wings & home fries– 67 nis
Crispy chicken wings in Asian chili with home fries garnish in sweet chili sauce.
Chiaza – 74 nis
Beef fillet slices and eggplants, stir fried in Asian sauce, served with Thai rice
SLOPPY JOE* – 74 nis
280 g of minced entrecote, sauteed in barbeque sauce, fried onion and goose liver medallion / without goose liver
Chicken fillet with ginger * – 68 nis
Grilled chicken fillet in ginger and spices marinade.
* Garnishes of your choice: Thai rice, chips, green salad, mashed potato
* Sauces: Cream with mustard, cream with pepper, red wine, chimichurri
Garnishes for an additional fee – 4 nis
Home fries,  potatoes, salad, sweet potato chips
FISH AND SEAFOOD
Fish of the day – 89 nis
Grilled dorado / salmon filet. Served with fried vegetables and a garnish of your choice: Thai rice, white rice, chips, mashed potato, green salad. Garnishes for an additional fee (4 nis): Home fries, potatoes, salad, sweet potato chips
Seafood in a pot – 98 nis
Shrimps, calamari and clams, in coconut milk and sweet chili sauce, crispy rice cubes
Edamame shrimps – 89 nis
Shrimps and edamame (soybeans) poached in cream sauce with ginger and soy.
Crispy calamari rings – 48/74 nis.
Fried calamari rings, served with baby-salad and aioli sauce.
SANDWICHES/ rolls
Chicken breast sandwich – 59 nis
Chicken fillet in lemongrass marinade, tomatoes, avocado, crispy onion and hot mayonnaise, served on a bun, with green salad. Served till 24:00
Chicken roll – 68 nis
Chicken slices in red carry, lettuce, tomatoes and tahini, served in Japanese tortilla with a garnish of your choice: Thai rice, white rice, chips, mashed potatoes, green salad. Garnishes for an additional fee (4 nis): Home fries, potatoes, salad, sweet potato chips. Served till 24:00
Bombay roll– 74 nis
Chicken slices in red carry, with tahini and vegetables, wrapped Japanese tortilla. Served till 24:00
"Schnitza" sandwich – 68 nis
Schnitzel with salad, tomatoes, marinated cucumber, hot mayonnaise, served with aioli and a garnish of your choice: Thai rice, white rice, chips, mashed potatoes, green salad. Garnishes for an additional fee (4 nis): Home fries, potatoes, salad, sweet potato chips. Served till 24:00
Chicken fillet roll – 68 nis.
Chicken fillet in lemongrass marinade, tomatoes, avocado, crispy onion and hot mayonnaise, served on a bun, with green salad. Served till 24:00
SUSHI
Maki. 8 pieces per portion (rice, wrapped in seaweed)
Vegetable maki  – 27 nis
Avocado, carrot, cucumber, tamago
Salmon maki – 29 nis
Salmon and avocado maki – 29 nis
Red tuna maki – 35 nis
Bass and green onion maki – 29 nis
Sashimi
4 ломтика сырой рыбы на порцию.
Bass – 35 nis
Salmon – 34 nis
Tuna – 38 nis
Tataki salmon – 49 nis
Denis -38 nis
I/O
8 pieces per portion (seaweed, wrapped in rice).
Vegetables – 32 nis
Salmon skin with avocado – 39 nis
Salmon with avocado – 45 nis
Shrimps with avocado – 46 nis
Shrimps and avocado wrapped in salmon skin – 49 nis
Dim Sum
Meat dishes
Japanese сuisine
Cuisine from Chef
Fast food

FRAME (Tel Aviv)

The FRAME is a signature cuisine restaurant and sushi bar, which offers to its guests a culinary delight and holiday of tastes, both in eastern and western style, modern, original and actual style.
The Tel Aviv FRAME restaurant design amazes imagination by carefully thought details and exclusive finishes, it is for ones, who have an eye for good restaurant, for those, who appreciated elegance and impeccable style come back here again and again.
The restaurant menu includes a wide choice of seafood, sushi, chef's specialties, which are served 24 hours a day, every day.
Depends on the time of the day, there are different visitors come to the restaurant and the restaurant menu changes with them. In the morning three times a week business persons come here for discussions, during the lunch time you can meet some high-tech and media people, in evening are perfect for dinners with the family, but in the night time young people and other men of the town are here to have great time.
The FRAME restaurant is equipped with interactive screens, which are close to each table and allow you to have fun with interactive games, yourself to order, call the waiter or even look at your horoscope, and all this without raising your hands. In addition, on a giant LCD screens you can watch performances of animals and sports programs.
After victory in the Israeli "Sushi Championship" in 2007/2008 it become clear:
FRAME is not just a place for tasty food, it is a lifestyle.

Snacks

Edamame – 29 nis
Poached soy beans with salt and lemon.
Japanese pickles – 19 nis
Marinated vegetables, spicy chili, sesame.
Baked cauliflower – 45 nis
Tempura cauliflower, sweet chili and parmesan
Portobello mushrooms – 56 nis
Stuffed with goose liver pate, in creamy white soy sauce.
Beef sashimi – 54 nis
Beef fillet slices, chili oil, mirin , concentrated balsamic sauce, parmesan.
Mixed goose liver pate – 54 nisеля.
Served in red mirin wine vignette and piers in "Choya" sauce.
Chicken wings – 45 nis.
Crispy wings, poached in Asian hot and sweet chili sauce.
Chicken geza – 45 nis
Japanese dough «pockets», stuffed with chicken, served with vegetable salad.
Vegetarian geza – 41 nis
Japanese dough «pockets», stuffed with vegetables, served with vegetable salad.
Asian-style eggplant – 46 nis
Eggplant baked in tahini with hummus seeds and olive oil.
Crispy eggroll – 59 nis
With vegetables and chicken, in Asian sauce, served with "Kofifi" salad.
Antipasti – 43 nis
Vegetable antipasti, grill-baked with tahini and focaccia.
Crispy calamari (small portion) – 49 nis
Tempura calamari, served on young greens with Japanese aioli
Tempura shrimps with pineapple – 56 nis
5 pieces, on pineapple cubes in Japanese yauzo sauce with wine.
Fokforan shrimps – 69 nis
Tempura shrimps yauzo sauce and hot mayonnaise, lettuce
Dim sum shrimps – 56 nis
Japanese dough «pockets», stuffed with shrimps. 6 pieces.
Spices – 29 nis
Homemade bread with spices (Asian eggplant, hot Japanese mayonnaise, guacamole and ouzo)
Garlic bread – 28 nis
6 toasts with togarashi, ouzo oil and cheese
Goose liver carpaccio – 58 nis
3 goose liver slices on mini-toasts in red wine sauce.
Sinaia focaccia – 49 nis
Focaccia with minced meat, tahini and parsley
Pad kafu focaccia – 48 nis
Focaccia with minced meat, Thai basil and Sichuan pepper
Beef tataki – 54 nis
Beef sashimi, Sichuan pepper with baby spinach and Parmesan, served with homemade bread

SALADS

The last Caesar – 58 nis.
Chicken slices with togarashi, lettuce, croutons, parmesan, tempura onion, Caesar sauce, served with 3 garlic toasts.
Salad «The health» –  49 nis
Tomatoes, cucumbers, chopped lettuce with tahini and lemon.
Chicken and cucumber Asian salad – 56 nis
Chicken slices, cucumbers, sunflower sprouts, avocado
Corn crops salad – 52 nis
Vegetable strips, baby mix, soy, sesame oil, sweet chili.
"Kofifi" salad – 46 nis
Assorted lettuce, croutons, avocado, cherry tomatoes, pineapple and corn in Plam sauce.
Wakame salad–  49 nis
Sunflower sprouts, bean noodles, cucumbers, soy sauce, ginger and sesame oil

MAIN DISHES

Meat
Beef fillet fans* – 158 nis
Grilled beef fillet and goose liver medallions with teriyaki sauce.
Lamb kebab 280 g* – 89 nis
On Chinese pancakes, with sesame paste and grilled Asian vegetables
Entrecote 300 g* – 124 nis
Well aged beef, cooked in "Choya"-style.
Kobi–Style burger 300 g* – 62 nis
Beef, served on a bun with vegetable garnish.
Extras for an additional fee: fried onion / mushrooms / smoked goose breast / emmental / sunny side up egg.
«Schnitza» – 64 nis
Chicken breast, in Japanese panko breading with hot mayonnaise and lemon.
Pargit steak* – 82 nis.
In Asian marinade: soy, chili, honey and lemongrass.
«Chicken fillet » – 74 nis
Grilled chicken fillet in creamy white soy sauce and Sichuan pepper.
«Chicken Bombay» – 86 nis
Chicken kebab in red curry on Japanese tortilla. Served with grill-baked tomatoes and onion.
Chiopolo – 82 nis
Chicken fillet in panko breading, stuffed with smoked goose breast and shiitake mushrooms.
Chicken wings & home fries– 67 nis
Crispy chicken wings in Asian chili with home fries garnish in sweet chili sauce.
Chiaza – 74 nis
Beef fillet slices and eggplants, stir fried in Asian sauce, served with Thai rice
SLOPPY JOE* – 74 nis
280 g of minced entrecote, sauteed in barbeque sauce, fried onion and goose liver medallion / without goose liver
Chicken fillet with ginger * – 68 nis
Grilled chicken fillet in ginger and spices marinade.
* Garnishes of your choice: Thai rice, chips, green salad, mashed potato
* Sauces: Cream with mustard, cream with pepper, red wine, chimichurri
Garnishes for an additional fee – 4 nis
Home fries,  potatoes, salad, sweet potato chips

FISH AND SEAFOOD

Fish of the day – 89 nis
Grilled dorado / salmon filet. Served with fried vegetables and a garnish of your choice: Thai rice, white rice, chips, mashed potato, green salad. Garnishes for an additional fee (4 nis): Home fries, potatoes, salad, sweet potato chips
Seafood in a pot – 98 nis
Shrimps, calamari and clams, in coconut milk and sweet chili sauce, crispy rice cubes
Edamame shrimps – 89 nis
Shrimps and edamame (soybeans) poached in cream sauce with ginger and soy.
Crispy calamari rings – 48/74 nis.
Fried calamari rings, served with baby-salad and aioli sauce.
SANDWICHES/ rolls
Chicken breast sandwich – 59 nis
Chicken fillet in lemongrass marinade, tomatoes, avocado, crispy onion and hot mayonnaise, served on a bun, with green salad. Served till 24:00
Chicken roll – 68 nis
Chicken slices in red carry, lettuce, tomatoes and tahini, served in Japanese tortilla with a garnish of your choice: Thai rice, white rice, chips, mashed potatoes, green salad. Garnishes for an additional fee (4 nis): Home fries, potatoes, salad, sweet potato chips. Served till 24:00
Bombay roll– 74 nis
Chicken slices in red carry, with tahini and vegetables, wrapped Japanese tortilla. Served till 24:00
"Schnitza" sandwich – 68 nis
Schnitzel with salad, tomatoes, marinated cucumber, hot mayonnaise, served with aioli and a garnish of your choice: Thai rice, white rice, chips, mashed potatoes, green salad. Garnishes for an additional fee (4 nis): Home fries, potatoes, salad, sweet potato chips. Served till 24:00
Chicken fillet roll – 68 nis.
Chicken fillet in lemongrass marinade, tomatoes, avocado, crispy onion and hot mayonnaise, served on a bun, with green salad. Served till 24:00

SUSHI

Maki. 8 pieces per portion (rice, wrapped in seaweed)
Vegetable maki  – 27 nis
Avocado, carrot, cucumber, tamago
Salmon maki – 29 nis
Salmon and avocado maki – 29 nis
Red tuna maki – 35 nis
Bass and green onion maki – 29 nis
Sashimi
4 ломтика сырой рыбы на порцию.
Bass – 35 nis
Salmon – 34 nis
Tuna – 38 nis
Tataki salmon – 49 nis
Denis -38 nis
I/O
8 pieces per portion (seaweed, wrapped in rice).
Vegetables – 32 nis
Salmon skin with avocado – 39 nis
Salmon with avocado – 45 nis
Shrimps with avocado – 46 nis
Shrimps and avocado wrapped in salmon skin – 49 nis