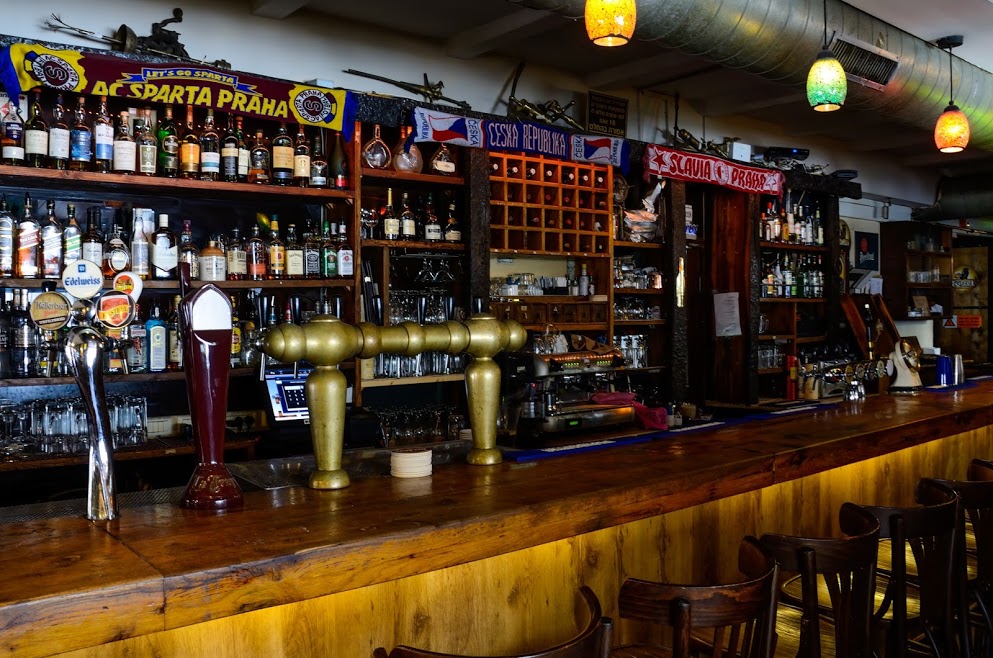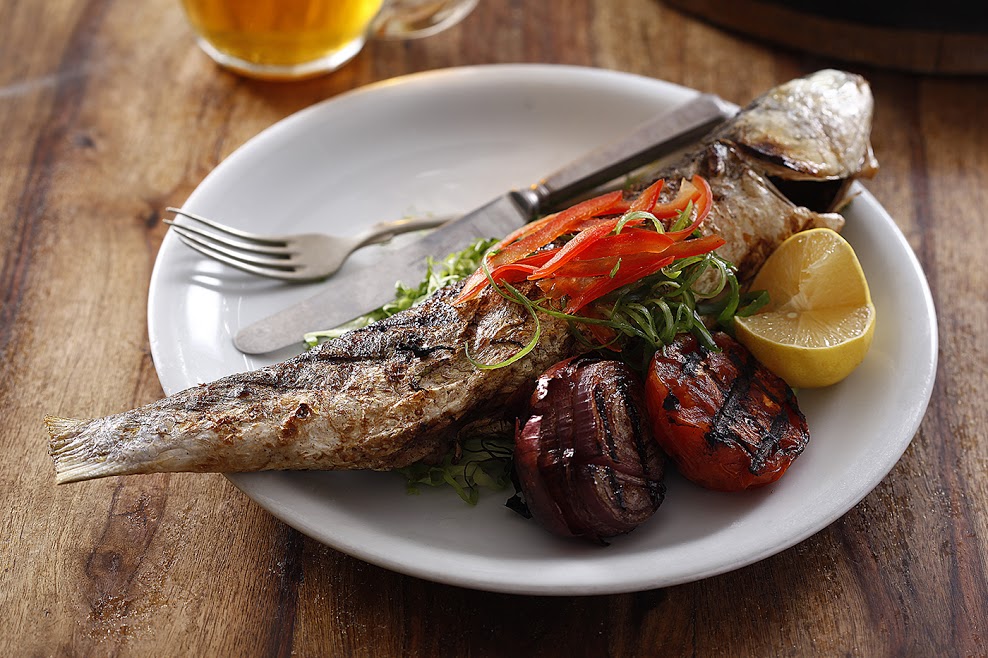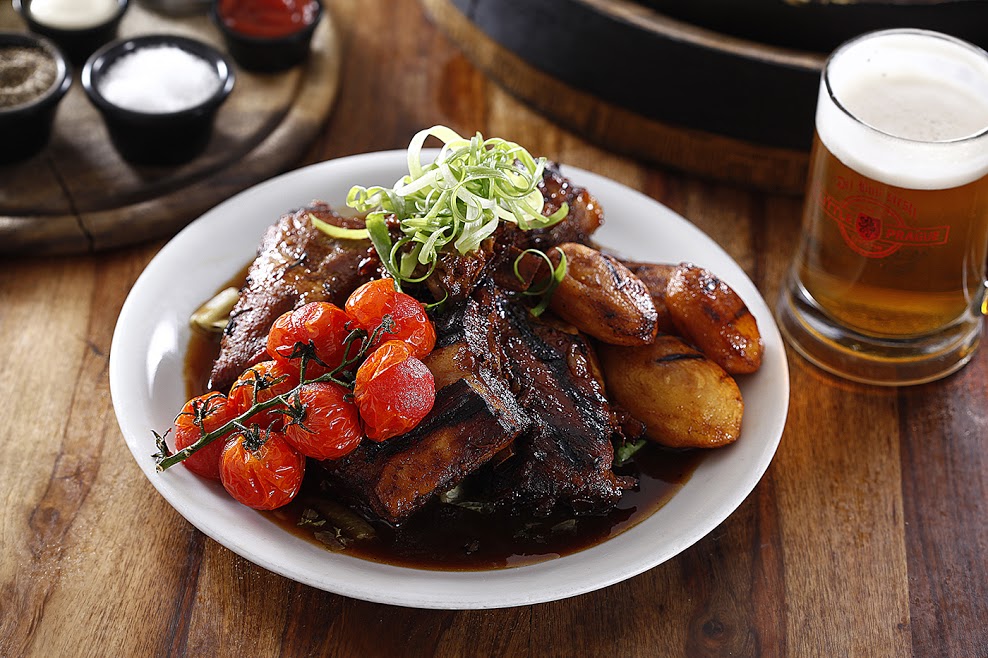 Czech cuisine
Meat dishes
Pub
Resto-Bar
Anyone who's ever visited Prague and misses it, and certainly everyone with Czech roots, will find "Little Prague" to be a Czech home away from home. It offers visitors a rich Czech menu based on authentic classics, a great variety of quality draught beer and a taste of the real European atmosphere. The menu consists of original home-made classics, served in Czech style large portions, up to 14 different types of draft beer, that include most of the leading Czech brands, Austrian and German wheat beer, Irish stouts, Belgian speciality beer and Israeli mainstream and hand crafted as well . Many do not know, but the Czech Republic is the world leader in beer consumption per capita. If you are also a beer lover we recommend you review the beer related articles on this site, or visit the branch closest to you for a taste.
Little Prague has three branches located in Tel Aviv, Bat Yam and Ashdod. The owner, Rasto, a native Czechoslovak , who settled in Israel few years ago, designed and hand built all the three branches as classic Czech pubs. All the pubs are decorated with pictures of the Czech Republic, and the general atmosphere is reminiscent of the restaurants and pubs in Prague. The playlist consists mostly of quality classic rock music, that complements the young atmosphere, leaving you with a taste of the old Czech capital.
Place at first served as a hot spot and meeting place for Czech tourists and work immigrants on Hakovshim street in Tel Aviv, but it quickly caught on among the locals and after a while, had to be moved to a larger location on Hayarkon street. Soon that also wasn't enough and it's current location on Allenby street was chosen. Geographical change aside, the nature and identity of the pub, stays faithful to it's origins, with a rich authentic menu, a large selection of draught beer and spirits, and the atmosphere of a classic European Pub. Rasto, the founder and owner of the pub, emphasizes on personal approach: attentive service, affordable prices and Generous portions are an ideology. The clientele consist's from all ages layers, to enjoy quality music and atmosphere. The bar offers up to 14 different types of draught beer, and if you want fresh air you can even enjoy them in our beer garden.
Cold snacks
Herring fillet – 30 nis
Served with baked potatoes and fresh vegetables.
Traditional Czech cheese – 34 nis
Cheese and garlic spread with mayonnaise, server with pork salami, pickled cucumbers and bread on the side.
Classic liver pate – 35 nis
Served with onion jam and bread.
Balkan rolls – 30 nis
Grilled baked eggplants stuffed with cheese.
Served in a tomato salsa sauce.
Assorted sausages – 49 nis
Assorted selected sausages: salami, ham, homemade pastrami, smoked cheese, pork and cheese roulade.
Homemade pickles – 11 nis
Hot snacks
Langos – 26 nis
Czech deep-fried bread, poured in a garlic sauce and смазанные чесночным соусом и sprinkled with hard Dutch cheese.
French fries – 23 nis
Additional grated cheese – 5 nis, additional bacon – 9 nis
Soup of the day – 23 nis
Ask the waiter.
Beef tongue – 43 nis
Stewed beef tongues in "Svickova" sauce.
Fried mushrooms – 43 nis
Buffalo wings – 36 nis
Grilled chicken wings (14 pcs) in chili sauce and sesame.
Homemade bread – 13 nis
Served with homemade butter and salsa sauce.
Salads
"Shopski" salad – 41 nis
Lettuce leaves, fresh tomatoes and cucumbers in grated Balkan cheese with za'atar and lemon.
Masaryk salad – 49 nis
Fresh vegetables, lettuce leaves, deep fried Dutch cheese and walnuts.
Caesar salad – 44 nis
Fresh lettuce leaves in a garlic sauce with lemon and olive oil. Served with bacon, homemade croutons and Parmesan cheese. Additional grilled breast – 12 nis
Seafood salad – 59 nis
Fresh lettuce leaves in a garlic sauce with sauteed shrimps and calamari.
Czech cuisine
Sladovnytsky goulash – 57 nis
A traditional Czech goulash. Served with Czech steam bread (knedliky).
Pecene veprove koleno – 89 nis
Whole pork leg baked in spices.
Served with stewed cabbage, chrain, mustard and a garnish of your choice.
Montenegrin tenderloin – 59/67 nis
A choice of pork or chicken tenderloin pan-fried in potato batter and sprinkled with cheese.
Cordon Bleu – 59/67 nis
A choice of pork or chicken tenderloin deep-fried in crumb breading and stuffed with ham and smoked cheese.
Schnitzel – 49/56 nis
A choice of pork or chicken tenderloin deep-fried in crumb breading.
Smazeny syr – 52 nis
Deep fried Dutch cheese slices in crumb breading. Served with tartar sauce and a garnish of your choice.
Goose leg – 69 nis
Baked in a marinade.
Served with stewed red cabbage, baked apples and a garnish of your choice
Burty na smetane – 68 nis
Sausages, potatoes, mushroom and sauerkraut baked in cheese with bacon. Served with bread.
Cheddar / Munich / Vegetarian sausages – 59 nis
Two selected sausages: beef stuffing with a cheddar cheese and Bavarian-style pork one.
Served with sauerkraut, mustard and Dijon mustard.
Homemade sausages – 74 nis
Two sausages of selected chopped meat, seasoned according to the special chef's recipe.
Served with sauerkraut and mustard mix.
Dish of the day 
Daily chef special. Ask the waiter.
Steaks and beer
Entrecote steak / Salmon / Pork fillet, a choice of a glass of beer of a glass of wine – 99 nis
Grill
Prague burger (АА size / plain / vegetarian) – 49/69 nis
Hamburger 250 g. of selected beef, served on a fresh bun with lettuce leaves, tomatoes, onion and French fries.
Supplements of your choice: Emmental cheese – 6 nis, fried onions – 5 nis, fried mushrooms – 7 nis, blue cheese – 9 nis, sunny side up egg – 8 nis, bacon – 9 nis
Chicken steak – 67 nis
Grilled chicken meat with spices. Served with a garnish of your choice.
Beef steak 
300 g of juicy beef tenderloin grilled until the chosen doneness level. Served with homemade garlic oil and a garnish of your choice.
Supplements of your choice: fried onions – 5 nis, champignons – 11 nis, sunny side up egg – 8 nis, bacon – 9 nis.
"Brust" ribs – 85 / 159 nis
Grilled pork ribs in a beef sauce. Served with a garnish of your choice.
Mixed grill – 198 nis
Mixed grilled pork fillet, sausages and tender chicken meat. Served with a side of French fries.
Pork fillet – 99 nis
Selected pork fillet in a creamy mustard sauce.
Recommended with mashed potatoes or knedliky.
Desserts
Palachinkes – 29 nis
Sweet pancakes with a stuffing of your choice:
Cottage cheese with raisins, strawberry jam, Nutella. Served with whipped cream and chocolate sauce.
Homemade apple strudel – 39 nis
Served with a scoop of ice cream and whipped cream.
Ice cream (1 scoop) – 9 nis
Dessert of the day
Ask the waiter
Hot beverages
Cappuccino (small / large) – 12 / 14 nis
Americano (small / large) – 11 / 13 nis
Espresso (small / large) – 9 / 11 nis
Nescafe (small / large) – 12 / 14 nis
Black coffee (small) – 10 nis
Tea (with various flavors) (large) – 12 nis
Hot cider (large) – 22 nis
Mattoni with a hot beverage – 9 nis
½ of Baileys, Amaretto, Kahlua, Brandy shot with a hot beverage – 10 nis
Soft beverages
Pepsi / 7Up / Miranda – 14 nis
Tonic – 17 nis
Mineral water – 11 nis
Mattoni – 14 nis
Mattoni Soda 750ml – 26 nis
Ginger ale – 17 nis
Bitter lemon – 17 nis
Fruit juice (various flavors) – 14 / 17 / 29 nis
Grape juice – 15 nis
Apple cider – 19 nis
XL – 15 nis
Ice tea – 15 nis
Grapes & Plums
Hennessy V.S – 29/42 nis
Hennessy V.S.O.P. – 40/72 nis
Raynal VSOP – 17/32 nis
Remy Martin VSOP – 38/68 nis
Slivovice – 20/38 nis
Anise
Sambuca – 23/38 nis
Absinthic – 22/40 nis
Ouzo – 18/37 nis
Arack – 17/34 nis
Chartreuse Green – 29/55 nis
Herbal Liqueurs
Becherovka – 19/34 nis
Becherovka Lemon – 19/34 nis
Jagermeister – 19/36 nis
Averna – 19/36 nis
Fernet Branca – 19/36 nis
Aperitifs
Martini Bianco – 23 nis
Martini Roso – 23 nis
Martini Extra Dry – 23 nis
Campari – 19/34 nis
Aperol – 19/32 nis
Liqueur
Southern Comfort – 23/43 nis
Bailey's – 17/34 nis
Bad. Аpple – 20/38 nis
Y-CHILLI – 17/33 nis
Amaretto – 17/34 nis
Limoncello (Poli) – 21/39 nis
Midori – 19/37 nis
Fidge – 17/30 nis
Drambui – 23/38  nis
Kahlua – 17/34 nis
Malibu – 18/34 nis
Fire Ball – 20/38 nis
After shock – 20/38 nis
Cocktail menu
Classic
Long Island – 39 nis
Vodka, gin, tequila, rum, lime, cola.
Apple Martini- 38 nis
Vodka, vodka vanilla, midori, apple juice.
Cosmopolitan – 38 nis
Vodka, triple sec, lime, cranberry juice
Sex on the Beach – 37 nis
Vodka, schnapps, cranberry and orange juice
Orgasm – 39 nis
Irish cream, coffee liqueur, cream
Modern
Apricot GF – 39 nis
Gin, apricot monin and tonic
Campari Passion – 37 nis
Vodka, Campari, fruit jam and cranberries
Coco Jumbo – 39 nis
Rum, coconut monit, pineapple and lemon juice
La Gingeria – 41 nis
Gin, Aperol, peach monit, white wine
Wild Beer – 43 nis
Bourbon, fruit jam and, cranberries, beer
Wine
House red / white wine (a glass / a bottle)- 29 / 105 nis
Barkan Chardonnay reserve (a glass / a bottle)- 36 / 124 nis
Barkan Merlot reserve (a glass / a bottle)- 36 / 124 nis
Cava (a glass / a bottle)- 31 / 108 nis
Sparkling wine (a bottle) – 106
Chaser Specials
Becherovka – 13 nis
Vishnyovka – 13 nis
Vodka – 13 nis
Whiskey – 13 nis
Araq – 13 nis
Vodka
Absolut – 16 / 29 nis
Russian Standard – 17 / 31 nis
Sky Vodka – 16 / 29 nis
Super Premium Vodka
Ketel One – 22 / 41 nis
Van Gough – 25 / 48 nis
Gray Goose – 28 / 52 nis
Gin
Beefeater – 19 / 37 nis
Bulldog – 19 / 37 nis
Gordon's– 19 / 37 nis
Bombay Sapphire – 23 / 44 nis
Rum
Havana Club Blanco – 22 / 41 nis
Havana Club Especial – 25 / 47 nis
Captain Morgan Spiced – 21 / 39 nis
Tequila
Jose Cuervo Silver – 20 / 37 nis
Jose Cuervo Gold – 21 / 39 nis
Olmeca Silver– 27 / 45 nis
1800 – 34 / 60 nis
Bourbon Whiskey
Jack Daniel's – 24 / 44 nis
Jack Daniel's Honey – 24 / 44 nis
Jim Beam – 20 / 36 nis
Jim Beam Green – 23 / 41 nis
Jim Beam Apple – 22 / 37 nis
Bulleit Bourbon – 26 / 47 nis
Knob Creek – 29 / 49 nis
Four Roses – 24 / 46 nis
Irish Whiskey
Jameson – 17 / 34 nis
Kilbeggan – 17 / 34 nis
Bushmills – 17 / 34 nis
Black Bush – 22 / 36 nis
Single & Pure Malt Whiskey
The Glenlivet 12 – 49 nis
Dalmore 12 – 56 nis
Talisker 10 – 64 nis
Macallan 12 – 66 nis
Balvenie 12 – 64 nis
Laphroaig 10 – 66 nis
Singleton 12 – 56 nis
Caol Ila 12 – 64 nis
Glenfiddich 12 – 56 nis
Royal Lochnagar – 66 nis
Lagavulin 16 – 69 nis
Ardbeg 10 – 64 nis
Glenmorangie 10 – 56 nis
Scotch Whisky
Ballantine's – 17 / 33 nis
Johnnie Walker – 18 / 34 nis
Johnnie Walker Black label – 23 / 44 nis
Lauder's – 17 / 34 nis
Islay Mist – 24 / 46 nis
Draft beer

Volume guide
M – 270ml
L – 450ml
XL – 600ml
XXL – 850ml
A pitcher – 1600ml
Staropramen (M / L / XL / XXL / a pitcher) – 24 / 29 / 39 / 53 / 99 nis
Kozel Cerne (Dark) (M / L / XL / XXL / a pitcher) – 24 / 29 / 39 / 53 / 99 nis
Paulaner Hefe-Weizen (M / L / XL / XXL / a pitcher) – 24 / 29 / 39 / 53 / 99 nis
Pilsner Urquell (M / L / XL / XXL / a pitcher) – 24 / 29 / 39 / 53 / 99 nis
Goldstar (M / L / XL / XXL / a pitcher) – 24 / 29 / 39 / 53 / 99 nis
Edelweiss (M / L / XL / XXL / a pitcher) – 24 / 29 / 39 / 53 / 99 nis
Master (M / L / XL / XXL / a pitcher) – 24 / 29 / 39 / 53 / 99 nis
Maccabi (M / L / XL / XXL / a pitcher) – 15 / 29 / 39 / 53 / 99 nis
Murphy's (M / L / XL / XXL / a pitcher) – 24 / 33 / 43 / 57 / 108 nis
Kasteel Rouge – 29 / 35 nis
Royal Cidre – 27 / 31 nis
Bottled beer
Goldstar 5.4% ABV 0.33L – 25 nis
Heineken 4.8% ABV 0.33L – 26 nis
Beck's 4.8% ABV 0.33L – 27 nis
Corona 4.5% ABV 0.33L – 29 nis
Beek's 4.5% ABV 0.33L – 29 nis
Alcohol free
Beck's 0% ABV 0.33L – 24 nis
Malt 0% ABV 0.5L – 22 nis
Erdinger 0% ABV 0.33L – 26 nis
Czech cuisine
Meat dishes
Pub
Resto-Bar

Anyone who's ever visited Prague and misses it, and certainly everyone with Czech roots, will find "Little Prague" to be a Czech home away from home. It offers visitors a rich Czech menu based on authentic classics, a great variety of quality draught beer and a taste of the real European atmosphere. The menu consists of original home-made classics, served in Czech style large portions, up to 14 different types of draft beer, that include most of the leading Czech brands, Austrian and German wheat beer, Irish stouts, Belgian speciality beer and Israeli mainstream and hand crafted as well . Many do not know, but the Czech Republic is the world leader in beer consumption per capita. If you are also a beer lover we recommend you review the beer related articles on this site, or visit the branch closest to you for a taste.

Little Prague has three branches located in Tel Aviv, Bat Yam and Ashdod. The owner, Rasto, a native Czechoslovak , who settled in Israel few years ago, designed and hand built all the three branches as classic Czech pubs. All the pubs are decorated with pictures of the Czech Republic, and the general atmosphere is reminiscent of the restaurants and pubs in Prague. The playlist consists mostly of quality classic rock music, that complements the young atmosphere, leaving you with a taste of the old Czech capital.

Place at first served as a hot spot and meeting place for Czech tourists and work immigrants on Hakovshim street in Tel Aviv, but it quickly caught on among the locals and after a while, had to be moved to a larger location on Hayarkon street. Soon that also wasn't enough and it's current location on Allenby street was chosen. Geographical change aside, the nature and identity of the pub, stays faithful to it's origins, with a rich authentic menu, a large selection of draught beer and spirits, and the atmosphere of a classic European Pub. Rasto, the founder and owner of the pub, emphasizes on personal approach: attentive service, affordable prices and Generous portions are an ideology. The clientele consist's from all ages layers, to enjoy quality music and atmosphere. The bar offers up to 14 different types of draught beer, and if you want fresh air you can even enjoy them in our beer garden.

Cold snacks

Herring fillet – 30 nis
Served with baked potatoes and fresh vegetables.
Traditional Czech cheese – 34 nis
Cheese and garlic spread with mayonnaise, server with pork salami, pickled cucumbers and bread on the side.
Classic liver pate – 35 nis
Served with onion jam and bread.
Balkan rolls – 30 nis
Grilled baked eggplants stuffed with cheese.
Served in a tomato salsa sauce.
Assorted sausages – 49 nis
Assorted selected sausages: salami, ham, homemade pastrami, smoked cheese, pork and cheese roulade.
Homemade pickles – 11 nis

Hot snacks

Langos – 26 nis
Czech deep-fried bread, poured in a garlic sauce and смазанные чесночным соусом и sprinkled with hard Dutch cheese.
French fries – 23 nis
Additional grated cheese – 5 nis, additional bacon – 9 nis
Soup of the day – 23 nis
Ask the waiter.
Beef tongue – 43 nis
Stewed beef tongues in "Svickova" sauce.
Fried mushrooms – 43 nis
Buffalo wings – 36 nis
Grilled chicken wings (14 pcs) in chili sauce and sesame.
Homemade bread – 13 nis
Served with homemade butter and salsa sauce.

Salads

"Shopski" salad – 41 nis
Lettuce leaves, fresh tomatoes and cucumbers in grated Balkan cheese with za'atar and lemon.
Masaryk salad – 49 nis
Fresh vegetables, lettuce leaves, deep fried Dutch cheese and walnuts.
Caesar salad – 44 nis
Fresh lettuce leaves in a garlic sauce with lemon and olive oil. Served with bacon, homemade croutons and Parmesan cheese. Additional grilled breast – 12 nis
Seafood salad – 59 nis
Fresh lettuce leaves in a garlic sauce with sauteed shrimps and calamari.

Czech cuisine

Sladovnytsky goulash – 57 nis
A traditional Czech goulash. Served with Czech steam bread (knedliky).
Pecene veprove koleno – 89 nis
Whole pork leg baked in spices.
Served with stewed cabbage, chrain, mustard and a garnish of your choice.
Montenegrin tenderloin – 59/67 nis
A choice of pork or chicken tenderloin pan-fried in potato batter and sprinkled with cheese.
Cordon Bleu – 59/67 nis
A choice of pork or chicken tenderloin deep-fried in crumb breading and stuffed with ham and smoked cheese.
Schnitzel – 49/56 nis
A choice of pork or chicken tenderloin deep-fried in crumb breading.
Smazeny syr – 52 nis
Deep fried Dutch cheese slices in crumb breading. Served with tartar sauce and a garnish of your choice.
Goose leg – 69 nis
Baked in a marinade.
Served with stewed red cabbage, baked apples and a garnish of your choice
Burty na smetane – 68 nis
Sausages, potatoes, mushroom and sauerkraut baked in cheese with bacon. Served with bread.
Cheddar / Munich / Vegetarian sausages – 59 nis
Two selected sausages: beef stuffing with a cheddar cheese and Bavarian-style pork one.
Served with sauerkraut, mustard and Dijon mustard.
Homemade sausages – 74 nis
Two sausages of selected chopped meat, seasoned according to the special chef's recipe.
Served with sauerkraut and mustard mix.
Dish of the day 
Daily chef special. Ask the waiter.

Steaks and beer

Entrecote steak / Salmon / Pork fillet, a choice of a glass of beer of a glass of wine – 99 nis
Grill
Prague burger (АА size / plain / vegetarian) – 49/69 nis
Hamburger 250 g. of selected beef, served on a fresh bun with lettuce leaves, tomatoes, onion and French fries.
Supplements of your choice: Emmental cheese – 6 nis, fried onions – 5 nis, fried mushrooms – 7 nis, blue cheese – 9 nis, sunny side up egg – 8 nis, bacon – 9 nis
Chicken steak – 67 nis
Grilled chicken meat with spices. Served with a garnish of your choice.
Beef steak 
300 g of juicy beef tenderloin grilled until the chosen doneness level. Served with homemade garlic oil and a garnish of your choice.
Supplements of your choice: fried onions – 5 nis, champignons – 11 nis, sunny side up egg – 8 nis, bacon – 9 nis.
"Brust" ribs – 85 / 159 nis
Grilled pork ribs in a beef sauce. Served with a garnish of your choice.
Mixed grill – 198 nis
Mixed grilled pork fillet, sausages and tender chicken meat. Served with a side of French fries.
Pork fillet – 99 nis
Selected pork fillet in a creamy mustard sauce.
Recommended with mashed potatoes or knedliky.

Desserts

Palachinkes – 29 nis
Sweet pancakes with a stuffing of your choice:
Cottage cheese with raisins, strawberry jam, Nutella. Served with whipped cream and chocolate sauce.
Homemade apple strudel – 39 nis
Served with a scoop of ice cream and whipped cream.
Ice cream (1 scoop) – 9 nis

Dessert of the day

Ask the waiter

Hot beverages

Cappuccino (small / large) – 12 / 14 nis
Americano (small / large) – 11 / 13 nis
Espresso (small / large) – 9 / 11 nis
Nescafe (small / large) – 12 / 14 nis
Black coffee (small) – 10 nis
Tea (with various flavors) (large) – 12 nis
Hot cider (large) – 22 nis
Mattoni with a hot beverage – 9 nis
½ of Baileys, Amaretto, Kahlua, Brandy shot with a hot beverage – 10 nis

Soft beverages

Pepsi / 7Up / Miranda – 14 nis
Tonic – 17 nis
Mineral water – 11 nis
Mattoni – 14 nis
Mattoni Soda 750ml – 26 nis
Ginger ale – 17 nis
Bitter lemon – 17 nis
Fruit juice (various flavors) – 14 / 17 / 29 nis
Grape juice – 15 nis
Apple cider – 19 nis
XL – 15 nis
Ice tea – 15 nis

Grapes & Plums

Hennessy V.S – 29/42 nis
Hennessy V.S.O.P. – 40/72 nis
Raynal VSOP – 17/32 nis
Remy Martin VSOP – 38/68 nis
Slivovice – 20/38 nis

Anise

Sambuca – 23/38 nis
Absinthic – 22/40 nis
Ouzo – 18/37 nis
Arack – 17/34 nis
Chartreuse Green – 29/55 nis

Herbal Liqueurs

Becherovka – 19/34 nis
Becherovka Lemon – 19/34 nis
Jagermeister – 19/36 nis
Averna – 19/36 nis
Fernet Branca – 19/36 nis

Aperitifs

Martini Bianco – 23 nis
Martini Roso – 23 nis
Martini Extra Dry – 23 nis
Campari – 19/34 nis
Aperol – 19/32 nis

Liqueur

Southern Comfort – 23/43 nis
Bailey's – 17/34 nis
Bad. Аpple – 20/38 nis
Y-CHILLI – 17/33 nis
Amaretto – 17/34 nis
Limoncello (Poli) – 21/39 nis
Midori – 19/37 nis
Fidge – 17/30 nis
Drambui – 23/38  nis
Kahlua – 17/34 nis
Malibu – 18/34 nis
Fire Ball – 20/38 nis
After shock – 20/38 nis

Cocktail menu

Classic
Long Island – 39 nis
Vodka, gin, tequila, rum, lime, cola.
Apple Martini- 38 nis
Vodka, vodka vanilla, midori, apple juice.
Cosmopolitan – 38 nis
Vodka, triple sec, lime, cranberry juice
Sex on the Beach – 37 nis
Vodka, schnapps, cranberry and orange juice
Orgasm – 39 nis
Irish cream, coffee liqueur, cream
Modern
Apricot GF – 39 nis
Gin, apricot monin and tonic
Campari Passion – 37 nis
Vodka, Campari, fruit jam and cranberries
Coco Jumbo – 39 nis
Rum, coconut monit, pineapple and lemon juice
La Gingeria – 41 nis
Gin, Aperol, peach monit, white wine
Wild Beer – 43 nis
Bourbon, fruit jam and, cranberries, beer

Wine

House red / white wine (a glass / a bottle)- 29 / 105 nis
Barkan Chardonnay reserve (a glass / a bottle)- 36 / 124 nis
Barkan Merlot reserve (a glass / a bottle)- 36 / 124 nis
Cava (a glass / a bottle)- 31 / 108 nis
Sparkling wine (a bottle) – 106

Chaser Specials

Becherovka – 13 nis
Vishnyovka – 13 nis
Vodka – 13 nis
Whiskey – 13 nis
Araq – 13 nis

Vodka

Absolut – 16 / 29 nis
Russian Standard – 17 / 31 nis
Sky Vodka – 16 / 29 nis

Super Premium Vodka

Ketel One – 22 / 41 nis
Van Gough – 25 / 48 nis
Gray Goose – 28 / 52 nis

Gin

Beefeater – 19 / 37 nis
Bulldog – 19 / 37 nis
Gordon's– 19 / 37 nis
Bombay Sapphire – 23 / 44 nis

Rum

Havana Club Blanco – 22 / 41 nis
Havana Club Especial – 25 / 47 nis
Captain Morgan Spiced – 21 / 39 nis

Tequila

Jose Cuervo Silver – 20 / 37 nis
Jose Cuervo Gold – 21 / 39 nis
Olmeca Silver– 27 / 45 nis
1800 – 34 / 60 nis

Bourbon Whiskey

Jack Daniel's – 24 / 44 nis
Jack Daniel's Honey – 24 / 44 nis
Jim Beam – 20 / 36 nis
Jim Beam Green – 23 / 41 nis
Jim Beam Apple – 22 / 37 nis
Bulleit Bourbon – 26 / 47 nis
Knob Creek – 29 / 49 nis
Four Roses – 24 / 46 nis

Irish Whiskey

Jameson – 17 / 34 nis
Kilbeggan – 17 / 34 nis
Bushmills – 17 / 34 nis
Black Bush – 22 / 36 nis

Single & Pure Malt Whiskey

The Glenlivet 12 – 49 nis
Dalmore 12 – 56 nis
Talisker 10 – 64 nis
Macallan 12 – 66 nis
Balvenie 12 – 64 nis
Laphroaig 10 – 66 nis
Singleton 12 – 56 nis
Caol Ila 12 – 64 nis
Glenfiddich 12 – 56 nis
Royal Lochnagar – 66 nis
Lagavulin 16 – 69 nis
Ardbeg 10 – 64 nis
Glenmorangie 10 – 56 nis

Scotch Whisky

Ballantine's – 17 / 33 nis
Johnnie Walker – 18 / 34 nis
Johnnie Walker Black label – 23 / 44 nis
Lauder's – 17 / 34 nis
Islay Mist – 24 / 46 nis

Draft beer


Volume guide

M – 270ml
L – 450ml
XL – 600ml
XXL – 850ml
A pitcher – 1600ml
Staropramen (M / L / XL / XXL / a pitcher) – 24 / 29 / 39 / 53 / 99 nis
Kozel Cerne (Dark) (M / L / XL / XXL / a pitcher) – 24 / 29 / 39 / 53 / 99 nis
Paulaner Hefe-Weizen (M / L / XL / XXL / a pitcher) – 24 / 29 / 39 / 53 / 99 nis
Pilsner Urquell (M / L / XL / XXL / a pitcher) – 24 / 29 / 39 / 53 / 99 nis
Goldstar (M / L / XL / XXL / a pitcher) – 24 / 29 / 39 / 53 / 99 nis
Edelweiss (M / L / XL / XXL / a pitcher) – 24 / 29 / 39 / 53 / 99 nis
Master (M / L / XL / XXL / a pitcher) – 24 / 29 / 39 / 53 / 99 nis
Maccabi (M / L / XL / XXL / a pitcher) – 15 / 29 / 39 / 53 / 99 nis
Murphy's (M / L / XL / XXL / a pitcher) – 24 / 33 / 43 / 57 / 108 nis
Kasteel Rouge – 29 / 35 nis
Royal Cidre – 27 / 31 nis
Bottled beer
Goldstar 5.4% ABV 0.33L – 25 nis
Heineken 4.8% ABV 0.33L – 26 nis
Beck's 4.8% ABV 0.33L – 27 nis
Corona 4.5% ABV 0.33L – 29 nis
Beek's 4.5% ABV 0.33L – 29 nis
Alcohol free
Beck's 0% ABV 0.33L – 24 nis
Malt 0% ABV 0.5L – 22 nis
Erdinger 0% ABV 0.33L – 26 nis