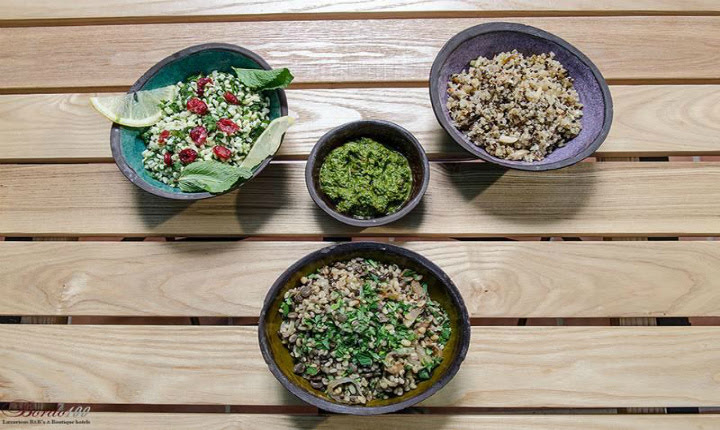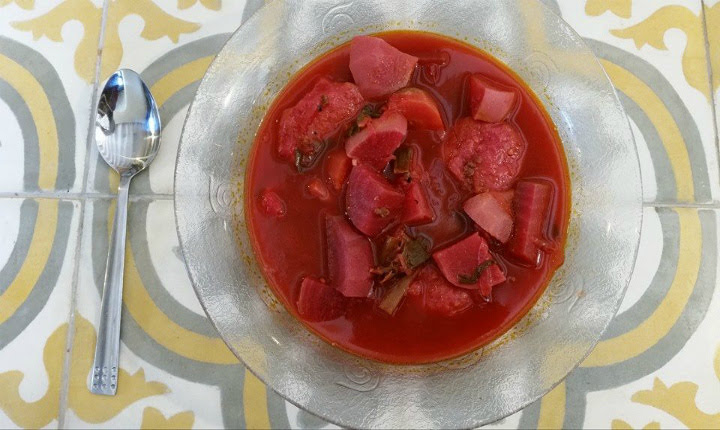 Vegetarian cuisine
Healthy eating
Israeli cuisine
BARONITA (Zichron Yaakov)
The food at Baronita is cooked with love!
We offer you our excellent and amazingly rich menu of Israeli dishes created by our chef Ayelet Sion. For our menu Ayelet has gathered classic Yemeni recipes, her own childhood favorites, successfully combining them with today's healthy-food trends such as vegetarianism and veganism.
Nestled on a pedestrian street in Zichron Yaakov, Baronita is a quiet and cozy place — a perfect spot for having dinner and enjoying our delicious seasonal menus. Great love and care that we take in preparing every dish will make our food even tastier and healthier, allowing you to have the most unforgettable dining experience ever!
Appetizers
Vegetable soup/ lentil soup – 24
Plancha-grilled champignons – 32
Served with shallots, baby-leaves in olive oil and soy sauce
Antipasto & tahini tortillas – 48
Two tortillas with antipasto and tahini stuffing, served with lettuce leaves
Homemade appetizers – 38
Mix of homemade appetizers, served with two fresh-baked buns
Soups
Served with homemade buns, tahini and hot zhug sauce
Beet and kibbeh soup – 59
3 kibbeh balls (made of meat and wheat midds), beets, green onions, carrots and chard (herb)
Vegetarian kibbeh soup – 59
Soup with 3 kibbeh balls (made of cabbage, wheat sprouts, carrots and green onions)
Yemeni meat soup – 59
Potatoes, coriander, garlic, onion, tomatoes and Hawaij spices
Lentil soup – 49
Black, brown and red lentils, basmati rice, onion, garlic and celery
You can add dd some Hilbeh sauce  – 10
Soup of the day is served with tahini, hot zhug sauce and homemade bread
Salads
Served with homemade buns, tahini and hot zhug sauce
Mixed green salad – 54
Fresh baby leaves, cranberry, seasonal fruits, shallots and roasted almonds in vinegar sauce
Vegetable salad – 49
Tossed cucumbers, tomatoes, carrots, shallots, parsley and sunflower seeds salad, dressed with olive oil, lemon juice & sumak spice sauce
Add some:
chicken strips/ chicken thigh tenders (pargit) – 15
homemade buns – 15
spices: tahini "El Ezer"/ special zhug/ dried tomatoes/ black and brown lentil paste/ piquant herb sauce – 7
Main course
Served with one side dish of your choice
"Savory dinner" – consists of 10 dishes including soup, homemade dessert and green herbal tea (minimum 2 guests) – 120
Beef shoulder cubes with roasted chestnuts, onions and garlic with balsamic and curry spices – 79
Oven-roasted salmon fillets with piquant herbs, olive oil and ground nuts – 79
Baronita sinaya – chopped meat with parsley, onions, tahini and pine nuts – 69
Eilat cutlets – succulent beef cutlets with fresh tomato sauce – 69
Chimichurri chicken breast – 69
Roasted chicken breast in chimichurri sauce
Chicken thighs in sweet chili peppers, curry and honey sauce – 74
Bread & sesame-crusted chicken breast schnitzel – 69
Vegetarian liri – mushrooms, eggplant, cabbage and onions with tahini and pine nuts – 69
Plate of healthy hot sides (3 of your choice) – 69
Dishes for one – 25
Baked potatoes with olive oil and thymes
Green beans and peppers with garlic and herbs in fresh tomato sauce
Brown rice with finely ground almonds, sunflower seeds, coriander seeds and onions
Madjadra burgul – black and brown lentils with bulgur and roasted onions
Organic two-colored quinoa and bulgur with basil, onions, cabbage, almonds and cranberries
Vegetable salad – mix of cucumbers, carrots, tomatoes, shallots, parsley, sunflower seeds with olive oil and sumak spices dressing
Green salad – baby-leaf lettuces, potatoes grand, shallots and pomegranate seeds with vinegar dressing
For children (up to 10 years old) – 49
Vegetable salad + schnitzel/ chicken breast/ beef cutlets + white rice/ potatoes + lemonade/ orange juice
Cold drinks
Baronita cider – with chopped apple cubes and mint leaves – 18
Orange juice/ lemonade – 10
Coke/ Diet Coke/ Coke Zero/ Sprite/ Sprite Zero – 12
Apple cider/ grapefruit cider – 12
Grape juice – 12
Mineral water/ soda water – 10
Desserts
Caramelized apples – 32
Caramelized apple slices with a streusel crust on a crispy almond tart
Ferrero Rocher – 32
Crispy nougat with Belgian chocolate ganache and black chocolate pieces on top
Vegetarian pecan pie – 32
Streusel-crusted caramelized pecans and an almond flour pie
Hot fudge cake – 32
No-flour melt-in-mouth homemade chocolate cake, filled and covered with delicious chocolate
Snickers – 32
Chocolate & peanut fudge cake with Belgian chocolate cream, caramel, peanut butter and chocolate ganache
Healthy desserts
Tahini & peanut butter dessert – 24
Date & almond balls, topped with black chocolate – 24
Vegetarian cuisine
Healthy eating
Israeli cuisine

BARONITA (Zichron Yaakov)

The food at Baronita is cooked with love!

We offer you our excellent and amazingly rich menu of Israeli dishes created by our chef Ayelet Sion. For our menu Ayelet has gathered classic Yemeni recipes, her own childhood favorites, successfully combining them with today's healthy-food trends such as vegetarianism and veganism.

Nestled on a pedestrian street in Zichron Yaakov, Baronita is a quiet and cozy place — a perfect spot for having dinner and enjoying our delicious seasonal menus. Great love and care that we take in preparing every dish will make our food even tastier and healthier, allowing you to have the most unforgettable dining experience ever!

Appetizers

Vegetable soup/ lentil soup – 24

Plancha-grilled champignons – 32

Served with shallots, baby-leaves in olive oil and soy sauce

Antipasto & tahini tortillas – 48

Two tortillas with antipasto and tahini stuffing, served with lettuce leaves

Homemade appetizers – 38

Mix of homemade appetizers, served with two fresh-baked buns

Soups

Served with homemade buns, tahini and hot zhug sauce

Beet and kibbeh soup – 59

3 kibbeh balls (made of meat and wheat midds), beets, green onions, carrots and chard (herb)

Vegetarian kibbeh soup – 59

Soup with 3 kibbeh balls (made of cabbage, wheat sprouts, carrots and green onions)

Yemeni meat soup – 59

Potatoes, coriander, garlic, onion, tomatoes and Hawaij spices

Lentil soup – 49

Black, brown and red lentils, basmati rice, onion, garlic and celery

You can add dd some Hilbeh sauce  – 10

 

Soup of the day is served with tahini, hot zhug sauce and homemade bread

 

Salads

Served with homemade buns, tahini and hot zhug sauce

Mixed green salad – 54

Fresh baby leaves, cranberry, seasonal fruits, shallots and roasted almonds in vinegar sauce

Vegetable salad – 49

Tossed cucumbers, tomatoes, carrots, shallots, parsley and sunflower seeds salad, dressed with olive oil, lemon juice & sumak spice sauce

Add some:

chicken strips/ chicken thigh tenders (pargit) – 15
homemade buns – 15
spices: tahini "El Ezer"/ special zhug/ dried tomatoes/ black and brown lentil paste/ piquant herb sauce – 7

Main course

Served with one side dish of your choice

"Savory dinner" – consists of 10 dishes including soup, homemade dessert and green herbal tea (minimum 2 guests) – 120

Beef shoulder cubes with roasted chestnuts, onions and garlic with balsamic and curry spices – 79

Oven-roasted salmon fillets with piquant herbs, olive oil and ground nuts – 79

Baronita sinaya – chopped meat with parsley, onions, tahini and pine nuts – 69

Eilat cutlets – succulent beef cutlets with fresh tomato sauce – 69

Chimichurri chicken breast – 69

Roasted chicken breast in chimichurri sauce

Chicken thighs in sweet chili peppers, curry and honey sauce – 74

Bread & sesame-crusted chicken breast schnitzel – 69

Vegetarian liri – mushrooms, eggplant, cabbage and onions with tahini and pine nuts – 69

Plate of healthy hot sides (3 of your choice) – 69

Dishes for one – 25

Baked potatoes with olive oil and thymes

Green beans and peppers with garlic and herbs in fresh tomato sauce

Brown rice with finely ground almonds, sunflower seeds, coriander seeds and onions

Madjadra burgul – black and brown lentils with bulgur and roasted onions

Organic two-colored quinoa and bulgur with basil, onions, cabbage, almonds and cranberries

Vegetable salad – mix of cucumbers, carrots, tomatoes, shallots, parsley, sunflower seeds with olive oil and sumak spices dressing

Green salad – baby-leaf lettuces, potatoes grand, shallots and pomegranate seeds with vinegar dressing

For children (up to 10 years old) – 49

 

Vegetable salad + schnitzel/ chicken breast/ beef cutlets + white rice/ potatoes + lemonade/ orange juice

Cold drinks

Baronita cider – with chopped apple cubes and mint leaves – 18

Orange juice/ lemonade – 10

Coke/ Diet Coke/ Coke Zero/ Sprite/ Sprite Zero – 12

Apple cider/ grapefruit cider – 12

Grape juice – 12

Mineral water/ soda water – 10

Desserts

Caramelized apples – 32

Caramelized apple slices with a streusel crust on a crispy almond tart

Ferrero Rocher – 32

Crispy nougat with Belgian chocolate ganache and black chocolate pieces on top

Vegetarian pecan pie – 32

Streusel-crusted caramelized pecans and an almond flour pie

Hot fudge cake – 32

No-flour melt-in-mouth homemade chocolate cake, filled and covered with delicious chocolate

Snickers – 32

Chocolate & peanut fudge cake with Belgian chocolate cream, caramel, peanut butter and chocolate ganache

Healthy desserts

Tahini & peanut butter dessert – 24

Date & almond balls, topped with black chocolate – 24