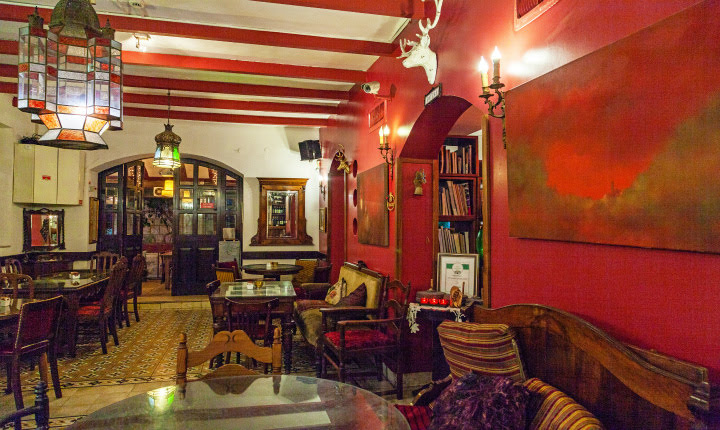 Mediterranean cuisine
European cuisine
Israeli cuisine
Takeaway
Italian Cuisine
French Cuisine
Arabic cuisine
DOUZAN 
(Haifa)
Mediterranean restaurant serving best of Italian, Lebanese and French cuisine as well as delicious meat and seafood delicacies. 
Douzan is a unique place offering flavorful food that combines distinctive elements and traditions of Eastern and Western culture.  Nothing gets more authentic than Douzan — nestled inside an old German Templar building, built in 1870, the restaurant was redesigned and renewed by its owner Najar Padi. He then enhanced the setting with vintage furniture brought from Italy, France and East Jerusalem. Just like all of us are different in our own ways, every piece of furniture here exudes one-of-a-kind charm that cannot be found anywhere else. The distinctive feature of the restaurant is that its door is always open for everyone. We believe, in a homely atmosphere and with a pleasant service offered at Douzan, both Jews and Arabs can find a piece of joy in our restaurant. 
    The menu represents multiple choices of Lebanese snacks prepared in-house by the owner's mother herself — these include kibbeh, samosa, stuffed grape leaves with traditional seasonings and more. There also are chefs responsible for Italian and French cuisine specifically.  
It is possible to hold events for up to 120 people.
Menu
Salads
Tabbouleh Douzan – 48
Parsley, mint, bulgur, green onions, olive oil, lemon, served with tomatoes
Lebanese Salad – 56
Tomato, cucumber, onion, parsley, mint, sorrel, seasoned with olive oil and lemon juice, served with feta cheese and croutons of Lebanese pita
Douzan Salad – 62
Lettuce, cherry tomatoes, red onions seasoned with citrus vinaigrette and topped with seeds,
with chestnuts / chicken strips / turkish cheese
Haloumi Salad – 59
Lettuce, mix of leafy greens, cucumber, carrots, sprouts and cherry tomatoes with roasted almonds and Haloumi cheese in a pesto sauce 
Malaysian Chicken Breast Salad – 62
Stir-fried vegetables, mix of leafy greens, sprouts, radish, chicken breast with freekeh / spaghetti in a teriyaki sauce, topped with sesame seeds
Goose Breast Salad – 64
Mix of leafy greens, potatoes, sweet potatoes, mushrooms and smoked duck breast slices in a balsamic and sesame sauce
Caesar Salad – 64
Lettuce, cherry tomatoes and croutons, chicken breast strips in a classic Caesar sauce with sesame, topped with roasted almonds and parmesan
Smoked Salmon Salad – 59
Lettuce, cherry tomatoes, red onion, sprouts, pickled cucumbers with balsamic dressing, topped with almonds
Hot Sandwiches
Douzan Breakfast – 55
Omelet / cheese, white cheese, zaatar and olive oil / lemon juice / orange juice / espresso / tea
Roast Beef Sandwich – 52
Roast beef, preserved lemon paste, lettuce, tomato, red onion, pickled cucumber, caramelized onion, mustard and balsamic aioli
Tuna Sandwich – 52
Tuna marinated with preserved lemon paste, lettuce, red onion, pickled cucumber, red pepper, hard boiled egg and mayonnaise
Chicken Sandwich – 52
Spiced chicken breast, preserved lemon paste, lettuce, tomatoes, red onion, caramelized onion and mustard
Seafood Sandwich – 62
Seafood pieces fried with lemon paste, caramelized onions and mayonnaise, with lettuce and red onion
Smoked Salmon Sandwich – 52
Smoked salmon with a little bit of balsamic vinegar, with cream cheese, red onion, green onion and lettuce
Paddy Bagel – 58
Cream cheese, goat cheese, pepperoni and yellow cheese
Hamburger – 60
Served with french fries. Optional: cheese – 10
Garlic Bread – 16
Ciabatta with pesto and garlic butter
Douzaniat
Safih – 52
Arabic flatbreads (5 pcs), served with vegetables and tahini, with veal, onions and pine nuts inside
Kibbeh – 52
5 pieces, served with vegetables and tahini
Arabic Appetizers Mix – 68
Safih (2 pcs), kibbeh (2 pcs), meat samosa (4 pcs) and cheese samosa (4 pcs). Served with vegetables and tahini
Tarvika – 48
Lebanese cheese, feta cheese, olive oil, zaatar, vegetables and Lebanese pita
Mum's Grape Leaves – 49
Stuffed with rice and veal, served with vegetables and yogurt
Platter of Roast Beef / Smoked Salmon – 78
Served with cereal bread and vegetables
Cheese Platter / Assorted Sausages Platter – 70/90
Served with fresh bread and small / big plate of vegetables
Roulettini – 48
Eggplant roll baked in the oven with cheese and almonds in a tomato and basil sauce with parmesan cheese
Stuffed Mushrooms – 48
With cheese and almonds in a mushroom cream sauce
Veal Carpaccio – 72
Thin slices of veal tenderloin with seasonings, olive oil, balsamic cheese and parmesan cheese, served with whole grain bread
Sujuk – spicy veal sausages – 48
Cooked with tomatoes, onions and peppers, served with bread slices 
Arais Douzan – 62
Mini pita bread with beef, onions, herbs, served with vegetables and tahini
Soup of the day – 35
Ask your waiter
French Fries – 30
Main 
Cordon Bleu – 89
Chicken breast slices wrapped around smoked duck and cheese pieces in a mustard-cream sauce
Chicken Breast Escalope – 75
In a mushroom sauce / teriyaki sauce / spicy chili sauce / garlic and lemon sauce
Shishavak – 75
Chicken and potato skewers served with pickled vegetables, tahini and somek
Sinta – 79
Fillet slices stuffed with goat cheese and beef stew in a pesto sauce with garlic
Entrecote Steak – 118
In a chili sauce with pepper / red wine / mushroom cream
Veal Medallions – 135
Served on a bed of mashed potatoes in a beer sauce with pepper / red wine sauce / mushroom cream sauce
Kebab – 78
Served with vegetable skewers, tahini and cinnamon sticks 
Beef Stroganoff – 90
Beef fillet slices, onion, pepper, pickled cucumbers, mushrooms, beef broth sauce, pepper, mustard and cream. Served on a bed of rice
Lamb Chops – 110
In a rosemary sauce with mashed potatoes
Joshpara – 69
Dough stuffed with veal, cooked with warm yogurt and mint sauce with spinach, mushrooms and pine nuts
Chicken Liver – 69
Served with wine sauce on a bed of mashed potatoes, caramelized onions, spinach, fried mushrooms, served with garlic bread
Granny's Sinaya – 72
Veal, onion and greens, potatoes and tomatoes in tahini / tomato sauce with pine nuts
Chicken Nuggets – 67
Crispy chicken slices
For Kids 
Schnitzel with french fries – 38
Fish
Squid – 70
Stir-fried in a spicy Mexican sauce / with garlic and lemon
Served with rice
Scallops – 75
Stir-fried in a spicy Mexican sauce / with garlic and lemon
Shrimps – 89
Stir-fried in a spicy Mexican sauce / with garlic and lemon
Served with rice
Seafood Mix – 118
Stir-fried in a spicy Mexican sauce / with garlic and lemon
Served with rice / spaghetti
Ravioli With Cheese And Shrimps – 98
In a spicy Mexican sauce
Salmon Fillet – 82
In a spicy Mexican sauce / with garlic and lemon
Served with rice
European Bass Fillet – 75
Served with garlic confit and butter, with olives and heressa
served with rice
Fish and Chips – 75
Crispy glazed fish fillet pieces with rice and almond crackers, served with spicy french fries and garlic-lemon sauce
Phia Friki – 79
Fried seafood with butter and olive oil, onions, herbs, pepper and grated tomatoes
Italian
Ravioli With Cheese – 58
With mushroom cream sauce
Ravioli With Sweet Potatoes – 58 
In a rose sauce
Spaghetti / Penne – 49
In a tomato sauce / rose sauce / mushroom cream sauce / pesto sauce
Spaghetti Bolognese – 59
In a tomato sauce with veal and vegetables
Lasagna – 67
Layers of pasta stuffed with minced veal with mozzarella in a rose sauce
Eggplant Lasagna – 67
In a rose sauce
Seafood Spaghetti Mix – 110
Shrimps, mussels, tomatoes, garlic, sweet cream and olive oil topped with parsley
Vegetable Pie – 58
Served with a green salad
Chicken Fettuccine – 75
Fettuccine pasta with chicken cubes in a creamy mushroom sauce
Mediterranean cuisine
European cuisine
Israeli cuisine
Takeaway
Italian Cuisine
French Cuisine
Arabic cuisine

DOUZAN 

(Haifa)

Mediterranean restaurant serving best of Italian, Lebanese and French cuisine as well as delicious meat and seafood delicacies. 

Douzan is a unique place offering flavorful food that combines distinctive elements and traditions of Eastern and Western culture.  Nothing gets more authentic than Douzan — nestled inside an old German Templar building, built in 1870, the restaurant was redesigned and renewed by its owner Najar Padi. He then enhanced the setting with vintage furniture brought from Italy, France and East Jerusalem. Just like all of us are different in our own ways, every piece of furniture here exudes one-of-a-kind charm that cannot be found anywhere else. The distinctive feature of the restaurant is that its door is always open for everyone. We believe, in a homely atmosphere and with a pleasant service offered at Douzan, both Jews and Arabs can find a piece of joy in our restaurant. 

    The menu represents multiple choices of Lebanese snacks prepared in-house by the owner's mother herself — these include kibbeh, samosa, stuffed grape leaves with traditional seasonings and more. There also are chefs responsible for Italian and French cuisine specifically.  

It is possible to hold events for up to 120 people.

Menu

Salads

Tabbouleh Douzan – 48

Parsley, mint, bulgur, green onions, olive oil, lemon, served with tomatoes

Lebanese Salad – 56

Tomato, cucumber, onion, parsley, mint, sorrel, seasoned with olive oil and lemon juice, served with feta cheese and croutons of Lebanese pita

Douzan Salad – 62

Lettuce, cherry tomatoes, red onions seasoned with citrus vinaigrette and topped with seeds,

with chestnuts / chicken strips / turkish cheese

Haloumi Salad – 59

Lettuce, mix of leafy greens, cucumber, carrots, sprouts and cherry tomatoes with roasted almonds and Haloumi cheese in a pesto sauce 

Malaysian Chicken Breast Salad – 62

Stir-fried vegetables, mix of leafy greens, sprouts, radish, chicken breast with freekeh / spaghetti in a teriyaki sauce, topped with sesame seeds

Goose Breast Salad – 64

Mix of leafy greens, potatoes, sweet potatoes, mushrooms and smoked duck breast slices in a balsamic and sesame sauce

Caesar Salad – 64

Lettuce, cherry tomatoes and croutons, chicken breast strips in a classic Caesar sauce with sesame, topped with roasted almonds and parmesan

Smoked Salmon Salad – 59

Lettuce, cherry tomatoes, red onion, sprouts, pickled cucumbers with balsamic dressing, topped with almonds

Hot Sandwiches

Douzan Breakfast – 55

Omelet / cheese, white cheese, zaatar and olive oil / lemon juice / orange juice / espresso / tea

Roast Beef Sandwich – 52

Roast beef, preserved lemon paste, lettuce, tomato, red onion, pickled cucumber, caramelized onion, mustard and balsamic aioli

Tuna Sandwich – 52

Tuna marinated with preserved lemon paste, lettuce, red onion, pickled cucumber, red pepper, hard boiled egg and mayonnaise

Chicken Sandwich – 52

Spiced chicken breast, preserved lemon paste, lettuce, tomatoes, red onion, caramelized onion and mustard

Seafood Sandwich – 62

Seafood pieces fried with lemon paste, caramelized onions and mayonnaise, with lettuce and red onion

Smoked Salmon Sandwich – 52

Smoked salmon with a little bit of balsamic vinegar, with cream cheese, red onion, green onion and lettuce

Paddy Bagel – 58

Cream cheese, goat cheese, pepperoni and yellow cheese

Hamburger – 60

Served with french fries. Optional: cheese – 10

Garlic Bread – 16

Ciabatta with pesto and garlic butter

Douzaniat

Safih – 52

Arabic flatbreads (5 pcs), served with vegetables and tahini, with veal, onions and pine nuts inside

Kibbeh – 52

5 pieces, served with vegetables and tahini

Arabic Appetizers Mix – 68

Safih (2 pcs), kibbeh (2 pcs), meat samosa (4 pcs) and cheese samosa (4 pcs). Served with vegetables and tahini

Tarvika – 48

Lebanese cheese, feta cheese, olive oil, zaatar, vegetables and Lebanese pita

Mum's Grape Leaves – 49

Stuffed with rice and veal, served with vegetables and yogurt

Platter of Roast Beef / Smoked Salmon – 78

Served with cereal bread and vegetables

Cheese Platter / Assorted Sausages Platter – 70/90

Served with fresh bread and small / big plate of vegetables

Roulettini – 48

Eggplant roll baked in the oven with cheese and almonds in a tomato and basil sauce with parmesan cheese

Stuffed Mushrooms – 48

With cheese and almonds in a mushroom cream sauce

Veal Carpaccio – 72

Thin slices of veal tenderloin with seasonings, olive oil, balsamic cheese and parmesan cheese, served with whole grain bread

Sujuk – spicy veal sausages – 48

Cooked with tomatoes, onions and peppers, served with bread slices 

Arais Douzan – 62

Mini pita bread with beef, onions, herbs, served with vegetables and tahini

Soup of the day – 35

Ask your waiter

French Fries – 30

Main 

Cordon Bleu – 89

Chicken breast slices wrapped around smoked duck and cheese pieces in a mustard-cream sauce

Chicken Breast Escalope – 75

In a mushroom sauce / teriyaki sauce / spicy chili sauce / garlic and lemon sauce

Shishavak – 75

Chicken and potato skewers served with pickled vegetables, tahini and somek

Sinta – 79

Fillet slices stuffed with goat cheese and beef stew in a pesto sauce with garlic

Entrecote Steak – 118

In a chili sauce with pepper / red wine / mushroom cream

Veal Medallions – 135

Served on a bed of mashed potatoes in a beer sauce with pepper / red wine sauce / mushroom cream sauce

Kebab – 78

Served with vegetable skewers, tahini and cinnamon sticks 

Beef Stroganoff – 90

Beef fillet slices, onion, pepper, pickled cucumbers, mushrooms, beef broth sauce, pepper, mustard and cream. Served on a bed of rice

Lamb Chops – 110

In a rosemary sauce with mashed potatoes

Joshpara – 69

Dough stuffed with veal, cooked with warm yogurt and mint sauce with spinach, mushrooms and pine nuts

Chicken Liver – 69

Served with wine sauce on a bed of mashed potatoes, caramelized onions, spinach, fried mushrooms, served with garlic bread

Granny's Sinaya – 72

Veal, onion and greens, potatoes and tomatoes in tahini / tomato sauce with pine nuts

Chicken Nuggets – 67

Crispy chicken slices

For Kids 

Schnitzel with french fries – 38

Fish

Squid – 70

Stir-fried in a spicy Mexican sauce / with garlic and lemon

Served with rice

Scallops – 75

Stir-fried in a spicy Mexican sauce / with garlic and lemon

Shrimps – 89

Stir-fried in a spicy Mexican sauce / with garlic and lemon

Served with rice

Seafood Mix – 118

Stir-fried in a spicy Mexican sauce / with garlic and lemon

Served with rice / spaghetti

Ravioli With Cheese And Shrimps – 98

In a spicy Mexican sauce

Salmon Fillet – 82

In a spicy Mexican sauce / with garlic and lemon

Served with rice

European Bass Fillet – 75

Served with garlic confit and butter, with olives and heressa

served with rice

Fish and Chips – 75

Crispy glazed fish fillet pieces with rice and almond crackers, served with spicy french fries and garlic-lemon sauce

Phia Friki – 79

Fried seafood with butter and olive oil, onions, herbs, pepper and grated tomatoes

Italian

Ravioli With Cheese – 58

With mushroom cream sauce

Ravioli With Sweet Potatoes – 58 

In a rose sauce

Spaghetti / Penne – 49

In a tomato sauce / rose sauce / mushroom cream sauce / pesto sauce

Spaghetti Bolognese – 59

In a tomato sauce with veal and vegetables

Lasagna – 67

Layers of pasta stuffed with minced veal with mozzarella in a rose sauce

Eggplant Lasagna – 67

In a rose sauce

Seafood Spaghetti Mix – 110

Shrimps, mussels, tomatoes, garlic, sweet cream and olive oil topped with parsley

Vegetable Pie – 58

Served with a green salad

Chicken Fettuccine – 75

Fettuccine pasta with chicken cubes in a creamy mushroom sauce