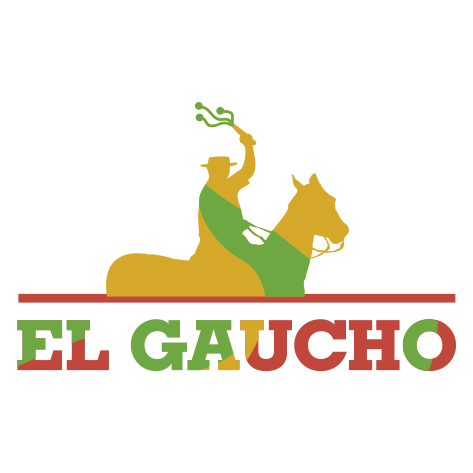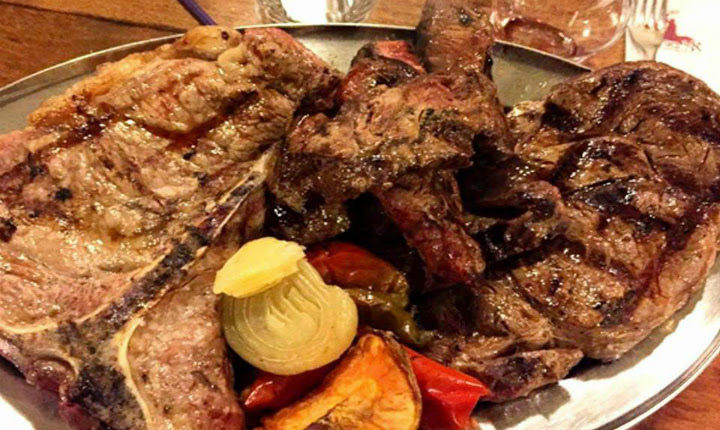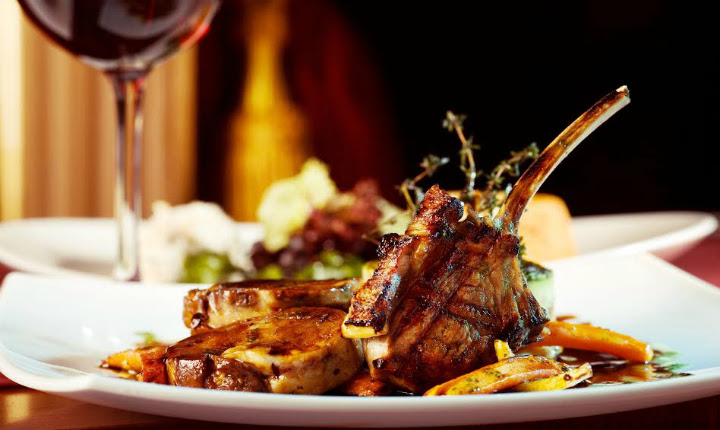 Argentine cuisine
Мeat dishes
Restaurant El Gaucho is the best meat restaurant!
El Gaucho offers excellent meat, friendly service and authentic Argentinian hospitality.
Full of romance and authenticity, this place seduces visitors with its vibrant atmosphere that perfectly complements selected meat dishes, cooked by an experienced and qualified grill maestro who lived and worked like a cowboy in the villages and farms of southern Argentina. The meat here is aged directly in the restaurant in a special fridge at a temperature of 0 degrees. This process improves the quality of the meat, making it more tender. 
At El Gaucho you will have an ultimate opportunity to treat yourself with special Argentinian dishes: a variety of top-quality beef cuts, a selection of soups, Argentinian milk desserts as well as cream-based sauces to complement your meat dishes.
Homemade Chimichurri Bread – 18 NIS
First course / snacks
Soup of the day – 36 NIS
Hot and tasty (different every day)
Chorizo ​​– 39 NIS
Beef sausage
Salchicha – 39 NIS
Argentinian spicy beef sausage
Empanada – 36 NIS
Meat / Corn / Mushrooms / Chicken
Fried Mushrooms – 48 NIS
Crunchy portobello and champignons fried with garlic, basil and olive oil. Served in a hot pan
Veal Sweetbreads with smoked goose breast – 74 NIS / 150 g
Chicken Wings – 39 NIS
In Gaucho sauce, 12 pcs.
Enchilada – 39 NIS
Mexican crispy tortilla stuffed with fried chicken, mushrooms and onions, served with chili salsa
Pan Con Carne – 42 NIS
Argentinian minced meat in toasted tortilla
Bistecca Lemon – 52 NIS
Grilled meat slices in lemon sauce
Beef Carpaccio – 52 NIS
Thin slices of beef with balsamic vinegar and olive oil
Salad with tomatoes, sweet potato and green beans – 38 NIS
Chicken Salad – 48 NIS
Grilled meat
The secrets of the perfect taste of meat dishes at the El Gaucho restaurant chain are the proper selection of beef cuts, special meat-cutting techniques and the top-notch smoking and grilling process
* you can choose one of the sides to complement your main dish
Argentinian Salad / Chips / Double Provencal Salad / Green Beans with Garlic Sauce / Baked Potatoes / Chili Sweet Potatoes
Special Entrecote "De La Pampa", 350 g – 179 NIS
Each additional 100 g up to 1 kg – 43 NIS
Tenderloin Steak, 400 g – 179 NIS
Each additional 100 g up to 1 kg – 49 NIS
Grilled Fillet, 300 g – 155 NIS
Entrecote Steak, 250 g – 129 NIS
Entrecote Steak, 350 g – 139 NIS
Each additional 100 g up to 1 kg – 36 NIS
Chorizo ​​Steak (tenderloin), 300 g – 129 NIS
Each additional 100 g up to 1 kg – 36 NIS
Fillet Steak, 200 g – 139 NIS
Fillet Steak, 300 g – 199 NIS
Each additional 100 g up to 1 kg – 51 NIS
Hamburger, 300 g – 79 NIS
Homemade meat patty, served in a bun with mayonnaise, vegetables and chips
El Gaucho Specials
Assorted Meat For Two – 39 NIS per 100 g, 750 g minimum order 
There are 3 types of meat to choose from: tenderloin, entrecote, asado, chicken thigh fillet, sinta, goose breast
Selected Seasoned Tenderloin Asado (a whole rib is recommended) – 189 NIS
Entrecote, asado, chicken (or fillet), served with vegetables and 4 halves of baked potatoes
Lamb Ribs – 59 NIS per 100 g, 300 g minimum order
Veal Asado, 400 g – 129 NIS
Each additional 100 g up to 1 kg – 29 NIS
Veal Sweetbreads – 139 NIS
Grilled Chicken
Chicken Half – 89 NIS
Chicken Steak, 300 g – 89 NIS
Grilled Chicken Breast With Olives – 79 NIS
Grilled Fish
Whole Denis / Grilled Salmon Fillet in Provencal Sauce – 119 NIS
Vegetarian food
Pasta of the day – 69 NIS
Vegetarian Platter – 79 NIS
Empanada (mushrooms / corn), mini pinchos – baked vegetables, fried mushrooms and baked potatoes
Sides
Argentinian Salad – 15/25 NIS
Double Provencal Salad – 22 NIS
Potato and sweet potato slices with parsley, oregano and garlic sauce
Potato In Sweet Chili Sauce – 17 NIS
Green Beans With Garlic Sauce – 17 NIS
Chips – 17/25 NIS
Argentine cuisine
Мeat dishes

Restaurant El Gaucho is the best meat restaurant!

El Gaucho offers excellent meat, friendly service and authentic Argentinian hospitality.

Full of romance and authenticity, this place seduces visitors with its vibrant atmosphere that perfectly complements selected meat dishes, cooked by an experienced and qualified grill maestro who lived and worked like a cowboy in the villages and farms of southern Argentina. The meat here is aged directly in the restaurant in a special fridge at a temperature of 0 degrees. This process improves the quality of the meat, making it more tender. 

At El Gaucho you will have an ultimate opportunity to treat yourself with special Argentinian dishes: a variety of top-quality beef cuts, a selection of soups, Argentinian milk desserts as well as cream-based sauces to complement your meat dishes.

Homemade Chimichurri Bread – 18 NIS

First course / snacks

Soup of the day – 36 NIS

Hot and tasty (different every day)

Chorizo ​​– 39 NIS

Beef sausage

Salchicha – 39 NIS

Argentinian spicy beef sausage

Empanada – 36 NIS

Meat / Corn / Mushrooms / Chicken

Fried Mushrooms – 48 NIS

Crunchy portobello and champignons fried with garlic, basil and olive oil. Served in a hot pan

Veal Sweetbreads with smoked goose breast – 74 NIS / 150 g

Chicken Wings – 39 NIS

In Gaucho sauce, 12 pcs.

Enchilada – 39 NIS

Mexican crispy tortilla stuffed with fried chicken, mushrooms and onions, served with chili salsa

Pan Con Carne – 42 NIS

Argentinian minced meat in toasted tortilla

Bistecca Lemon – 52 NIS

Grilled meat slices in lemon sauce

Beef Carpaccio – 52 NIS

Thin slices of beef with balsamic vinegar and olive oil

Salad with tomatoes, sweet potato and green beans – 38 NIS

Chicken Salad – 48 NIS

Grilled meat

The secrets of the perfect taste of meat dishes at the El Gaucho restaurant chain are the proper selection of beef cuts, special meat-cutting techniques and the top-notch smoking and grilling process

* you can choose one of the sides to complement your main dish

Argentinian Salad / Chips / Double Provencal Salad / Green Beans with Garlic Sauce / Baked Potatoes / Chili Sweet Potatoes

Special Entrecote "De La Pampa", 350 g – 179 NIS

Each additional 100 g up to 1 kg – 43 NIS

Tenderloin Steak, 400 g – 179 NIS

Each additional 100 g up to 1 kg – 49 NIS

Grilled Fillet, 300 g – 155 NIS

Entrecote Steak, 250 g – 129 NIS

Entrecote Steak, 350 g – 139 NIS

Each additional 100 g up to 1 kg – 36 NIS

Chorizo ​​Steak (tenderloin), 300 g – 129 NIS

Each additional 100 g up to 1 kg – 36 NIS

Fillet Steak, 200 g – 139 NIS

Fillet Steak, 300 g – 199 NIS

Each additional 100 g up to 1 kg – 51 NIS

Hamburger, 300 g – 79 NIS

Homemade meat patty, served in a bun with mayonnaise, vegetables and chips

El Gaucho Specials

Assorted Meat For Two – 39 NIS per 100 g, 750 g minimum order 

There are 3 types of meat to choose from: tenderloin, entrecote, asado, chicken thigh fillet, sinta, goose breast

Selected Seasoned Tenderloin Asado (a whole rib is recommended) – 189 NIS

Entrecote, asado, chicken (or fillet), served with vegetables and 4 halves of baked potatoes

Lamb Ribs – 59 NIS per 100 g, 300 g minimum order

Veal Asado, 400 g – 129 NIS

Each additional 100 g up to 1 kg – 29 NIS

Veal Sweetbreads – 139 NIS

Grilled Chicken

Chicken Half – 89 NIS

Chicken Steak, 300 g – 89 NIS

Grilled Chicken Breast With Olives – 79 NIS

Grilled Fish

Whole Denis / Grilled Salmon Fillet in Provencal Sauce – 119 NIS

Vegetarian food

Pasta of the day – 69 NIS

Vegetarian Platter – 79 NIS

Empanada (mushrooms / corn), mini pinchos – baked vegetables, fried mushrooms and baked potatoes

 

Sides

Argentinian Salad – 15/25 NIS

Double Provencal Salad – 22 NIS

Potato and sweet potato slices with parsley, oregano and garlic sauce

Potato In Sweet Chili Sauce – 17 NIS

Green Beans With Garlic Sauce – 17 NIS

Chips – 17/25 NIS