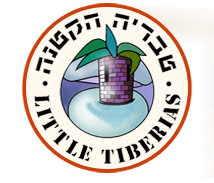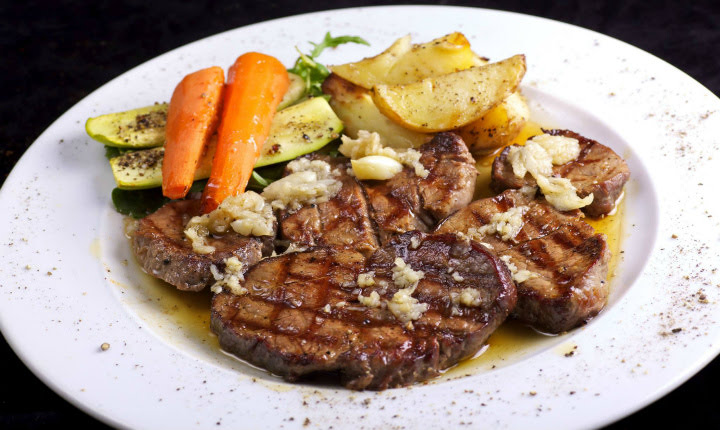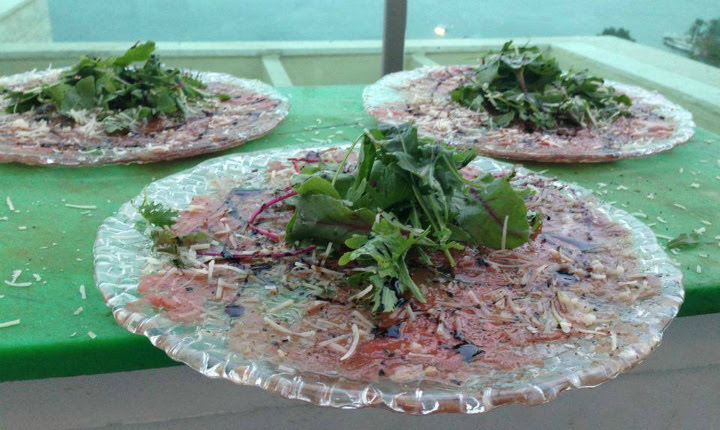 Italian Cuisine
Meat dishes
Mediterranean cuisine
Fish and seafood
European cuisine
Little Tiberias 
(Tiberias)
Little Tiberias is a quality chef-restaurant with a menu featuring gourmet French Mediterranean cuisine. The restaurant is located inside a building that forms part of the ancient city wall of Tiberias and thatdates back to Roman times. Its special setting, as well as the beautifully planned interior, grant Little Tiberias an exclusive European atmosphere, like a little French Riviera on the shore of the Sea of Galilee.
The restaurant is family-owned, and was opened by Rafi, the head of the family and the founder. The whole family are culinary specialists, with generations of acquired knowledge. They are headed by the restaurant's chef, David Oudiz, whose kitchen produces excellent original dishes – starters, appetizers, soups and pastas, and succulent main dishes of fish, meat and seafood. Try our entrecote beef steak (300 g), beef Stroganoff (250 g fillet of beef), shrimp martini (with a sauce of cream, garlic and basil, topped with Parmesan) and a whole range of fine dishes. Our menu features a selection of desserts and many quality wines.
As befits a beautifully designed, romantic restaurant in a tourist destination, the clientele of Little Tiberias is very varied – guests are of all ages, foreign and Israeli tourists, couples, and regular clients from the city and the surrounding region who enjoy their dining experience and come back again and again. The atmosphere is relaxed, with a blend of harmonious background music – classical jazz, romantic music, and popular hits.
In the 1980s, the building housed a famous pub that was a major leisure attraction in Tiberias and for residents of the region. Later, an Italian restaurant was opened, but in recent years the site was renovated and improved. Some dishes on the menu (like our renowned steak with pepper and cream), remain as before, with all the tradition and know-how that the family accumulated.
The restaurant, designed by architect Gadi Shamir, has two wings: the old, authentic wing, with beautiful wood elements of old telephone poles carved in classic style, with wooden wine racks, and a mural painted by the famous Tiberias-born artist – Amos Yaskil. The beautiful new wing is larger, and now offers a bar that's perfect for drinking wine and spirits, and for dining too. You can also sit on the spacious balcony, with its windows offering impressive views. We are happy to cater private events in a separate room.
Appetizers
Home Made Bread  Whole wheat maple nut – 17
Mosaic of grilled peppers Olive oil, balsamic & goat cheese – 32
Eggplant Rolls  Feta cheese, pepper & pesto with tomatoes and scallion – 32
Tomato salad Hot peppers, basil in olive oil – 32
Fried cauliflower  Lemon, garlic & coriander – 32
Mediterranean goat chees Olive oil, herbs with bread toasts – 32
Franch onion soup Breadcrumbs & parmesan cheese – 38
Soup of the Day – 38
Garden Salad Lettuce vegetables in a vinaigrette topped with fried onions – 49
Mediterranean Salad  Lettuce, vegetables & onion breadcrumbs, Feta cheese & kalamata- 49
Chicken wings In sweet spicy sauce – 38
Rump steak sliced on grilled In blueberry sauce – 55
Beef Carpaccio Topped with Parmesan cheese – 5
Liver Pâté Accomponied by onion jelly – 55
Sautéed mushrooms – 55
Meat
Beef filet steak  Cream & papper / cream & mushrooms / butter & garlic – 155
Additional 100 g – NIS 65
Entrecote steak – 135
Additional 100 g – NIS 50
Additional souce – 8
Lamb chops – 129
Stroganoff – 99
Rump steak in wine sauce – 99
Spring chicken – 69
Hamburger Beef / Lamb – 69
Children portion Schnitzel with French fries / spaghetti & vegetables – 45
Fish
Denise (sea bream) baked / grilled fillet garlic wine / herbs butter – 96
Labarax (spotted sea bass)   Whole oven baked garlic wine / herbs butter – 99
St peters fish filet on grilled – 85
The dishes accompanied with Baked potatoes Roasted carrots & zucchini
Sea food
Fried calamari – 79
Shrimps – in garlic sauce – 96
Martini shrimps cream, garlic, basil & parmesan cheese – 96
Mix sea food in garlic sauce mussels, shrimps & calamari – 135
Pasta
Cream & mushrooms Spaghetti – 59
Olive oil Spaghetti cherry tomatoes, garlic, basil kalamata & scallion – 59
Baby shrimps Spagetti cream, garlic & basil – 75
Little Tiberias Desserts
Fruit Sorbet -35
Crème brulée Cream, garlic and basil – 32
Fondant chocolate Served warm with a scoop of vanilla ice-cream – 39
Belgian Chocolate Pie Nutella hazelnut cream – 39
Little Swiss chocolate Meringue and mascarpone cheese with a crispy layer
of chocolate and white chocolate drops gluten free – 39

Hot drinks
Mint Tea – 10
Espresso / double espresso – 10/15
Cappuchino / decaffe – 12/15
Macchiato / double – 10/15
Hot cider With cinamon stick – 15
Cold drinks
Sodas coke, fanta, sprite, zero, malt beer, club soda, fizzy cider, tonic water – 13
Fruit juices grape, grapefruit, apple cider, peach ice-tea lemonade, orange jug – 13/25
Energy drink – 15
San Pellegrino small / large – 13/25
San Benedetto small / large – 14/27
Drafts Beers 
Golan height boutique brewery fresh not filtered beer – 28/35
Gold-star – 24/30
Beer
La Chouffe BELGIUM – 85
Gold Star UF – 33
Heineken / Corona – 30
SMaccabe / gold-star – 25
Straongbow alcoholice cider 5% – 25
Shandy Peach / Lemon – 23
Italian Cuisine
Meat dishes
Mediterranean cuisine
Fish and seafood
European cuisine

Little Tiberias 

(Tiberias)

Little Tiberias is a quality chef-restaurant with a menu featuring gourmet French Mediterranean cuisine. The restaurant is located inside a building that forms part of the ancient city wall of Tiberias and thatdates back to Roman times. Its special setting, as well as the beautifully planned interior, grant Little Tiberias an exclusive European atmosphere, like a little French Riviera on the shore of the Sea of Galilee.

The restaurant is family-owned, and was opened by Rafi, the head of the family and the founder. The whole family are culinary specialists, with generations of acquired knowledge. They are headed by the restaurant's chef, David Oudiz, whose kitchen produces excellent original dishes – starters, appetizers, soups and pastas, and succulent main dishes of fish, meat and seafood. Try our entrecote beef steak (300 g), beef Stroganoff (250 g fillet of beef), shrimp martini (with a sauce of cream, garlic and basil, topped with Parmesan) and a whole range of fine dishes. Our menu features a selection of desserts and many quality wines.

As befits a beautifully designed, romantic restaurant in a tourist destination, the clientele of Little Tiberias is very varied – guests are of all ages, foreign and Israeli tourists, couples, and regular clients from the city and the surrounding region who enjoy their dining experience and come back again and again. The atmosphere is relaxed, with a blend of harmonious background music – classical jazz, romantic music, and popular hits.

In the 1980s, the building housed a famous pub that was a major leisure attraction in Tiberias and for residents of the region. Later, an Italian restaurant was opened, but in recent years the site was renovated and improved. Some dishes on the menu (like our renowned steak with pepper and cream), remain as before, with all the tradition and know-how that the family accumulated.

The restaurant, designed by architect Gadi Shamir, has two wings: the old, authentic wing, with beautiful wood elements of old telephone poles carved in classic style, with wooden wine racks, and a mural painted by the famous Tiberias-born artist – Amos Yaskil. The beautiful new wing is larger, and now offers a bar that's perfect for drinking wine and spirits, and for dining too. You can also sit on the spacious balcony, with its windows offering impressive views. We are happy to cater private events in a separate room.

Appetizers

Home Made Bread  Whole wheat maple nut – 17
Mosaic of grilled peppers Olive oil, balsamic & goat cheese – 32
Eggplant Rolls  Feta cheese, pepper & pesto with tomatoes and scallion – 32
Tomato salad Hot peppers, basil in olive oil – 32
Fried cauliflower  Lemon, garlic & coriander – 32
Mediterranean goat chees Olive oil, herbs with bread toasts – 32
Franch onion soup Breadcrumbs & parmesan cheese – 38
Soup of the Day – 38
Garden Salad Lettuce vegetables in a vinaigrette topped with fried onions – 49
Mediterranean Salad  Lettuce, vegetables & onion breadcrumbs, Feta cheese & kalamata- 49
Chicken wings In sweet spicy sauce – 38
Rump steak sliced on grilled In blueberry sauce – 55
Beef Carpaccio Topped with Parmesan cheese – 5
Liver Pâté Accomponied by onion jelly – 55
Sautéed mushrooms – 55

Meat
Beef filet steak  Cream & papper / cream & mushrooms / butter & garlic – 155
Additional 100 g – NIS 65
Entrecote steak – 135
Additional 100 g – NIS 50
Additional souce – 8
Lamb chops – 129
Stroganoff – 99
Rump steak in wine sauce – 99
Spring chicken – 69
Hamburger Beef / Lamb – 69
Children portion Schnitzel with French fries / spaghetti & vegetables – 45

Fish

Denise (sea bream) baked / grilled fillet garlic wine / herbs butter – 96
Labarax (spotted sea bass)   Whole oven baked garlic wine / herbs butter – 99
St peters fish filet on grilled – 85

The dishes accompanied with Baked potatoes Roasted carrots & zucchini

Sea food

Fried calamari – 79
Shrimps – in garlic sauce – 96
Martini shrimps cream, garlic, basil & parmesan cheese – 96
Mix sea food in garlic sauce mussels, shrimps & calamari – 135

Pasta

Cream & mushrooms Spaghetti – 59
Olive oil Spaghetti cherry tomatoes, garlic, basil kalamata & scallion – 59
Baby shrimps Spagetti cream, garlic & basil – 75

Little Tiberias Desserts

Fruit Sorbet -35
Crème brulée Cream, garlic and basil – 32
Fondant chocolate Served warm with a scoop of vanilla ice-cream – 39
Belgian Chocolate Pie Nutella hazelnut cream – 39
Little Swiss chocolate Meringue and mascarpone cheese with a crispy layer
of chocolate and white chocolate drops gluten free – 39

Hot drinks

Mint Tea – 10
Espresso / double espresso – 10/15
Cappuchino / decaffe – 12/15
Macchiato / double – 10/15
Hot cider With cinamon stick – 15

Cold drinks

Sodas coke, fanta, sprite, zero, malt beer, club soda, fizzy cider, tonic water – 13
Fruit juices grape, grapefruit, apple cider, peach ice-tea lemonade, orange jug – 13/25
Energy drink – 15
San Pellegrino small / large – 13/25
San Benedetto small / large – 14/27

Drafts Beers 
Golan height boutique brewery fresh not filtered beer – 28/35
Gold-star – 24/30

Beer

La Chouffe BELGIUM – 85
Gold Star UF – 33
Heineken / Corona – 30
SMaccabe / gold-star – 25
Straongbow alcoholice cider 5% – 25
Shandy Peach / Lemon – 23