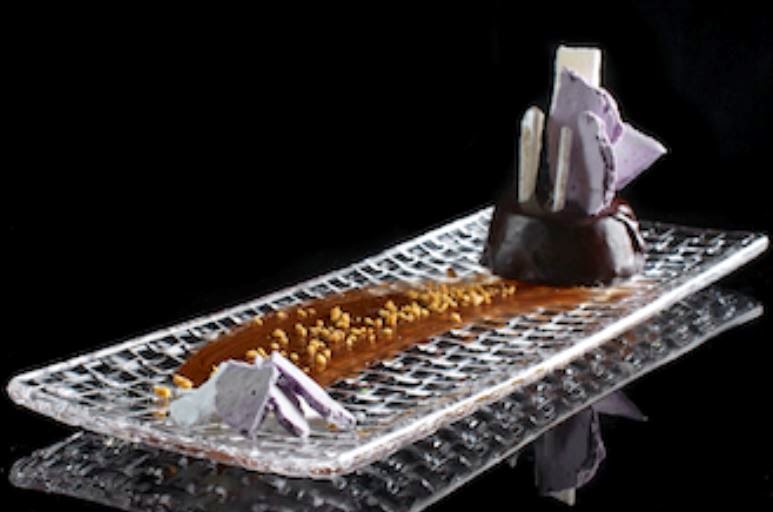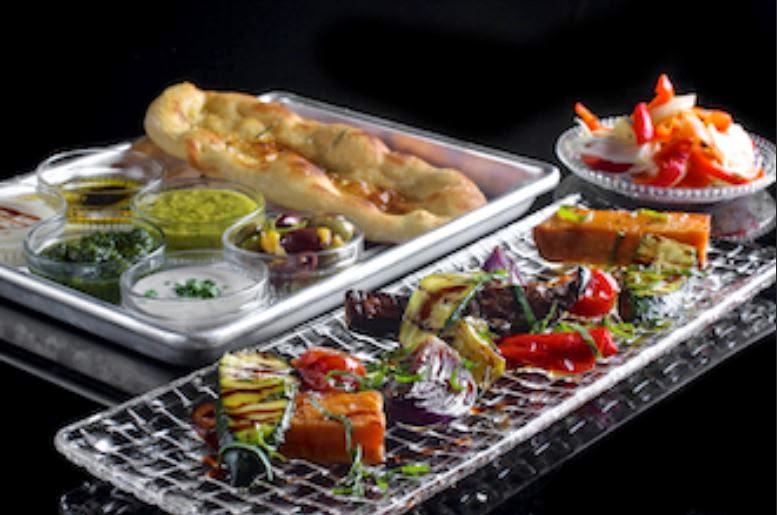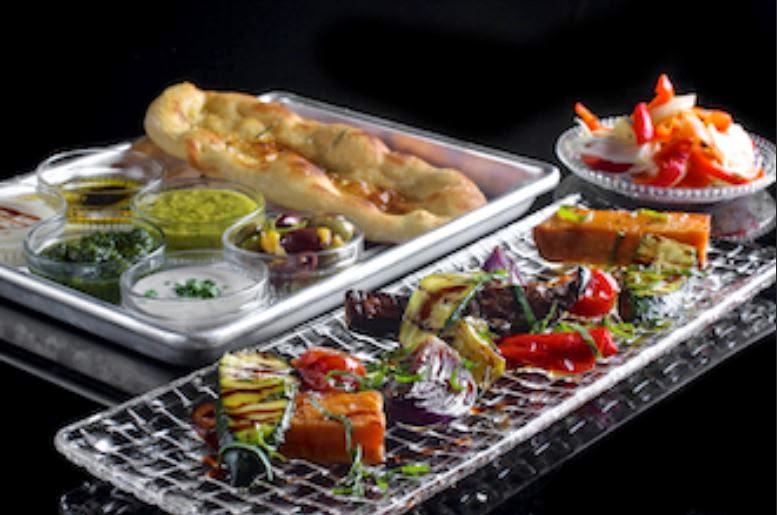 Mediterranean cuisine
Meat dishes
MEDITA (Jerusalem)
"Medita" is a bright Mediterranean restaurant in Jerusalem, located in the Beit Natsiv complex. The motto of the "Medita" restaurant in Jerusalem – the new Middle Eastern cuisine. It is the perfect place for Mediterranean cuisine lovers, which are interested in finding the new and interesting nuances in familiar dishes.
Among the main restaurant dishes – eggplants with tehina, hamusta (Swiss chard meatballs), carpaccio fish with artichokes, marinated shimago and tomatoes.
The kitchen is headed by chef Moti Ohana (the chef and owner of "Hatzerim" restaurant) and his partner, Moshe Cohen. Huge amazing restaurant building (about 350 square meters!) can seat up to 180 guests. "Medita" is the perfect combination of modern bistro and classic Mediterranean cuisine.
The chef and owner of the restaurant in Jerusalem, Moti Ohana, is a graduate of "Cordon Bleu" cooking high school. The chef and owner of the restaurant in Jerusalem, Moti Ohana, is a graduate of high school cooking "Cordon Bleu". He has been cooking for many years, and has impressive gastronomic knowledge and experience gained in Israel restaurants and abroad.Besides working as a chef of "Hatzerim" restaurant he also worked in steakhouses, Jerusalem "Chakra" and gourmet restaurants of faraway Australia.
The restaurant interior was created by designer Gilad Zaafrani – one of the most respected specialists in the restaurant design.Gilad used decorative elements, reminiscent of Paris brasseries with aт inclusion of Mediterranean-style details, such as an open kitchen allowing you to see the cooking and decorating process.
In the evening and night "Medita" miraculously turns into a great bar – the perfect place for a bright and fashionable public. In the center of the restaurant you will find a designer bar with dozens of high-quality varieties of beer, wine and alcohol at affordable prices
Tasting menu: NIS 195 per person. Must be ordered for all diners at the table
Focaccia and dips – 22 nis
Salad of tomatoes – 34 nis
Sabich salad – 42 nis
Salad of greens – 38 nis
Salad of lettuce – 42 nis
Taboun baked eggplant – 42 nis
Market focaccia – 62 nis
Sweetbreads, tomato salad, pickled mango, onion layers, preserved lemon
Minute steak focaccia – 58 nis
Chicken liver pate, cherry tomatos jam – 54 nis
Pulled beef ("siska") focaccia, arugula, red onion – 54 nis
Seared tuna – 58 nis
Green salad, soy caviar, wasabi vinaigrette, sesame oil
Sea bream tartare, "Shifka" aioli, okra – 56 nis
Tataki beef fillet – 64 nis
potato pancakes, grilled Portobello, truffle aioli
Fillet of sea bream – 95 nis
Whole sea bream – 95 nis
Coarse salt, arak, dill
Fettuccine – 58 nis
Tomato cream, eggplant, olives, basil
Veal marrow, preserved lemon – 65 nis
Sweetbreads – 64 nis
Mangold, arisa, preserved lemon
Chicken breast – 72 nis
Chicken liver – 69 nis
Onion, date honey, chestnut, mashed potatoes
Green spring chicken – 82 nis
Barbequed "HaChatzer" assado – 88 nis
With oranges
Hamburger – 64 nis
Vegetables, fries
Stew of meat – 84 nis
Sliced sirloin – 96 nis
Entrecote, fries – 108 nis
Taboun – 78 nis
Baked kebab, seared eggplant, tomatoes, tahini
Penne and 6 hour cooked ragout – 68 nis
Mediterranean cuisine
Meat dishes

MEDITA (Jerusalem)

"Medita" is a bright Mediterranean restaurant in Jerusalem, located in the Beit Natsiv complex. The motto of the "Medita" restaurant in Jerusalem – the new Middle Eastern cuisine. It is the perfect place for Mediterranean cuisine lovers, which are interested in finding the new and interesting nuances in familiar dishes.

Among the main restaurant dishes – eggplants with tehina, hamusta (Swiss chard meatballs), carpaccio fish with artichokes, marinated shimago and tomatoes.

The kitchen is headed by chef Moti Ohana (the chef and owner of "Hatzerim" restaurant) and his partner, Moshe Cohen. Huge amazing restaurant building (about 350 square meters!) can seat up to 180 guests. "Medita" is the perfect combination of modern bistro and classic Mediterranean cuisine.

The chef and owner of the restaurant in Jerusalem, Moti Ohana, is a graduate of "Cordon Bleu" cooking high school. The chef and owner of the restaurant in Jerusalem, Moti Ohana, is a graduate of high school cooking "Cordon Bleu". He has been cooking for many years, and has impressive gastronomic knowledge and experience gained in Israel restaurants and abroad.Besides working as a chef of "Hatzerim" restaurant he also worked in steakhouses, Jerusalem "Chakra" and gourmet restaurants of faraway Australia.

The restaurant interior was created by designer Gilad Zaafrani – one of the most respected specialists in the restaurant design.Gilad used decorative elements, reminiscent of Paris brasseries with aт inclusion of Mediterranean-style details, such as an open kitchen allowing you to see the cooking and decorating process.

In the evening and night "Medita" miraculously turns into a great bar – the perfect place for a bright and fashionable public. In the center of the restaurant you will find a designer bar with dozens of high-quality varieties of beer, wine and alcohol at affordable prices

Tasting menu: NIS 195 per person. Must be ordered for all diners at the table

Focaccia and dips – 22 nis
Salad of tomatoes – 34 nis
Sabich salad – 42 nis
Salad of greens – 38 nis
Salad of lettuce – 42 nis
Taboun baked eggplant – 42 nis
Market focaccia – 62 nis
Sweetbreads, tomato salad, pickled mango, onion layers, preserved lemon
Minute steak focaccia – 58 nis
Chicken liver pate, cherry tomatos jam – 54 nis
Pulled beef ("siska") focaccia, arugula, red onion – 54 nis
Seared tuna – 58 nis
Green salad, soy caviar, wasabi vinaigrette, sesame oil
Sea bream tartare, "Shifka" aioli, okra – 56 nis
Tataki beef fillet – 64 nis
potato pancakes, grilled Portobello, truffle aioli
Fillet of sea bream – 95 nis
Whole sea bream – 95 nis
Coarse salt, arak, dill
Fettuccine – 58 nis
Tomato cream, eggplant, olives, basil
Veal marrow, preserved lemon – 65 nis
Sweetbreads – 64 nis
Mangold, arisa, preserved lemon
Chicken breast – 72 nis
Chicken liver – 69 nis
Onion, date honey, chestnut, mashed potatoes
Green spring chicken – 82 nis
Barbequed "HaChatzer" assado – 88 nis
With oranges
Hamburger – 64 nis
Vegetables, fries
Stew of meat – 84 nis
Sliced sirloin – 96 nis
Entrecote, fries – 108 nis
Taboun – 78 nis
Baked kebab, seared eggplant, tomatoes, tahini
Penne and 6 hour cooked ragout – 68 nis