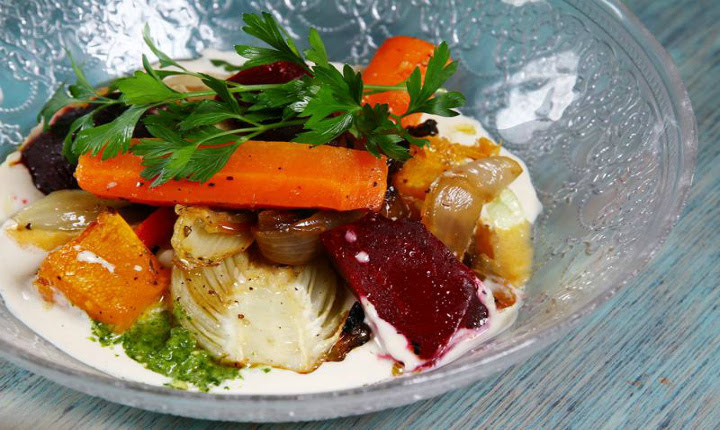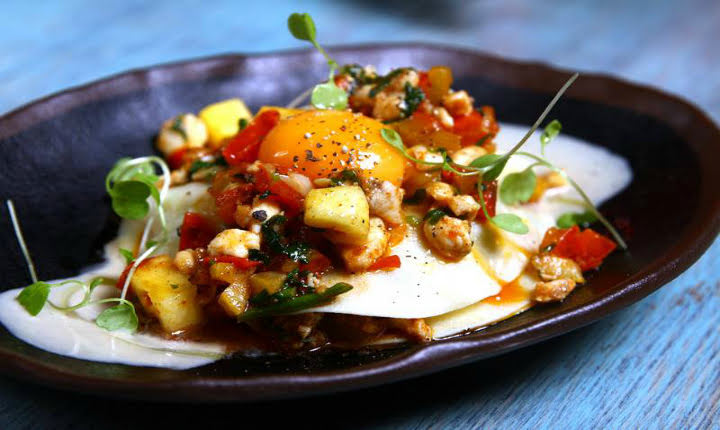 Meat dishes
Vegetarian cuisine
Fish and seafood
European cuisine
Mediterranean cuisine
PEDRO 
(Eilat)
In the magic garden of Eilat old district, for 18 years "Pedro" restaurant is located here – the most gourmet restaurant in Eilat.
Recently, the "Pedro" restaurant renewed its design, which made it even more chamber and cozy. There are also some new things from the culinary pin of view. There are no restaurant in Eilat, which chef can compete in ingenuity with the "Pedro" chef.
The "Pedro" is a restaurant for gourmand, which motto is "culinary delight at first bite".
The "Pedro" restaurant in Eilat specializes in unique and creative first course, fresh meat from Golan Heights aged on the spot and rich wine cart
The "Pedro" kitchen is managed by talented chef Tal Hershkowitz, which will take you to such culinary horizons as "foie gras with pears and ginger", "artichoke fillet", "polentas with tenderloin", "stuffed calamari", "shrimp's in blue cheese".
There are also meat and steaks from Golan Heights: porterhouse, lamb ribs, chateaubriand, tenderloin and more.
The culinary team of the "Pedro" restaurant will be happy to bake fragrant hot focaccia and sweeten your meal with wonderful homemade desserts.
Eilat restaurants often offer delicious coupons to guests to make their vacation even more pleasant.
The Pedro restaurant works in unique format for Eilat: as a restaurant and as a wine bar. There is a wide choice of wines headed by wines from the local "Red Sea Winery", foreign award-winners.
The restaurant is able to accommodate up to 90 guests indoors and 50 guests more in the beautiful garden.
You can hold unique events for real gourmands.
Starters
Home-made Bread | 18
served with dips .
Direct from the market…
Pedro Salad | 46
Lettuce, sprouts , sweet potato, tomatoes and seared mushrooms & walnuts in vinaigrette.
market salad | 44
cucumber ,tomato ,avocado, onion. fennel, cranberries, red pepper ,mint ,seeds & tehini
Caprice salade | 42
cherry tomatoes , small radish ,fresh Mozzarella & olives in balsamic & olive oil .
Tortelini Asparagus | 44
on a bed of parmesan cream filed with cheese , Artichok & Truffle oil .
Roquefort Mushrooms | 48
Baked in the oven stuffed with 3 cheese & walnuts with cream sauce .
From the fisherman's net…
Sea Fish Ceviche | 48
salmon , avocado, Parsley , kohlrabi ,red pepper, carrot, red onion, spicy pepper , olive oil, lemon juice
Sea fish Sabih | 46
Tahini , Chick peas , fried eggplant , salsa verde , Chermoula , pieces of grilled fish , poached egg & Parsley .
Crispy calamari | 48
fried on a bed of lemon cheese ,Soybeans , Arugula , cherry tomatoes & Tabasco.
Blue-cheese Shrimps | 52
Stir-fried shrimps in cream and blue cheese, with artichoke and pasta strips.
From the Huntsman's archery…
Pita stuffed with meat and pine nuts | 52
Tahini, harissa, salsa verde, spicy shivka pepper sauce, spring onions, radish & parsley
Carpaccio | 48
Thin raw slices of beef fillet with parmesan cheese, balsamic vinegar.
Rump Polenta | 52
Rump chunks on a bed of fresh corn polenta with mushrooms and asparagus.
Chef chunks | 54
meat chunks on a bed of Jerusalem Artichoke cream , Asparagus & mushrooms.
From the chef's brush…
Goose Liver Slices | 78
Scorched, in pear and ginger sauce.
Chef spaical | 59
ask the waiter
in Courses
Pedro's farm…
Chicken Suflaki | 88
on a bed of home- made Pita with Tsiziki/Tahini , home-made sauces & tomatoes.
Pedro Burger | 78
Hamburger with melted parmesan cheese, stir-fried mushrooms and onion in a bun.
Pedro Schnitzel | 76/88
Weiner schnitzel from chicken/beef meat with a crispy coating.
Aged Entrecote (300 gr ) | 118
Juicy imported entrecote steak entwined with fat .
Fillet Gnocchi| 98
Home-made gnocchi with fillet in cream & mushroom sauce. Fillet Dijon | 98
Beef fillet chunks in mustard cream sauce with mushrooms, garlic and Asparagus. Fettuchini – pasta! | 88
with sirloin steak chunks & mushrooms in beef stock sauce & parmesan .
The big blue…
Fettuchini – pasta! | 88
with shrimps in Mediterranean sauce and parmesan.
Sea cauldron | 108
mix Seafood with gnocchi, garlic and black olives in lemon cream sauce & chili.
Grilled Fish on a Colorful Plate | 98
Fillet of white fish, pickled lemon spread, tahini, olive tapenade, salsa Verde, Charmoula, green beans, cherry tomatoes, garlic confit & olive oil
Salmon steak | 108
baked in the oven with mushrooms Risotto , cherry confit & salsa Verde .
Extra Sides | 14
chips / mashed potatoes/ baked vegetables / small salad
Carnality…
Pedro Steak (350 gr ) | 138 Juicy fresh entrecote steak with Bone Marrow .
Rossini Tornado | 155 Fresh beef fillet with goose liver in beef stock and truffles sauce.
Chateaubriand (500 gr) | 255 Beef fillet in wine & beef stock sauce accompanied by 2 sides by choice .
Mother Earth
Vegetarian/vegan starters
Roasted Vegetables with Eilat Tahini | 44 NIS
Tahini , pumpkin, cabbage, fennel, beets, carrots, salsa verde, sour tomato & leafy greens
Sweet Eggplant | 39 NIS
Roasted eggplant, date honey syrup, finely chopped pistachios, raw tahini & olive oil
Vegetarian/vegan main courses
baked squash | 79
filled with lentils and quinoa on a bad of tomato sauce and cauliflower couscous.
pasta pesto/tomato | 69
With mix vegetables , mushrooms in a rich pesto/tomato sauce .
Gnocchi & green | 69
Home- made gnocchi with green vegetables in mushrooms cream sauce & parmesan
Children's stories…
Garfield Pasta | 38
In tomato sauce/ rose sauce/ mushroom and cream sauce
angry birds | 46
Small Schnitzels With fried potatoes / mashed potatoes & vegetables.
Sponge Bob burger | 48
Small Hamburger With fried potatoes /mashed potatoes & vegetables .
power rangers | 55
Beef Fillet medallions with fried potatoes /mashed potatoes & vegetables
Kids fabulous menu
Garfield pasta – 38 nis
With tomato sauce / creamy mushroom sauce / Rose sauce
Angry birds – 42 nis
Chicken nuggets with potato / mashed potato and chopped vegetables
Sponge Bob hamburger – 44 nis
With potato / mashed potato and chopped vegetables
Power rangers – 49 nis
Beef tenderloin medallions with potato / mashed potato and chopped vegetables
Extra for superheroes – 8 nis
Baked potato / mashed potato / small salad
Draft beer
Goldstar 1/3 liter – 22 nis
Beer (bottles)
Goldstar – 19 nis
Goldstar – un filtered – 22 nis
Heineken – 23 nis
Paolener – 28 nis
Corona – 28 nis
La/Mac shouf (750CC) – 78 nis
Kasteel rouge (cherry) – 39 nis
Meat dishes
Vegetarian cuisine
Fish and seafood
European cuisine
Mediterranean cuisine

PEDRO 

(Eilat)

In the magic garden of Eilat old district, for 18 years "Pedro" restaurant is located here – the most gourmet restaurant in Eilat.
Recently, the "Pedro" restaurant renewed its design, which made it even more chamber and cozy. There are also some new things from the culinary pin of view. There are no restaurant in Eilat, which chef can compete in ingenuity with the "Pedro" chef.

The "Pedro" is a restaurant for gourmand, which motto is "culinary delight at first bite".
The "Pedro" restaurant in Eilat specializes in unique and creative first course, fresh meat from Golan Heights aged on the spot and rich wine cart

The "Pedro" kitchen is managed by talented chef Tal Hershkowitz, which will take you to such culinary horizons as "foie gras with pears and ginger", "artichoke fillet", "polentas with tenderloin", "stuffed calamari", "shrimp's in blue cheese".
There are also meat and steaks from Golan Heights: porterhouse, lamb ribs, chateaubriand, tenderloin and more.

The culinary team of the "Pedro" restaurant will be happy to bake fragrant hot focaccia and sweeten your meal with wonderful homemade desserts.
Eilat restaurants often offer delicious coupons to guests to make their vacation even more pleasant.

The Pedro restaurant works in unique format for Eilat: as a restaurant and as a wine bar. There is a wide choice of wines headed by wines from the local "Red Sea Winery", foreign award-winners.

The restaurant is able to accommodate up to 90 guests indoors and 50 guests more in the beautiful garden.
You can hold unique events for real gourmands.

Starters

Home-made Bread | 18

served with dips .

Direct from the market…

Pedro Salad | 46

Lettuce, sprouts , sweet potato, tomatoes and seared mushrooms & walnuts in vinaigrette.

market salad | 44

cucumber ,tomato ,avocado, onion. fennel, cranberries, red pepper ,mint ,seeds & tehini

Caprice salade | 42

cherry tomatoes , small radish ,fresh Mozzarella & olives in balsamic & olive oil .

Tortelini Asparagus | 44

on a bed of parmesan cream filed with cheese , Artichok & Truffle oil .

Roquefort Mushrooms | 48

Baked in the oven stuffed with 3 cheese & walnuts with cream sauce .

From the fisherman's net…

Sea Fish Ceviche | 48

salmon , avocado, Parsley , kohlrabi ,red pepper, carrot, red onion, spicy pepper , olive oil, lemon juice

Sea fish Sabih | 46

Tahini , Chick peas , fried eggplant , salsa verde , Chermoula , pieces of grilled fish , poached egg & Parsley .

Crispy calamari | 48

fried on a bed of lemon cheese ,Soybeans , Arugula , cherry tomatoes & Tabasco.

Blue-cheese Shrimps | 52

Stir-fried shrimps in cream and blue cheese, with artichoke and pasta strips.

From the Huntsman's archery…

Pita stuffed with meat and pine nuts | 52

Tahini, harissa, salsa verde, spicy shivka pepper sauce, spring onions, radish & parsley

Carpaccio | 48

Thin raw slices of beef fillet with parmesan cheese, balsamic vinegar.

Rump Polenta | 52

Rump chunks on a bed of fresh corn polenta with mushrooms and asparagus.

Chef chunks | 54

meat chunks on a bed of Jerusalem Artichoke cream , Asparagus & mushrooms.

From the chef's brush…

Goose Liver Slices | 78

Scorched, in pear and ginger sauce.

Chef spaical | 59

ask the waiter

in Courses

Pedro's farm…

Chicken Suflaki | 88

on a bed of home- made Pita with Tsiziki/Tahini , home-made sauces & tomatoes.

Pedro Burger | 78

Hamburger with melted parmesan cheese, stir-fried mushrooms and onion in a bun.

Pedro Schnitzel | 76/88

Weiner schnitzel from chicken/beef meat with a crispy coating.

Aged Entrecote (300 gr ) | 118

Juicy imported entrecote steak entwined with fat .

Fillet Gnocchi| 98

Home-made gnocchi with fillet in cream & mushroom sauce. Fillet Dijon | 98

Beef fillet chunks in mustard cream sauce with mushrooms, garlic and Asparagus. Fettuchini – pasta! | 88

with sirloin steak chunks & mushrooms in beef stock sauce & parmesan .

The big blue…

Fettuchini – pasta! | 88

with shrimps in Mediterranean sauce and parmesan.

Sea cauldron | 108

mix Seafood with gnocchi, garlic and black olives in lemon cream sauce & chili.

Grilled Fish on a Colorful Plate | 98

Fillet of white fish, pickled lemon spread, tahini, olive tapenade, salsa Verde, Charmoula, green beans, cherry tomatoes, garlic confit & olive oil

Salmon steak | 108

baked in the oven with mushrooms Risotto , cherry confit & salsa Verde .

Extra Sides | 14

chips / mashed potatoes/ baked vegetables / small salad

Carnality…

Pedro Steak (350 gr ) | 138 Juicy fresh entrecote steak with Bone Marrow .

Rossini Tornado | 155 Fresh beef fillet with goose liver in beef stock and truffles sauce.

Chateaubriand (500 gr) | 255 Beef fillet in wine & beef stock sauce accompanied by 2 sides by choice .

Mother Earth

Vegetarian/vegan starters

Roasted Vegetables with Eilat Tahini | 44 NIS

Tahini , pumpkin, cabbage, fennel, beets, carrots, salsa verde, sour tomato & leafy greens

Sweet Eggplant | 39 NIS

Roasted eggplant, date honey syrup, finely chopped pistachios, raw tahini & olive oil

Vegetarian/vegan main courses

baked squash | 79

filled with lentils and quinoa on a bad of tomato sauce and cauliflower couscous.

pasta pesto/tomato | 69

With mix vegetables , mushrooms in a rich pesto/tomato sauce .

Gnocchi & green | 69

Home- made gnocchi with green vegetables in mushrooms cream sauce & parmesan

Children's stories…

Garfield Pasta | 38

In tomato sauce/ rose sauce/ mushroom and cream sauce

angry birds | 46

Small Schnitzels With fried potatoes / mashed potatoes & vegetables.

Sponge Bob burger | 48

Small Hamburger With fried potatoes /mashed potatoes & vegetables .

power rangers | 55

Beef Fillet medallions with fried potatoes /mashed potatoes & vegetables

Kids fabulous menu

Garfield pasta – 38 nis

With tomato sauce / creamy mushroom sauce / Rose sauce

Angry birds – 42 nis

Chicken nuggets with potato / mashed potato and chopped vegetables

Sponge Bob hamburger – 44 nis

With potato / mashed potato and chopped vegetables

Power rangers – 49 nis

Beef tenderloin medallions with potato / mashed potato and chopped vegetables

Extra for superheroes – 8 nis

Baked potato / mashed potato / small salad

Draft beer

Goldstar 1/3 liter – 22 nis

Beer (bottles)

Goldstar – 19 nis

Goldstar – un filtered – 22 nis

Heineken – 23 nis

Paolener – 28 nis

Corona – 28 nis

La/Mac shouf (750CC) – 78 nis

Kasteel rouge (cherry) – 39 nis