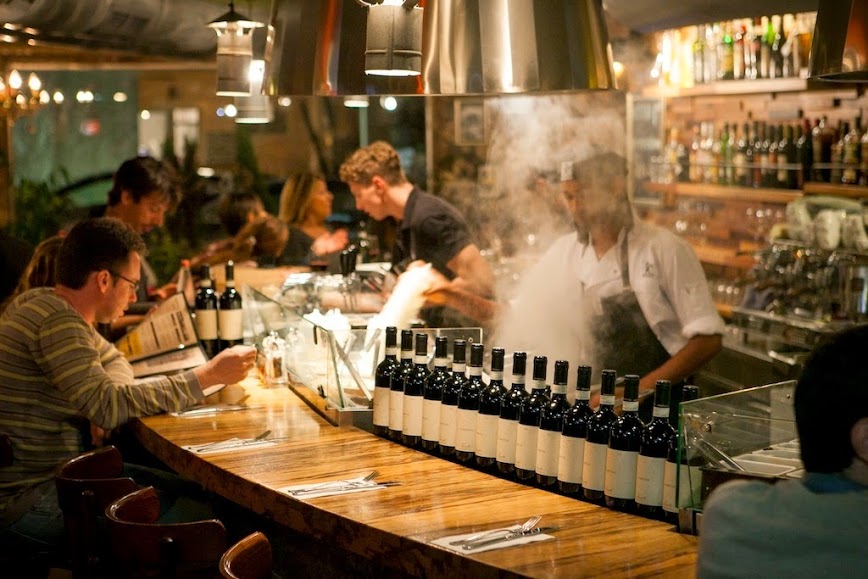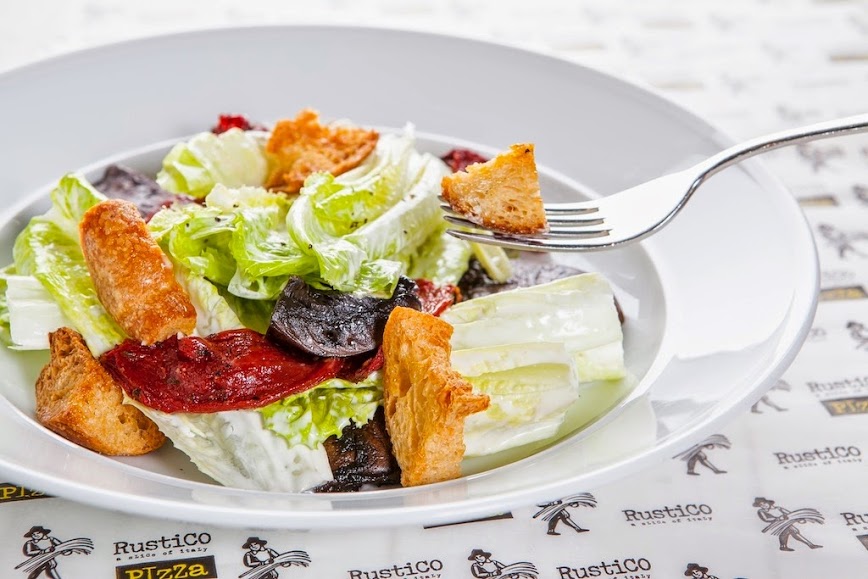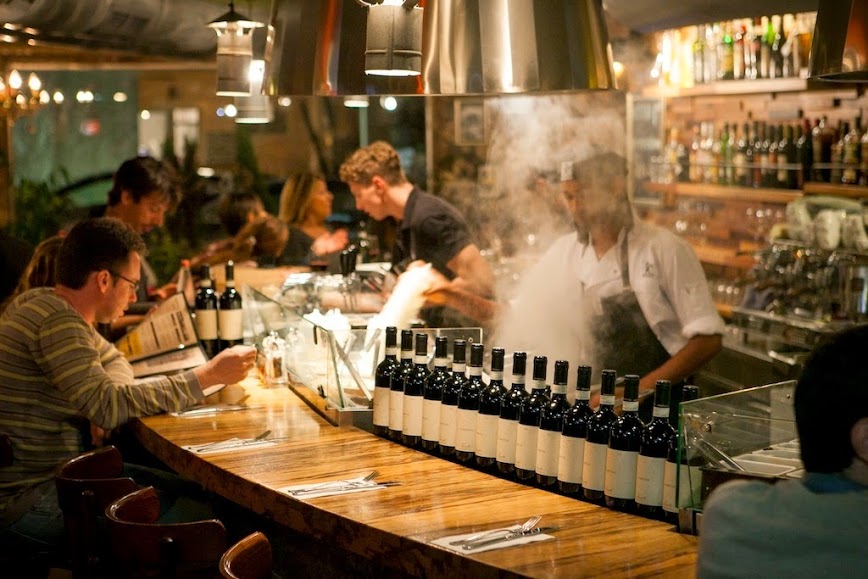 RUSTICO ROTSHILD (Tel Aviv)
Rustico Rothschild was established in 2005 and quickly became popular. To meet the demand of all interested persons the Rustico Basel was opened in 2008, based on the same principles, and soon became so well loved, as his elder brother. Trattoria is an Italian term meaning a place where you can enjoy a great meal for any pocket in a warm and welcoming family atmosphere.
The Rustico restaurant in Tel Aviv brings a taste of Italian cuisine and Italian hospitality right to Tel Aviv, and Italian mama help to do it with pizza dough, risotto, Italian sauce and sweet desserts.
The Tel Aviv "Rustico" restaurant seek to be special, and therefore offers the open kitchen conception, allowing being proud of chef's dishes, but the headline is appetizing looks and smells of dishes even before serving. In addition to wonderful meal, you have an ability to enjoy a real show here… You will definitely love it and you will come back here again.
The Tel Aviv "Rustico" restaurant tries to keep high level of service and refer to the first client as to the last one. Moreover, it tries to keep taste of dishes constant, because they know that many of you come to taste beloved dishes again and again.
Breakfasts in the Rustico Basel restaurant:
On Friday mornings, tasty breakfasts are served only in the Tel Aviv Rustico Basel restaurant. Rustico welcomes you to start your weekend with the most delicious breakfast in the city. Italian-style breakfast will make all you day delicious.
Rustico Basel restaurant you can find anything you want. Such dishes as stone oven fried eggs, frittata, the puffy omelet with variety of supplements, crispy bruschetta of different kinds and many more are served with high quality Italian coffee and fresh vegetables. Sweet breakfasts lovers will found fresh muesli with fresh fruits and skachitina Nutella, the dessert which worth to get up early in the morning.
Breakfast is served in the Basel branch only, every Friday from 08:00 till 12: 00
* It is recommended to make beforehand order.
PIZZA
MARGHERITA – 54 nis
Tomatoes, mozzarella cheese and basil
RUSTICO – 60 nis
Comatoes, mozzarella cheese, arugula & parmigiano shavings
CALABRIA – 61 nis
Tomatoes, mozzarella cheese, salami, roasted peppers, chili & oregano
TARTUFO – 64 nis
Cream and truffles, fresh champignon mushrooms, mozzarella cheese and parsley
CIPOLLA RUCOLA – 60 nis
Tomatoes, mozzarella cheese, red onions, arugula, Kalamata olives and chili
MELANZANE – 57 nis
Tomatoes, eggplant, potatoes, arugula and cherry tomatoes // VEGAN
GENOVESE – 62 nis
״White״ pizza with zucchini, pesto, pine nuts, a sunny side up egg and mozzarella cheese
FIORENTINA – 64 nis
Spinach cream and smoked goose breast (can be served with a sunny-side up egg)
PASTA
PAPPARDELLE
CLASSIC BOLOGNESE – 68 nis
SPINACH AND LEMON // in cream, garlic and parmigiano – 64 nis
BEEF TENDERLOIN // in porcini cream, champignon and oyster mushrooms – 89 nis
SPAGHETTO QUADRATTO
TUNA // Red tuna, garlic, lemon, chili, arugula & parmigiano – 75 nis
SEAFOOD // Shrimps, calamari and mussels in butter, garlic and white wine – 82 nis
PUTTANESCA // Tomatoes, anchovy, Kalamata olives, capers, garlic and chili – 64 nis
MEZZI RIGATONI
DINO // Tomatoes, mascarpone cheese, parsley & parmigiano – 62 nis
CARBONARA – Smoked goose breast, black pepper, cream, fresh egg yolk and parmigiano – 64 nis
AGLIO E OLIO – Oyster mushrooms, garlic, herbs and lemon zest // VEGAN – 65 nis
SALAMI PICANTE – Tomatoes, salami, chili, scallions and fresh oregano – 64 nis
GNOCCHI (HOMEMADE)
CHESTNUTS & MASCARPONE CHEESE // spinach and porcini cream – 69 nis
GNOCCHI WITH SMOKED GOOSE // breast and greens – 71 nis
CANNELLONI
Ricotta cheese and spinach, tomatoes and parmigiano – 69 nis
LASAGNA
BOLOGNESE // béchamel sauce, tomatoes and parmigiano – 71 nis
RISOTTO
CHAMPIGNON & OYSTER MUSHROOMS // in porcini and truffle brothnbutter & Parmigiano- 70 nis
PESCATORE // Shrimps, calamari and mussels in spic tomato sauce – 79 nis
Focaccia in stone oven -18 nis
With olive oil, tomatoes and salt
All our sauces are also  available with gluten-free penne pasta
ANTIPASTI
ANTIPASTI TRIO – 45 nis
Three small changing dishes, the waiters know…
INVOLTINI – 42 nis
Eggplant rolls filled with pasta and parmigiano cheese, tomato sauce & basil
BRUSCHETTA – 39 nis
Rustic bread grilled in stone oven with fresh tomatoes and basil
TAGLIATA ALLA RUCOLA – 68 nis
Roasted and sliced beef tenderloin on rucola parmigiano, olive oil and lemon
SHRIMPS WITH LEMON – 44 nis
Shrimps with white wine, butter and garlic
SORRENTINA – 56 nis
Shrimps, calamari and mussels in spicy tomato sauce with garlic and oregano
CARPACCIO – 49 nis
With Caesar sauce, small radish, pine nuts and parmigiano
CROSTINO – 46 nis
"Rustic bread grilled in stone oven with a seasonal changing topping״ the waiters know…
CAPRESE RUSTICO – 42 nis
Mozzarella di Bufala, olives, balsamico, tomatoes, onion and basil
SALAD
ENDIVE AND GORGONZOLA – 49 nis
Celery, apple, blue cheese and hazelnuts
AMERICANO – 46 nis
ettuce, rocket leaves, croutons, small radish, soft-boiled egg and parmigiano
PESCE
SEA BREAM FILLET – 117 nis
in lemon cream, chives and almonds with roasted vegetables
SEA BREAM FILLET AL CARTOCCIO – 108 nis
Baked in parchment paper, with gnocchi, seasonal vegetables and green herbal butter
CARNE
BEEF TENDERLOIN – 126 nis
Roasted with red onions in balsamic vinegar, crispy potatoes and rucola
SPEZZATINO – 82 nis
Beef stew, root vegetables and white wine with potato cream
RUSTICO ROTSHILD (Tel Aviv)

Rustico Rothschild was established in 2005 and quickly became popular. To meet the demand of all interested persons the Rustico Basel was opened in 2008, based on the same principles, and soon became so well loved, as his elder brother. Trattoria is an Italian term meaning a place where you can enjoy a great meal for any pocket in a warm and welcoming family atmosphere.
The Rustico restaurant in Tel Aviv brings a taste of Italian cuisine and Italian hospitality right to Tel Aviv, and Italian mama help to do it with pizza dough, risotto, Italian sauce and sweet desserts.
The Tel Aviv "Rustico" restaurant seek to be special, and therefore offers the open kitchen conception, allowing being proud of chef's dishes, but the headline is appetizing looks and smells of dishes even before serving. In addition to wonderful meal, you have an ability to enjoy a real show here… You will definitely love it and you will come back here again.
The Tel Aviv "Rustico" restaurant tries to keep high level of service and refer to the first client as to the last one. Moreover, it tries to keep taste of dishes constant, because they know that many of you come to taste beloved dishes again and again.

Breakfasts in the Rustico Basel restaurant:

On Friday mornings, tasty breakfasts are served only in the Tel Aviv Rustico Basel restaurant. Rustico welcomes you to start your weekend with the most delicious breakfast in the city. Italian-style breakfast will make all you day delicious.
Rustico Basel restaurant you can find anything you want. Such dishes as stone oven fried eggs, frittata, the puffy omelet with variety of supplements, crispy bruschetta of different kinds and many more are served with high quality Italian coffee and fresh vegetables. Sweet breakfasts lovers will found fresh muesli with fresh fruits and skachitina Nutella, the dessert which worth to get up early in the morning.

Breakfast is served in the Basel branch only, every Friday from 08:00 till 12: 00
* It is recommended to make beforehand order.

PIZZA

MARGHERITA – 54 nis
Tomatoes, mozzarella cheese and basil
RUSTICO – 60 nis
Comatoes, mozzarella cheese, arugula & parmigiano shavings
CALABRIA – 61 nis
Tomatoes, mozzarella cheese, salami, roasted peppers, chili & oregano
TARTUFO – 64 nis
Cream and truffles, fresh champignon mushrooms, mozzarella cheese and parsley
CIPOLLA RUCOLA – 60 nis
Tomatoes, mozzarella cheese, red onions, arugula, Kalamata olives and chili
MELANZANE – 57 nis
Tomatoes, eggplant, potatoes, arugula and cherry tomatoes // VEGAN
GENOVESE – 62 nis
״White״ pizza with zucchini, pesto, pine nuts, a sunny side up egg and mozzarella cheese
FIORENTINA – 64 nis
Spinach cream and smoked goose breast (can be served with a sunny-side up egg)

PASTA

PAPPARDELLE
CLASSIC BOLOGNESE – 68 nis
SPINACH AND LEMON // in cream, garlic and parmigiano – 64 nis
BEEF TENDERLOIN // in porcini cream, champignon and oyster mushrooms – 89 nis

SPAGHETTO QUADRATTO
TUNA // Red tuna, garlic, lemon, chili, arugula & parmigiano – 75 nis
SEAFOOD // Shrimps, calamari and mussels in butter, garlic and white wine – 82 nis
PUTTANESCA // Tomatoes, anchovy, Kalamata olives, capers, garlic and chili – 64 nis

MEZZI RIGATONI
DINO // Tomatoes, mascarpone cheese, parsley & parmigiano – 62 nis
CARBONARA – Smoked goose breast, black pepper, cream, fresh egg yolk and parmigiano – 64 nis
AGLIO E OLIO – Oyster mushrooms, garlic, herbs and lemon zest // VEGAN – 65 nis
SALAMI PICANTE – Tomatoes, salami, chili, scallions and fresh oregano – 64 nis

GNOCCHI (HOMEMADE)
CHESTNUTS & MASCARPONE CHEESE // spinach and porcini cream – 69 nis
GNOCCHI WITH SMOKED GOOSE // breast and greens – 71 nis

CANNELLONI
Ricotta cheese and spinach, tomatoes and parmigiano – 69 nis

LASAGNA
BOLOGNESE // béchamel sauce, tomatoes and parmigiano – 71 nis

RISOTTO
CHAMPIGNON & OYSTER MUSHROOMS // in porcini and truffle brothnbutter & Parmigiano- 70 nis
PESCATORE // Shrimps, calamari and mussels in spic tomato sauce – 79 nis

Focaccia in stone oven -18 nis
With olive oil, tomatoes and salt

All our sauces are also  available with gluten-free penne pasta

ANTIPASTI

ANTIPASTI TRIO – 45 nis
Three small changing dishes, the waiters know…
INVOLTINI – 42 nis
Eggplant rolls filled with pasta and parmigiano cheese, tomato sauce & basil
BRUSCHETTA – 39 nis
Rustic bread grilled in stone oven with fresh tomatoes and basil
TAGLIATA ALLA RUCOLA – 68 nis
Roasted and sliced beef tenderloin on rucola parmigiano, olive oil and lemon
SHRIMPS WITH LEMON – 44 nis
Shrimps with white wine, butter and garlic
SORRENTINA – 56 nis
Shrimps, calamari and mussels in spicy tomato sauce with garlic and oregano
CARPACCIO – 49 nis
With Caesar sauce, small radish, pine nuts and parmigiano
CROSTINO – 46 nis
"Rustic bread grilled in stone oven with a seasonal changing topping״ the waiters know…
CAPRESE RUSTICO – 42 nis
Mozzarella di Bufala, olives, balsamico, tomatoes, onion and basil

SALAD

ENDIVE AND GORGONZOLA – 49 nis
Celery, apple, blue cheese and hazelnuts
AMERICANO – 46 nis
ettuce, rocket leaves, croutons, small radish, soft-boiled egg and parmigiano

PESCE

SEA BREAM FILLET – 117 nis
in lemon cream, chives and almonds with roasted vegetables
SEA BREAM FILLET AL CARTOCCIO – 108 nis
Baked in parchment paper, with gnocchi, seasonal vegetables and green herbal butter

CARNE

BEEF TENDERLOIN – 126 nis
Roasted with red onions in balsamic vinegar, crispy potatoes and rucola
SPEZZATINO – 82 nis
Beef stew, root vegetables and white wine with potato cream