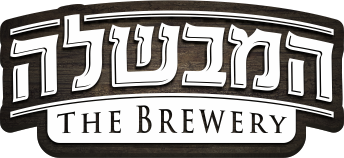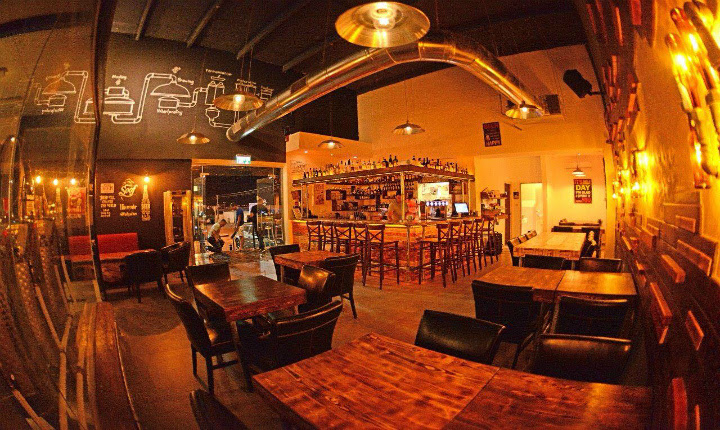 Grill bars and burgers
Brewery
European cuisine
Meat dishes
Fish and seafood
THE BREWERY 
(Eilat)
The brewery was created in 2015 with love to beer and people. Together with Tomer's, Natan's, and Yakov Lima's love the brewery received the name Soof.
It is possible to order the excursion where you can see the process of the beer making and to make your own handmade bottle. On the site you will find at least 6 types of fresh  and tasty beer.
If you would you like to drink a glass of beer with friends after work or to organize an excursion on brewery to see how all it goes or just want to buy beer on the weekend  We are always at you service
Menu
Snack
Madzhudzhin – 22 nis
Smoked small fish with spicy tomato sauce on toasts and garlic
Fried squids with tequila and aioli – 32 nis
Pile – 24 nis
Is served with the home-made salsa sauce
BIF JARKI – 19 nis
The smoked matured beef
Onion rings – 27 nis
Accompanied by blue cheese sauce and sweet chile
Fried cauliflower – 27 тшы
The fresh cauliflower fried in beer
Edamamе – 28 nis
French fries – 28/15 nis
Fried anchovies – 31 nis
First courses in the center of a table
Salad from Rotem – 38 nis
The lettuce, leaves of baby,  radish, cherry tomatoes, white and green onion, pine nuts, pumpkin seeds and seasonal fruits filled with olive oil and a lemon
feta cheese in addition – 7 nis
Premium nachos– 45 nis
In Cream cheese, sour cream, salsa and the guakamol
Fried mozzarella – 37 nis
With breadcrumbs, is served with cherry tomatoes and the Dana Blue sauce
Chicken wings – 32 nis
Six wings covered the panko. Is served with sauce from a barbecue
Carpaccio from a sinta – 42 nis
Is served with a bread basket, with parmesan, pine nuts, balsamic vinegar, olive oil, cherry tomatoes and garlic
Vegetarian carpaccio – 38 nis
Based on an eggplant and fried pepper, with feta cheese, pine nuts, garlic, cherry tomatoes, lemon juice and olive oil
Goose liver – 39 nis
On a substrat from croutons in amaretto, cognac and cherries, 60 gr
Shrimps – 54/58 nis
Fried in breadcrumbs / Fried in Italian spices
Mussels – 46 nis
With oil, cream, blue cheese and greens
FISH & CHIPS – 42 nis
Fish in a beer breading with French fries in a home-style way and tartare sauce
Main courses of MINI
Home-made sausages – 34 nis
Sausage together the guakamol and onions sauce
The Roll – 5 nis
The Burrito – 48nis
The tortilla filled with chicken meat, salad, guakamola sauce and tomato salsa
Slider – 29nis
Mini-hamburgers with mayonnaise, mustard, salty tomatoes, salad and onions
Gouda cheese additive – 5 nis
Vegetarian burrito – 42 nis
The tortilla stuffed with mushrooms, onions, salad to a guakamola and tomato salsa
Goose liver, 180 g – 108 nis
On a substrate from croutons, in amaretto and cherry brandy sauce
Main courses of GRANDE
triple slider – 79 nis
3 mini-hamburgers , 100 grams each with mayonnaise, mustard, a tomato pickles, salad and onions
In addition with Gouda extra cheese – 10 nis
Seafood mix – 94 nis
Mussels, squids and fried shrimps with rice
entrecote Stake, 300 grams and French fries – 125 nis
Fillet stake – 125 nis
in additon with a fried cauliflower in sauce at choice: Dan Blu's / Tomato jam
goose liver in addition – 35 nis
baked  Denis / Lavrak – 105 nis
In butter and wine sauce, blue cheese and grass sauce with addition of salad from a cauliflower
"Nazid Porter" – 78 nis
The veal fillet and entercote cooked in a beer «Porter» with champignons and mashed potatoes
BANGERS & MASH – 72 nis
Two home-made sausages asado on a substrate from mashed potatoes with barbecue sauce and onion jam
Hamburger asado-entercote, 250 grams – 69 nis
With mayonnaise, Dijon mustard, pickles, salad, a tomato and onions.
Gouda cheese in addition – 8 nis
Fuzilli with cheese – 65 nis
Fuzilli paste with Gouda cheese, Parmesan, Dang Blia, feta and mozzarella with oil and cream adition.
the Bolognese Spaghetti – 68 nis
Marinara sauce, oil, wine and parmesan
Fuzilli with seafood – 96 nis
Mussels, squids, shrimps in beer sauce, butter, cream and herbs
Philadelphia a stake – 75 nis
Fried chicken stake 300 grams with Philadelphia seasoning and with cauliflower salad
Desserts
Krem-bryulle – 36 nis
It is decorated with fried banana in caramel cognac sauce
Home-made Cake Biscuit – 34 nis
Macron Aysberg – 42 nis
With chocolate ice cream, mashed potatoes, banana, a pear and strawberry jam accompanied by apple chips
Grill bars and burgers
Brewery
European cuisine
Meat dishes
Fish and seafood

THE BREWERY 

(Eilat)

The brewery was created in 2015 with love to beer and people. Together with Tomer's, Natan's, and Yakov Lima's love the brewery received the name Soof.

It is possible to order the excursion where you can see the process of the beer making and to make your own handmade bottle. On the site you will find at least 6 types of fresh  and tasty beer.

If you would you like to drink a glass of beer with friends after work or to organize an excursion on brewery to see how all it goes or just want to buy beer on the weekend  We are always at you service

Menu

Snack

Madzhudzhin – 22 nis

Smoked small fish with spicy tomato sauce on toasts and garlic

Fried squids with tequila and aioli – 32 nis

Pile – 24 nis

Is served with the home-made salsa sauce

BIF JARKI – 19 nis

The smoked matured beef

Onion rings – 27 nis

Accompanied by blue cheese sauce and sweet chile

Fried cauliflower – 27 тшы

The fresh cauliflower fried in beer

Edamamе – 28 nis

French fries – 28/15 nis

Fried anchovies – 31 nis

First courses in the center of a table

Salad from Rotem – 38 nis

The lettuce, leaves of baby,  radish, cherry tomatoes, white and green onion, pine nuts, pumpkin seeds and seasonal fruits filled with olive oil and a lemon

feta cheese in addition – 7 nis

Premium nachos– 45 nis

In Cream cheese, sour cream, salsa and the guakamol

Fried mozzarella – 37 nis

With breadcrumbs, is served with cherry tomatoes and the Dana Blue sauce

Chicken wings – 32 nis

Six wings covered the panko. Is served with sauce from a barbecue

Carpaccio from a sinta – 42 nis

Is served with a bread basket, with parmesan, pine nuts, balsamic vinegar, olive oil, cherry tomatoes and garlic

Vegetarian carpaccio – 38 nis

Based on an eggplant and fried pepper, with feta cheese, pine nuts, garlic, cherry tomatoes, lemon juice and olive oil

Goose liver – 39 nis

On a substrat from croutons in amaretto, cognac and cherries, 60 gr

Shrimps – 54/58 nis

Fried in breadcrumbs / Fried in Italian spices

Mussels – 46 nis

With oil, cream, blue cheese and greens

FISH & CHIPS – 42 nis

Fish in a beer breading with French fries in a home-style way and tartare sauce

Main courses of MINI

Home-made sausages – 34 nis

Sausage together the guakamol and onions sauce

The Roll – 5 nis

The Burrito – 48nis

The tortilla filled with chicken meat, salad, guakamola sauce and tomato salsa

Slider – 29nis

Mini-hamburgers with mayonnaise, mustard, salty tomatoes, salad and onions

Gouda cheese additive – 5 nis

Vegetarian burrito – 42 nis

The tortilla stuffed with mushrooms, onions, salad to a guakamola and tomato salsa

Goose liver, 180 g – 108 nis

On a substrate from croutons, in amaretto and cherry brandy sauce

Main courses of GRANDE

triple slider – 79 nis

3 mini-hamburgers , 100 grams each with mayonnaise, mustard, a tomato pickles, salad and onions

In addition with Gouda extra cheese – 10 nis

Seafood mix – 94 nis

Mussels, squids and fried shrimps with rice

entrecote Stake, 300 grams and French fries – 125 nis

Fillet stake – 125 nis

in additon with a fried cauliflower in sauce at choice: Dan Blu's / Tomato jam

goose liver in addition – 35 nis

baked  Denis / Lavrak – 105 nis

In butter and wine sauce, blue cheese and grass sauce with addition of salad from a cauliflower

"Nazid Porter" – 78 nis

The veal fillet and entercote cooked in a beer «Porter» with champignons and mashed potatoes

BANGERS & MASH – 72 nis

Two home-made sausages asado on a substrate from mashed potatoes with barbecue sauce and onion jam

Hamburger asado-entercote, 250 grams – 69 nis

With mayonnaise, Dijon mustard, pickles, salad, a tomato and onions.

Gouda cheese in addition – 8 nis

Fuzilli with cheese – 65 nis

Fuzilli paste with Gouda cheese, Parmesan, Dang Blia, feta and mozzarella with oil and cream adition.

the Bolognese Spaghetti – 68 nis

Marinara sauce, oil, wine and parmesan

Fuzilli with seafood – 96 nis

Mussels, squids, shrimps in beer sauce, butter, cream and herbs

Philadelphia a stake – 75 nis

Fried chicken stake 300 grams with Philadelphia seasoning and with cauliflower salad

Desserts

Krem-bryulle – 36 nis

It is decorated with fried banana in caramel cognac sauce

Home-made Cake Biscuit – 34 nis

Macron Aysberg – 42 nis

With chocolate ice cream, mashed potatoes, banana, a pear and strawberry jam accompanied by apple chips