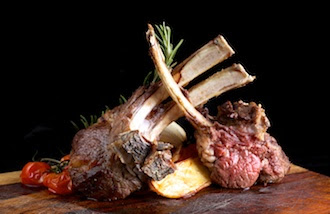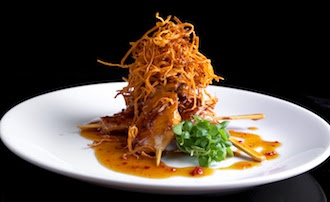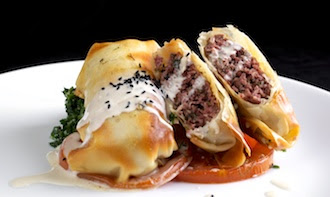 Fish and seafood
Meat dishes
Fusion cuisine
TISHREEN 
(Nazareth)
Tishreen is located in the centre of Nazareth (at 56, Spring Street), near the Church of the Annunciation and the Old City. The building that houses the restaurant was built in 1868 as a private home – which explains the welcoming, cosy atmosphere. The restaurant is beautifully designed, and features pleasant background-music.
Tishreen was created by the new generation of Nazareth restaurateurs – Ahsan and Musa, two young men overflowing with energy and optimism, plus their powerful desire to provide guests with an authentic tasting experience. No little of that feeling is due to the professional chefs who have proven themselves in the culinary world, and now star in the restaurant.
At Tishreen, the cuisine is a fusion of traditional food with the very latest creations from the chefs of the world's leading kitchens. The restaurant is open every day from 12:00 until the last guest, and the menu offers its customers a rich, delightful Mediterranean menu.
Soup
Soup of the day – 16 nis
Seasonal
Appetizers
Tabouleh – 39 / 29 nis
A salad finely chopped parsley mixed with Onions, bulgar, olive oil & lemon juice
White Arabic cheese – 28 nis
Fried in sesame seeds
Koubeh & Arabic pastries – 39 nis
With sesame seeds, side sweet – chili sauce
Labaneh – 18 nis
Stiff yogurt- with thyme
French fries – 15/25 nis
Arabic sausages – 55 nis
In hot chili sauce
Eggplant & zucchini salad – 25/37 nis
In Tahina sauce
Carpaccio – 49 nis
Raw fillet in vinegar-balsamic sauce
Hummus – 25/32 nis
With fillet slices 
Mixed plate – 55 nis
Slices turkey & smoked meet & cheese
Seasonal
Spinach salad – 29/39 nis
With basil, Arabic white cheese in an Italian sauce
Fidg & spore salad – 35/45 nis
With wine-vinegar cauce
Hot wok of Fresh vegetables with:
Served with craked wheat
Prawns – 39/49 nis
With lemon insoya sauce
Fillet slices – 39/49 nis
In soya sauce
Slices of chicken breast – 35/42 nis
In soya sauce
Hot vegetables salad – 32/36 nis
With soya sauce
Salads
Baby salad with grilled chicken – 32//42 nis
Chicken slices mixed with teriyaki sauce 
Lettuce salad with seasonal fruits – 25/36 nis
Mixed with chili sauce 
Green salad – 29/39 nis
With honeyed walnuts 
Greek salad – 29/39 nis
With side of 1000 island sauce
Rocket salad – 22/32 nis
Mixed with lemon and olive oil
Tishreen salad – 29/40 nis
Mixed green salad with parmesan cheese,In a wine-vinegar sauce
Health salad – 45 nis
Fresh vegetables decorated with stir-fried Chicken slices in soya sauce
Salmon salad – 55 nis
Colorful fresh vegetables flavored with olive Oil & lemon
From the wood oven
Eggplant stuffed – 39 nis
With pesto & cheese
Mushrooms stuffed – 29/39 nis
With cheese mixture-garlic &lemon sauce
Chicken Cordon bleu – 69 nis
Min 35
Original Muhammar – 59 nis
Tabun bread covered with onion slices & chicken
Grilled potatoes – 32/42 nis
With butter/cream of mushrooms
Areas – 39 nis
Kabab meat & cheese with baked tabun bread
Grilled Arab cheese – 28 nis
Cinta – beef tenderloin – 69 nis
With herbs and olive oil
Lamb chops – 85 nis
With rose marine & wine sauce
Kofta – 49 nis
Kabab meat prepared in traditional Arab style
Pasta
Bolognese – 45 nis
Tomato sauce, Ground beef, wild plants
Tishreen – 45 nis
Creem & mushrooms
Fussilli – 39/49 nis
With chicken & cabanus in cream sauce
Special dishes
Chicken breast – 49 nis
In lemon sauce
Chicken breast – 55 nis
In cream and mushroom sauce
Chicken breast – 49 nis
With pasifloura sauce
Chicken slices – 49 nis
Cooked in garlic, lemon & wine sauce
Chicken slices – 55 nis
With coffee & plums
Fillet steak – 99 nis
With pineapple & tequila sauce – 240 gram
Fillet steak – 99 nis
With black pepper/ mushrooms sauce – 240 gram
Fillet steak – 99 nis
With Tishreen sauce: mushroom, garlic & beef stock – 240 gram
Fillet slices – 85 nis
Cooked with garlic, wine & lemon
Fillet slices – 95 nis
With Thailand sauce
Prawns – 86 nis
Dipped in breadcrumbs & sesame seeds
Prawns – 86 nis
With garlic & lemon sauce
Fillet slices – 75 nis
With ravioli & mustard sauce
Prawns & Calamari – 75 nis
Prawns – 79 nis
With Cashew & Cream
Fried Calamari – 65 nis
Eggplant with sea food mix
With prawns, Calamari & Oysters
Popeat – 85 nis
Chicken slices stuffed with prawns
Desserts
Choose from a selection of sweets – 29-35 nis
local wine
Recanati Winery was founded in 2000 by a group of wine lovers led by Lenny Recanati. Their goal was to create quality wine at a reasonable price
Recanati Cabernet Sauvignon/Merlot ,375 ml – 49 nis
Recanati Special Edition – 120 nis
A blend of Shiraz (40%), Cabernet Sauvignon (30%), and Merlot (30%) A balanced wine with silky tannins and aroma of black plums, raspberries, chocolate, cinnamon and notes of vanilla and cocoa.
Recanati Cabernet Sauvignon Reserve – 145/30 nis
A powerful wine, rich in flavors of berries and plums. Mediterranean spice aromas such as Rosemary and thyme accompany soft silky tannins and a rich full body.
Recanati Merlot Reserve – 140 nis
A rich complex wine with aromas of cassis, plums, black pepper, and Mediterranean spices accompanied by nuances of roasted coffee beans. The wine shows a long harmonious finish.
Recanati special Reserve – 220 nis
A rich blend of 82% Cabernet sauvignon, 18% merlot. Strong tannins and balanced acidity show the wines ability to age many years in a bottle. The wine shows nuances of chocolate and black plums, clove.
Carmel Ridge, Red – 90 nis
Fruity, Easy drinking red blend from the Carmel mountain.
Cabernet-Shiraz, Upper Galilee, Appellation, Carmel – 115 nis
A blend of Cabernet Sauvignon and Shiraz from Galilee vineyards. The wine is rich in aroma and flavors.
Merlot – Shiraz – Cabernet, Yatir – 105 nis
The Classic blend from Yatir forest. This wine well represent the unique Terroir of this original wine region.
Tulip
An Israeli boutique winery located in Tivon in the Galilee.
Cabernet Sauvignon-Just – 95 nis
Produced in a vineyard in Kfar Yuval in the upper Galilee.
Shiraz-Mostly – 105 nis
A lovely blend of 64% Shiraz, 15% Cabernet Franc, 15% Merlot, and 6% Petit Verdot.
Tulip Cabernet Sauvignon Reserve – 30/135 nis
Produced from the Alma vineyard in Ramat Dalton. A blend of Cabernet Sauvignon, Petit Verdot. The wine was aged 18 months in French oak barrels.
Ramat Ha Golan wineries:
Ramat HaGolan winery is a leader in the Israeli wine market with quality wines, modern technology. In fact their activity changed the perception of Israeli consumer and contributed to the development of the wine culture in Israel.
Yarden- Cabernet Sauvignon – 195 nis
100% Cabernet Sauvignon, aged for 18 months in oak barrels.
Gamla- Cabernet Sauvignon – 70/140 nis
A blend of Cabernet Sauvignon, Merlot, and Cabernet Franc aged in oak barrels 375ml/750ml.
Gamla –merlot – 70/140 nis
A blend of Merlot, and Malbec. An elegant wine showing nuances of berries, flowers and spices. 375ml/750ml.
Tommasi Amarone della Valpolicella Classico,Vento – 280 nis
Blend of Corvina Veronese(50%), Rodinella (30%), Corvinone, and (15%) Molinara (5%). The grapes are dried in special conditions for several months. Following this the wine is made and is aged in oak barrels for 3 years.
Gaja Barolo DaGromis , Piamonte – 280 nis
100% Nebbiolo. The wine is aged for a year in French oak barrique barrels, and then transferred to large barrels for another year. The wine shows scents of liquorish, spices and berries. A rich impressive wine with a long finish.
Spain wine
Marques de Riscal ,Riscal 1860 VT Castilla y Leon – 120 nis
A rich cherry red coloured wine showing scents of ripe black fruits,nuances of smoke and toasted oak.
Marques de Riscal Reserva Rioja – 175 nis
Blend of Tempranillo (90%), Mazuelo, and Graciano (10%) True to the Rioja tradition, the wine shows aromas of oak with hints of balsamic and cinnamon. A full bodied wine with long finish.
Portia Ribera del Duero – 175 nis
Tempranillo.The wine shows aromas of Berries and a hint of oak with a long rich finish.
France wine
Christian Moueix Bourdeaux – 120 nis
A blend of 80% Merlot, and 20% Cabernet Franc. A subtle, soft wine with wonderful aromas.
Guigal Cote du Rhône Rouge – 146 nis
A Blend of 55% Syrah, 35% Grenache, 10% Mourvèdre and other varieties. The wine shows fragrances of spices, fresh fruits and red berries with a long finish.
Louis Jadot Bourgogne Pinot noir Couvent des Jacobins – 155 nis
Grapes of this wine come from areas of Bourgogne, combination of Cote de Beaune and Cote de Nuits grapes. 100% pinot noir. The wine shows scents of plums, strawberries, and blueberries.
Chateau Cissac , Bourdeaux – 220 nis
A blend of Cabernet Sauvignon(75%)  Merlot (25%), Petit Verdot (5%) aged for 18 months in barrels. A rich harmonious wine with a long finish.
USA wine
Robert Mondavi – Woodbridge winery was founded in 1979 in California. In Woodbridge they believe that a small winery with quality vineyards and professional staff can make excellent wine for the world.
Woodbridge Cabernet Sauvignon, California -25/95 nis
Cabernet Sauvignon,(81%) Zinfandel, Syrah, and Merlot(19%). The wine shows aromas of cherries, berries and spices. American and French oak barrels contribute to the flavors of vanilla.
Robert Mondavi winery Cabernet Sauvignon ,Napa – 280 nis
A blend of Cabernet Sauvignon, Cabernet Franc, Merlot, Petit Verdot, Malbec and syrah. An elegant and concentrated wine showing fragrances of blueberries, casis, and chocolate.
White wine
Recanati Sauvignon Blanc – 85 nis
This crispy fruity Sauvignon is produced in the Upper Galilee. The wine shows aromas of grapefruit, passion fruit, lemon peel, and freshly cut grass.
Recanati Chardonnay – 120 nis
An elegant full bodied wine, showing tropical and citrus fruits scents by vanilla, cinnamon and oak aromas.
Dr Loosen, Dr L Riesling, Germany – 120 nis
A fresh fruity wine with a lovely minerality typical of the wines of the region.
Tulip White – 30/105 nis
An Israeli boutique winery, located in Tivon in the Galilee. A unique dry white blend of Sauvignon Blanc with Gewurztraminer. An elegant wine with delicate flavors.
Chardonnay Upper Galilee, Appellation, Carmel – 115 nis
Crisp fresh and elegant chardonnay from top Galilee vineyards.
Sparkling wine
Cava Cristalino Semi Seco, spain – 85 nis
50% Macabeo , 25% Parellada, and 25% Xarello.The Cava shows sweet fruity aromas of strawberries.
Cava Cristalino Rose, spain – 95 nis
A blend of 60% pinot noir and 40% Trepat. This dry cava has scents of berries and cherries. Fruit-forward and nicely balanced, with a clean, citrusy finish.
Drappier, Carte d'Or Brut, Champagne France – 260 nis
The Pinot noir grapes which make 90% of the blend, give Carte d›Or its structure, flavor and fragrances. The subtle berry flavor combines well with the freshness of the Chardonnay and Pinot Meunier, creating a great finish.
Red wine
Italy
Ruffino Chianti, Tuscany – 49/190 nis
A blend of Sangiovese and Canaiolo and Colorino. The wine is a ruby red colour showing rich fragrances of flowers, berries and notes of pepper. Medium bodied, with soft tannins and balancing acidity. 375 ml /750 ml
Ruffino Chianti Classico Ducale Rieserva,Tuscany – 180 nis
The wine is based mainly on Sangiovese grapes with other local varieties such as Colorino. The wine shows aromas of ripe fruits and leather with notes of lilacs and Irises. A concentrated, full bodied wine.
Tommasi Ripasso della Valpolicella Classico Superiore – 160 nis
Veneto – A blend of Corvin Veronese(50%) Rodinella(30%), Corvinone (15%),and Molinara(5%).Following the alcoholic fermentation the wine goes through a second fermentation with the grape skins used to make Amarone from the last vintage. The wine was aged for 18 months in Slovenian oak barrels. A Rich wine with dry fruit aromas with notes of raisins and spices.
Beer
Draft:
Hoegaarden – 23 / 27 nis
Carlsberg – 20 / 23 nis
Bottle:
Tuborg Green/ Red – 18 nis
Corona – 26 nis
Stella Artoris – 22 nis
Heineken – 18 nis
Gold Star – 16 nis
Leffe – 22 nis
Blond/ Brown
Guinness – 29 nis
Taibeh – local – 22 nis
Anise
Sabat/rammalla ark 50/60 – 20 nis
Touma – 25 nis
El Massaya – 25 nis
Lebanese Ark
Pernod – 25 nis
Reicard – 25 nis
Pastis Anise – 25 nis
Absinthe – 30 nis
Aperative
Martini – 22 nis
Bianco/Rosso/Extra dry
Campari – 28 nis
Cinzano – 22 nis
Bianco/ Rosso/ Extra dry
Lagermeister & Tonic – 35 nis
Gin
Gordon's – 30 nis
Beefeater – 30 nis
Tnqueray – 35 nis
Bombay – 35 nis
Cognac
Remy Martin – 60 nis
V.S.O.P
Remy Martin – 90 nis
XO
Remy Martin extra – 150 nis
Hennessy – 40 nis
V.S
Hennessy – 60 nis
V.S.O.P
Hennessy – 90 nis
XO
Otard – 60 nis
V.S.O.P
Otrad – 90 nis
XO
Courvoisier – 90 nis
XO
Whiskey
Jonnie Walker – 55/ 45/ 27 nis
Red/ Black/ Green
Jonnie Walker – 60/120 nis
Gold/ Blue
Chivas – 45/60/95 nis
Oyal salut/18/12
J&B – 25 nis
Grant's – 25 nis
Jameson/ 12/ Gold – 28/45/65 nis
Jack Daniel's/ Silver select – 40/65 nis
Southern Comfort – 30 nis
Glenfiddich – 60/ 45 nis
2/15
Glenfiddich – 150/ 85 nis
30/ 18
Glenmorange – 60/ 45 nis
18/ 12
Jim Beam – 30/45 nis
White/ Black
Bushmills – 30 nis
Dimple – 50 nis
Ballantines – 25 nis
Digestif
Lagermeister – 35 nis
Pinacolada – 20 nis
Sambuca – 22 nis
Fidg – 35 nis
After Shock – 28 nis
Imported/ Thermal bite
Geraba – 22 nis
vodka
Smirnoff – 25 nis
Finlandia – 28 nis
Absolute – 25 nis
Absolut – 28 nis
Raspberry, Mandarin & Vanilla
Smirnoff Ice – 22 nis
Liquer
Grand Marniel – 30 nis
Drambuie – 30 nis
Aretto Del Logo – 25 nis
Kahlua – 28 nis
Baileys Irish cream – 25 nis
Frangelico – 25 nis
Cointreau – 35 nis
Glenfiddich – 35 nis
Malt Wiskey liquer
Bindicten – 35 nis
Rum
Bacardi superior/ Lemon – 25 nis
Bacardi Breezer – 23 nis
Lemon/ Pineapple & watermelon
Cachaca – 22 nis
Tequila
Cuervo Clasico – 30 nis
Cuervo Gold Espicial – 35 nis
Cuervo – 1800 nis
Cocktails
Tishreen – 25 nis
vodka, lemon juice, melon liqueur, red wine
Tequila Sunruse – 25 nis
tequila, orange juice, grenadine
Long Island – 30 nis
vodka, gin, white rum, lemon juice, triple sec, cola
Martini – 30 nis
gin, dry vermouth
Kamikaze – 25 nis
vodka, triple sec, lime juice
Margarita – 30 nis
white rum, lime juice, sugar mint, soda water
Black Russian – 30 nis
vodka, coffee liqueur
B 52 – 35 nis
coffee liqueur 
B & B – 35 nis
brandy, benedictine
Cuba Libre – 30 nis
white rum, lime, cola
Caipirinha – 30 nis
cachaca, lime, sugar
Kir – 25 nis
creme de cassis, white wine
Cobra – 30
tequila, vodka, gin, white rume, orange juice
San Francisco – 30 nis
gin, banana liqueur, triple sec, lime & orange juice, grenadine
Blue Lagoon – 25 nis
gin, blue curacao, sprite
Orgasm – 30 nis
coffee liqueur, irish cream, fresh creme
Negroni – 30 nis
gin, campari, sweet vermouth
Salty Dog – 25 nis
gin, grapefruit juice
Fish and seafood
Meat dishes
Fusion cuisine

TISHREEN 

(Nazareth)

Tishreen is located in the centre of Nazareth (at 56, Spring Street), near the Church of the Annunciation and the Old City. The building that houses the restaurant was built in 1868 as a private home – which explains the welcoming, cosy atmosphere. The restaurant is beautifully designed, and features pleasant background-music.
Tishreen was created by the new generation of Nazareth restaurateurs – Ahsan and Musa, two young men overflowing with energy and optimism, plus their powerful desire to provide guests with an authentic tasting experience. No little of that feeling is due to the professional chefs who have proven themselves in the culinary world, and now star in the restaurant.
At Tishreen, the cuisine is a fusion of traditional food with the very latest creations from the chefs of the world's leading kitchens. The restaurant is open every day from 12:00 until the last guest, and the menu offers its customers a rich, delightful Mediterranean menu.

Soup

Soup of the day – 16 nis
Seasonal

Appetizers

Tabouleh – 39 / 29 nis
A salad finely chopped parsley mixed with Onions, bulgar, olive oil & lemon juice
White Arabic cheese – 28 nis
Fried in sesame seeds
Koubeh & Arabic pastries – 39 nis
With sesame seeds, side sweet – chili sauce
Labaneh – 18 nis
Stiff yogurt- with thyme
French fries – 15/25 nis
Arabic sausages – 55 nis
In hot chili sauce
Eggplant & zucchini salad – 25/37 nis
In Tahina sauce
Carpaccio – 49 nis
Raw fillet in vinegar-balsamic sauce
Hummus – 25/32 nis
With fillet slices 
Mixed plate – 55 nis
Slices turkey & smoked meet & cheese

Seasonal

Spinach salad – 29/39 nis
With basil, Arabic white cheese in an Italian sauce
Fidg & spore salad – 35/45 nis
With wine-vinegar cauce

Hot wok of Fresh vegetables with:
Served with craked wheat

Prawns – 39/49 nis
With lemon insoya sauce
Fillet slices – 39/49 nis
In soya sauce
Slices of chicken breast – 35/42 nis
In soya sauce
Hot vegetables salad – 32/36 nis
With soya sauce

Salads

Baby salad with grilled chicken – 32//42 nis
Chicken slices mixed with teriyaki sauce 
Lettuce salad with seasonal fruits – 25/36 nis
Mixed with chili sauce 
Green salad – 29/39 nis
With honeyed walnuts 
Greek salad – 29/39 nis
With side of 1000 island sauce
Rocket salad – 22/32 nis
Mixed with lemon and olive oil
Tishreen salad – 29/40 nis
Mixed green salad with parmesan cheese,In a wine-vinegar sauce
Health salad – 45 nis
Fresh vegetables decorated with stir-fried Chicken slices in soya sauce
Salmon salad – 55 nis
Colorful fresh vegetables flavored with olive Oil & lemon

From the wood oven

Eggplant stuffed – 39 nis
With pesto & cheese
Mushrooms stuffed – 29/39 nis
With cheese mixture-garlic &lemon sauce
Chicken Cordon bleu – 69 nis
Min 35
Original Muhammar – 59 nis
Tabun bread covered with onion slices & chicken
Grilled potatoes – 32/42 nis
With butter/cream of mushrooms
Areas – 39 nis
Kabab meat & cheese with baked tabun bread
Grilled Arab cheese – 28 nis
Cinta – beef tenderloin – 69 nis
With herbs and olive oil
Lamb chops – 85 nis
With rose marine & wine sauce
Kofta – 49 nis
Kabab meat prepared in traditional Arab style

Pasta

Bolognese – 45 nis
Tomato sauce, Ground beef, wild plants
Tishreen – 45 nis
Creem & mushrooms
Fussilli – 39/49 nis
With chicken & cabanus in cream sauce

Special dishes

Chicken breast – 49 nis
In lemon sauce
Chicken breast – 55 nis
In cream and mushroom sauce
Chicken breast – 49 nis
With pasifloura sauce
Chicken slices – 49 nis
Cooked in garlic, lemon & wine sauce
Chicken slices – 55 nis
With coffee & plums
Fillet steak – 99 nis
With pineapple & tequila sauce – 240 gram
Fillet steak – 99 nis
With black pepper/ mushrooms sauce – 240 gram
Fillet steak – 99 nis
With Tishreen sauce: mushroom, garlic & beef stock – 240 gram
Fillet slices – 85 nis
Cooked with garlic, wine & lemon
Fillet slices – 95 nis
With Thailand sauce
Prawns – 86 nis
Dipped in breadcrumbs & sesame seeds
Prawns – 86 nis
With garlic & lemon sauce
Fillet slices – 75 nis
With ravioli & mustard sauce
Prawns & Calamari – 75 nis
Prawns – 79 nis
With Cashew & Cream
Fried Calamari – 65 nis
Eggplant with sea food mix
With prawns, Calamari & Oysters
Popeat – 85 nis
Chicken slices stuffed with prawns

Desserts

Choose from a selection of sweets – 29-35 nis

local wine

Recanati Winery was founded in 2000 by a group of wine lovers led by Lenny Recanati. Their goal was to create quality wine at a reasonable price

Recanati Cabernet Sauvignon/Merlot ,375 ml – 49 nis
Recanati Special Edition – 120 nis
A blend of Shiraz (40%), Cabernet Sauvignon (30%), and Merlot (30%) A balanced wine with silky tannins and aroma of black plums, raspberries, chocolate, cinnamon and notes of vanilla and cocoa.
Recanati Cabernet Sauvignon Reserve – 145/30 nis
A powerful wine, rich in flavors of berries and plums. Mediterranean spice aromas such as Rosemary and thyme accompany soft silky tannins and a rich full body.
Recanati Merlot Reserve – 140 nis
A rich complex wine with aromas of cassis, plums, black pepper, and Mediterranean spices accompanied by nuances of roasted coffee beans. The wine shows a long harmonious finish.
Recanati special Reserve – 220 nis
A rich blend of 82% Cabernet sauvignon, 18% merlot. Strong tannins and balanced acidity show the wines ability to age many years in a bottle. The wine shows nuances of chocolate and black plums, clove.
Carmel Ridge, Red – 90 nis
Fruity, Easy drinking red blend from the Carmel mountain.
Cabernet-Shiraz, Upper Galilee, Appellation, Carmel – 115 nis
A blend of Cabernet Sauvignon and Shiraz from Galilee vineyards. The wine is rich in aroma and flavors.
Merlot – Shiraz – Cabernet, Yatir – 105 nis
The Classic blend from Yatir forest. This wine well represent the unique Terroir of this original wine region.

Tulip

An Israeli boutique winery located in Tivon in the Galilee.

Cabernet Sauvignon-Just – 95 nis
Produced in a vineyard in Kfar Yuval in the upper Galilee.
Shiraz-Mostly – 105 nis
A lovely blend of 64% Shiraz, 15% Cabernet Franc, 15% Merlot, and 6% Petit Verdot.
Tulip Cabernet Sauvignon Reserve – 30/135 nis
Produced from the Alma vineyard in Ramat Dalton. A blend of Cabernet Sauvignon, Petit Verdot. The wine was aged 18 months in French oak barrels.

Ramat Ha Golan wineries:

Ramat HaGolan winery is a leader in the Israeli wine market with quality wines, modern technology. In fact their activity changed the perception of Israeli consumer and contributed to the development of the wine culture in Israel.

Yarden- Cabernet Sauvignon – 195 nis
100% Cabernet Sauvignon, aged for 18 months in oak barrels.
Gamla- Cabernet Sauvignon – 70/140 nis
A blend of Cabernet Sauvignon, Merlot, and Cabernet Franc aged in oak barrels 375ml/750ml.
Gamla –merlot – 70/140 nis
A blend of Merlot, and Malbec. An elegant wine showing nuances of berries, flowers and spices. 375ml/750ml.
Tommasi Amarone della Valpolicella Classico,Vento – 280 nis
Blend of Corvina Veronese(50%), Rodinella (30%), Corvinone, and (15%) Molinara (5%). The grapes are dried in special conditions for several months. Following this the wine is made and is aged in oak barrels for 3 years.
Gaja Barolo DaGromis , Piamonte – 280 nis
100% Nebbiolo. The wine is aged for a year in French oak barrique barrels, and then transferred to large barrels for another year. The wine shows scents of liquorish, spices and berries. A rich impressive wine with a long finish.

Spain wine

Marques de Riscal ,Riscal 1860 VT Castilla y Leon – 120 nis
A rich cherry red coloured wine showing scents of ripe black fruits,nuances of smoke and toasted oak.
Marques de Riscal Reserva Rioja – 175 nis
Blend of Tempranillo (90%), Mazuelo, and Graciano (10%) True to the Rioja tradition, the wine shows aromas of oak with hints of balsamic and cinnamon. A full bodied wine with long finish.
Portia Ribera del Duero – 175 nis
Tempranillo.The wine shows aromas of Berries and a hint of oak with a long rich finish.

France wine

Christian Moueix Bourdeaux – 120 nis
A blend of 80% Merlot, and 20% Cabernet Franc. A subtle, soft wine with wonderful aromas.
Guigal Cote du Rhône Rouge – 146 nis
A Blend of 55% Syrah, 35% Grenache, 10% Mourvèdre and other varieties. The wine shows fragrances of spices, fresh fruits and red berries with a long finish.
Louis Jadot Bourgogne Pinot noir Couvent des Jacobins – 155 nis
Grapes of this wine come from areas of Bourgogne, combination of Cote de Beaune and Cote de Nuits grapes. 100% pinot noir. The wine shows scents of plums, strawberries, and blueberries.
Chateau Cissac , Bourdeaux – 220 nis
A blend of Cabernet Sauvignon(75%)  Merlot (25%), Petit Verdot (5%) aged for 18 months in barrels. A rich harmonious wine with a long finish.

USA wine

Robert Mondavi – Woodbridge winery was founded in 1979 in California. In Woodbridge they believe that a small winery with quality vineyards and professional staff can make excellent wine for the world.

Woodbridge Cabernet Sauvignon, California -25/95 nis
Cabernet Sauvignon,(81%) Zinfandel, Syrah, and Merlot(19%). The wine shows aromas of cherries, berries and spices. American and French oak barrels contribute to the flavors of vanilla.

Robert Mondavi winery Cabernet Sauvignon ,Napa – 280 nis
A blend of Cabernet Sauvignon, Cabernet Franc, Merlot, Petit Verdot, Malbec and syrah. An elegant and concentrated wine showing fragrances of blueberries, casis, and chocolate.

White wine

Recanati Sauvignon Blanc – 85 nis
This crispy fruity Sauvignon is produced in the Upper Galilee. The wine shows aromas of grapefruit, passion fruit, lemon peel, and freshly cut grass.
Recanati Chardonnay – 120 nis
An elegant full bodied wine, showing tropical and citrus fruits scents by vanilla, cinnamon and oak aromas.
Dr Loosen, Dr L Riesling, Germany – 120 nis
A fresh fruity wine with a lovely minerality typical of the wines of the region.
Tulip White – 30/105 nis
An Israeli boutique winery, located in Tivon in the Galilee. A unique dry white blend of Sauvignon Blanc with Gewurztraminer. An elegant wine with delicate flavors.
Chardonnay Upper Galilee, Appellation, Carmel – 115 nis
Crisp fresh and elegant chardonnay from top Galilee vineyards.

Sparkling wine

Cava Cristalino Semi Seco, spain – 85 nis
50% Macabeo , 25% Parellada, and 25% Xarello.The Cava shows sweet fruity aromas of strawberries.
Cava Cristalino Rose, spain – 95 nis
A blend of 60% pinot noir and 40% Trepat. This dry cava has scents of berries and cherries. Fruit-forward and nicely balanced, with a clean, citrusy finish.
Drappier, Carte d'Or Brut, Champagne France – 260 nis
The Pinot noir grapes which make 90% of the blend, give Carte d›Or its structure, flavor and fragrances. The subtle berry flavor combines well with the freshness of the Chardonnay and Pinot Meunier, creating a great finish.

Red wine

Italy

Ruffino Chianti, Tuscany – 49/190 nis
A blend of Sangiovese and Canaiolo and Colorino. The wine is a ruby red colour showing rich fragrances of flowers, berries and notes of pepper. Medium bodied, with soft tannins and balancing acidity. 375 ml /750 ml
Ruffino Chianti Classico Ducale Rieserva,Tuscany – 180 nis
The wine is based mainly on Sangiovese grapes with other local varieties such as Colorino. The wine shows aromas of ripe fruits and leather with notes of lilacs and Irises. A concentrated, full bodied wine.
Tommasi Ripasso della Valpolicella Classico Superiore – 160 nis
Veneto – A blend of Corvin Veronese(50%) Rodinella(30%), Corvinone (15%),and Molinara(5%).Following the alcoholic fermentation the wine goes through a second fermentation with the grape skins used to make Amarone from the last vintage. The wine was aged for 18 months in Slovenian oak barrels. A Rich wine with dry fruit aromas with notes of raisins and spices.

Beer

Draft:
Hoegaarden – 23 / 27 nis
Carlsberg – 20 / 23 nis

Bottle:

Tuborg Green/ Red – 18 nis
Corona – 26 nis
Stella Artoris – 22 nis
Heineken – 18 nis
Gold Star – 16 nis
Leffe – 22 nis
Blond/ Brown
Guinness – 29 nis
Taibeh – local – 22 nis

Anise

Sabat/rammalla ark 50/60 – 20 nis
Touma – 25 nis
El Massaya – 25 nis
Lebanese Ark
Pernod – 25 nis
Reicard – 25 nis
Pastis Anise – 25 nis
Absinthe – 30 nis

Aperative

Martini – 22 nis
Bianco/Rosso/Extra dry
Campari – 28 nis
Cinzano – 22 nis
Bianco/ Rosso/ Extra dry
Lagermeister & Tonic – 35 nis

Gin

Gordon's – 30 nis
Beefeater – 30 nis
Tnqueray – 35 nis
Bombay – 35 nis

Cognac

Remy Martin – 60 nis
V.S.O.P
Remy Martin – 90 nis
XO
Remy Martin extra – 150 nis
Hennessy – 40 nis
V.S
Hennessy – 60 nis
V.S.O.P
Hennessy – 90 nis
XO
Otard – 60 nis
V.S.O.P
Otrad – 90 nis
XO
Courvoisier – 90 nis
XO

Whiskey

Jonnie Walker – 55/ 45/ 27 nis
Red/ Black/ Green
Jonnie Walker – 60/120 nis
Gold/ Blue
Chivas – 45/60/95 nis
Oyal salut/18/12
J&B – 25 nis
Grant's – 25 nis
Jameson/ 12/ Gold – 28/45/65 nis
Jack Daniel's/ Silver select – 40/65 nis
Southern Comfort – 30 nis
Glenfiddich – 60/ 45 nis
2/15
Glenfiddich – 150/ 85 nis
30/ 18
Glenmorange – 60/ 45 nis
18/ 12
Jim Beam – 30/45 nis
White/ Black
Bushmills – 30 nis
Dimple – 50 nis
Ballantines – 25 nis

Digestif

Lagermeister – 35 nis
Pinacolada – 20 nis
Sambuca – 22 nis
Fidg – 35 nis
After Shock – 28 nis
Imported/ Thermal bite
Geraba – 22 nis

vodka

Smirnoff – 25 nis
Finlandia – 28 nis
Absolute – 25 nis
Absolut – 28 nis
Raspberry, Mandarin & Vanilla
Smirnoff Ice – 22 nis

Liquer

Grand Marniel – 30 nis
Drambuie – 30 nis
Aretto Del Logo – 25 nis
Kahlua – 28 nis
Baileys Irish cream – 25 nis
Frangelico – 25 nis
Cointreau – 35 nis
Glenfiddich – 35 nis
Malt Wiskey liquer
Bindicten – 35 nis

Rum

Bacardi superior/ Lemon – 25 nis
Bacardi Breezer – 23 nis
Lemon/ Pineapple & watermelon
Cachaca – 22 nis

Tequila

Cuervo Clasico – 30 nis
Cuervo Gold Espicial – 35 nis
Cuervo – 1800 nis

Cocktails

Tishreen – 25 nis
vodka, lemon juice, melon liqueur, red wine
Tequila Sunruse – 25 nis
tequila, orange juice, grenadine
Long Island – 30 nis
vodka, gin, white rum, lemon juice, triple sec, cola
Martini – 30 nis
gin, dry vermouth
Kamikaze – 25 nis
vodka, triple sec, lime juice
Margarita – 30 nis
white rum, lime juice, sugar mint, soda water
Black Russian – 30 nis
vodka, coffee liqueur
B 52 – 35 nis
coffee liqueur 
B & B – 35 nis
brandy, benedictine
Cuba Libre – 30 nis
white rum, lime, cola
Caipirinha – 30 nis
cachaca, lime, sugar
Kir – 25 nis
creme de cassis, white wine
Cobra – 30
tequila, vodka, gin, white rume, orange juice
San Francisco – 30 nis
gin, banana liqueur, triple sec, lime & orange juice, grenadine
Blue Lagoon – 25 nis
gin, blue curacao, sprite
Orgasm – 30 nis
coffee liqueur, irish cream, fresh creme
Negroni – 30 nis
gin, campari, sweet vermouth
Salty Dog – 25 nis
gin, grapefruit juice