The Izotus Banquet Hall & Boutique in Ashdod takes any kind of events to a whole new level of quality and conceptualization!
"Pinta" – the best bar and restaurant in Ashdod! Here you can find German sausages with stewed cabbage, as it served in Bavaria, and New Zealand and Canadian mussels
Here you can taste a variety of traditional Georgian cuisine dishes, such as imruli, khachapuri, khinkali, chebureki, belini, lobiani, solyanka, and all this with the Georgian salads.
Paradise Restaurant and Banquet Hall was founded in 2002 and since then has held thousands of successful and happy events and banquets. The restaurant is famous for its excellent Bukhara, Caucasian, Georgian, Russian and Israeli cuisine.
"Kampai Street Wok Ashdod" contains wide choice of snacks and Asian soups, various sushi menu, wok fried dishes, Asian grilled dishes, sushi combinations for several persons, kid's menu, and wonderful desserts.
n the "Corsair" restaurant menu we reflected all the best from real cuisine: traditional Italian pizza on thin dough, pasta, soups, classical Mediterranean salads and snacks and, of course, grilled dishes. We recommend to pay a special attention to sausages cooken according our chef's special recipe.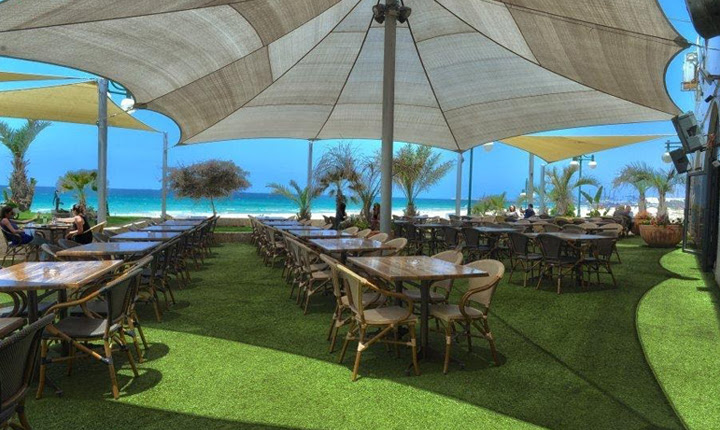 The Café Puzel Restaurant in Ashdod is located on the northern end of Kshatot beach on the opposite side of the open sea. On the open terrace one can enjoy the warm sun in sunny winter days and wonderful refreshing breeze in hot summer days.
The feature of our cafe-shops is guest's ability to choose a set of individual portions based on the special cafe-shop assortment. It means, that you must not buy a whole cake, instead you can choose several pieces of one or different cakes: every family member has different food preferences and there are a lot of one want to taste something new! Thus, sweet teeth have got a wonderful place with rich assortment and ability to taste everything!
The menu consists of snacks, fresh fish, rich salads, a variety of pastas and sauces to it, as well as of the special main courses, local and imported wines. In the center of the restaurant you will find an impressive bar.